Our Collection

This page contains pictures of minerals we have in our collection. Some of the pieces we sell or rotate out of our collection,
some pieces never leave. As you can see the pieces we have are the same caliber of the pieces we sell.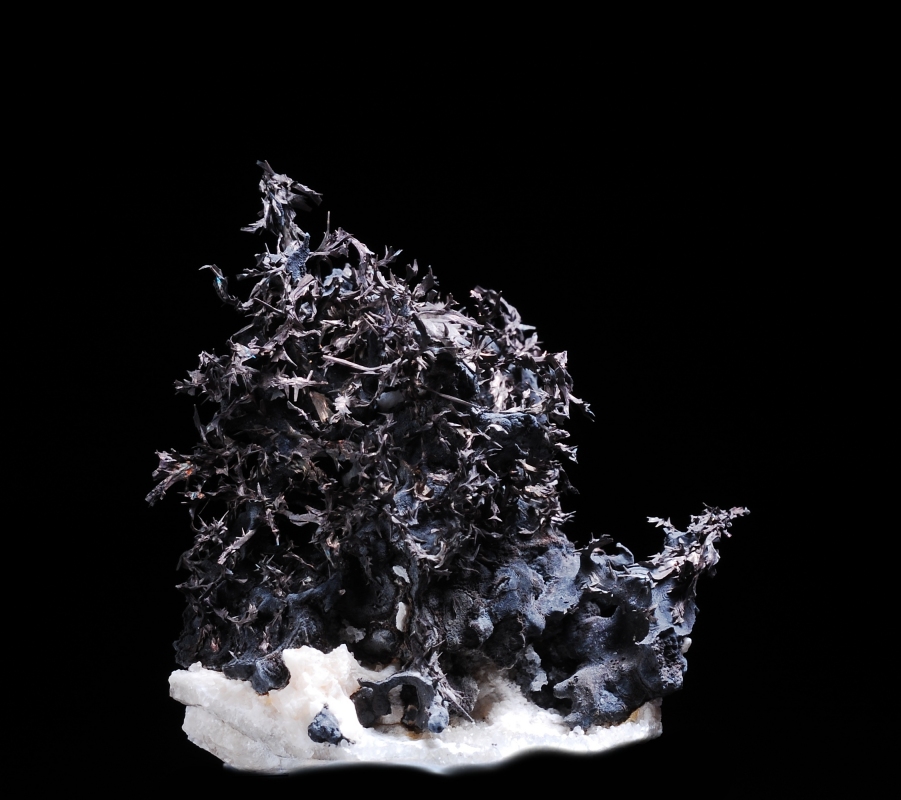 Dyscrasite
Czeck Republic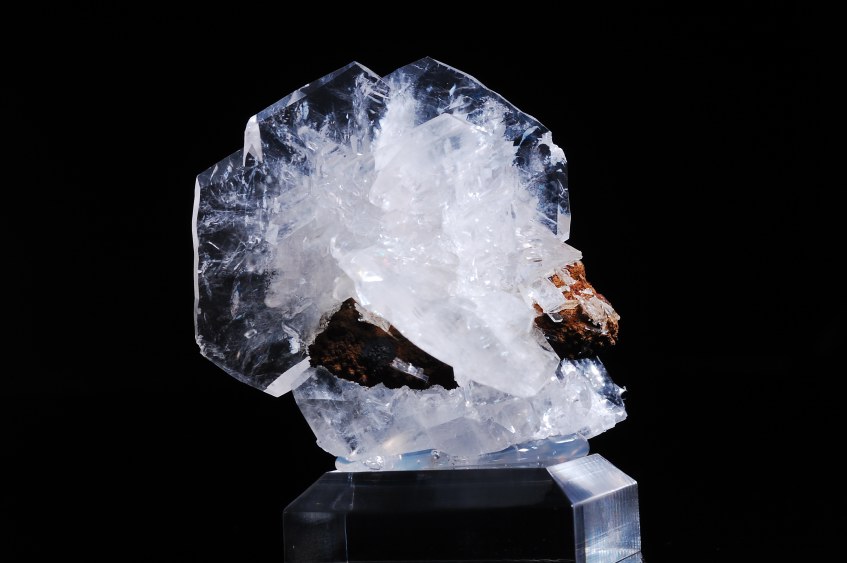 Calcite
Mexico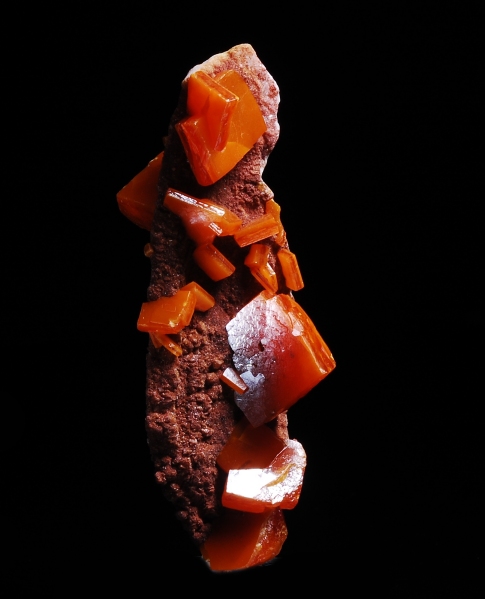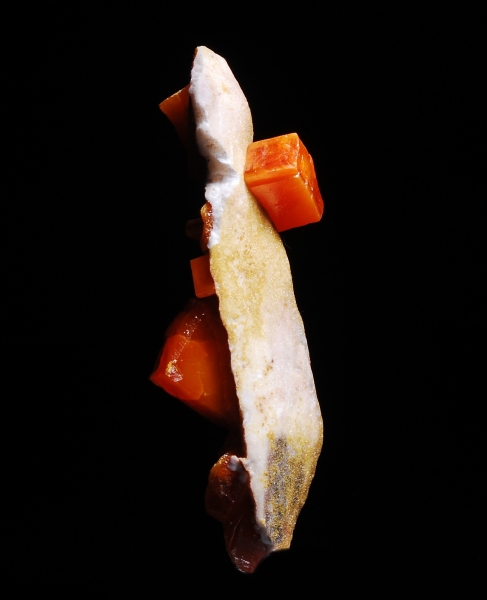 Wulfenite
Los Lamentos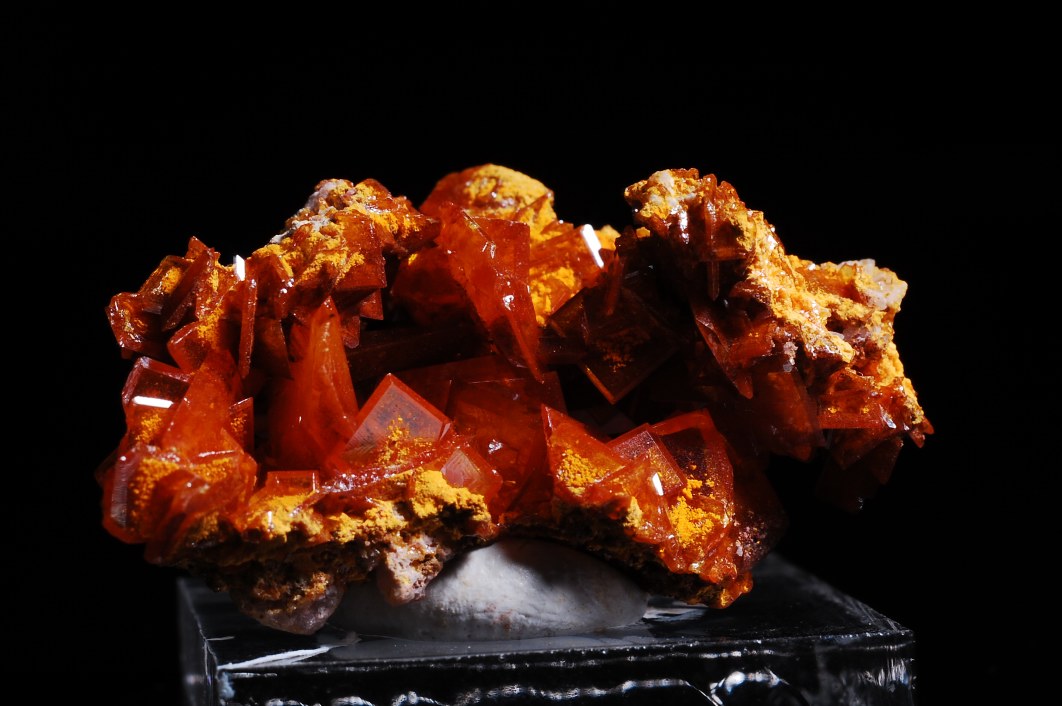 Wulfenite
Mammoth St Anthony.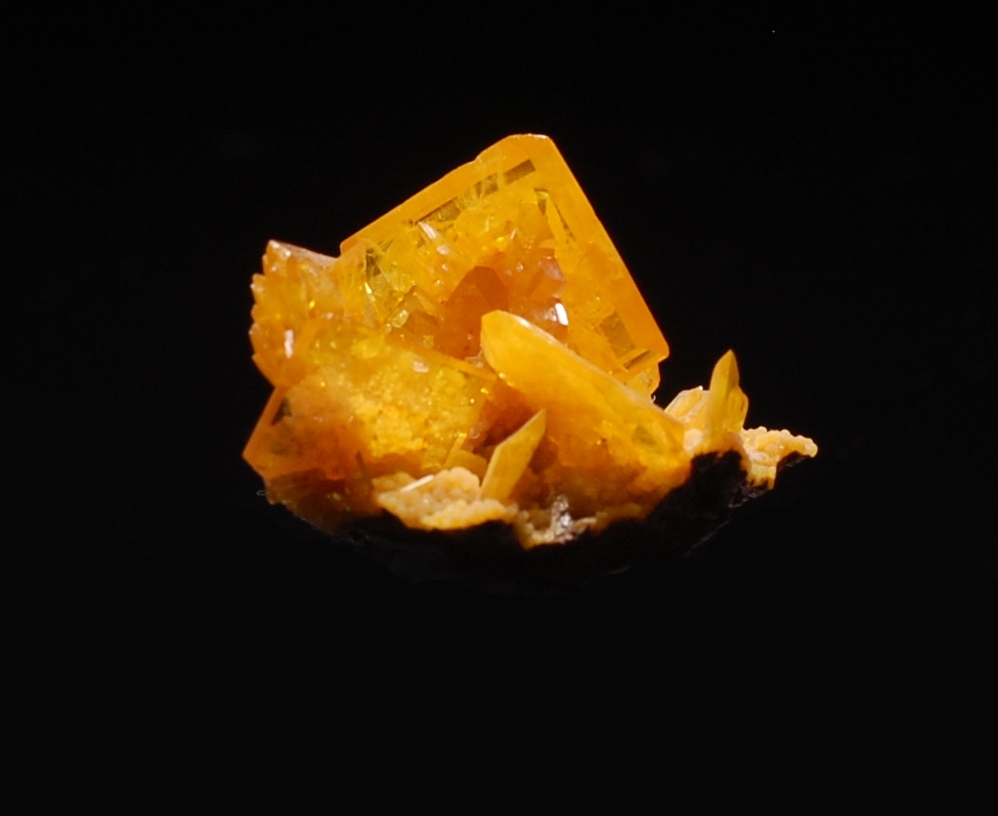 Wulfenite, Mimetite
San Francisco mine
SOLD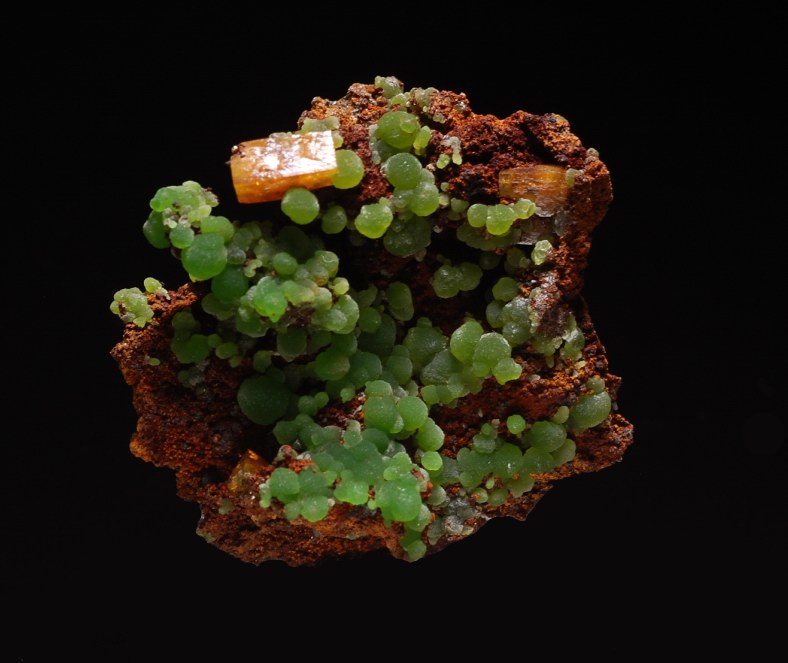 Mimetite and Wulfenite
miniature
Mexico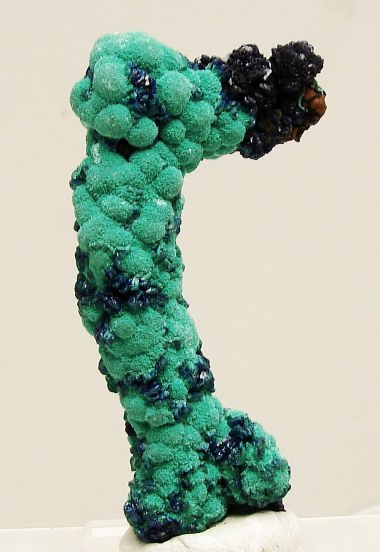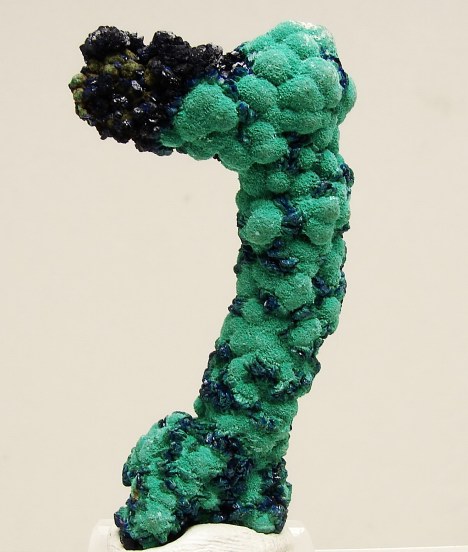 Malachite and Azurite Stalagtite
Miniature
Copper Queen
SOLD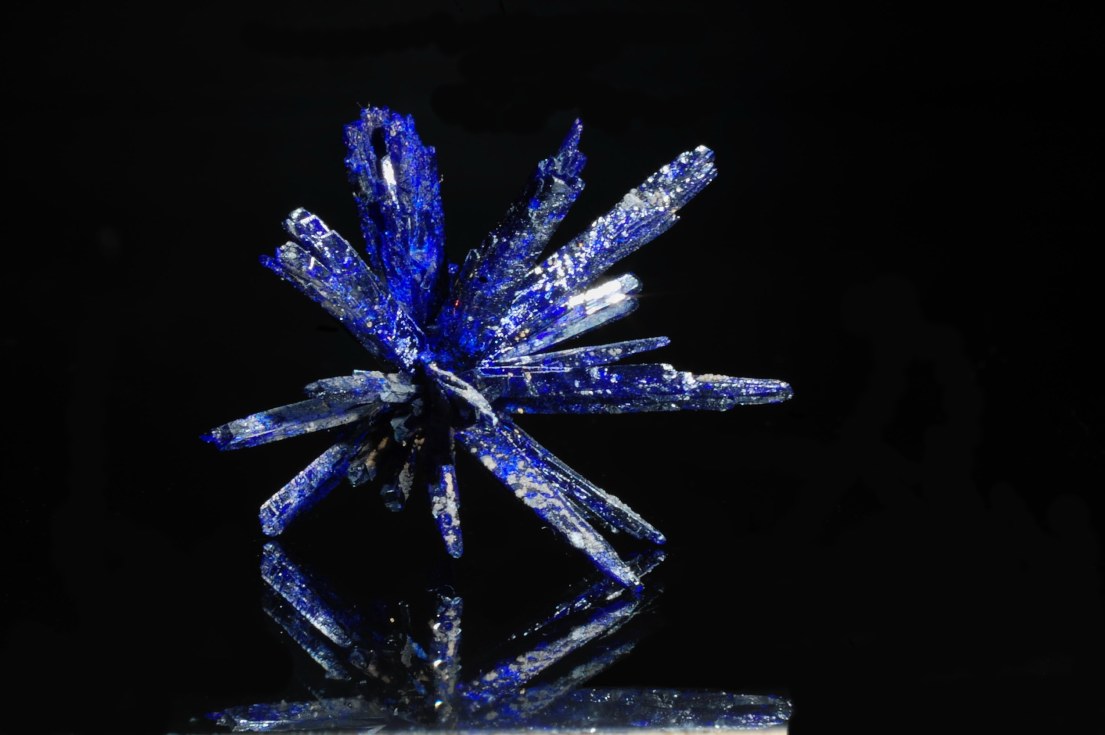 Azurite
Morocco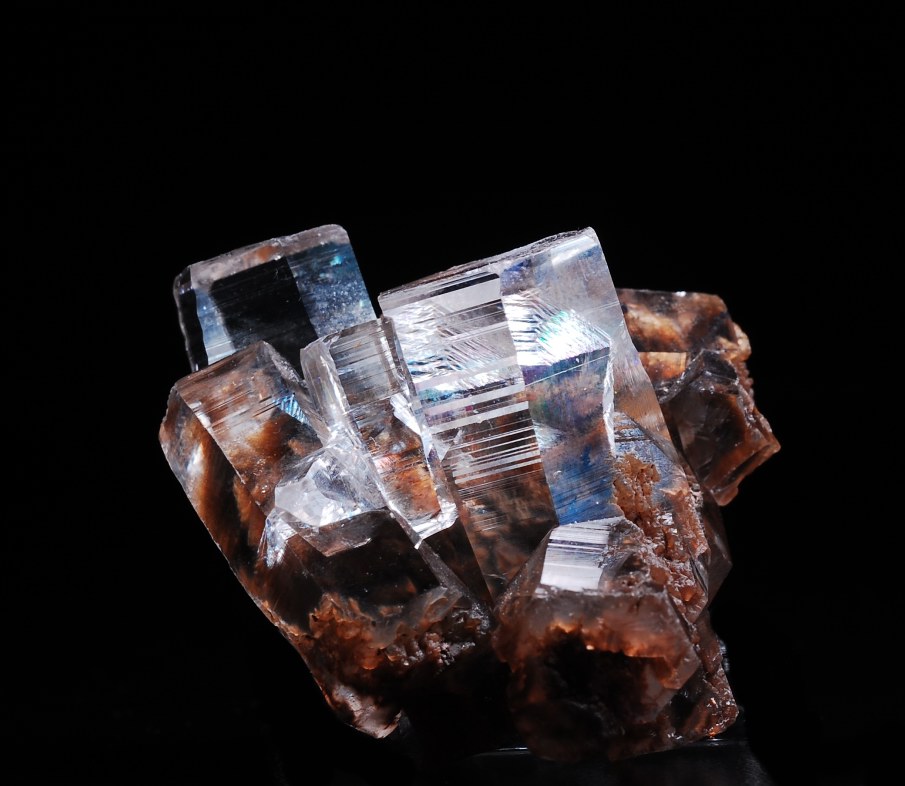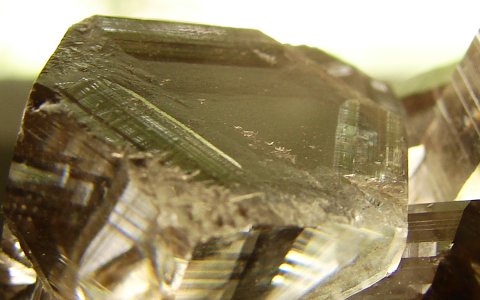 Water clear prismatic Calcites
Wuzhou Mine, Guangxi Province, China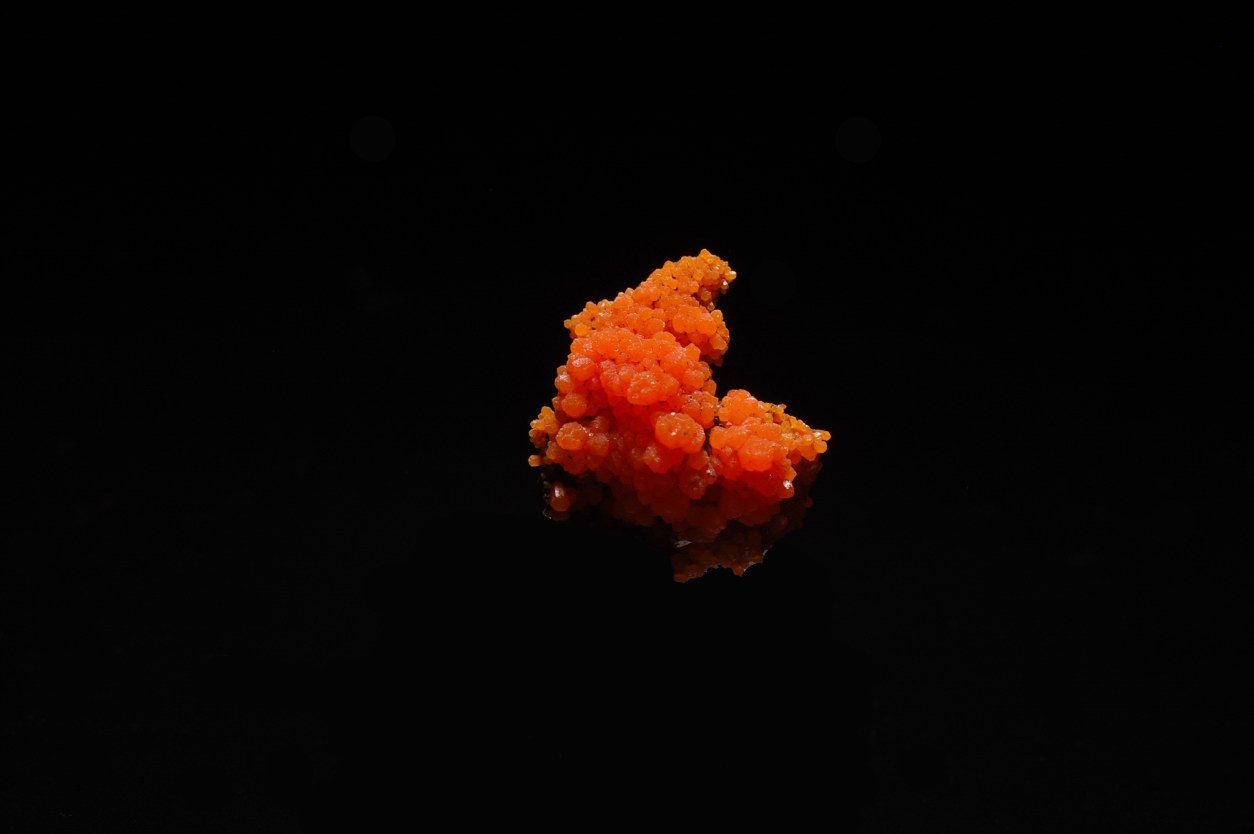 The holy grail of Mimetite!
Red Mimetite from the find at the the San Francisco Mine years ago.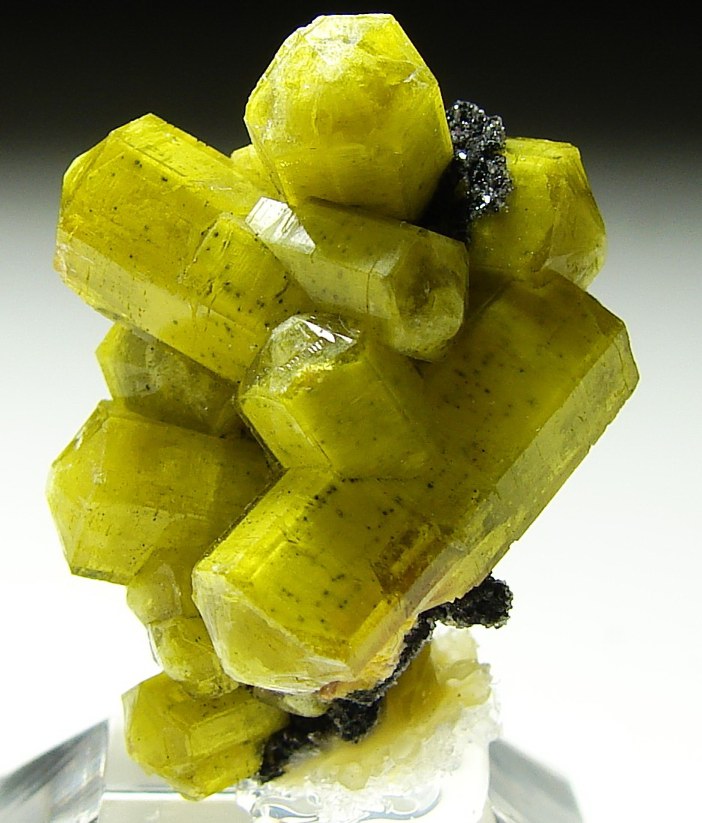 Sturmanite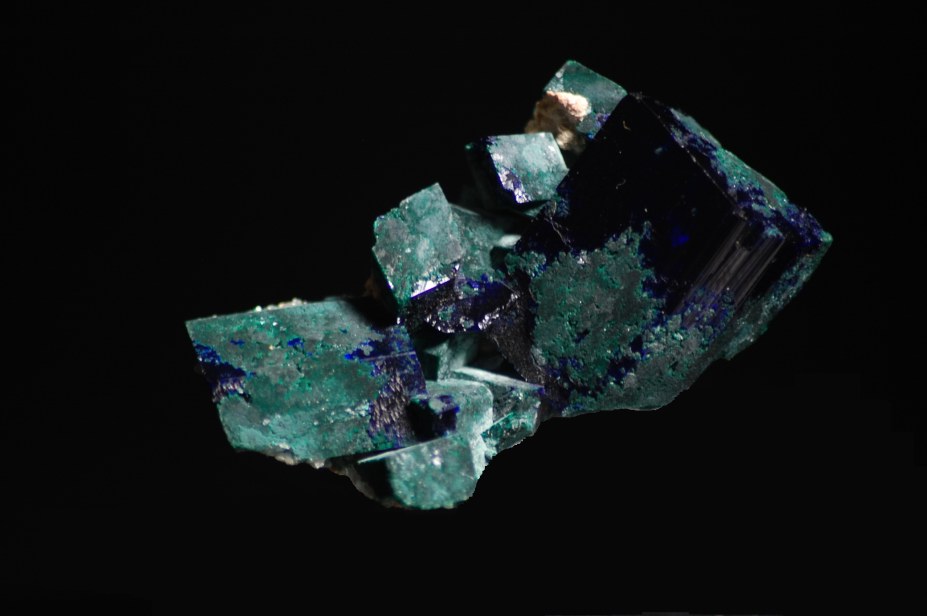 Azurite partially pseudomorphed to Malachite.
Tsumeb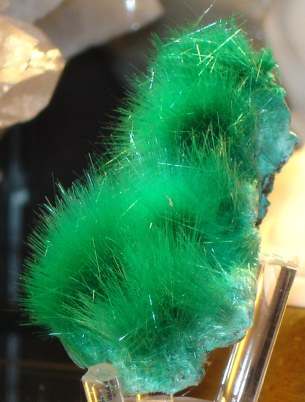 Emerald green Brochantite needles to 20 mm
Purchased from the late great Gilbert Gauthier.
Keobola mine
Africa
Miniature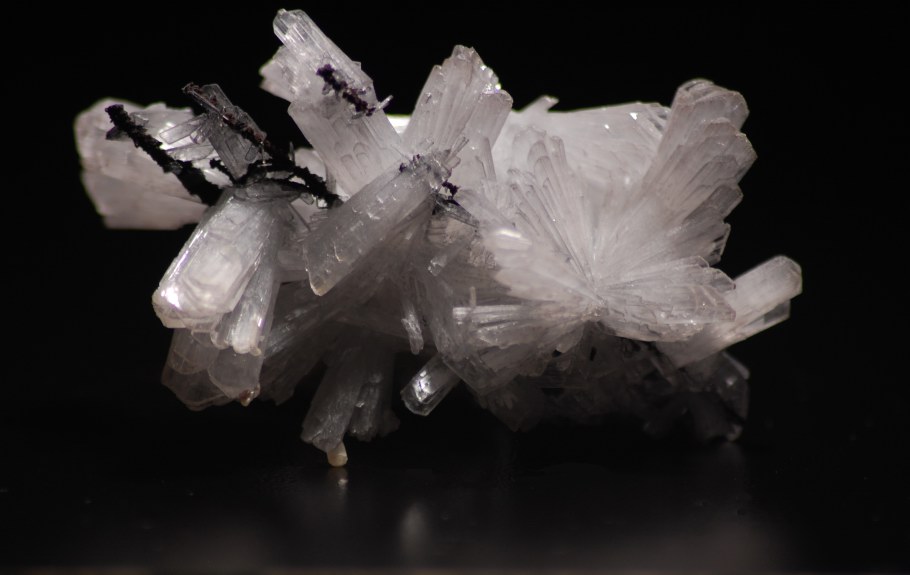 Hemimorphite radiating from Goethite "sticks"
Mexico
Miniature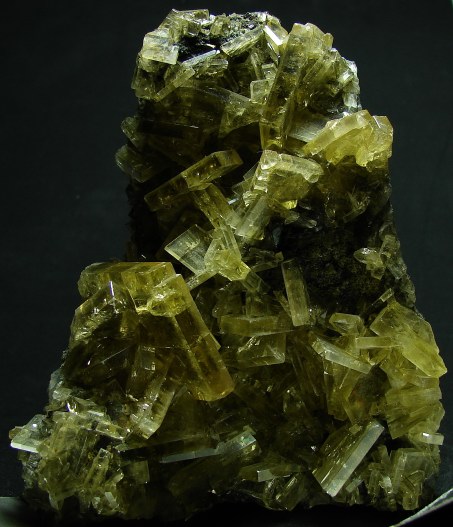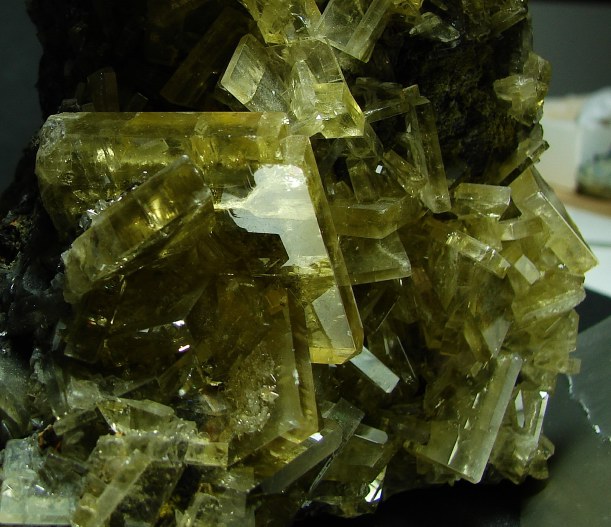 Golden gemmy Barite to 5cm on gold ore Big crystal has been contacted by matrix.
Mienkle mine
lg cabinet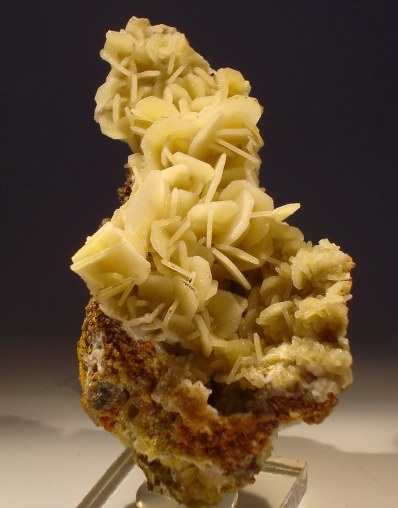 Calcite on Wulfenite
Epi Mine (small claim near the Ojuela mine)
We have only seen two pieces from this mine
cabinet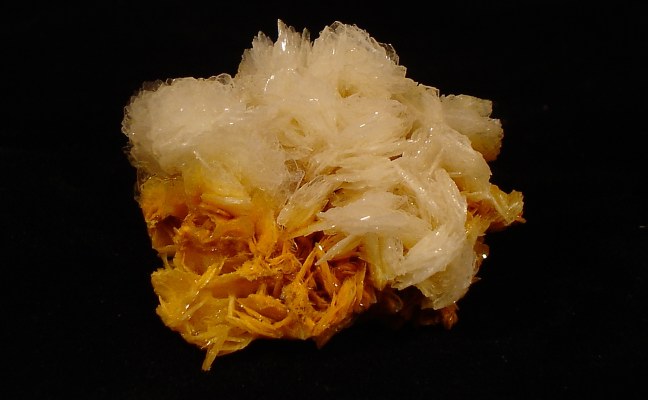 Orange to white to transparent Barite
Baia Sprie, Romania
Miniature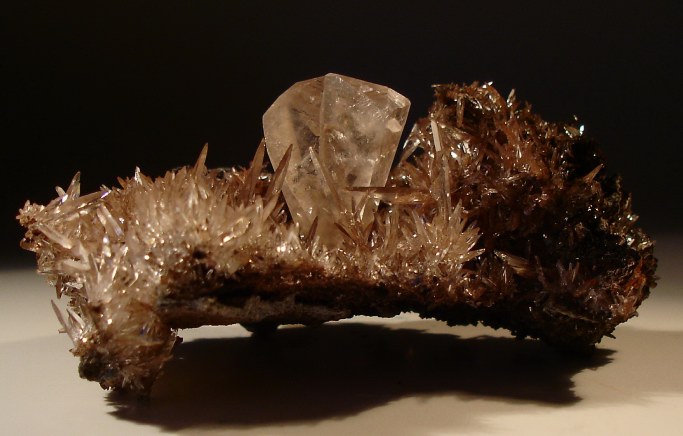 Light red twinned Calcite on Calcite needles
China
large miniature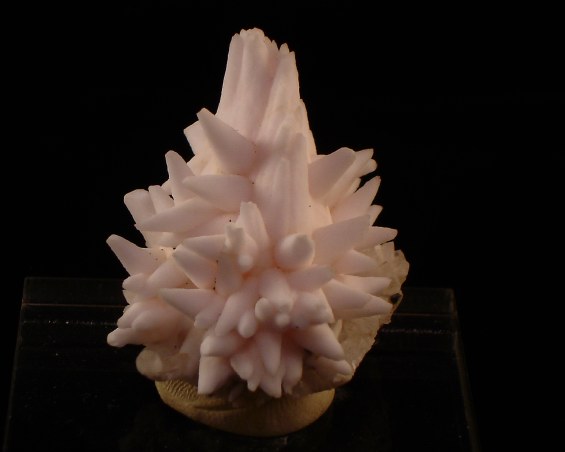 Manganoan Calcite porcupine
Peru
Miniature
Parallel growth Elbaite with attached Elbaite.
Brazil
Miniature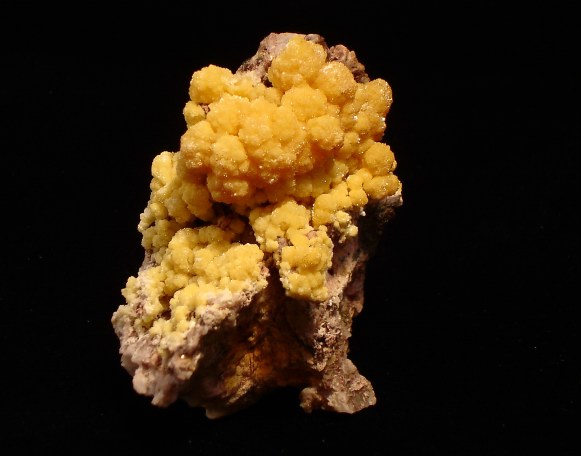 Bright yellow Mimetite
Tsumeb
Miniature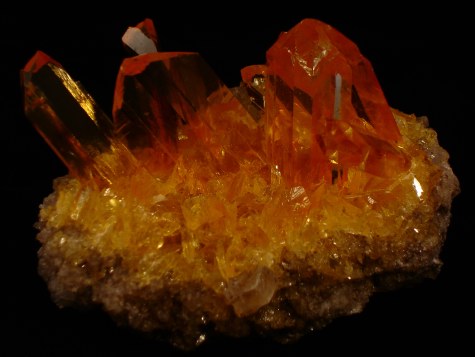 Pure gemmy Golden Selenite with cubes of frosty Halite.
Absolutely a killer with no damage
Peru
Cabinet
Reticulated Cerussite
Enough said
Tsumeb
Miniature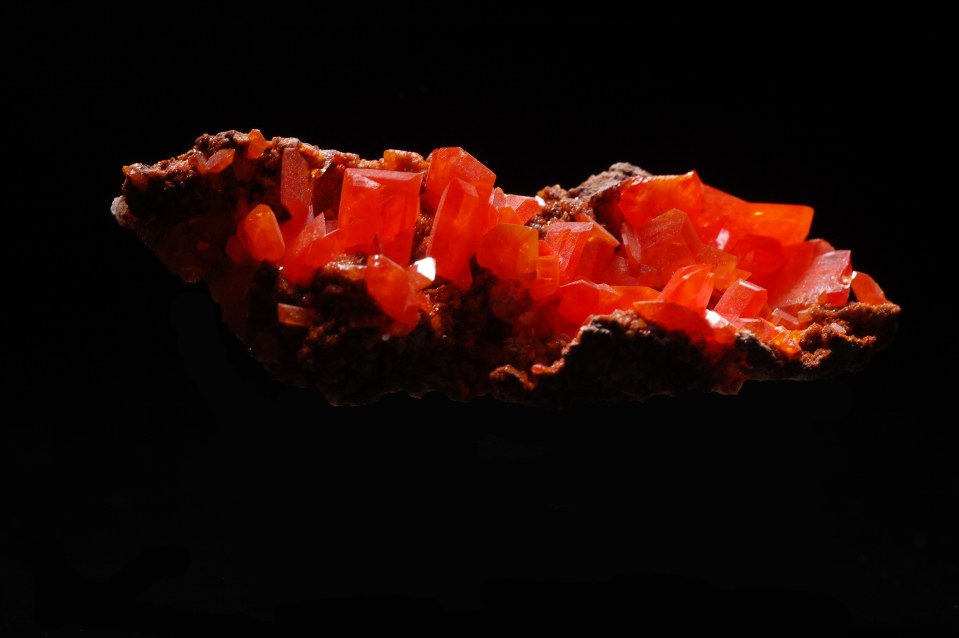 Red orange crystals of Wulfenite from the red gem find of collectors edge
Red Cloud Mine
Miniature
The Malachite after Azurite and Malachite on this piece absolutely glow on it's dark matrix.
Brazil
cabinet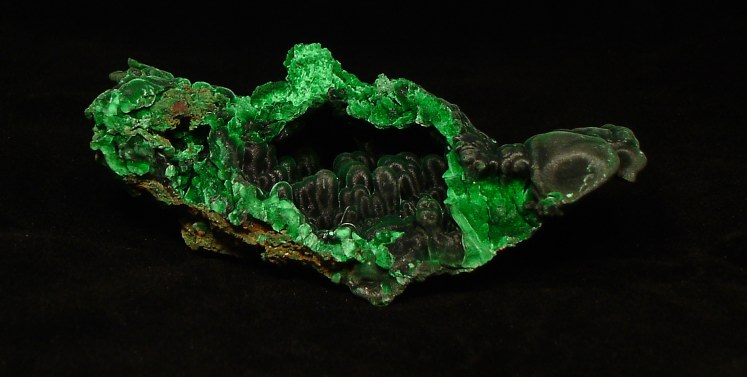 Malachite "vug"
China
Miniature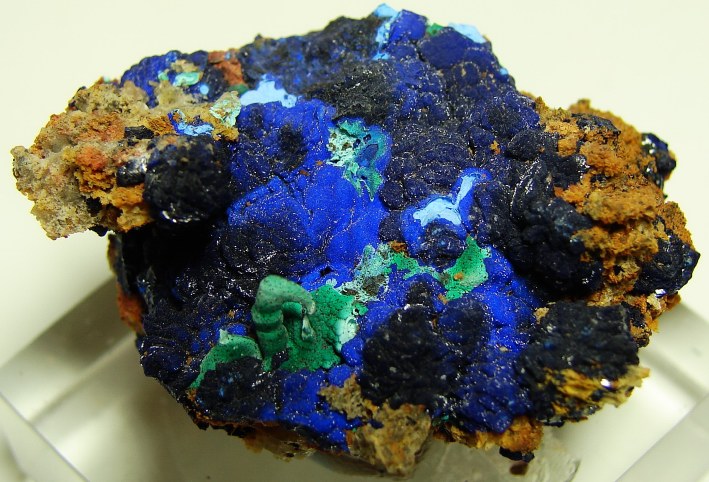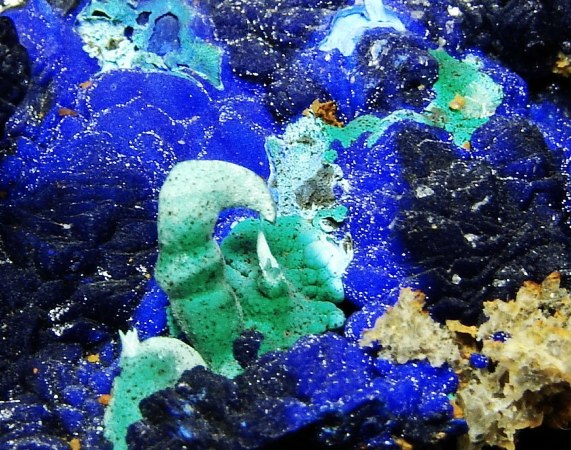 Malachite Azurite
Morenci
Miniature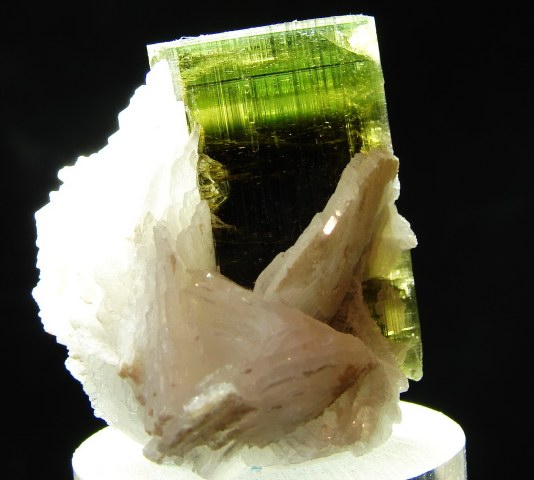 Elbaite on albite
Stak Nala
Miniature
Stibnite on tiny Dolomite cubes. The Dolomite "cast" is hollow and has sprays of Stibnite inside.
Romania
Miniature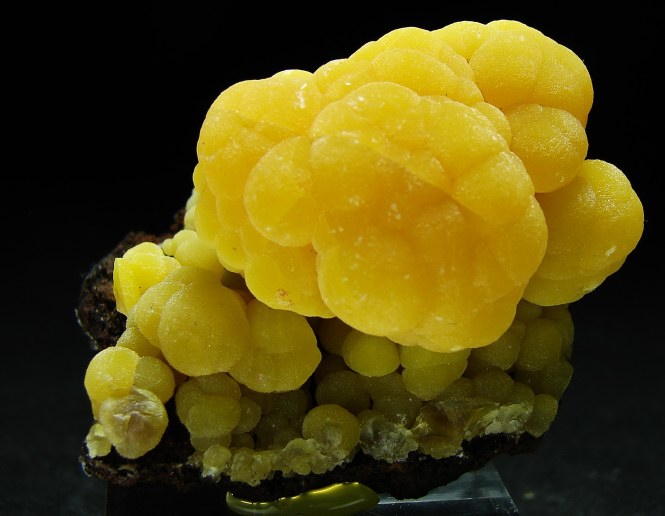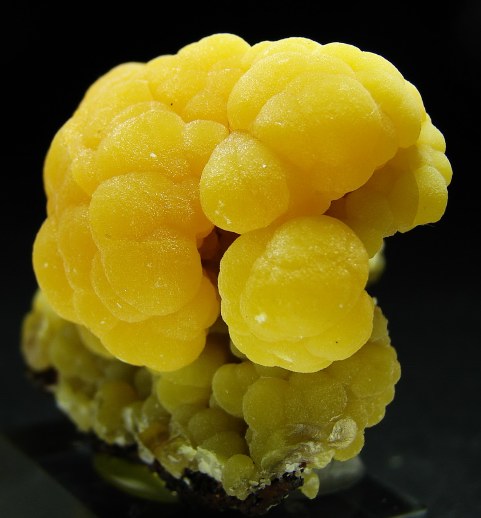 Mimetite
San Pedro Caralitas
From the famous 1969 find by Benny Fenn.
miniature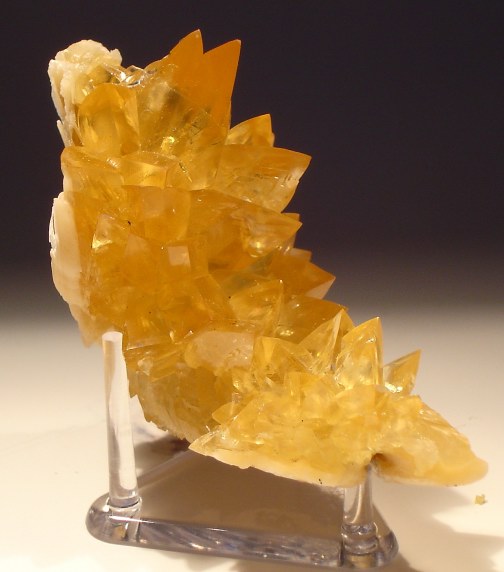 Calcite in Shell
Rucks pit
Florida
Miniature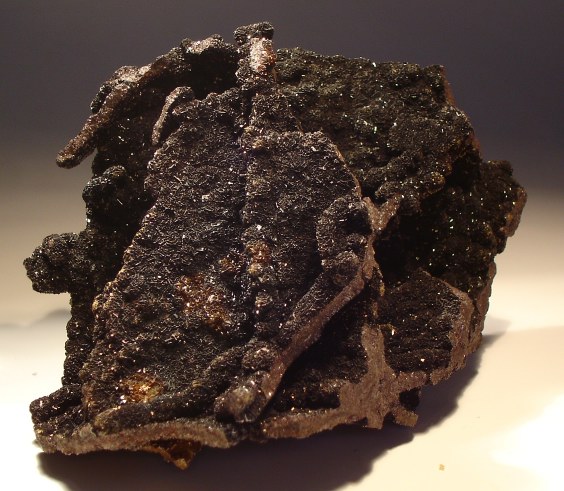 Siderite "boxwork"
Cole shaft
Purchased from a collector and jewelry shop owner in Bisbee.
Bisbee
Cabinet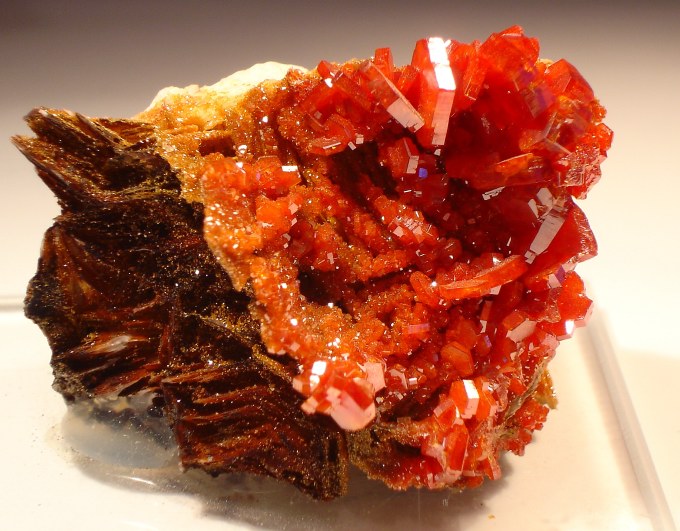 Vanadanite on Barite
Morrocco
large miniature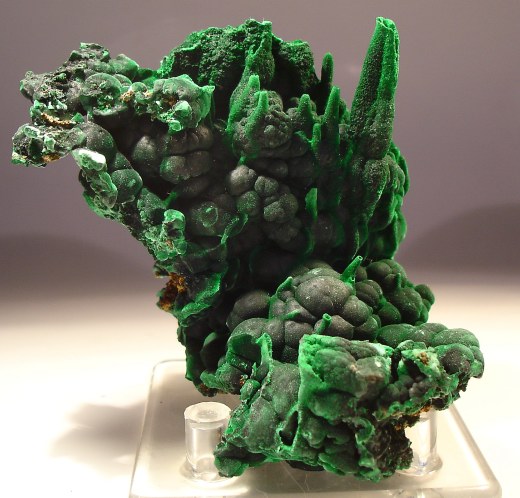 Velvety Malachite Stalactites
Africa
Cabinet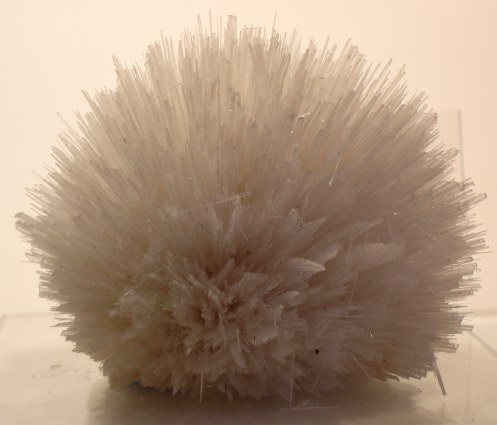 Scolocite
India
Cabinet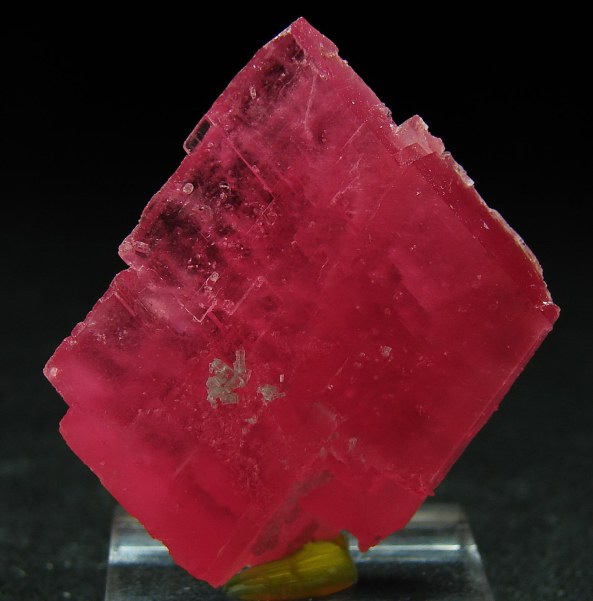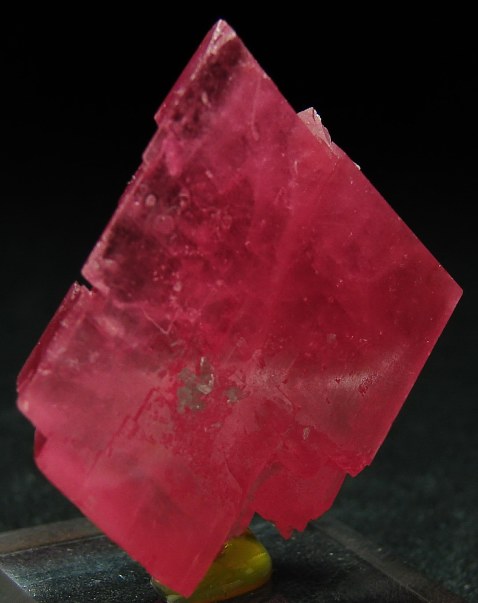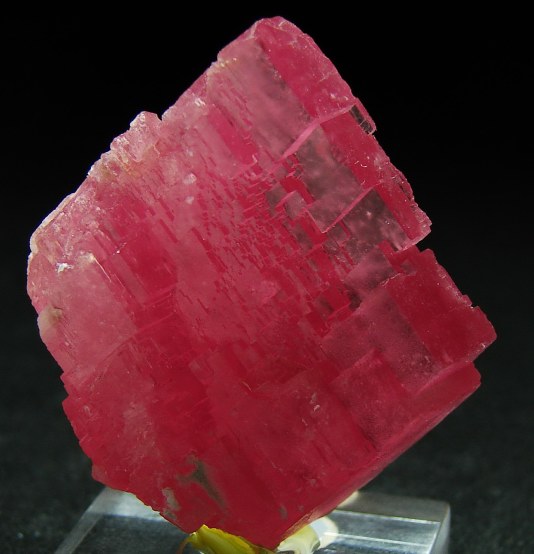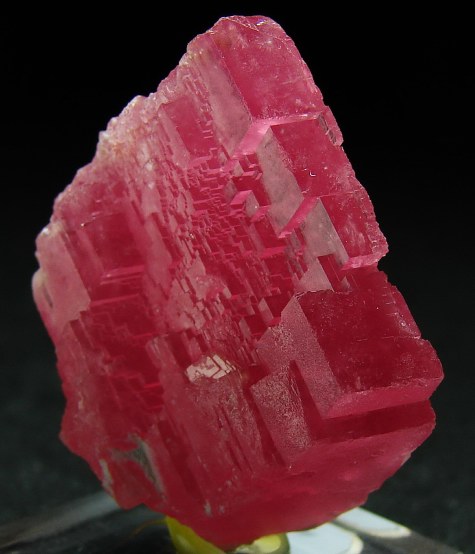 Rhodochrosite
Sweet home
Miniature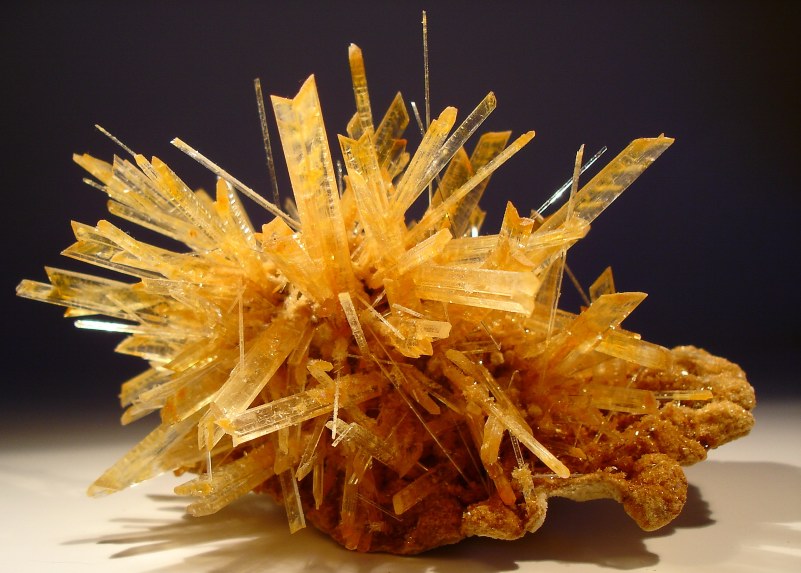 Selenite
Originally purchased this to sell but, it is way to fragile to ship and by the time
the buyer received it, it would be reduced to a pile of sheetrock dust.
Australia
Cabinet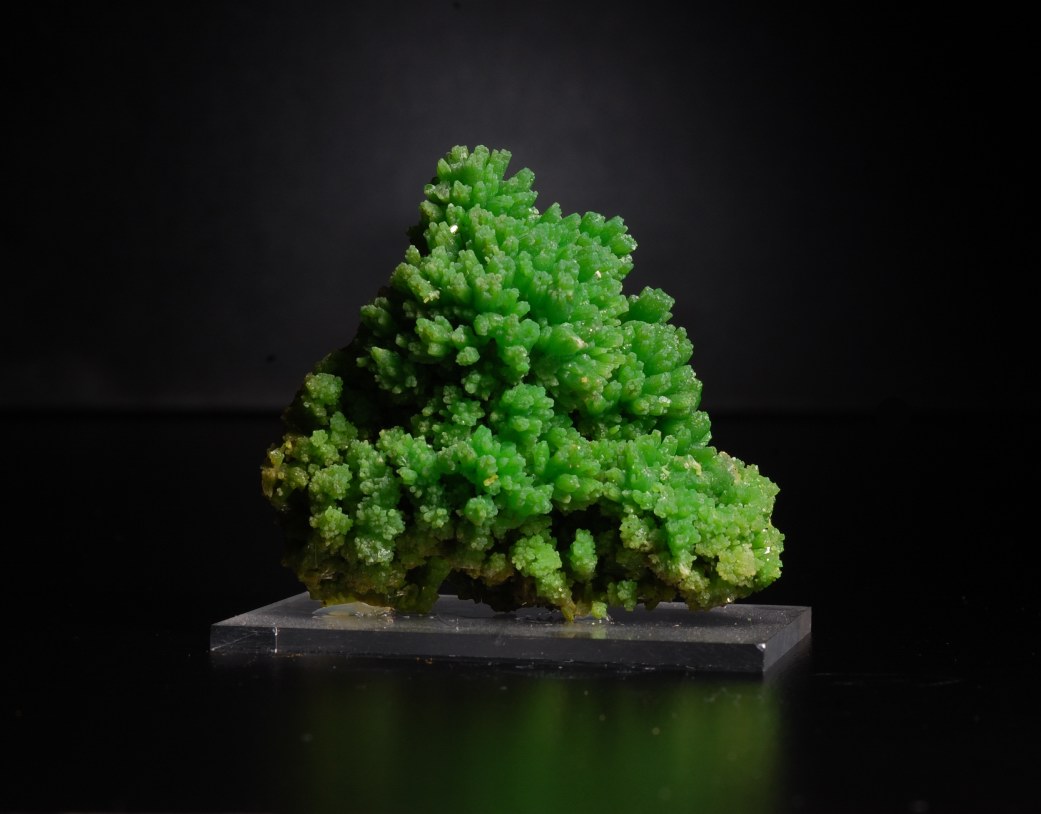 Pyromorphite
Yangshuo Mine, China
Large Miniature/ small cabinet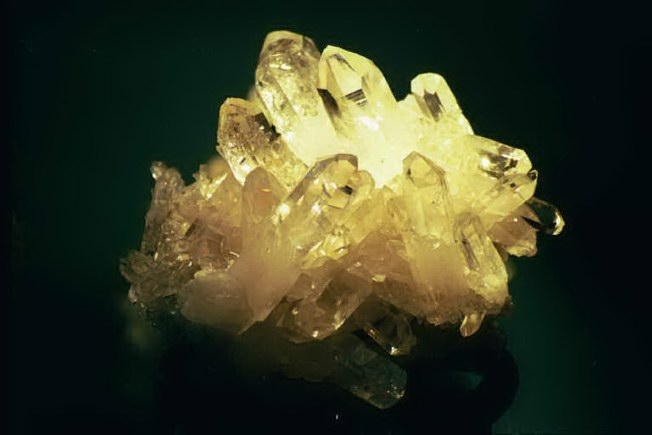 Quartz
Not the greatest but the first big piece we bought.
Arkansas
large cabinet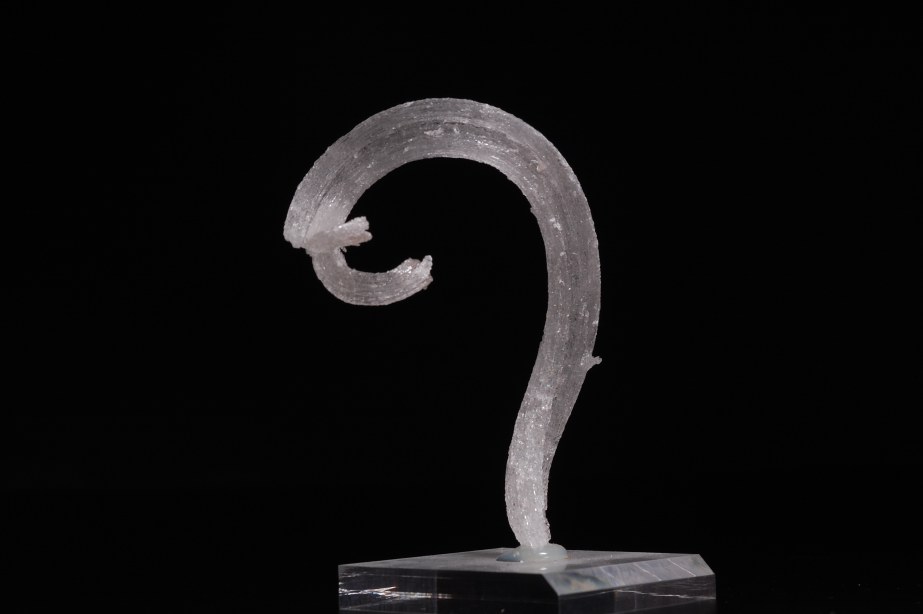 Rams horn Selenite
Mexico
small cabinet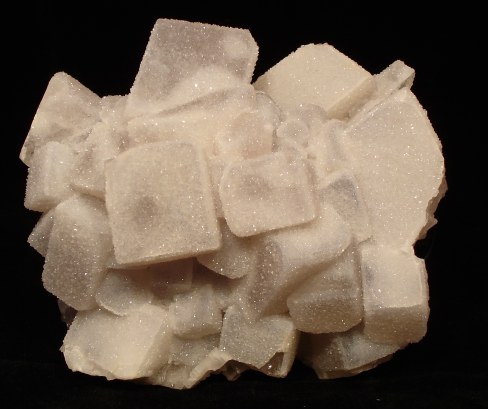 Quartz over Barite
Sugar bowl pocket
Murrey mine
Cabinet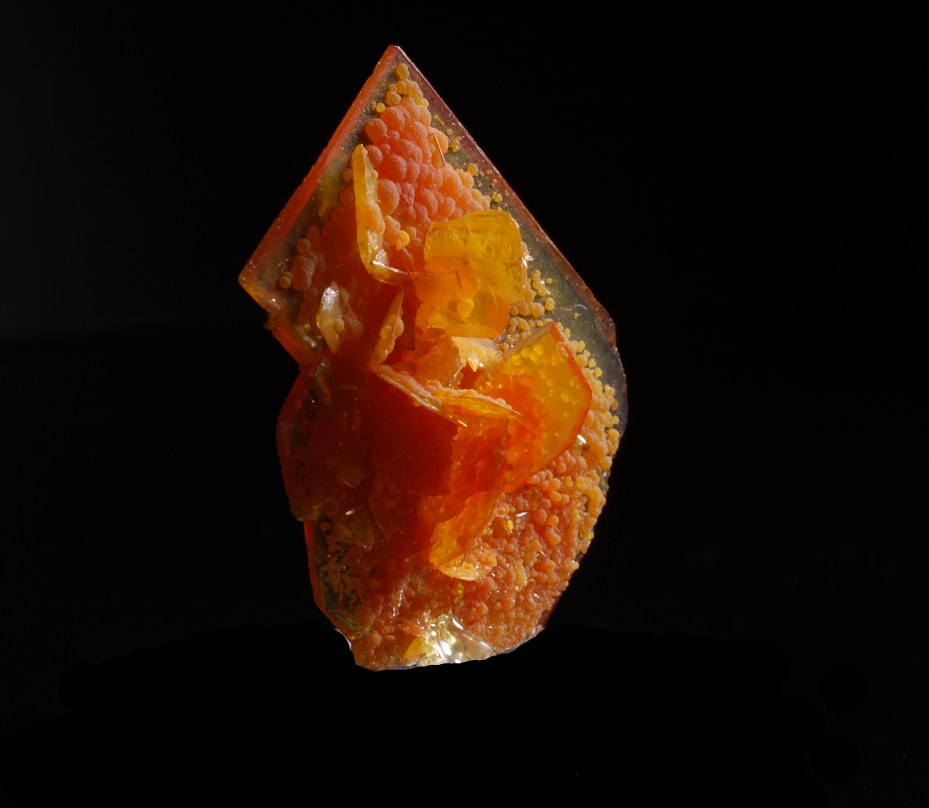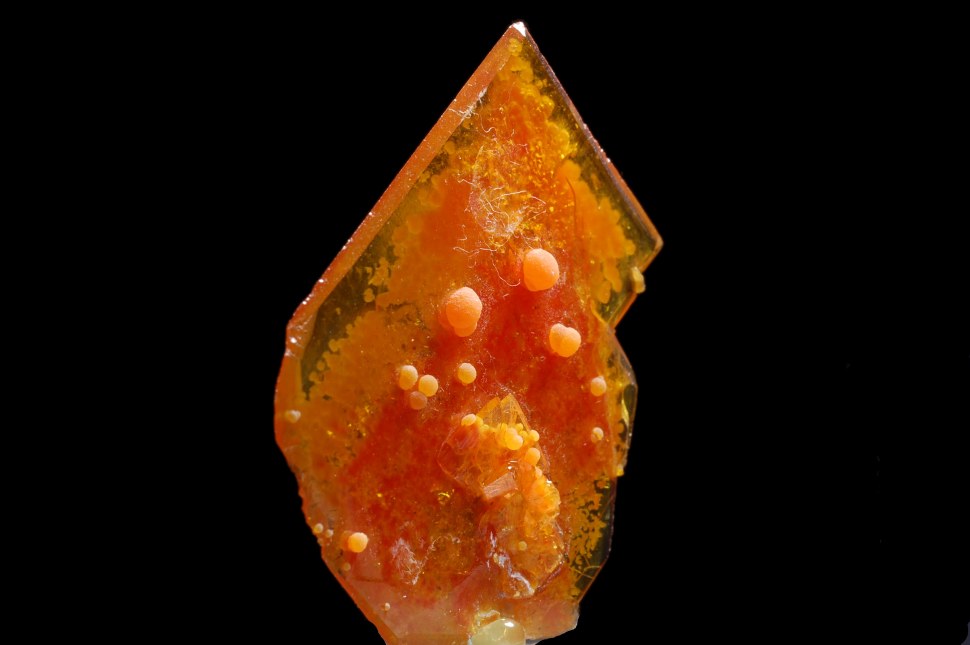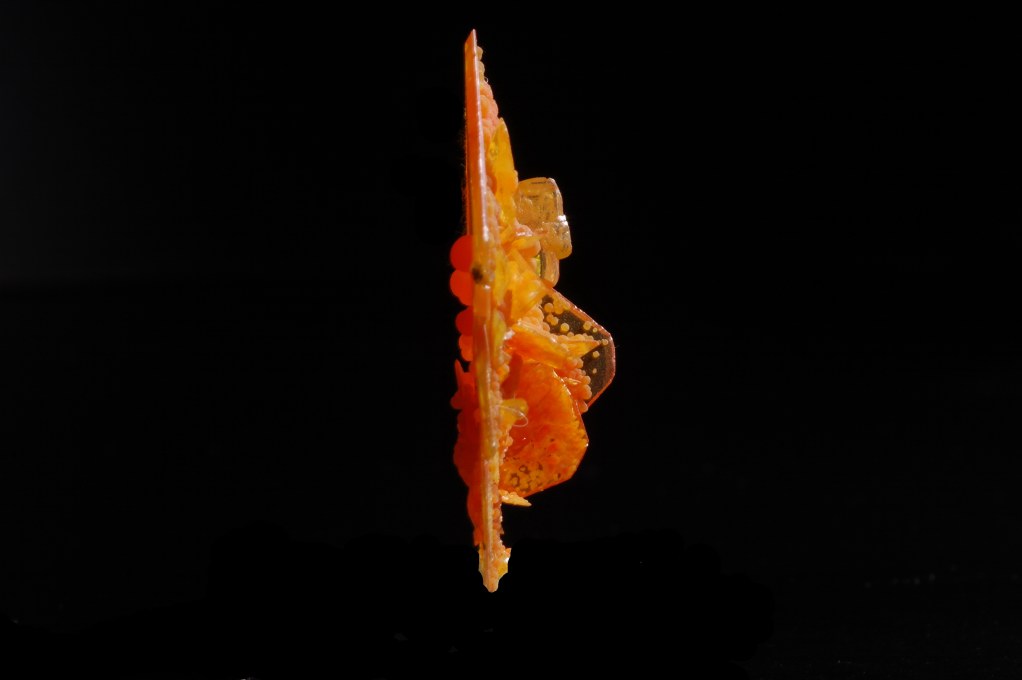 Single big Wulfenite with Mimetite
I think these are the best Wulfenites ever found.
San Francisco mine
Mexico
miniature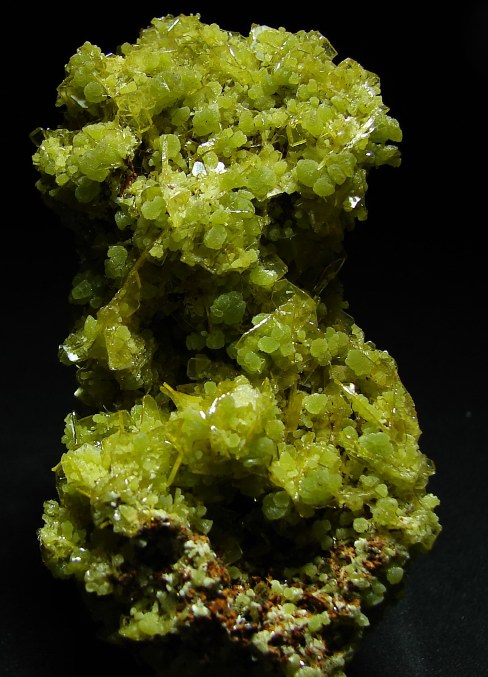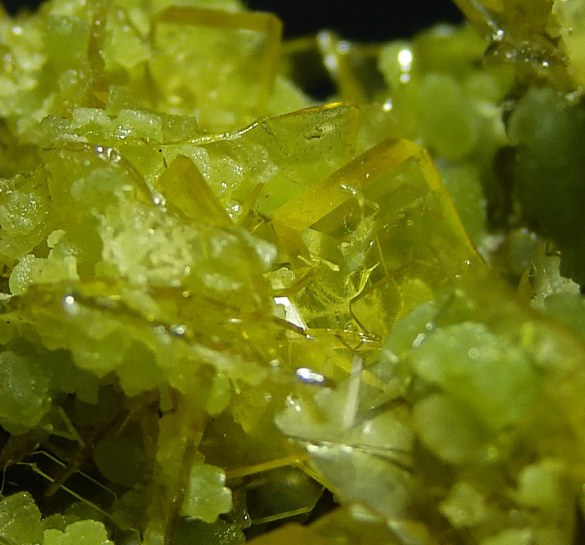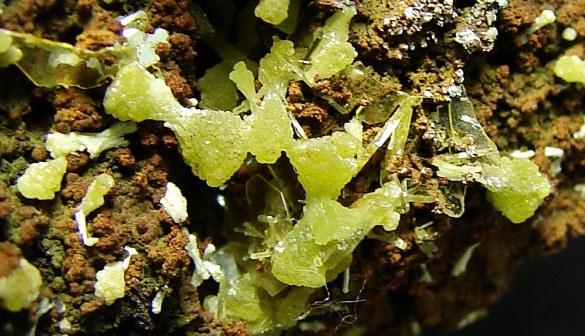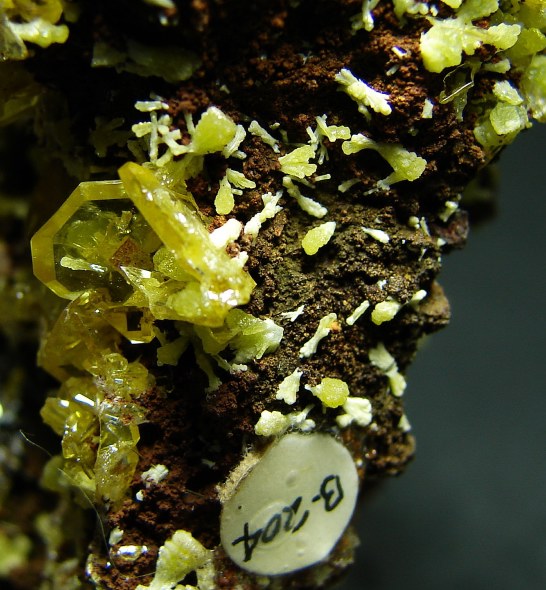 Apple green Mimetite and Wulfenite.
Not the usual dull green but, very lustrous crystals.
The back of the piece has tiny green bowties of Mimetite .
Mexico
Small cabinet
Former U of A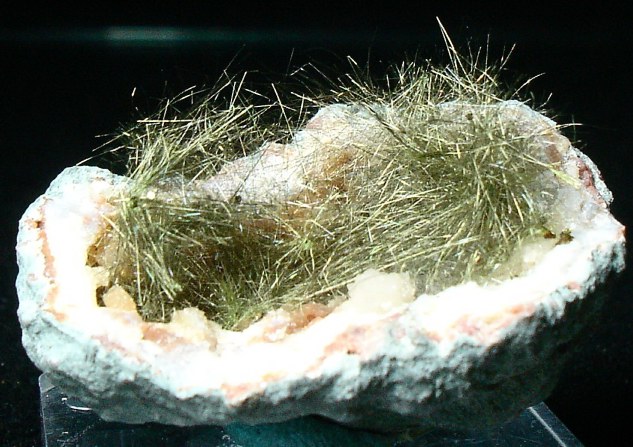 Millerite
Rare and Fragile
Halls Gap
Kentucky
small miniature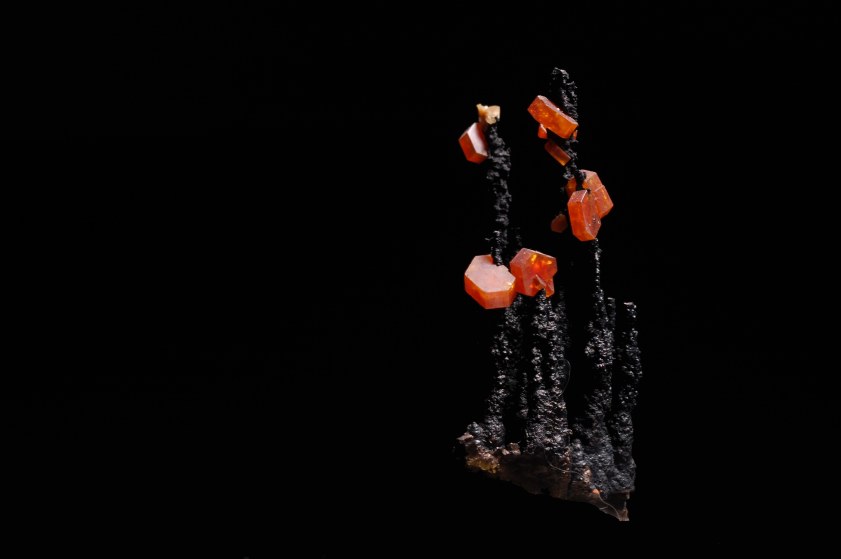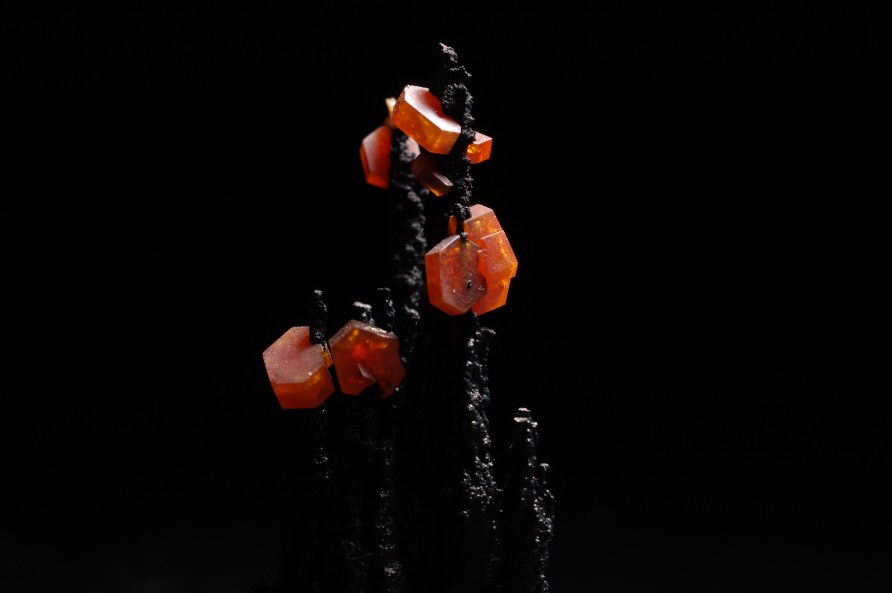 Orange tabular Vanadinite on Holandite
Morocco
miniature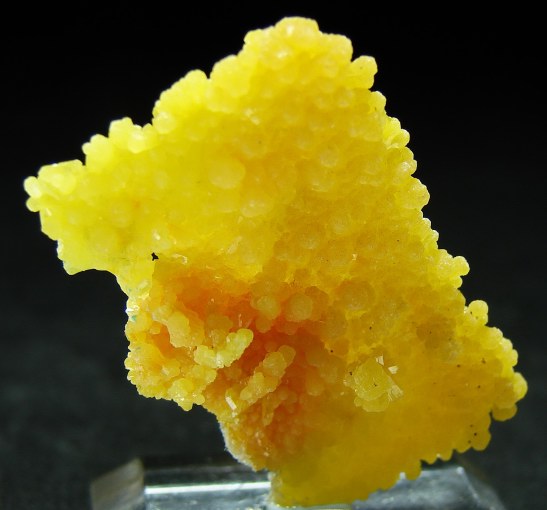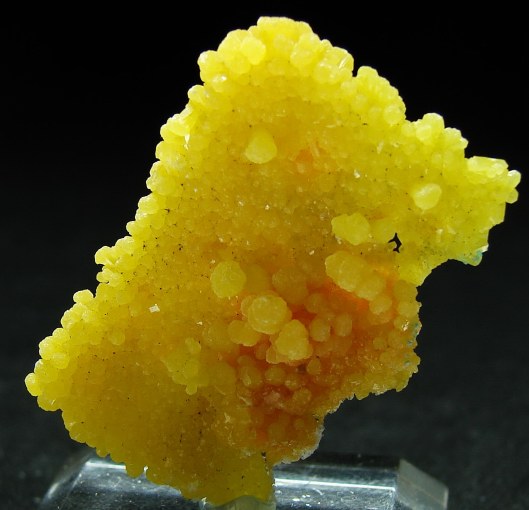 Mimetite completely replaced Wulfenite
San Francisco mine
Mexico
miniature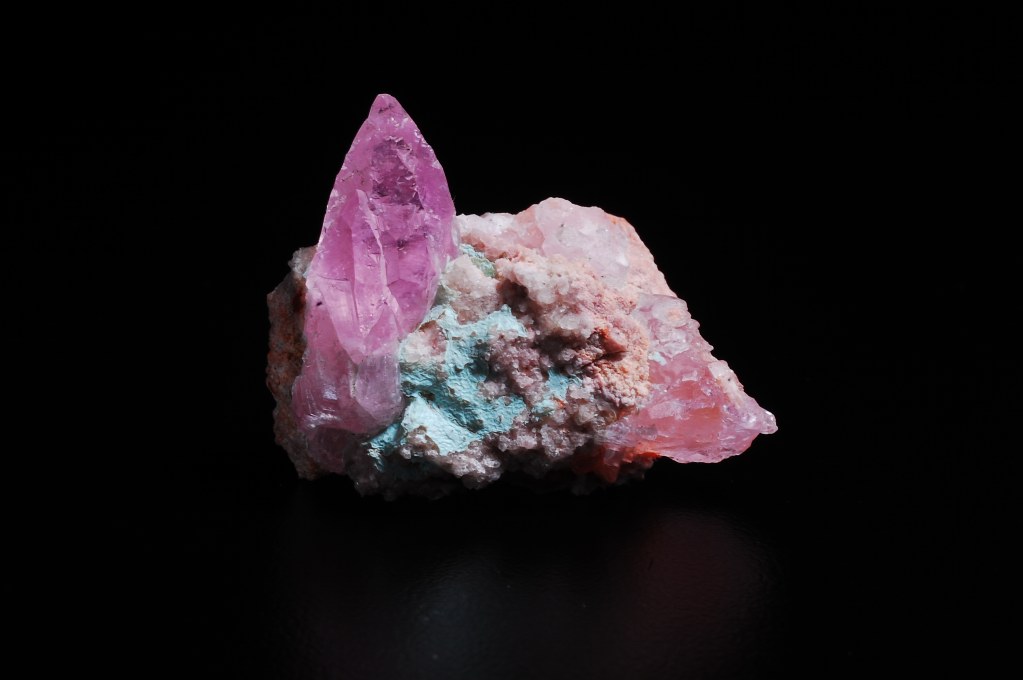 Cobaltoan Calcite
Mashamba west
Shaba, Congo
Thumber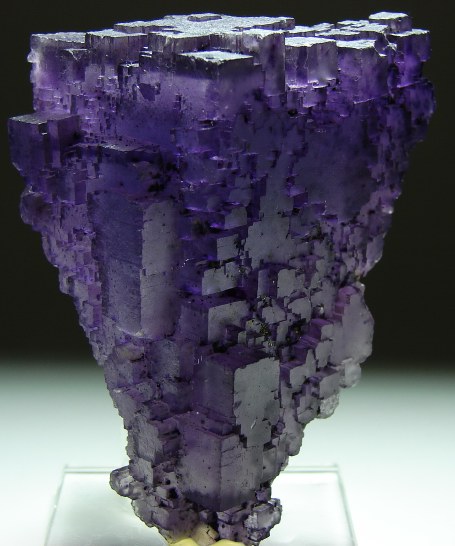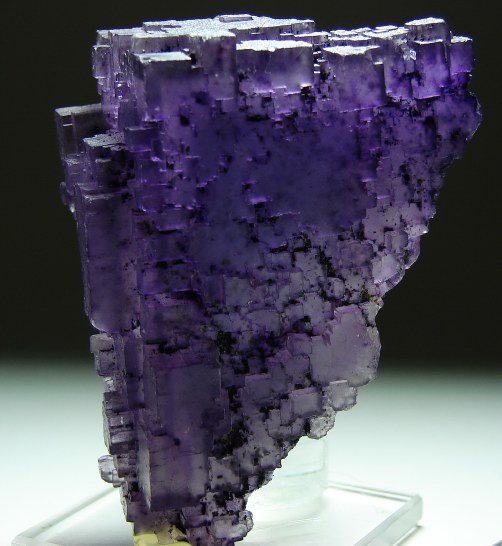 FLUORITE
Cave in Rock
Small Cabinet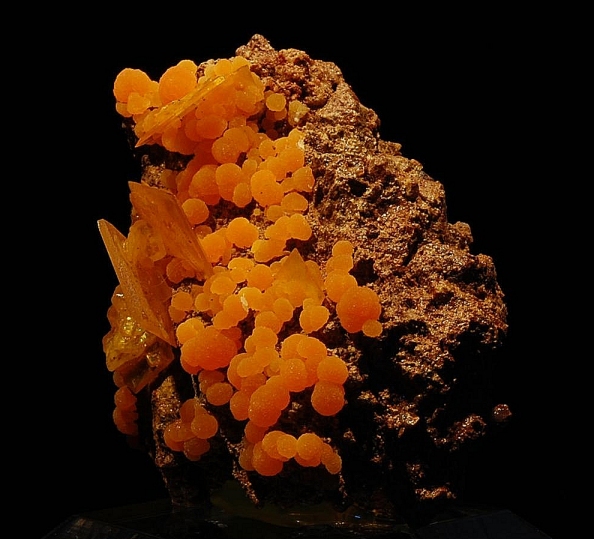 Fiery orange Mimetite with Wulfenite.
San Fransisco Mine
Miniature