2012 Tucson Mineral Show Report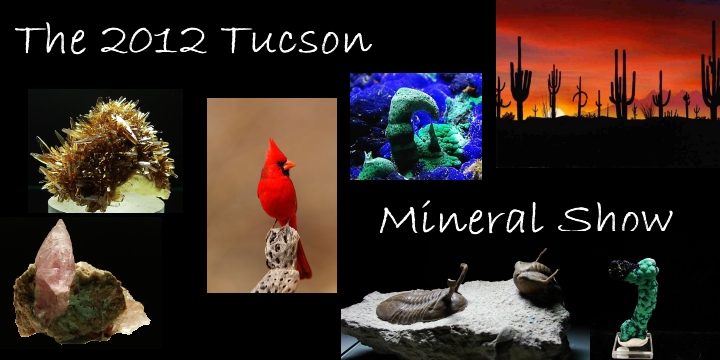 Time again for the Show of shows.
The Tucson Gem and Mineral Show!
Diana and I are in flight as I write this and we are anticipating a great show. We have been monitoring the show reports on the web all last week
and it seems there is little in new finds to report.
We usually attend the first week of the show to assure a better selection but opted to go the second week to attend the Arizona centennial displays.
We decided to head over to Dan and Diana Weinrich's room at the Westward look to see what they had to offer.
They had their usual selection of outstanding minerals to choose from.
It was just about closing time when we arrived so we didn't get a chance to tour the other rooms.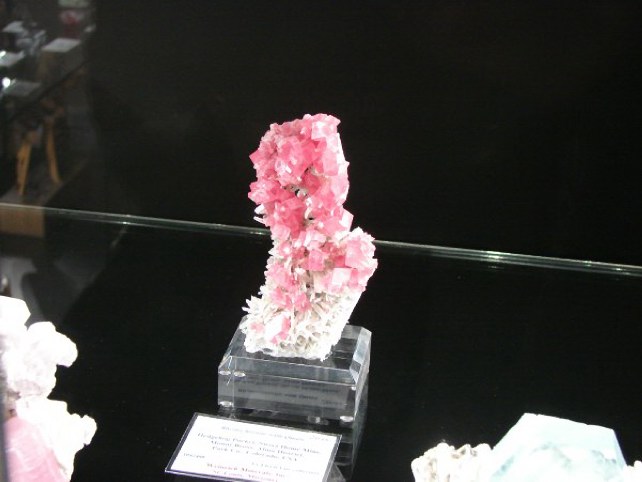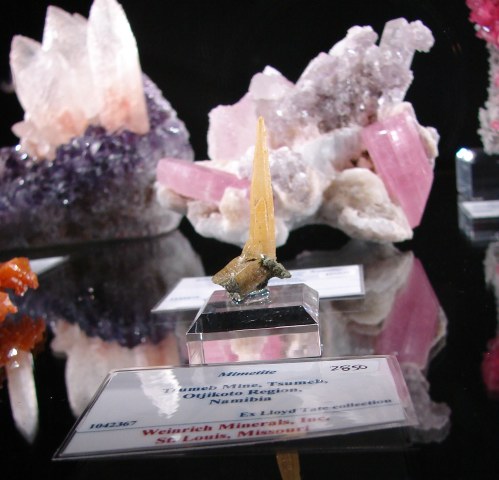 Rhodo on matrix Really nice Mimetite!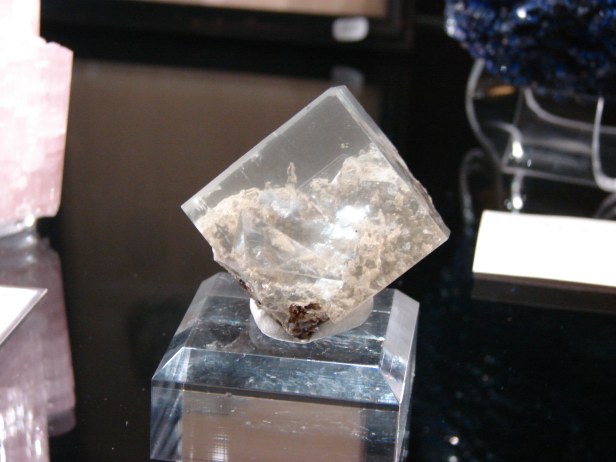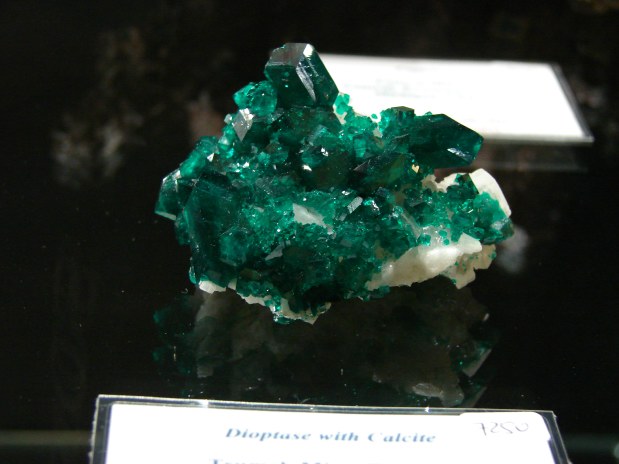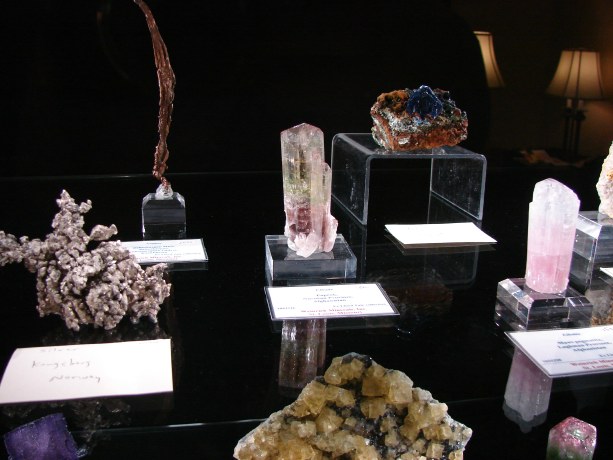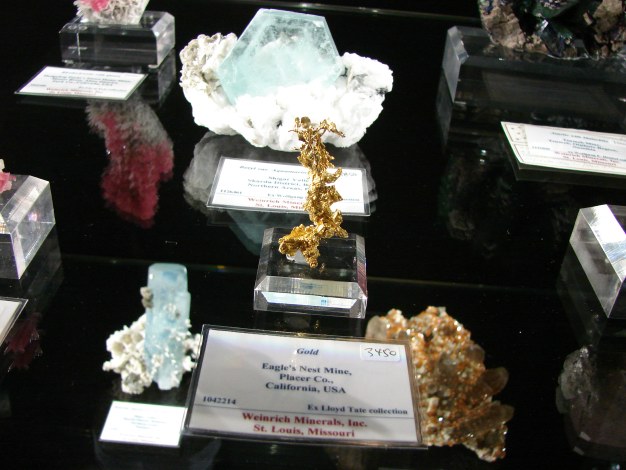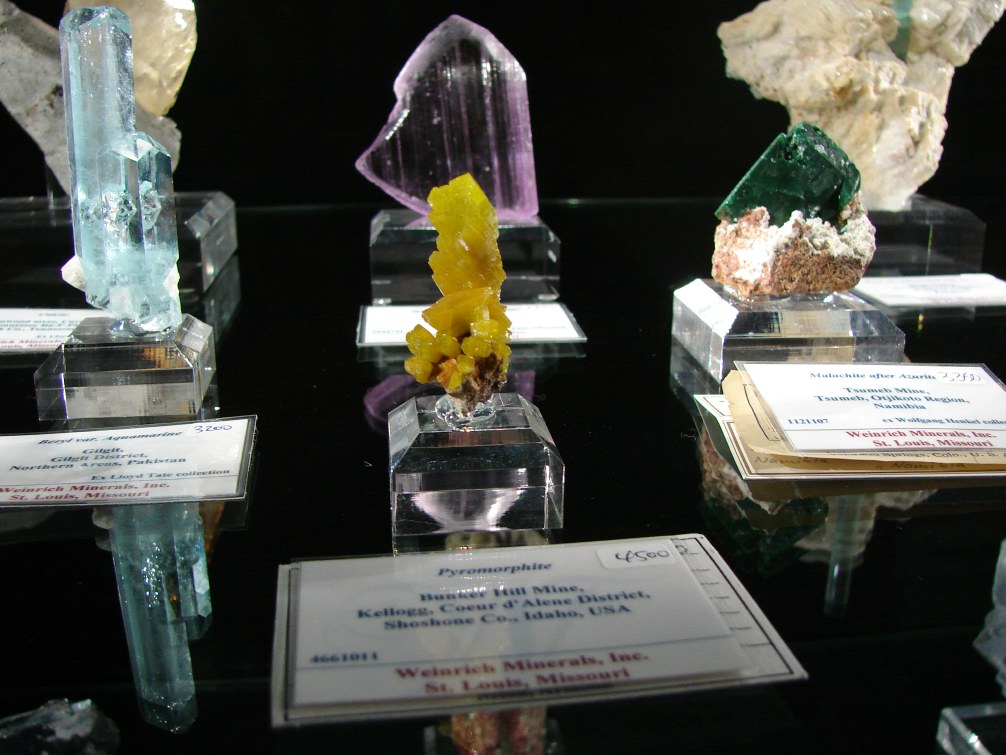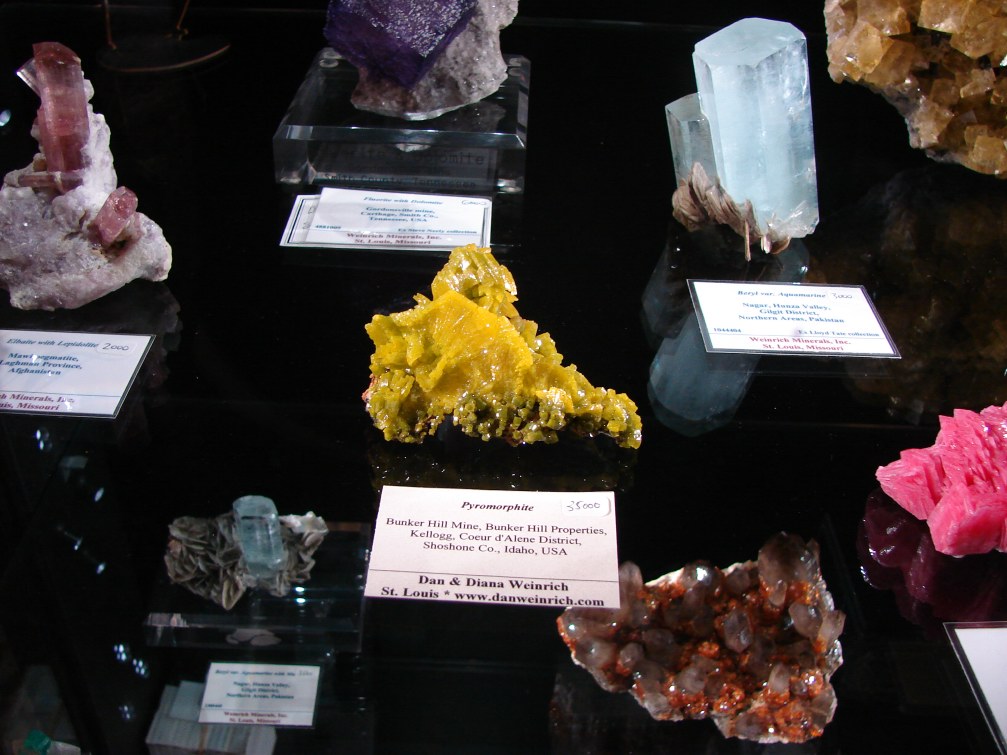 WOW!
Possibly the best pyro I have ever seen! Superb big flattened crystal.
Onward to the Big Show (TGMS).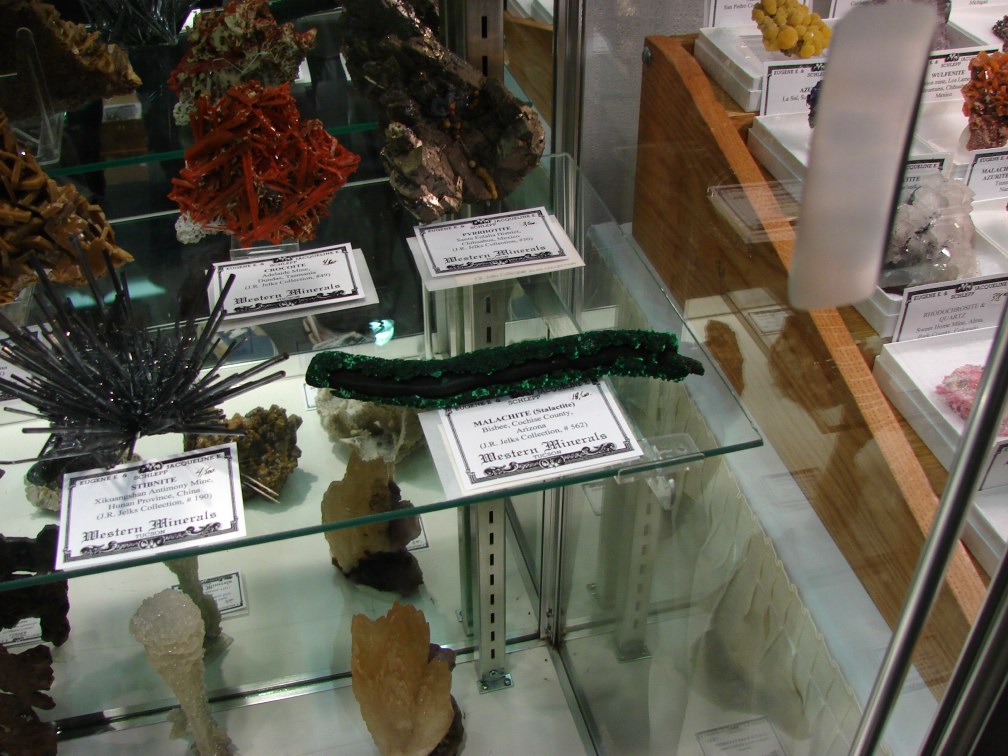 Gene Shlepp of Western Minerals had this fantastic Malachite on Malachite stalagmite from Bisbee. Awesome!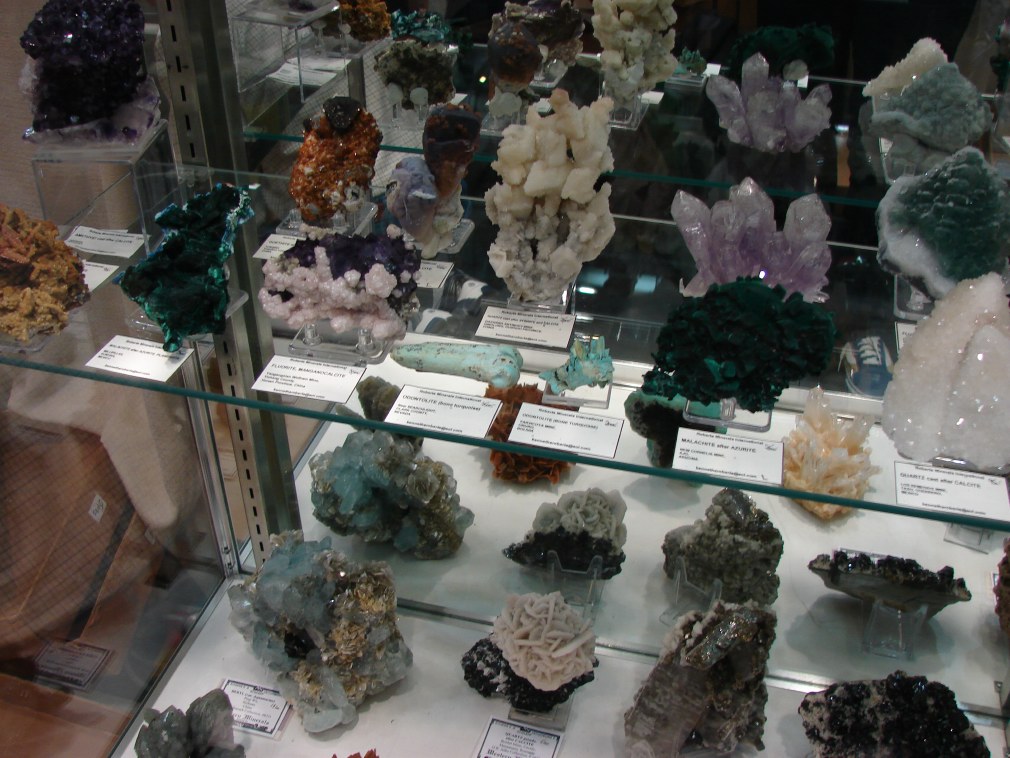 A bone fragment and a jaw bone infused with Turquoise!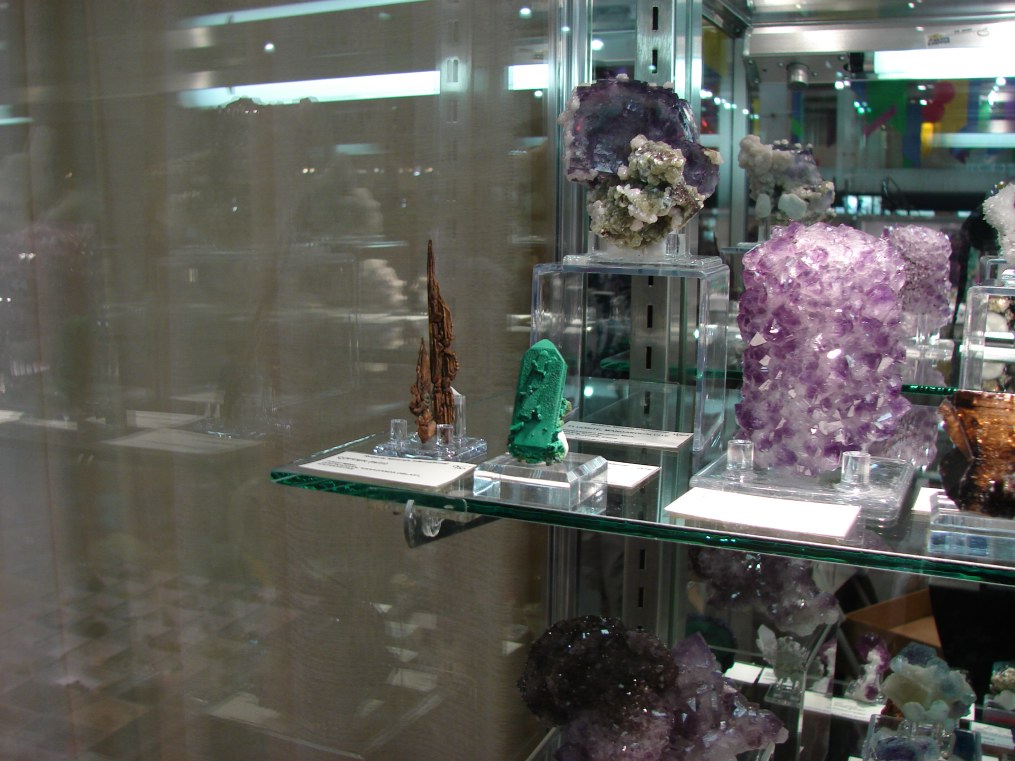 One of the sharpest pseudomorphs I have seen. Top shelf specimen!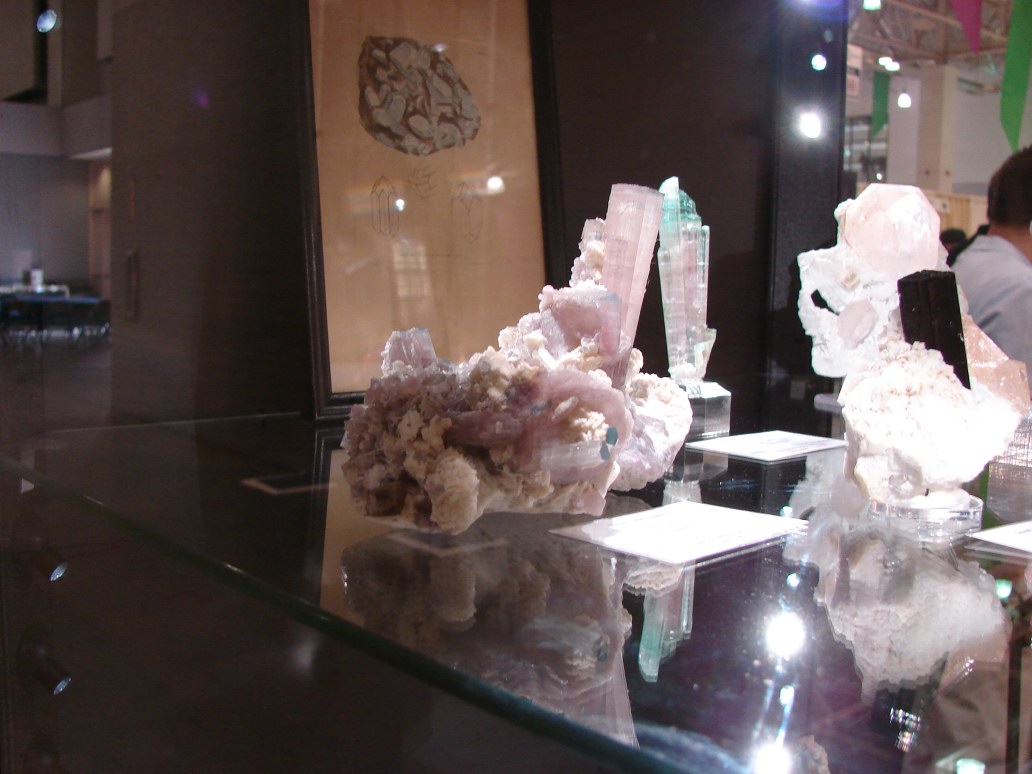 Beautiful Tourmaline!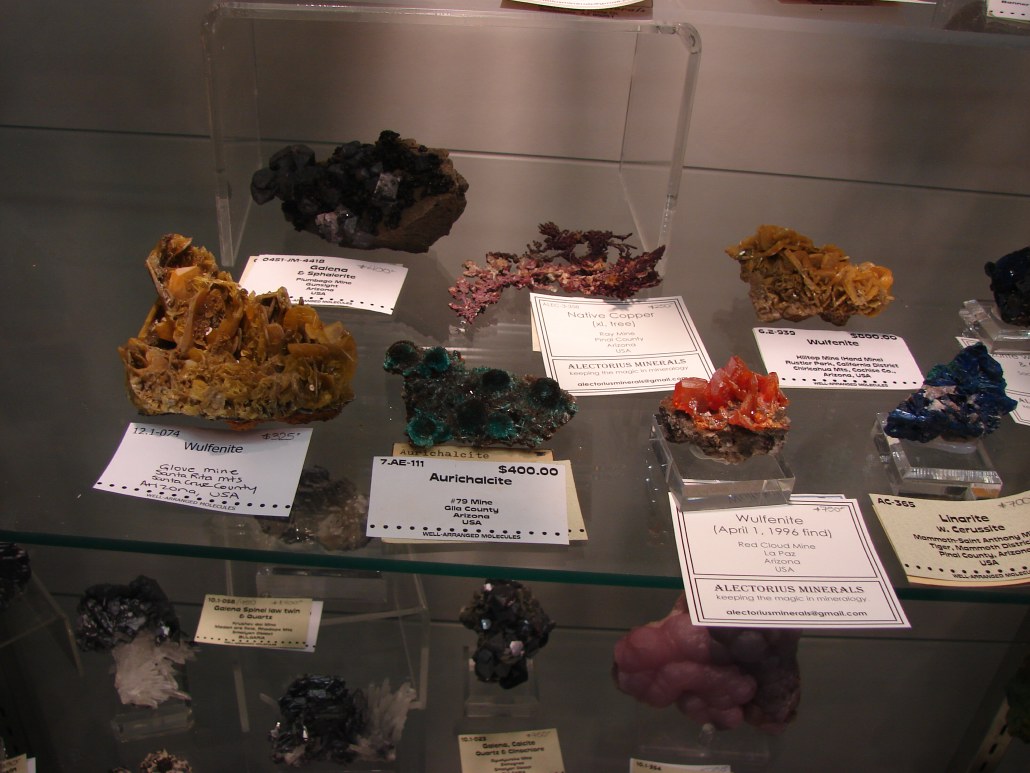 A very aesthetic Aurichalcite!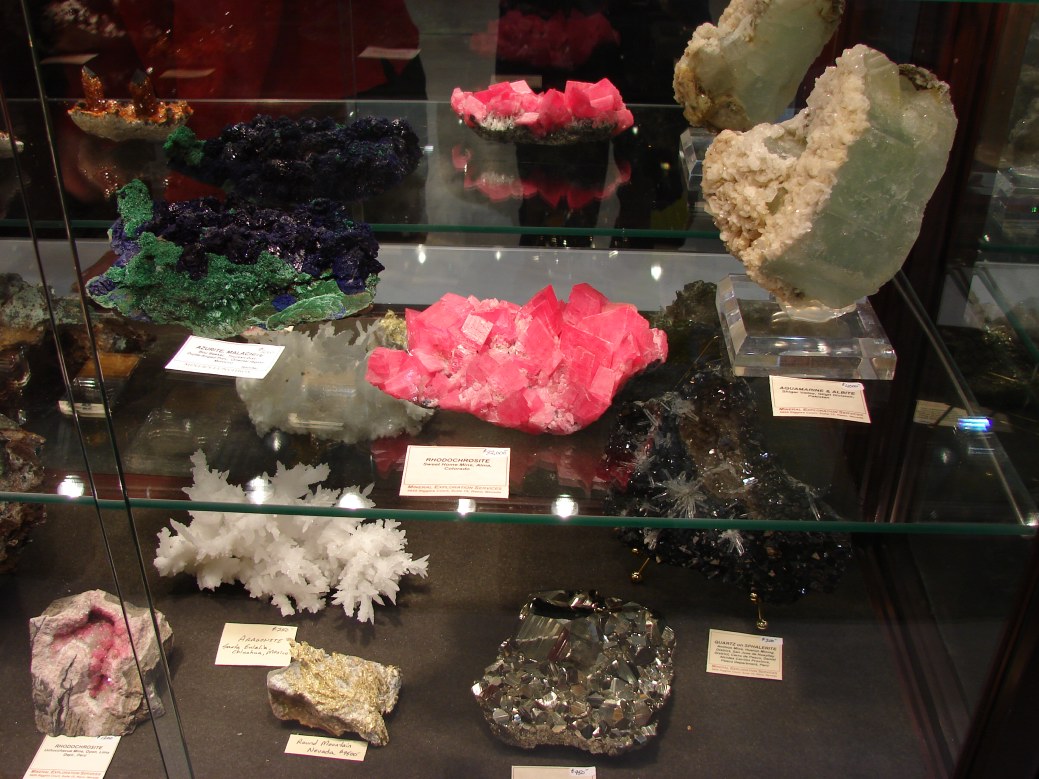 Nice Rhodo!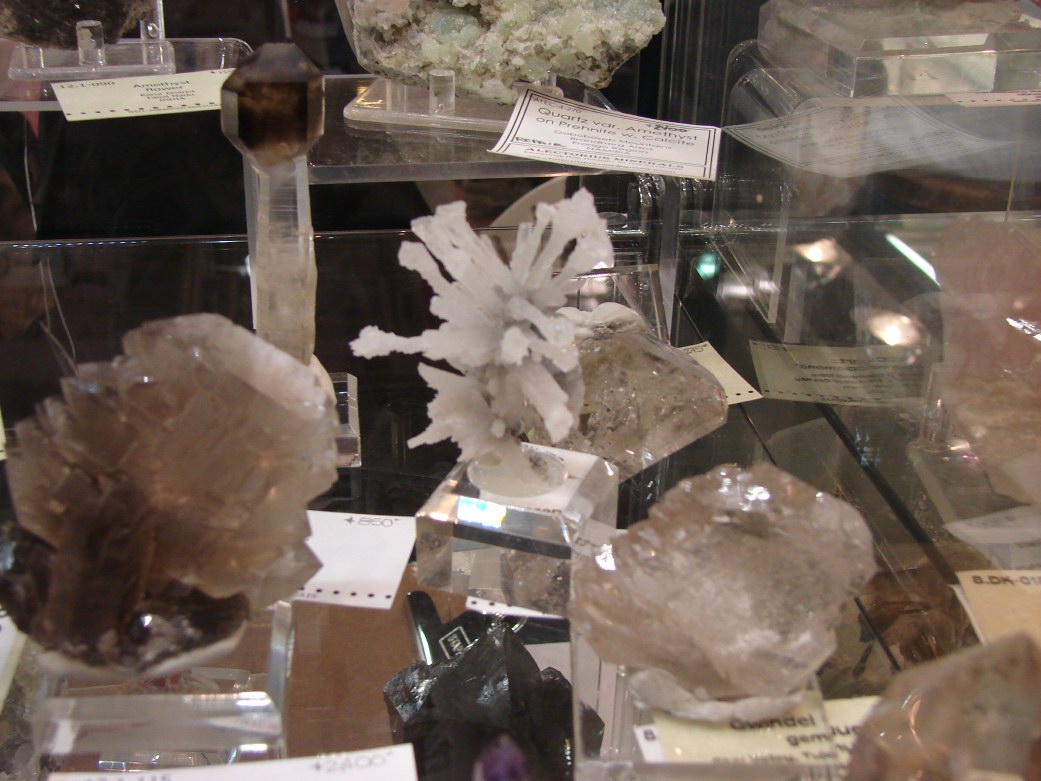 This "nailhead" cluster of Quartz caught my eye. Too bad the camera didn't like it.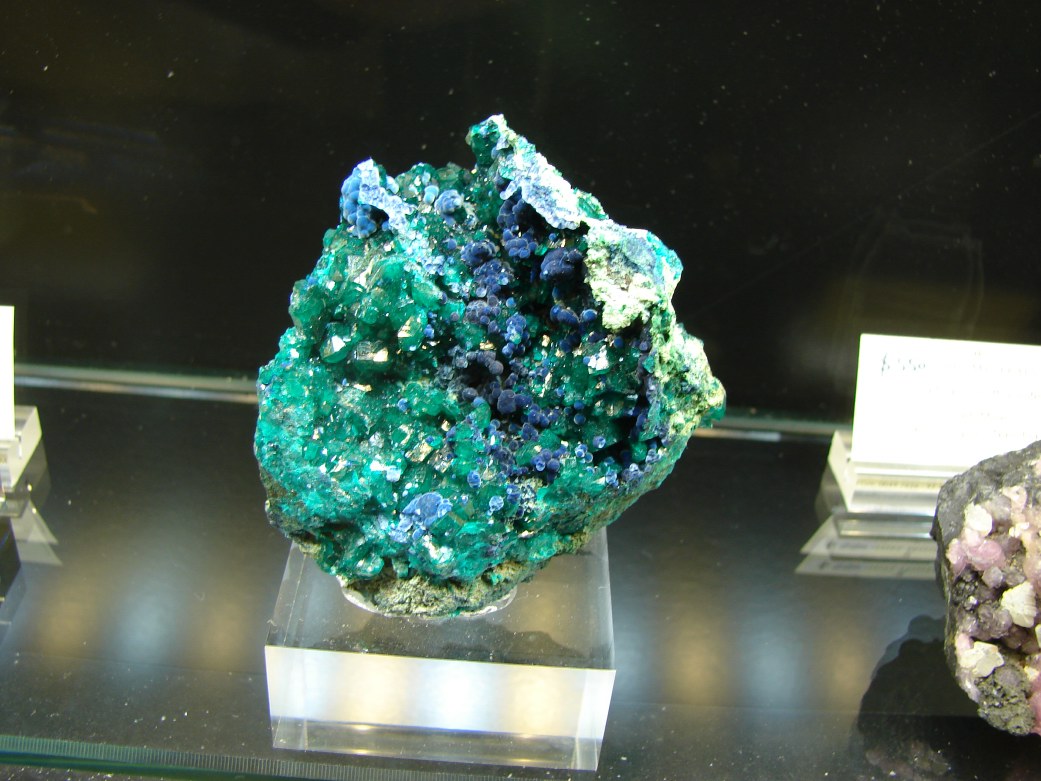 Beautiful specimen of Shattuckite on Dioptase!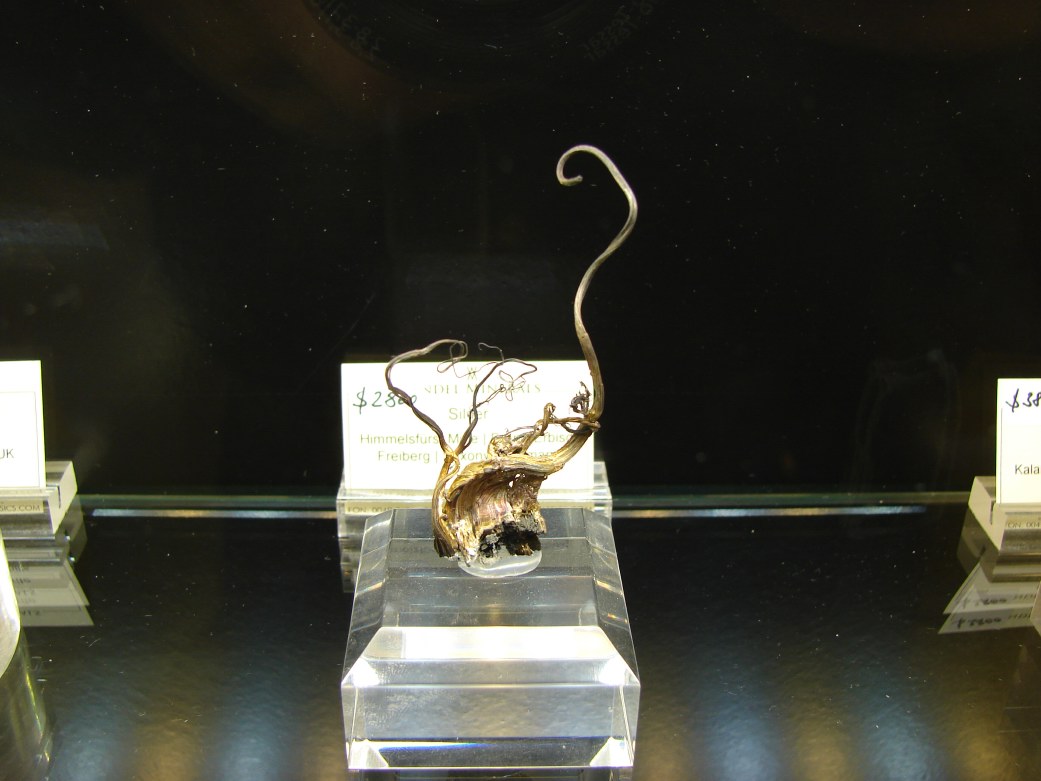 Freiberg!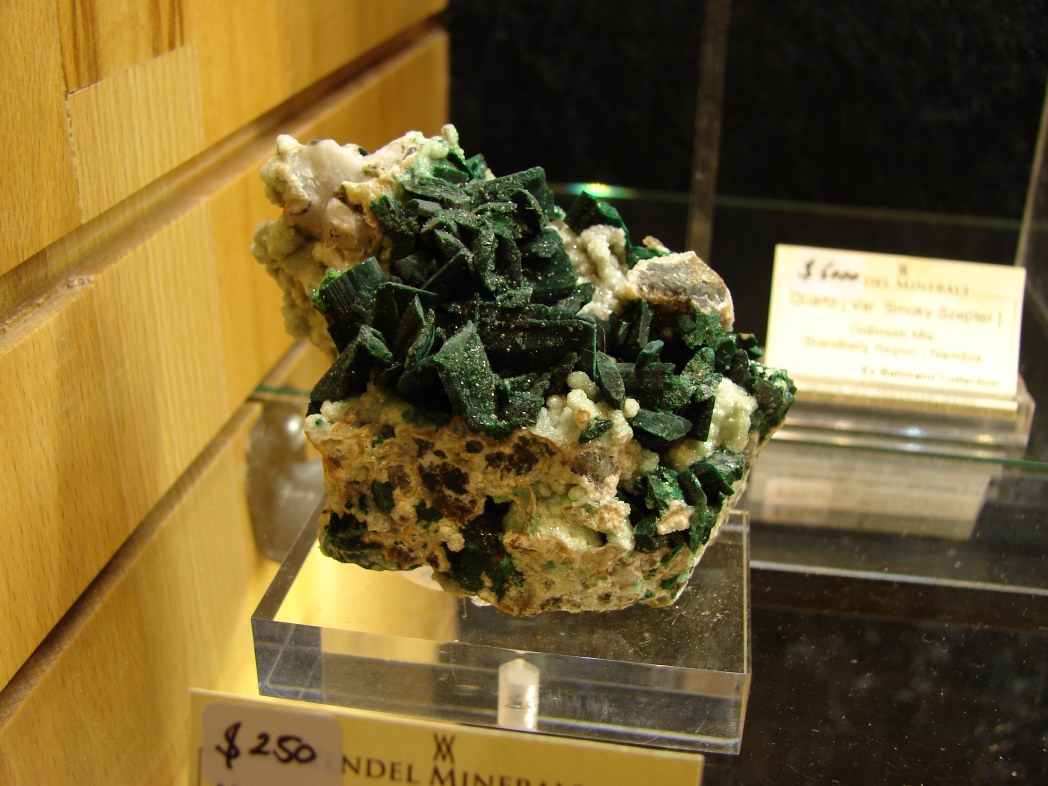 Sweet Pseudomorph Malachite after Calcite. Reasonably priced as well!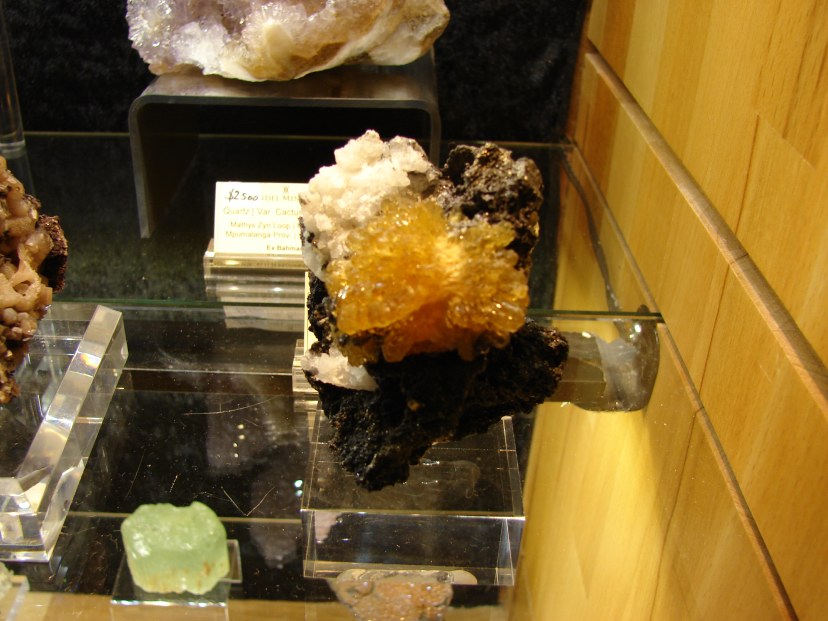 Wonderful spray of Legrandite on matrix.
Smithsonite
A preview of things to come.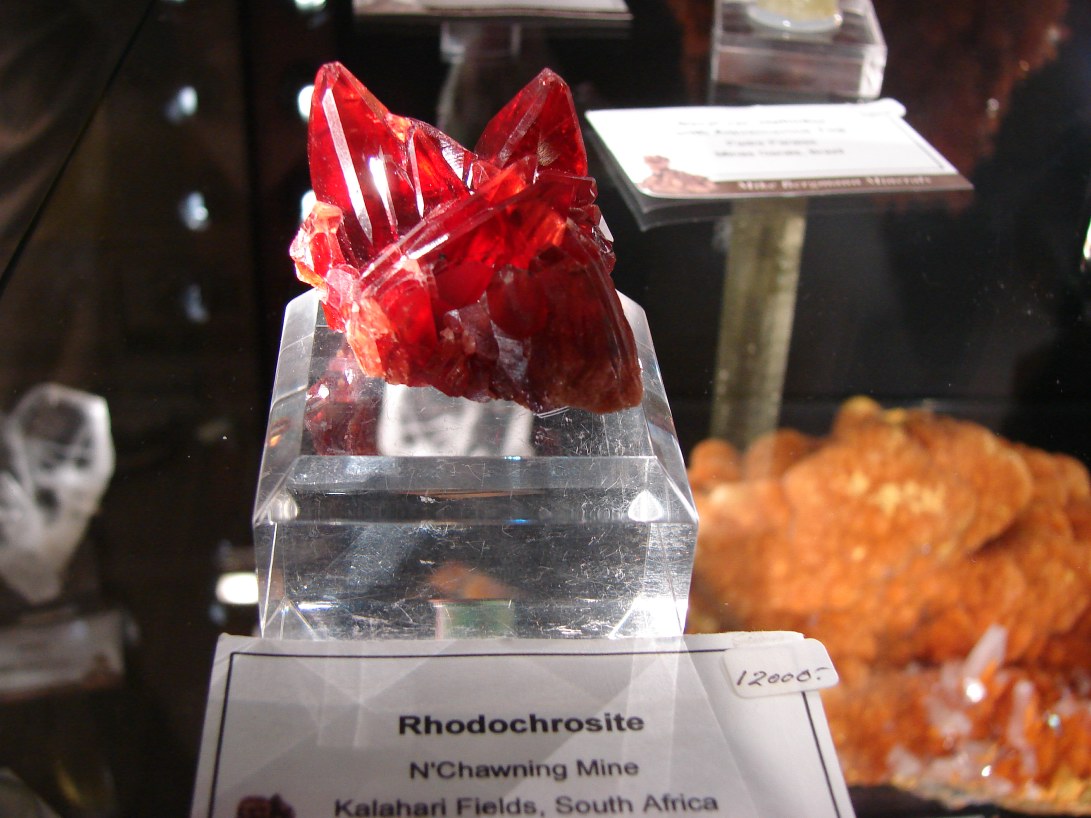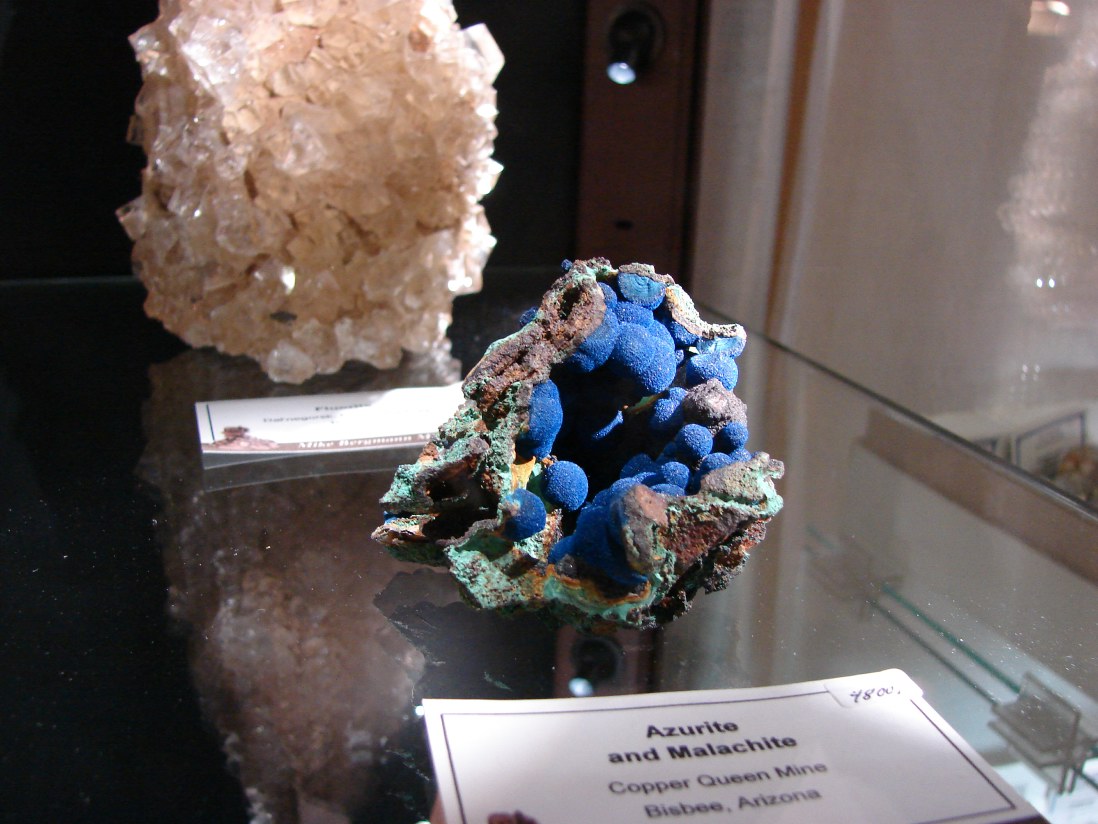 Another sweet Azurite!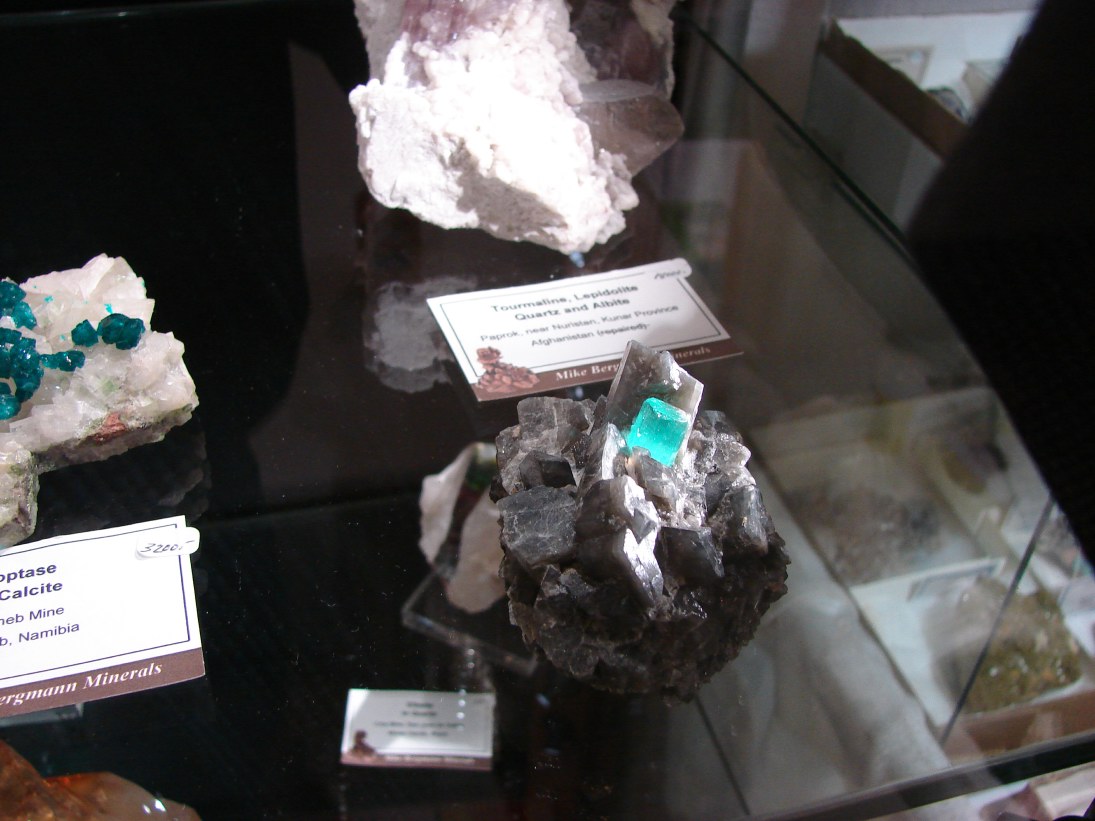 This Emerald on matrix just seemed to glow under the cabinet lights.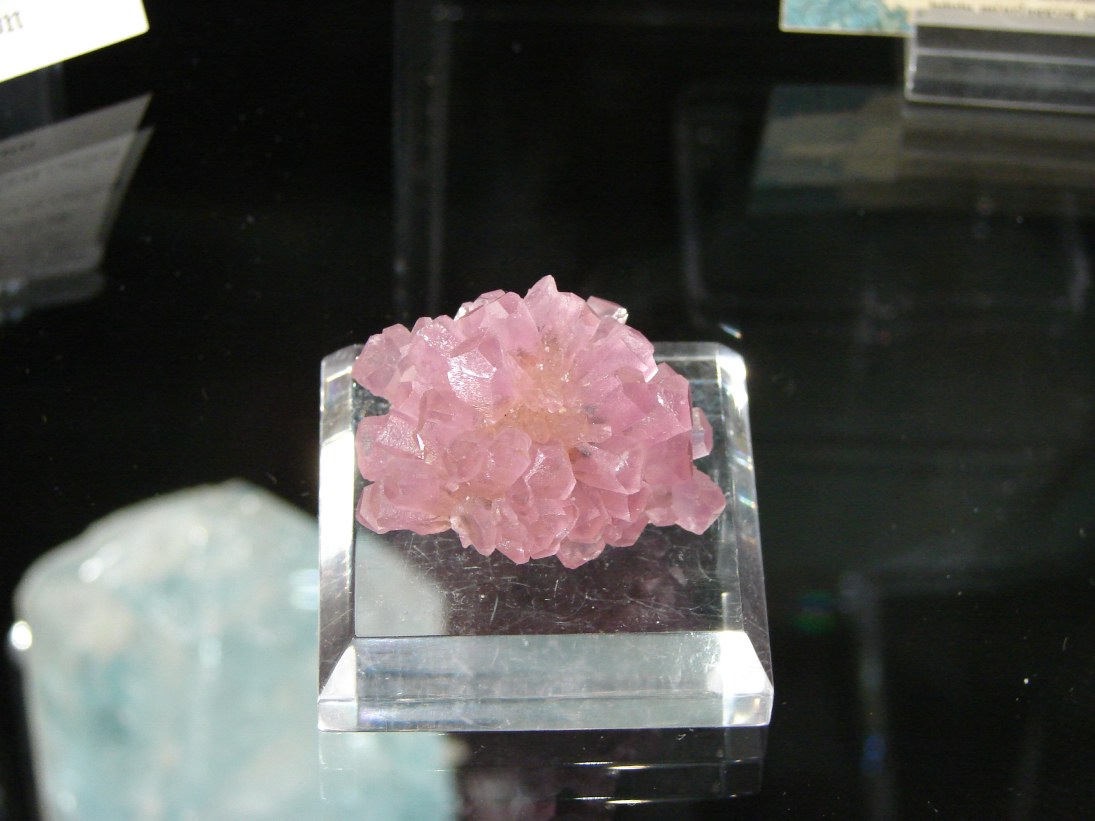 Super specimen of Cobaltoan Calcite.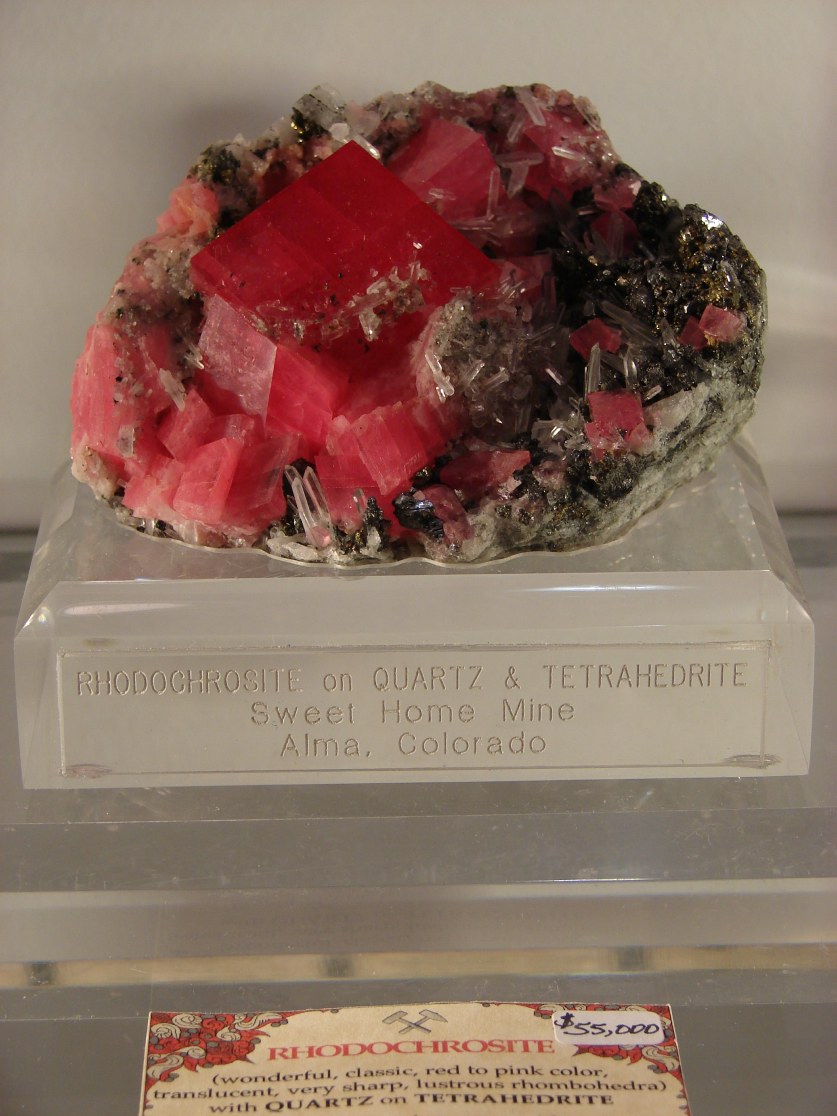 RHODO!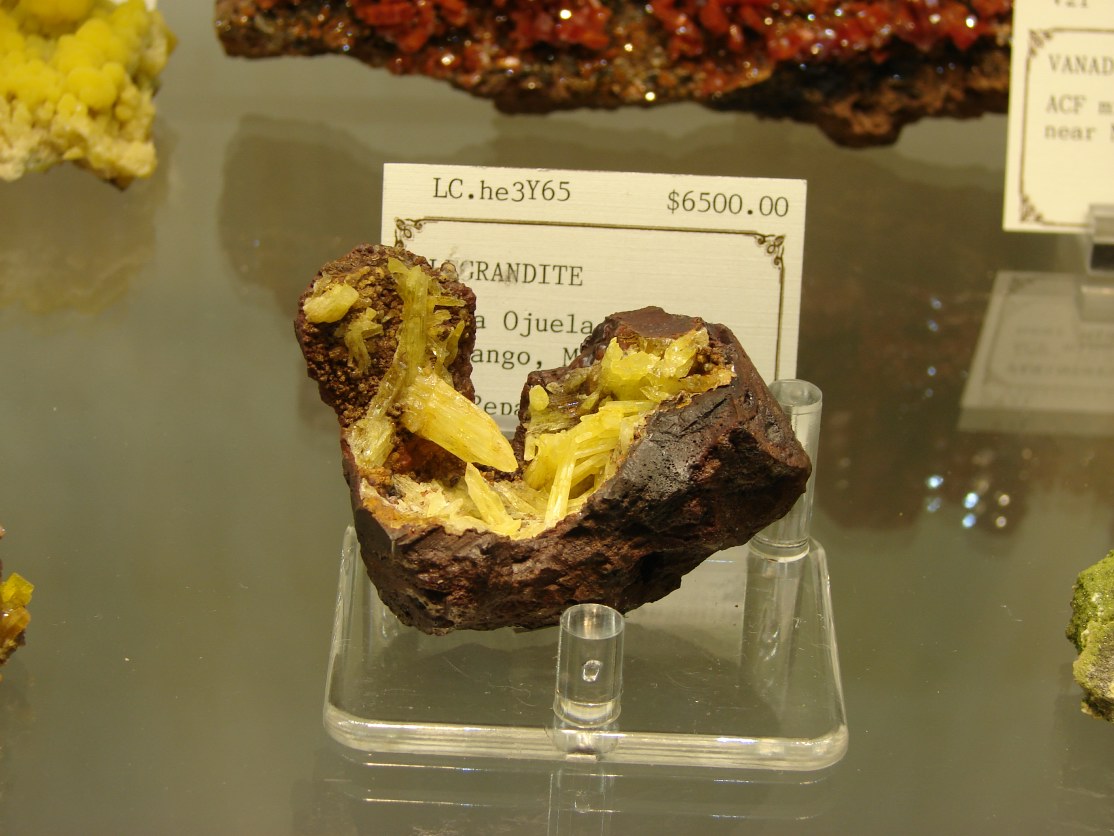 An intact vug of Legrandite.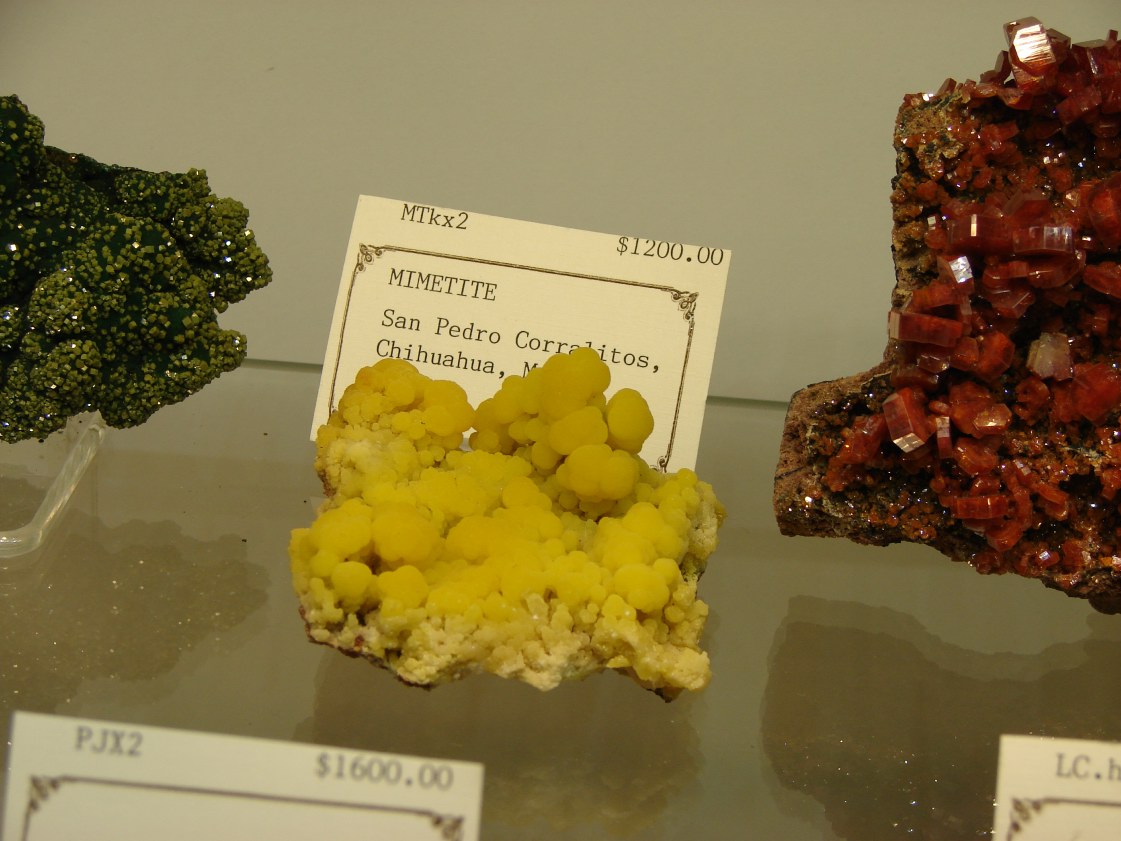 Really sweet Mimetite!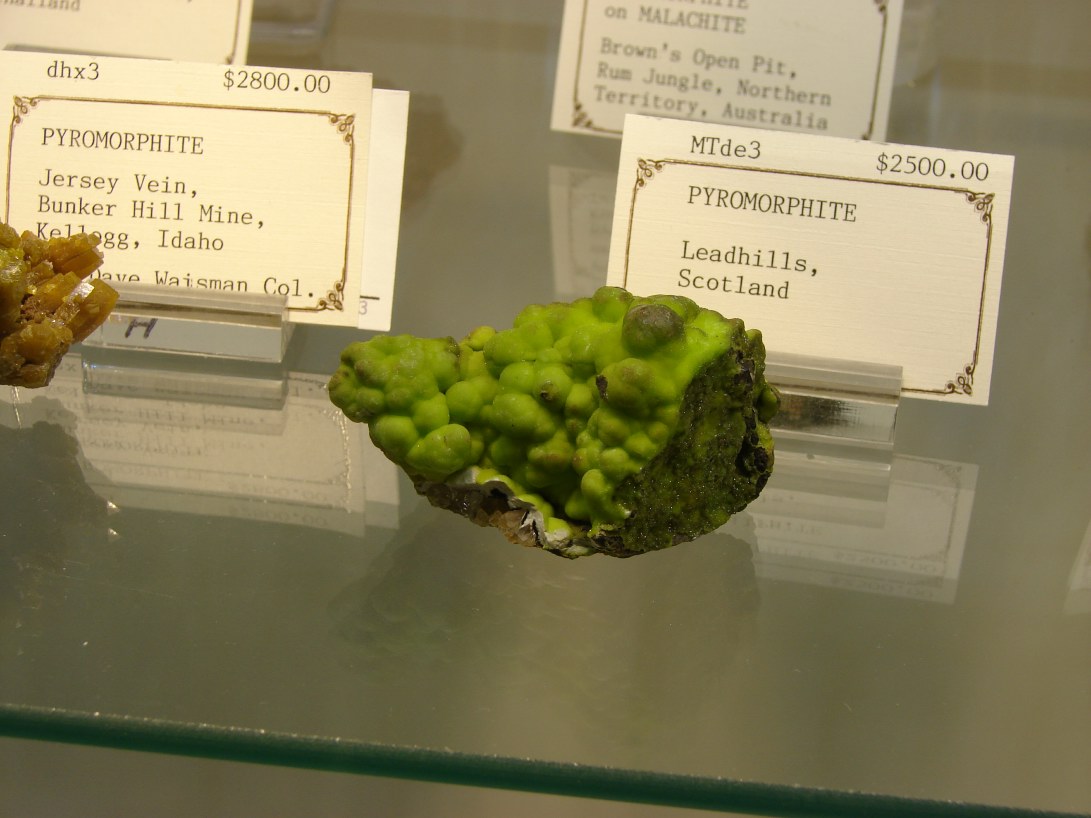 The color of these Pyro's from Leadhills are just electric!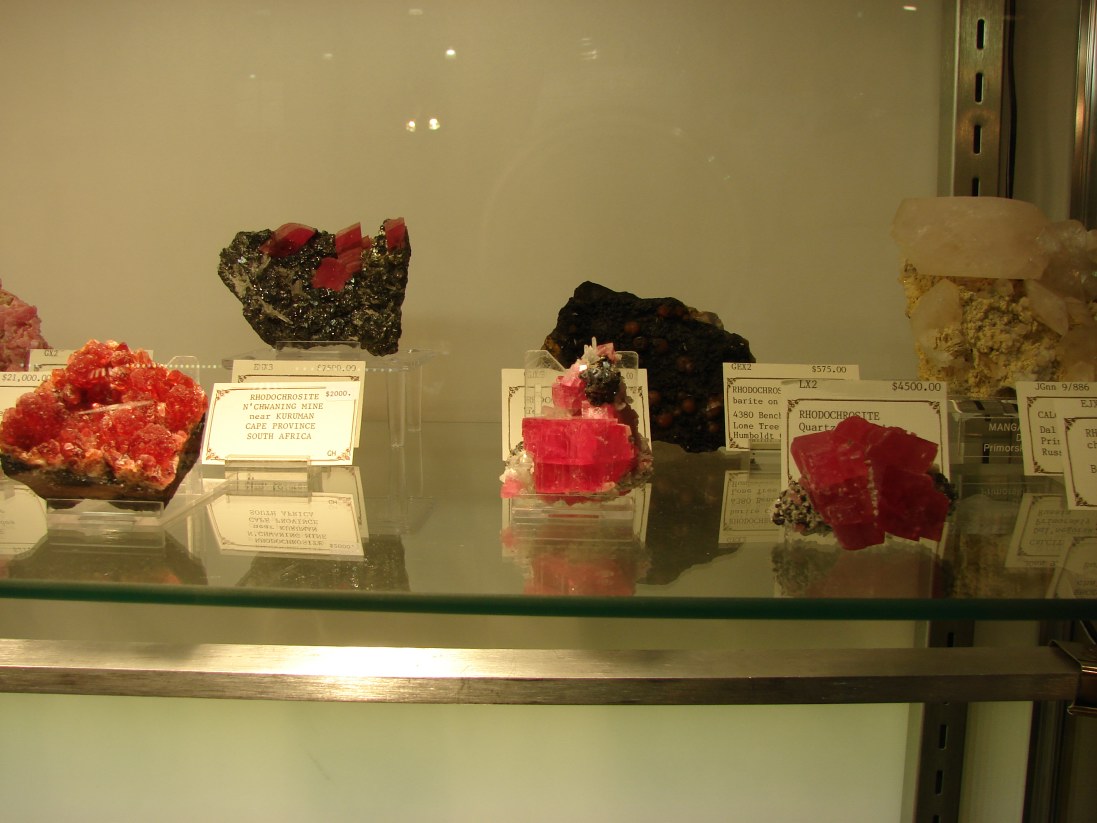 Seeing red again!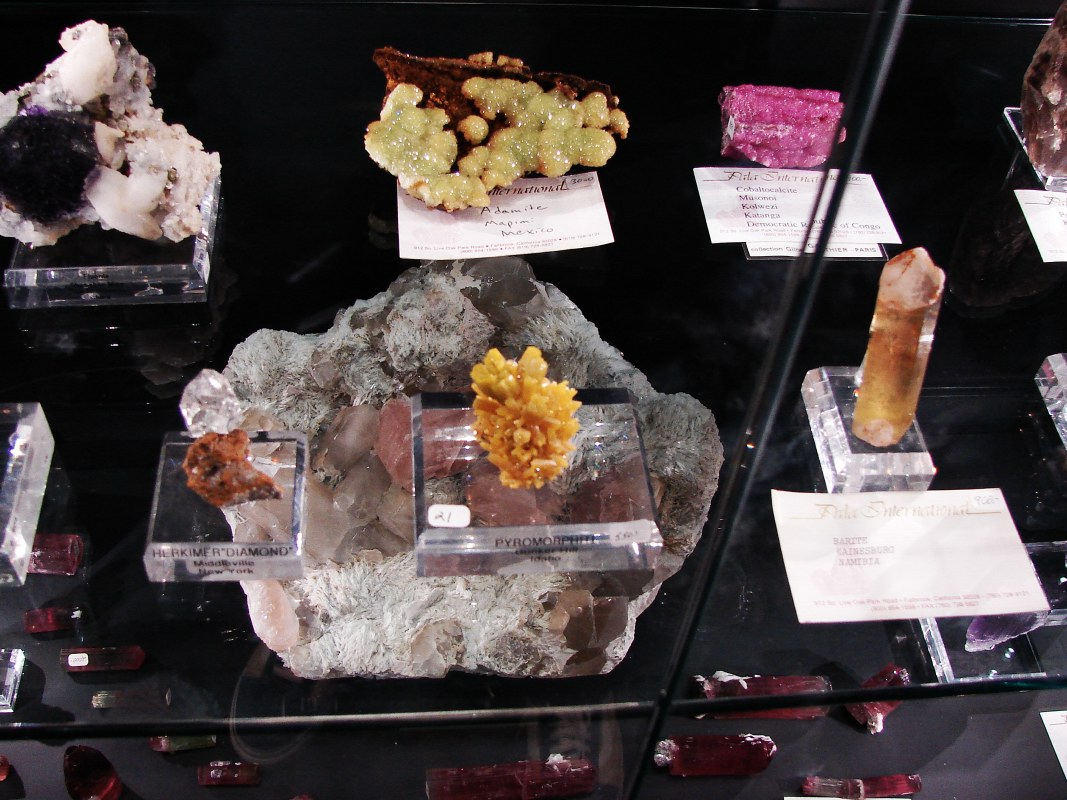 Nice yellow orange Pyro!
Onto the displays!
Some of the best Minerals ever mined from Arizona were displayed from collections around the world were on display.
What an outstanding display of Arizona's mineral wealth.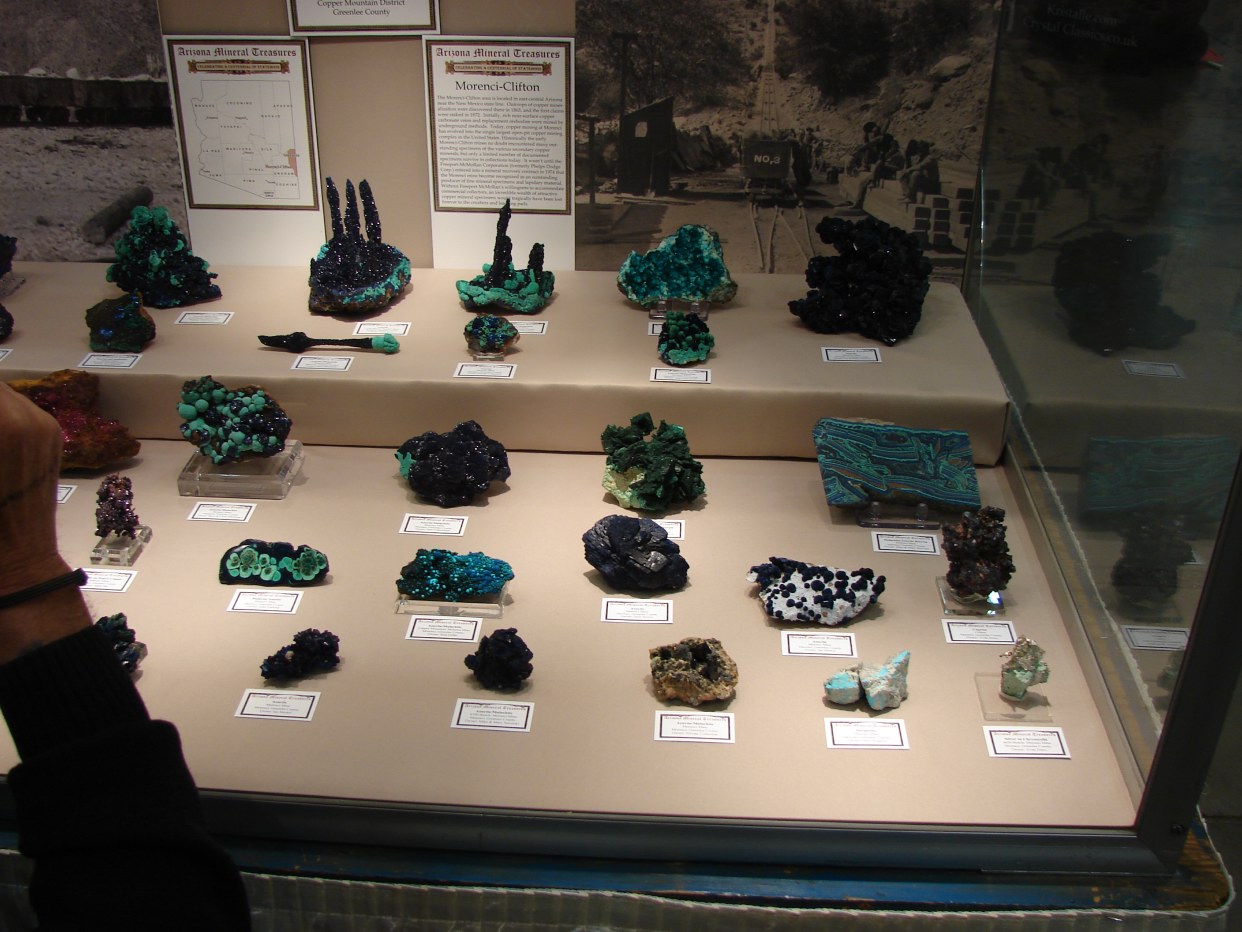 The Azurite on Malachite stalactites specimens from Morenci have been a favorite of mine for years! An outstanding display!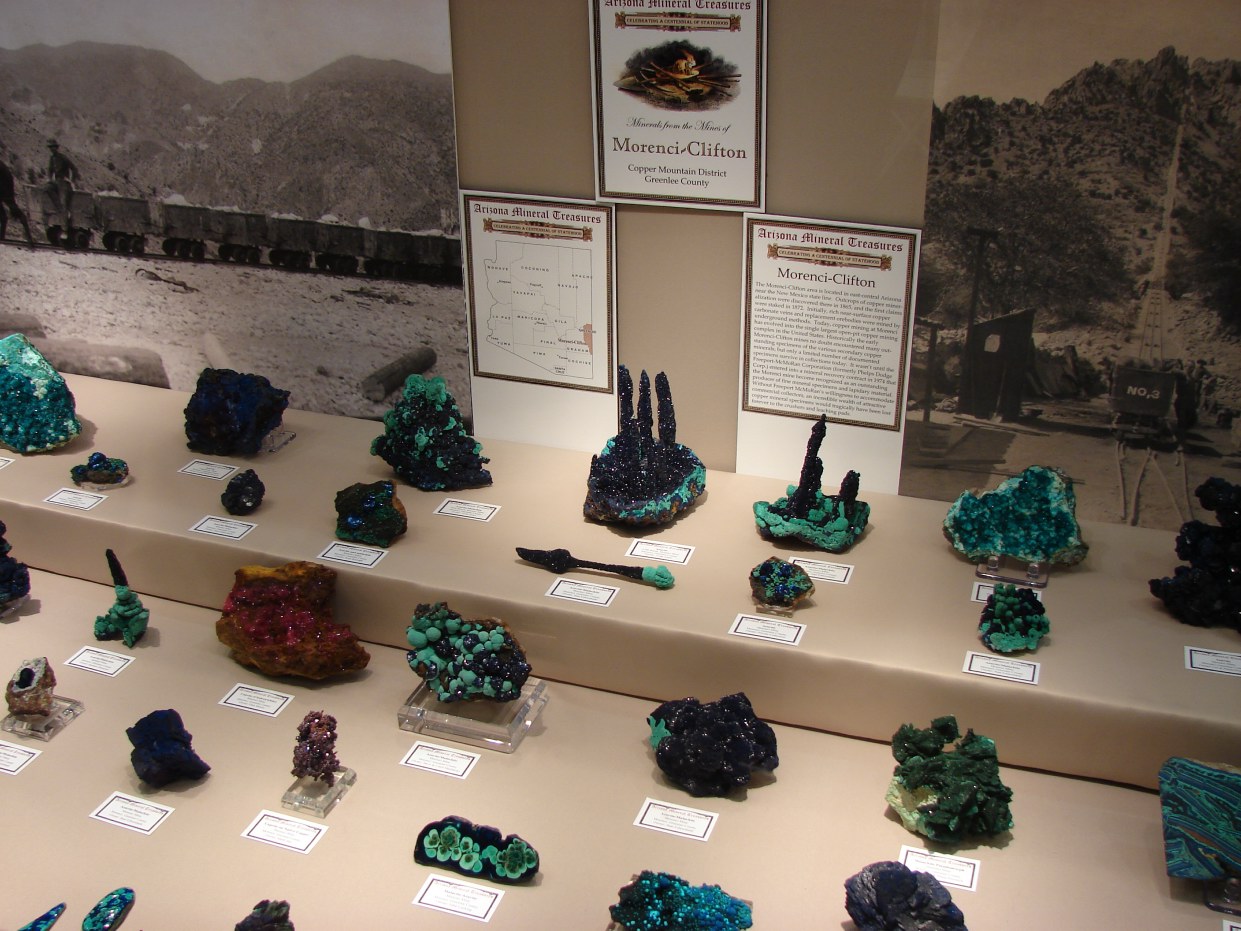 Spectacular!
Big Cuprite var. Chalcotrichite as well.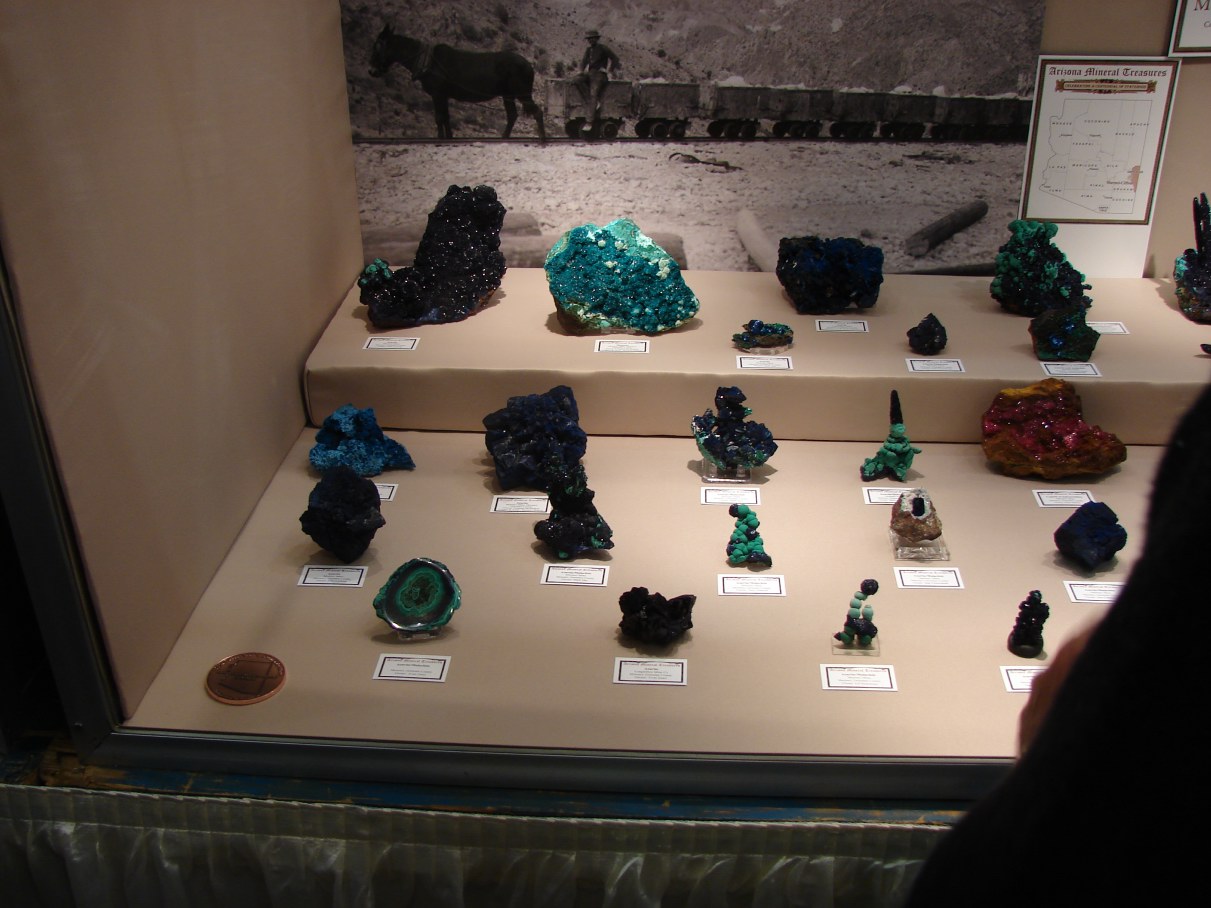 The stacked mammary crystals of Azurite and Malachite are pure eye candy.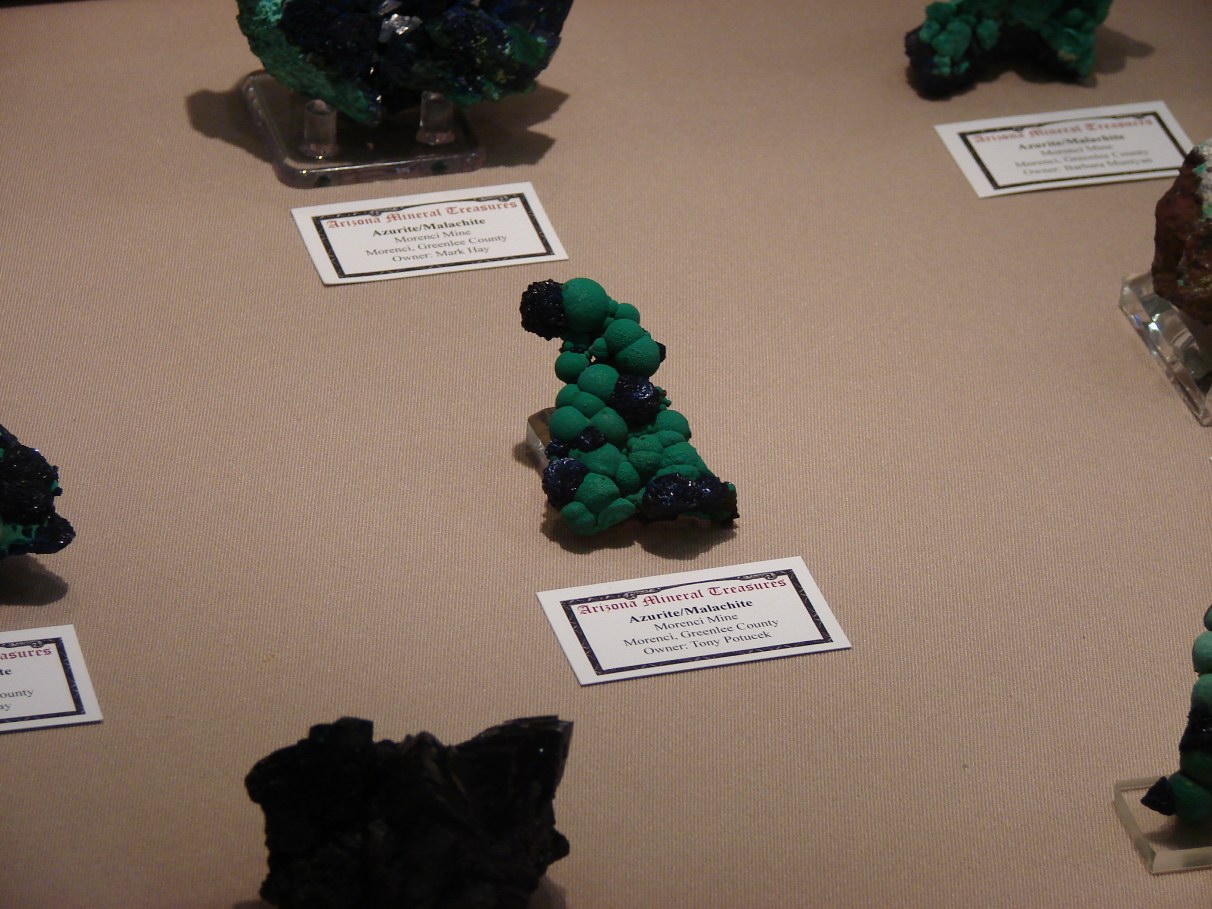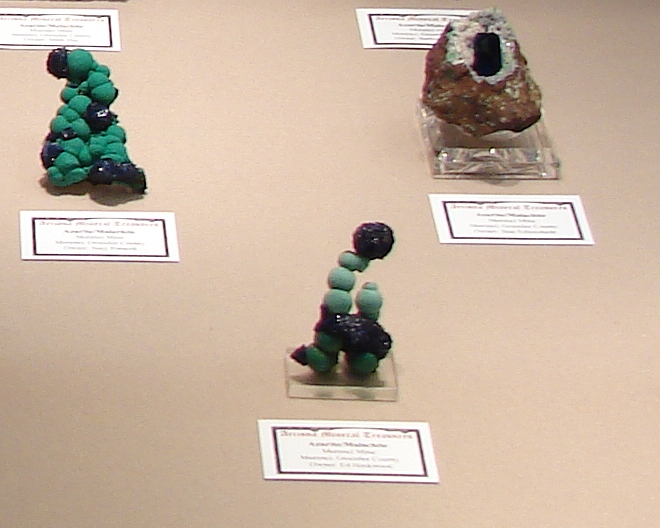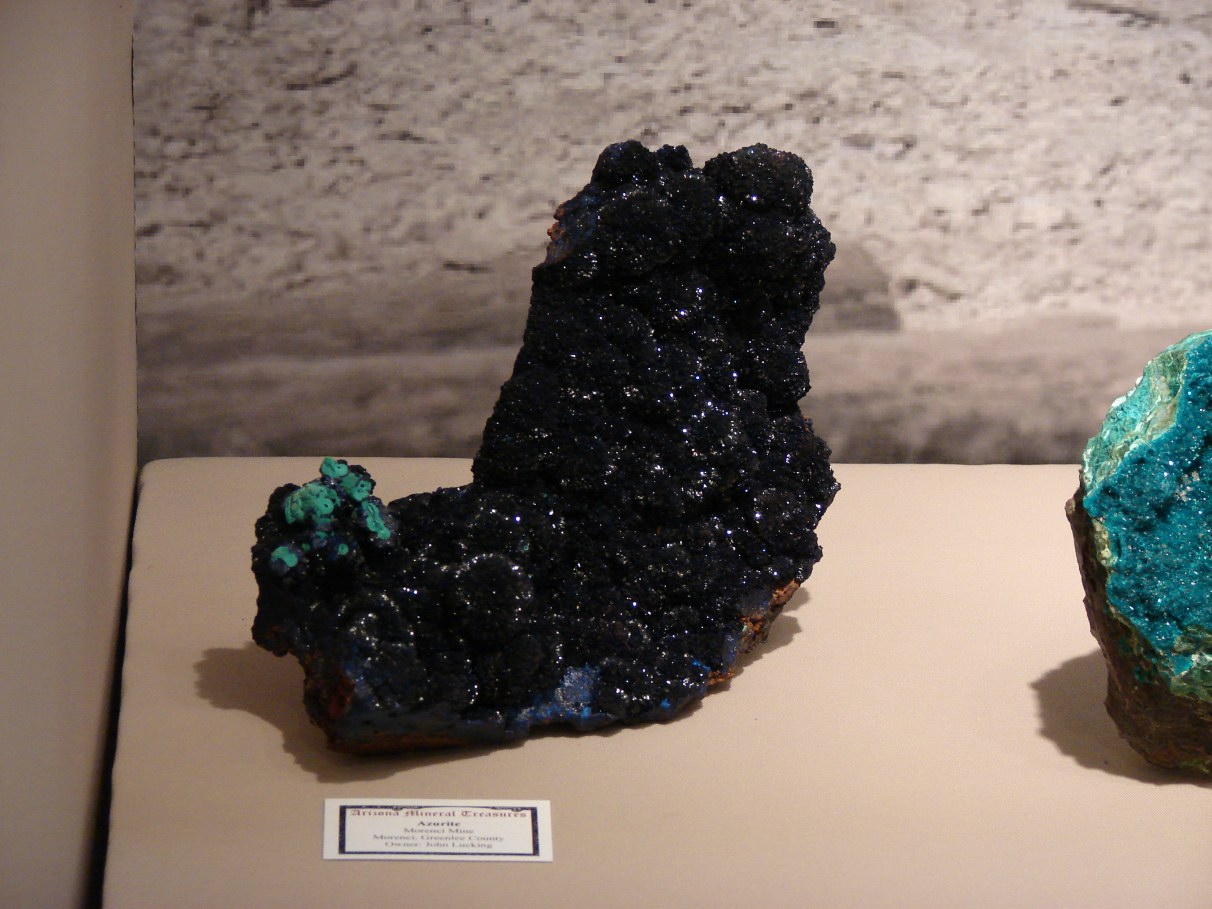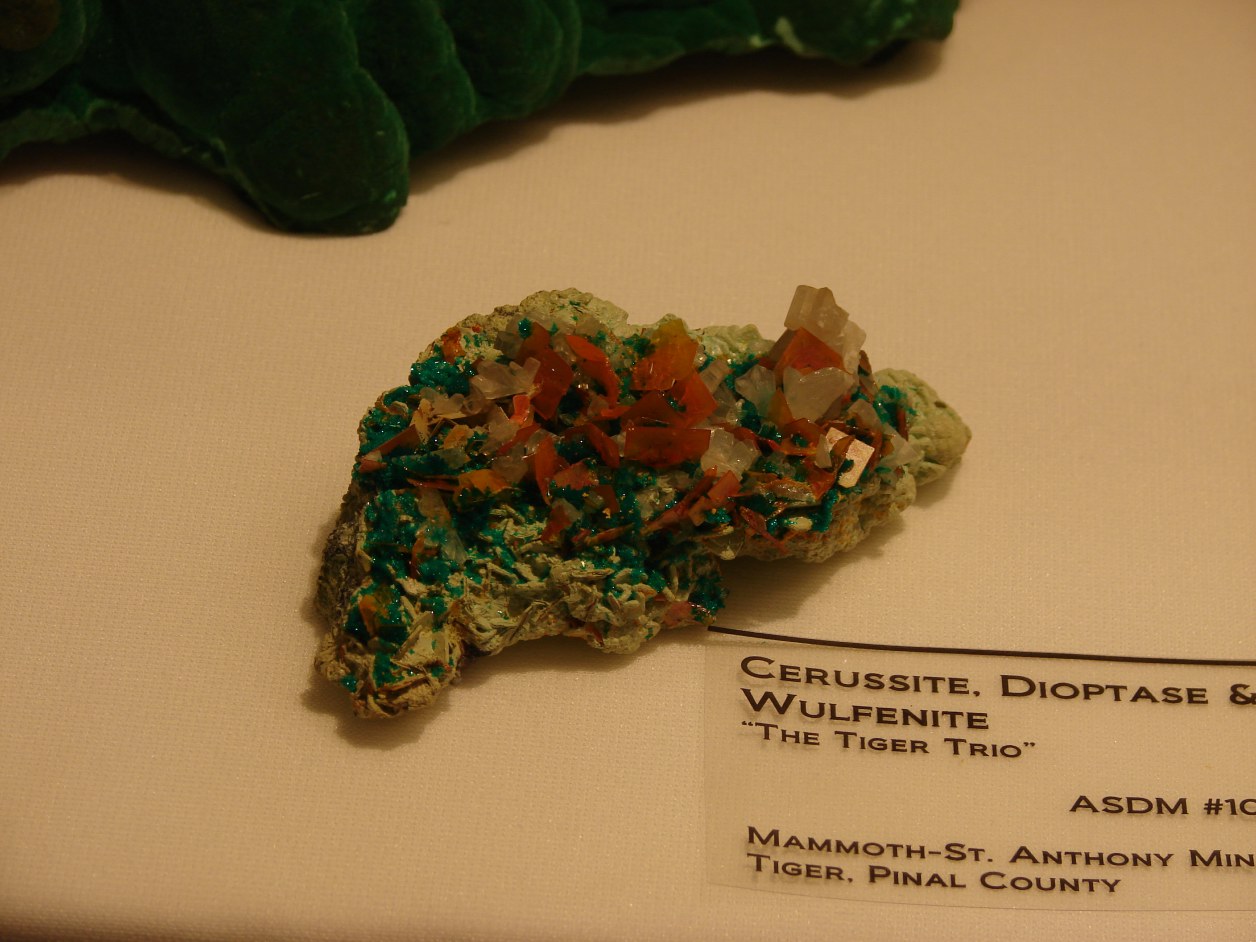 I'd give your left arm for this specimen!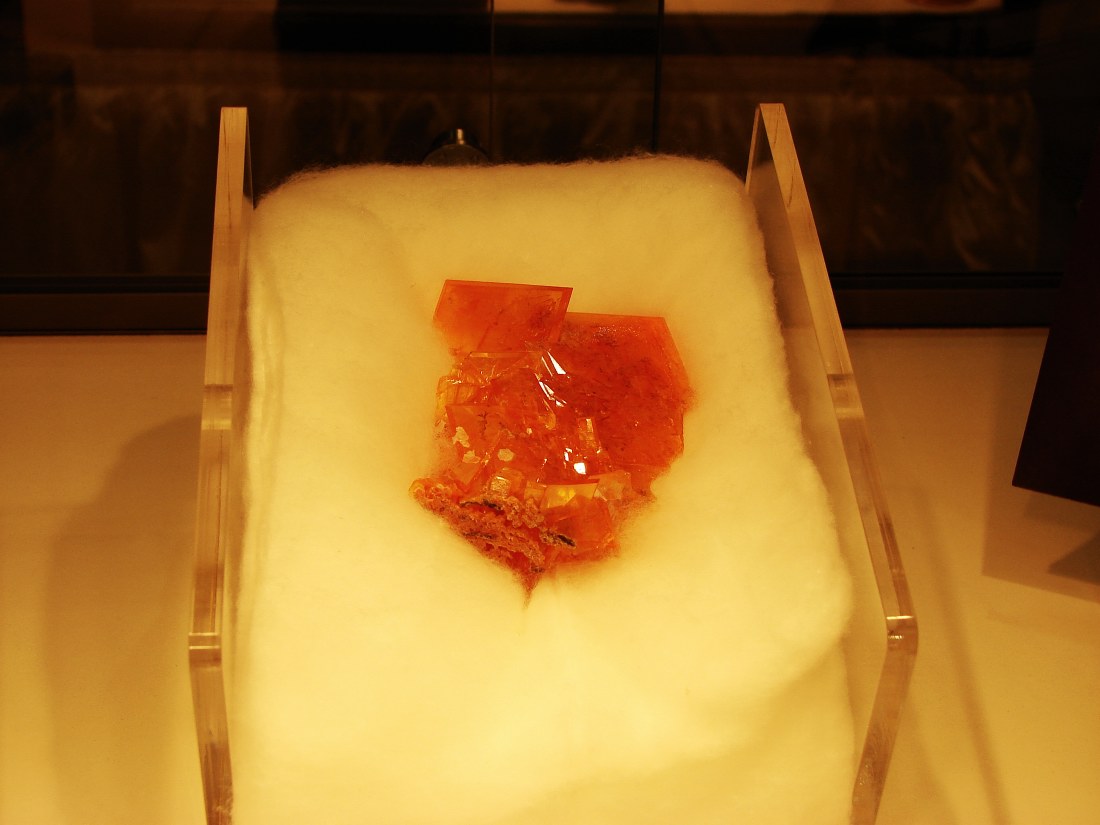 This is the specimen on the show poster and it is HUGE!
8.8 cm From the Old Yuma Mine.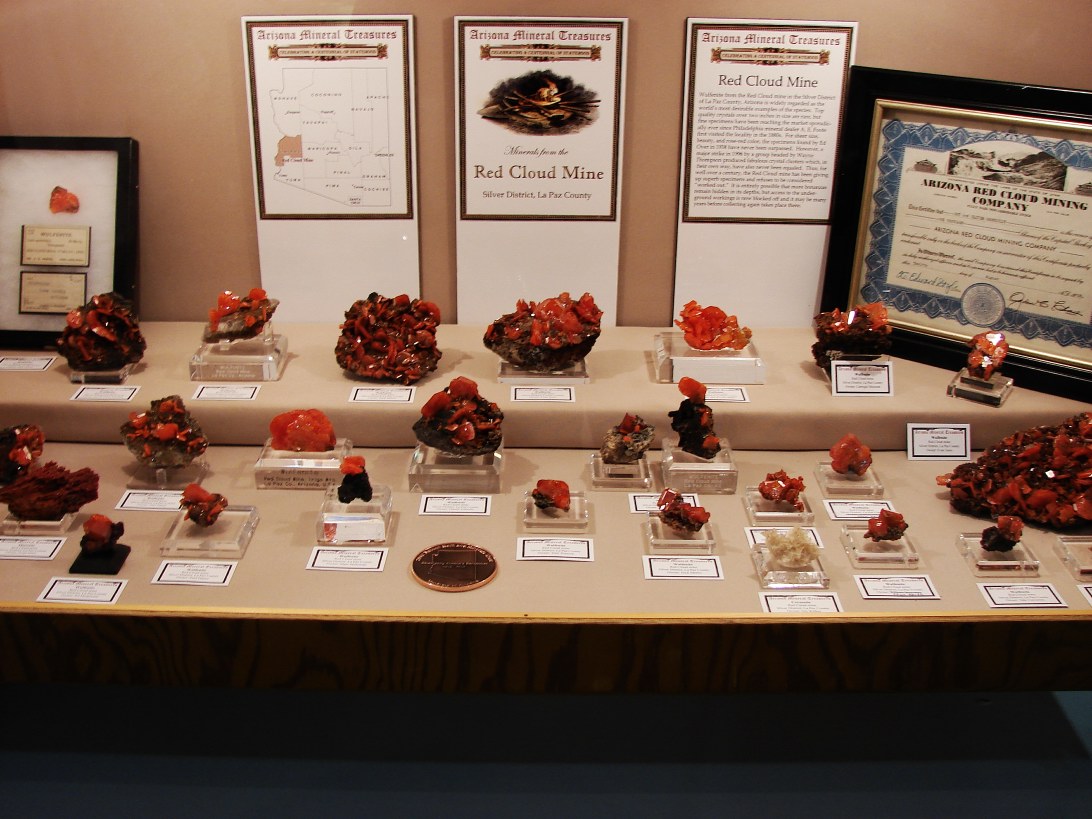 Red Cloud! The single crystal at center left is a monster!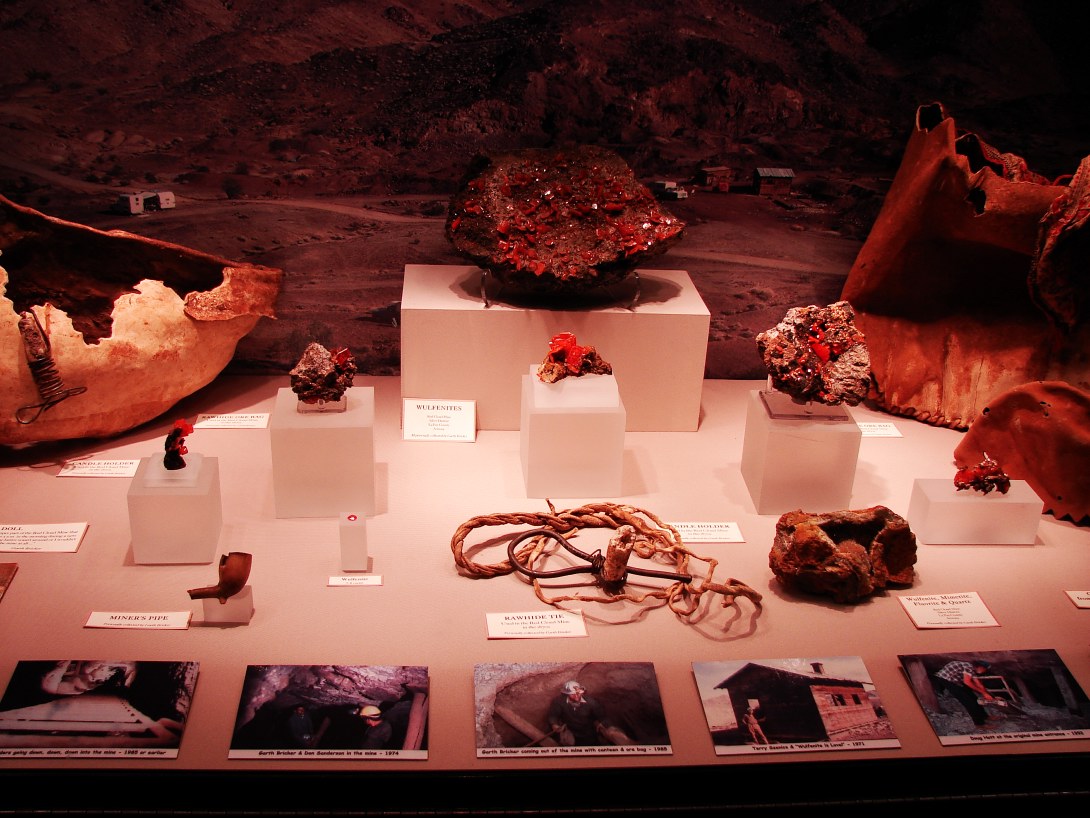 More Red Cloud. Included are an old ore bag found in the mine a candle holder and a pipe.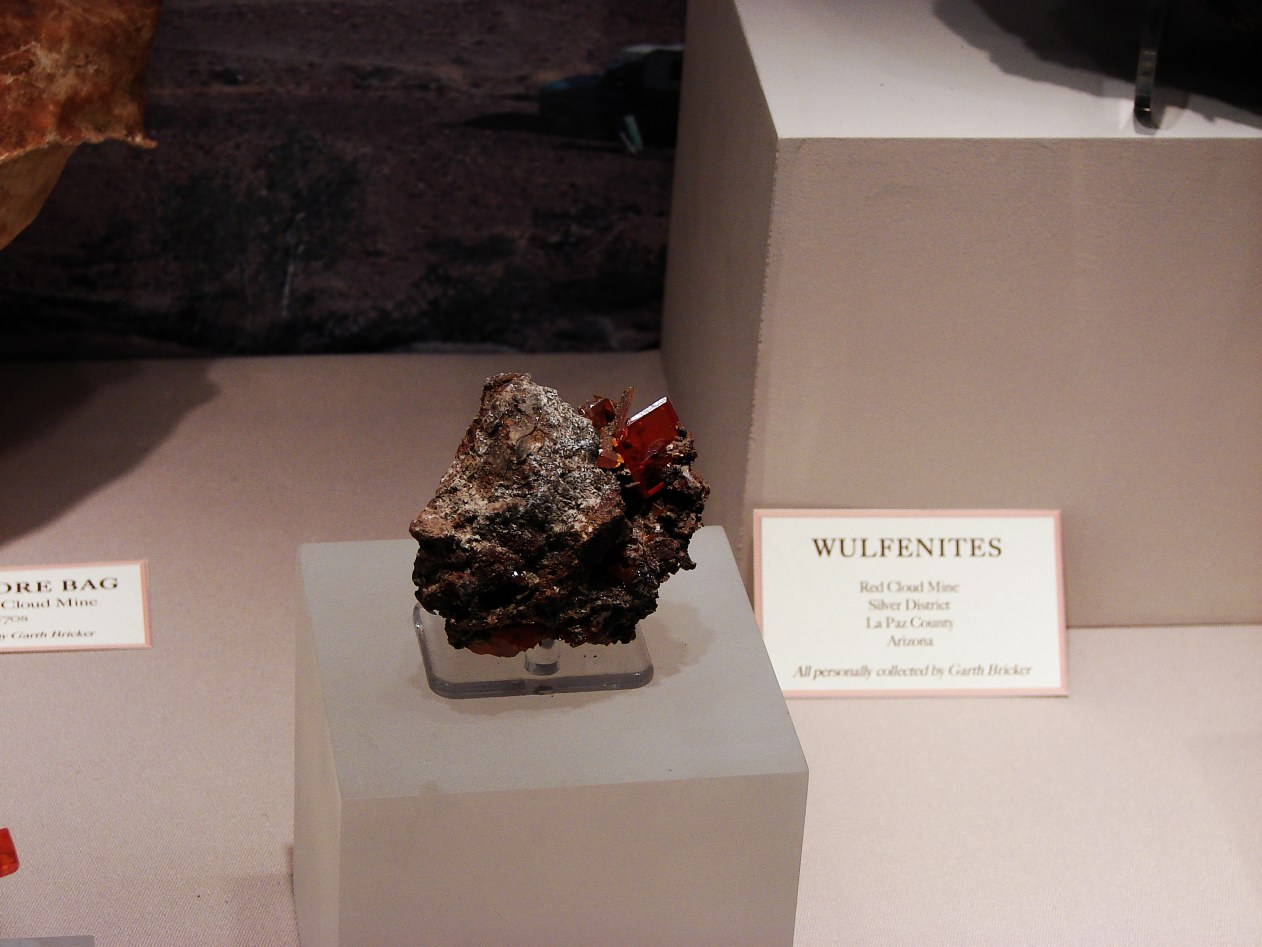 GEM!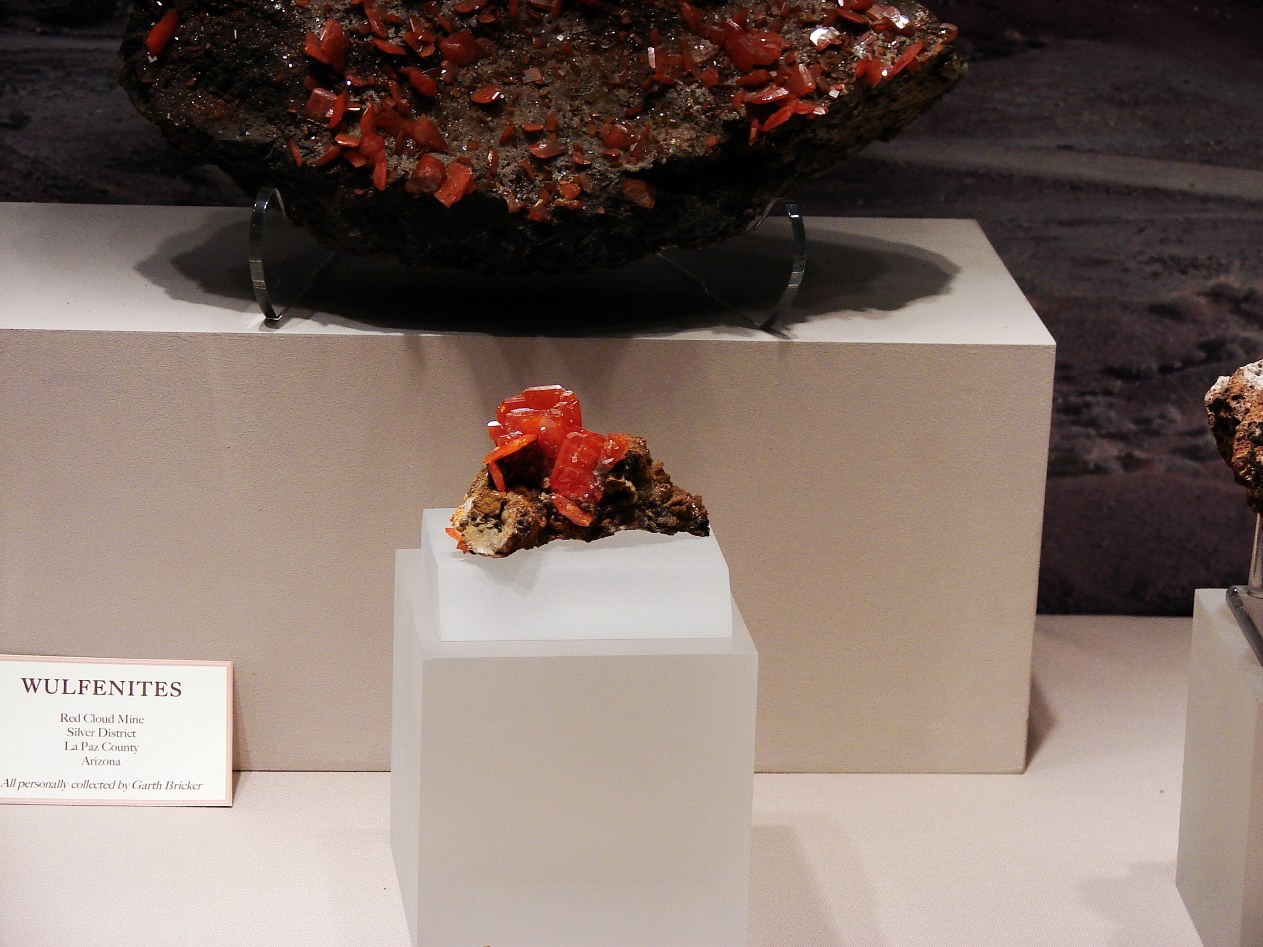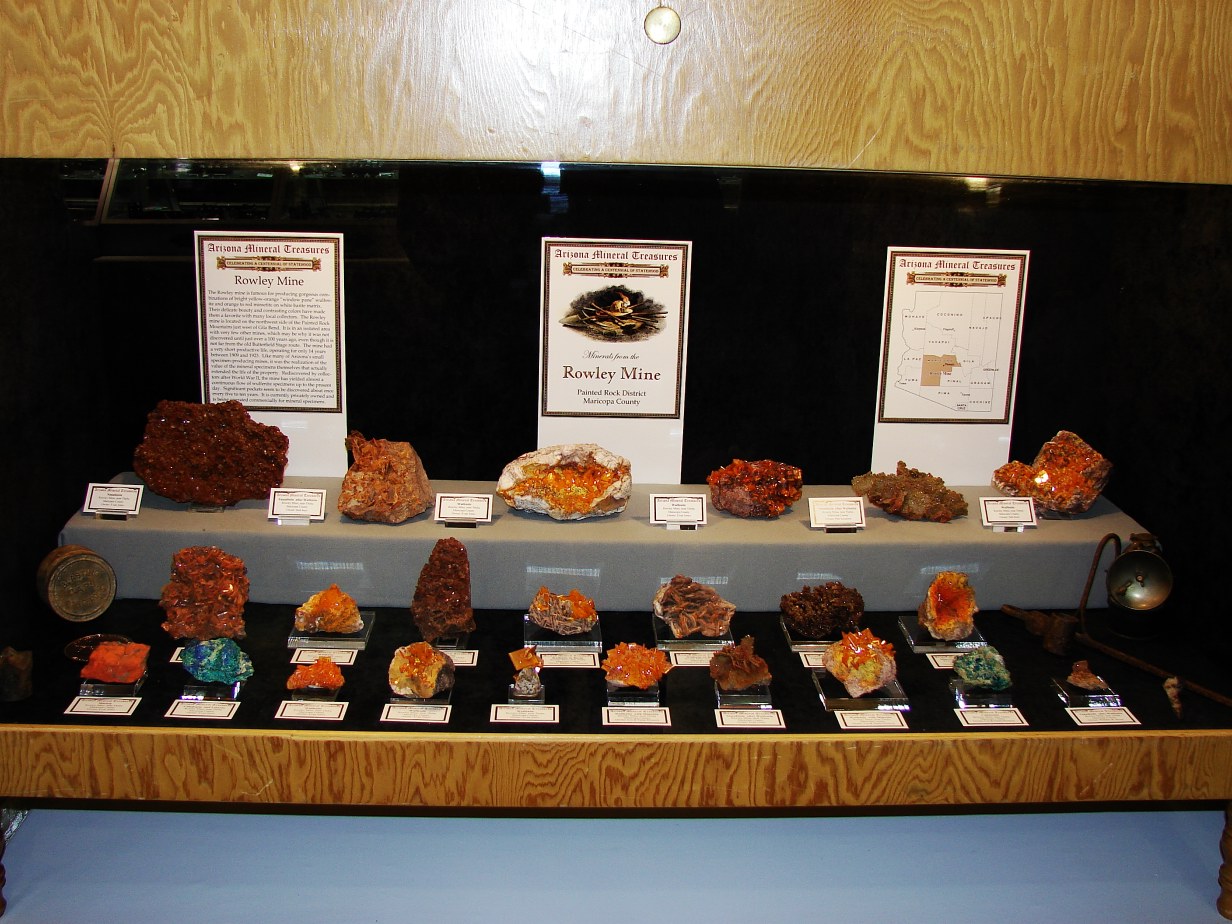 Rowley!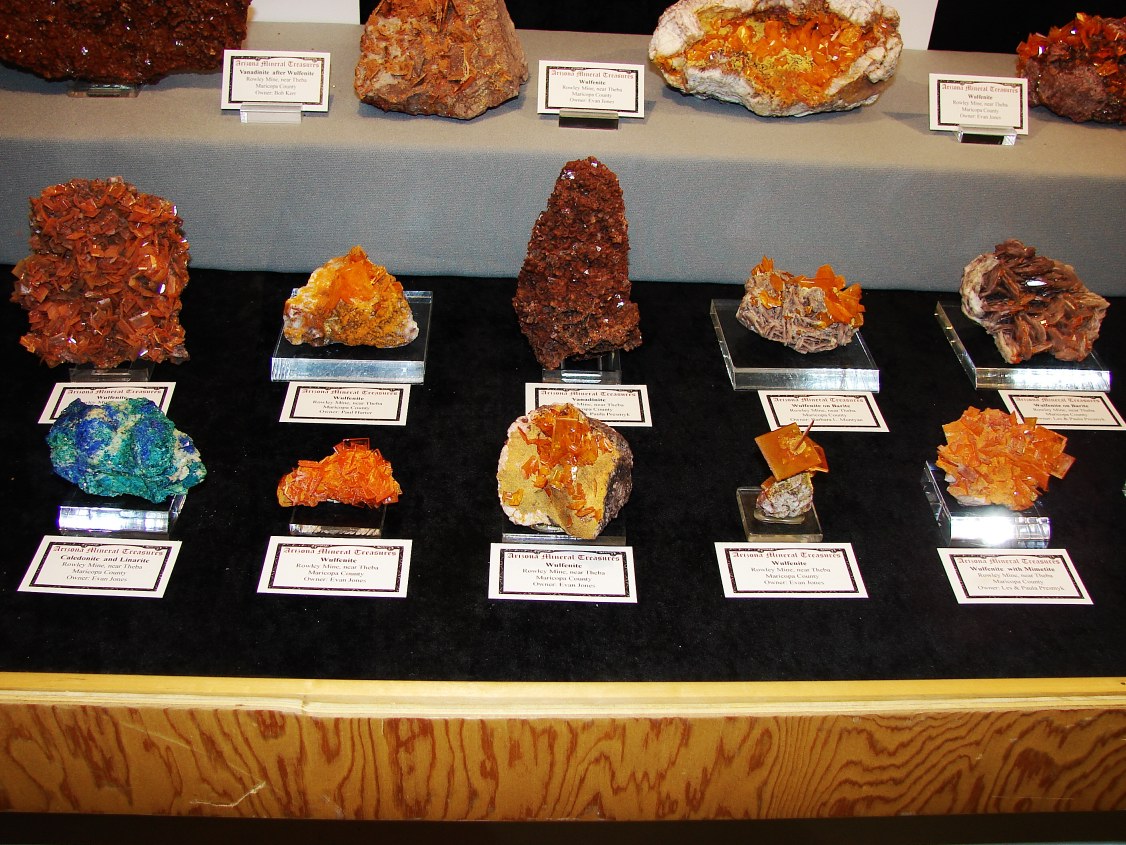 Absolutely stunning!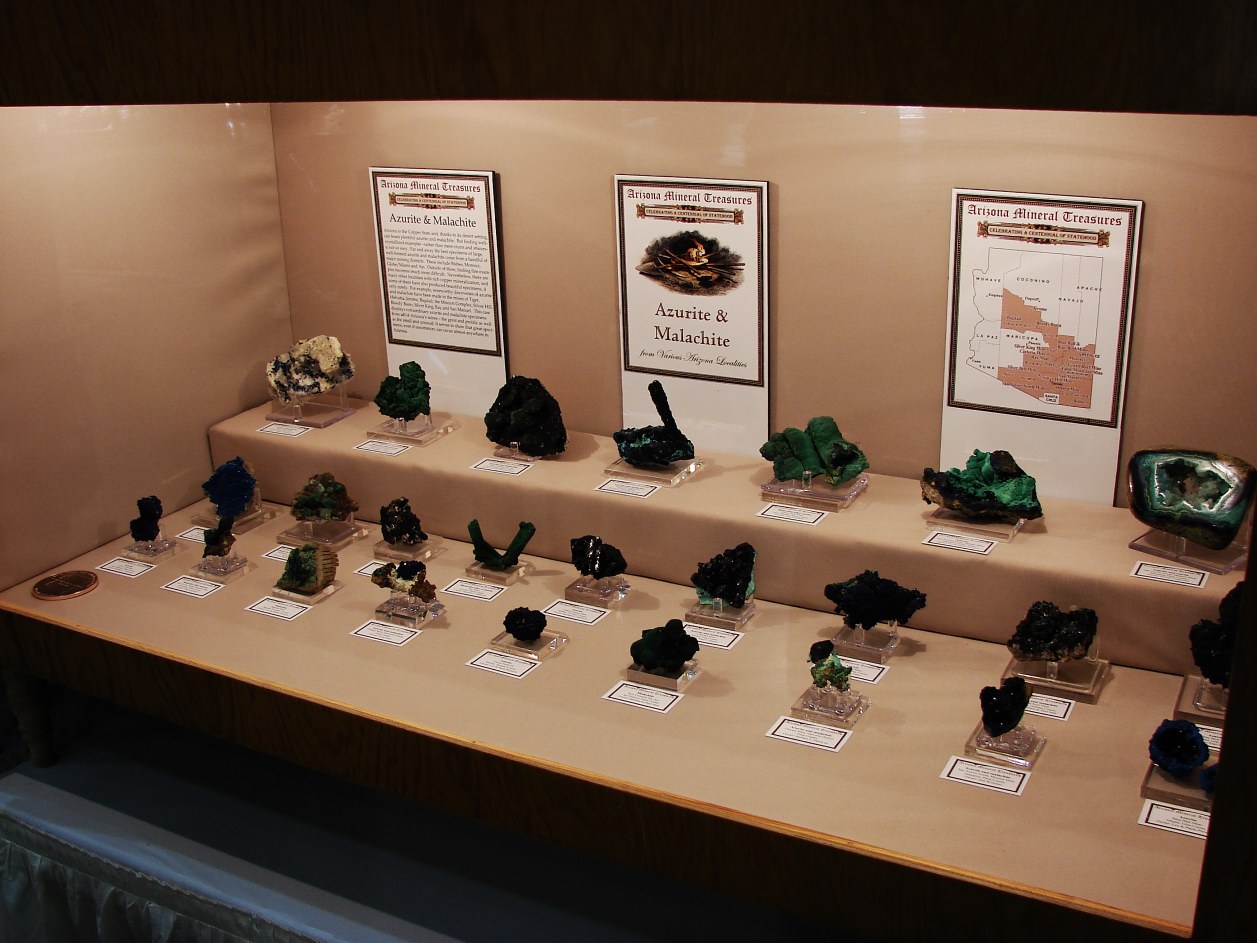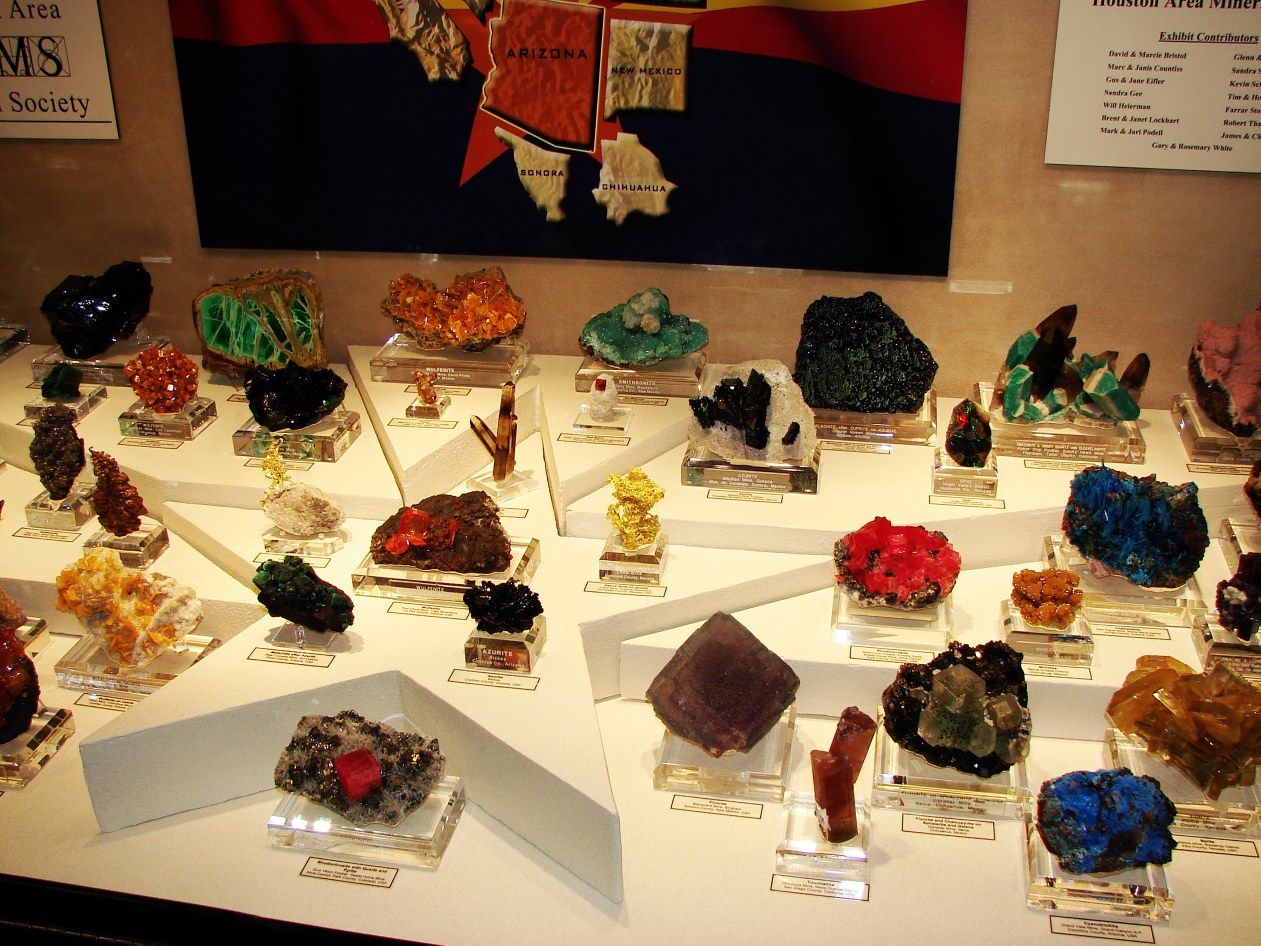 HAMS display.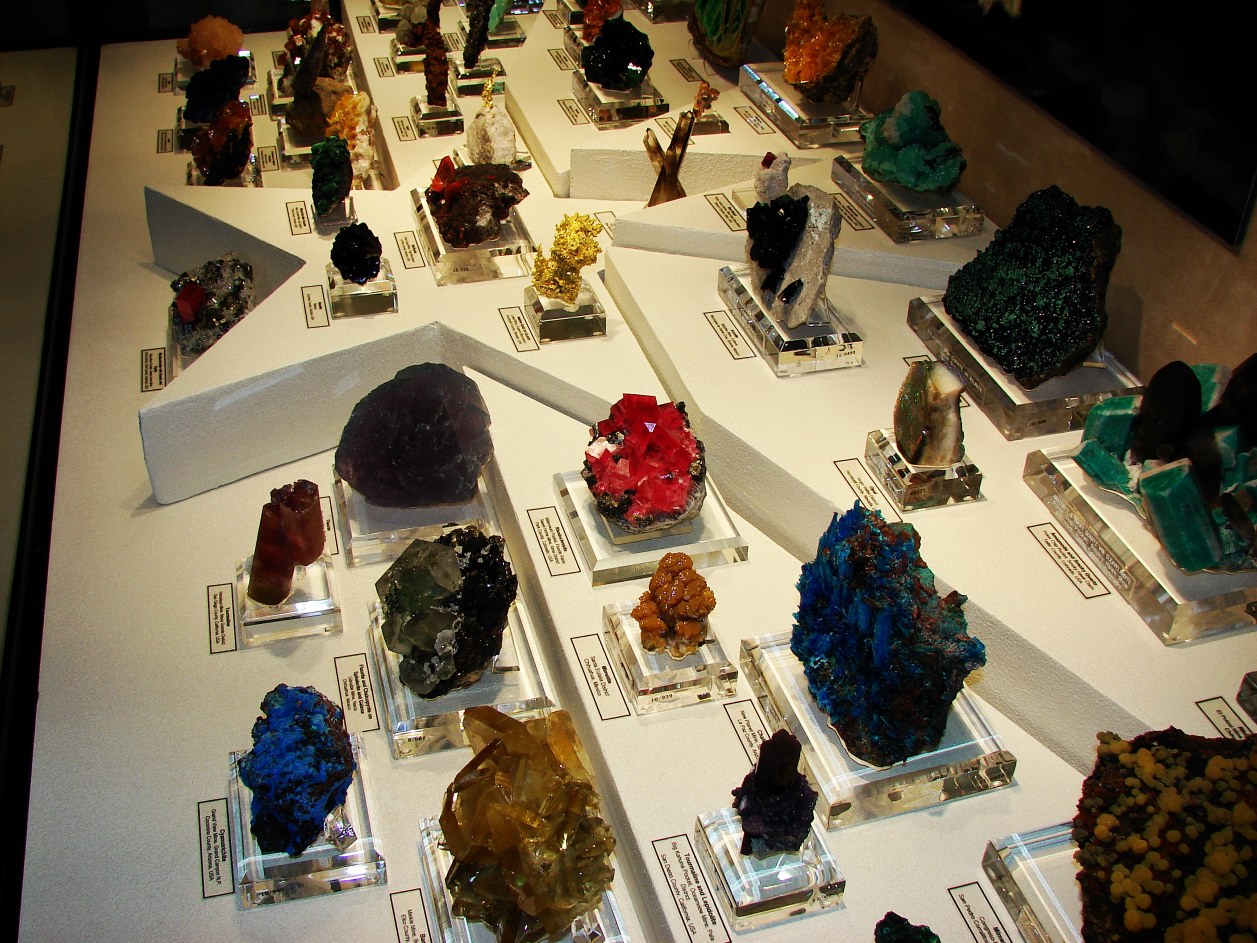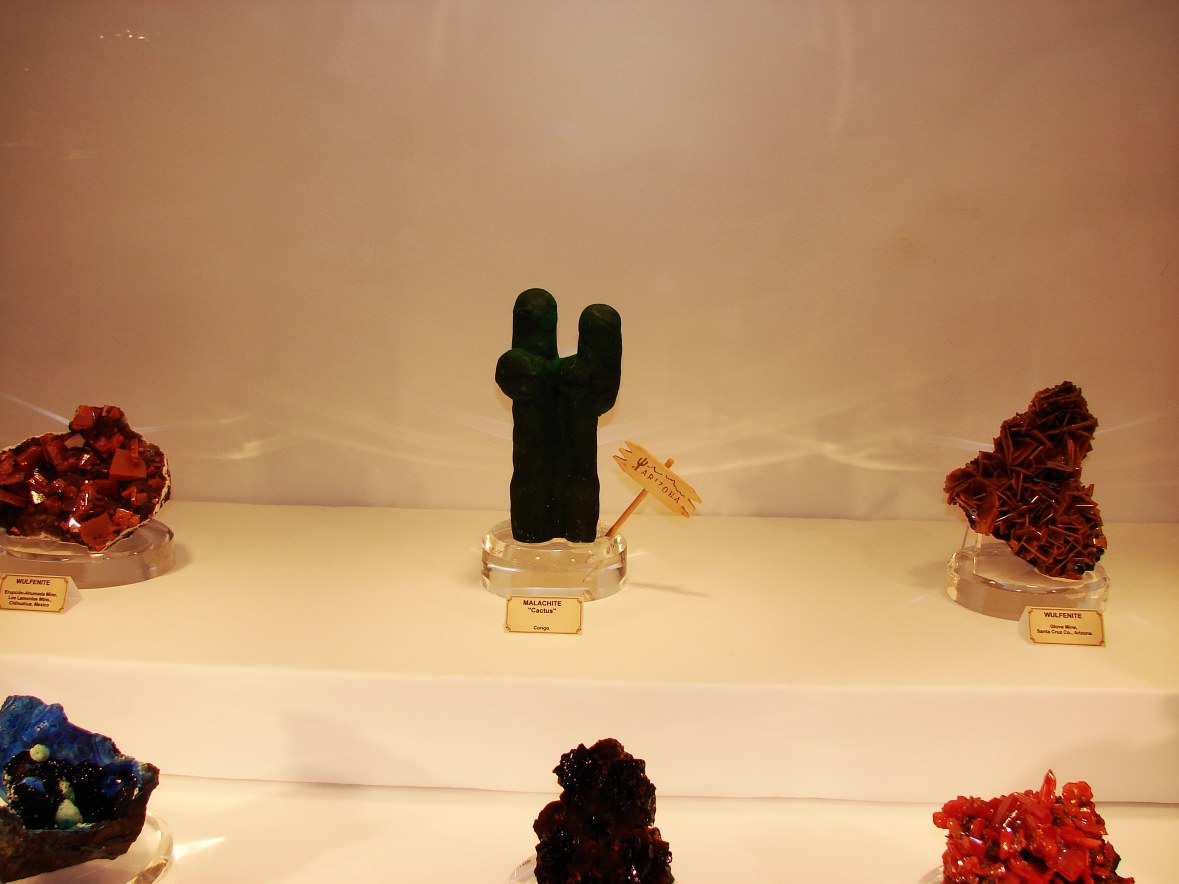 Not from AZ but, fitting.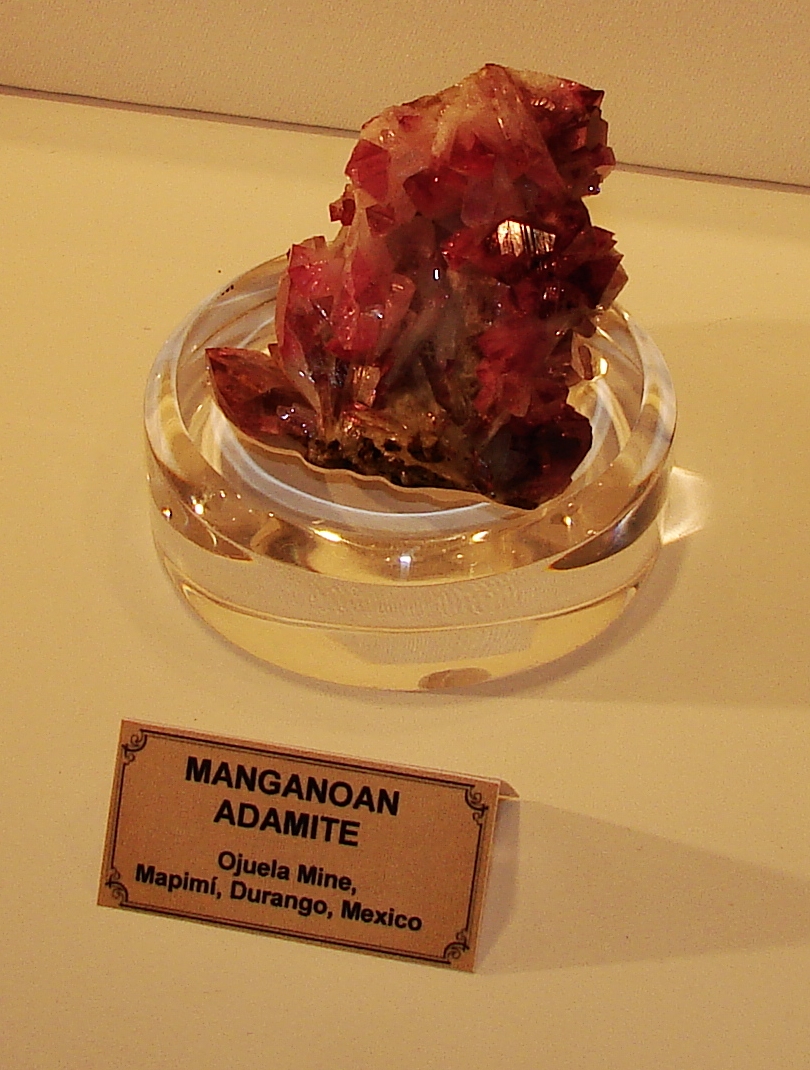 NIIIIICE!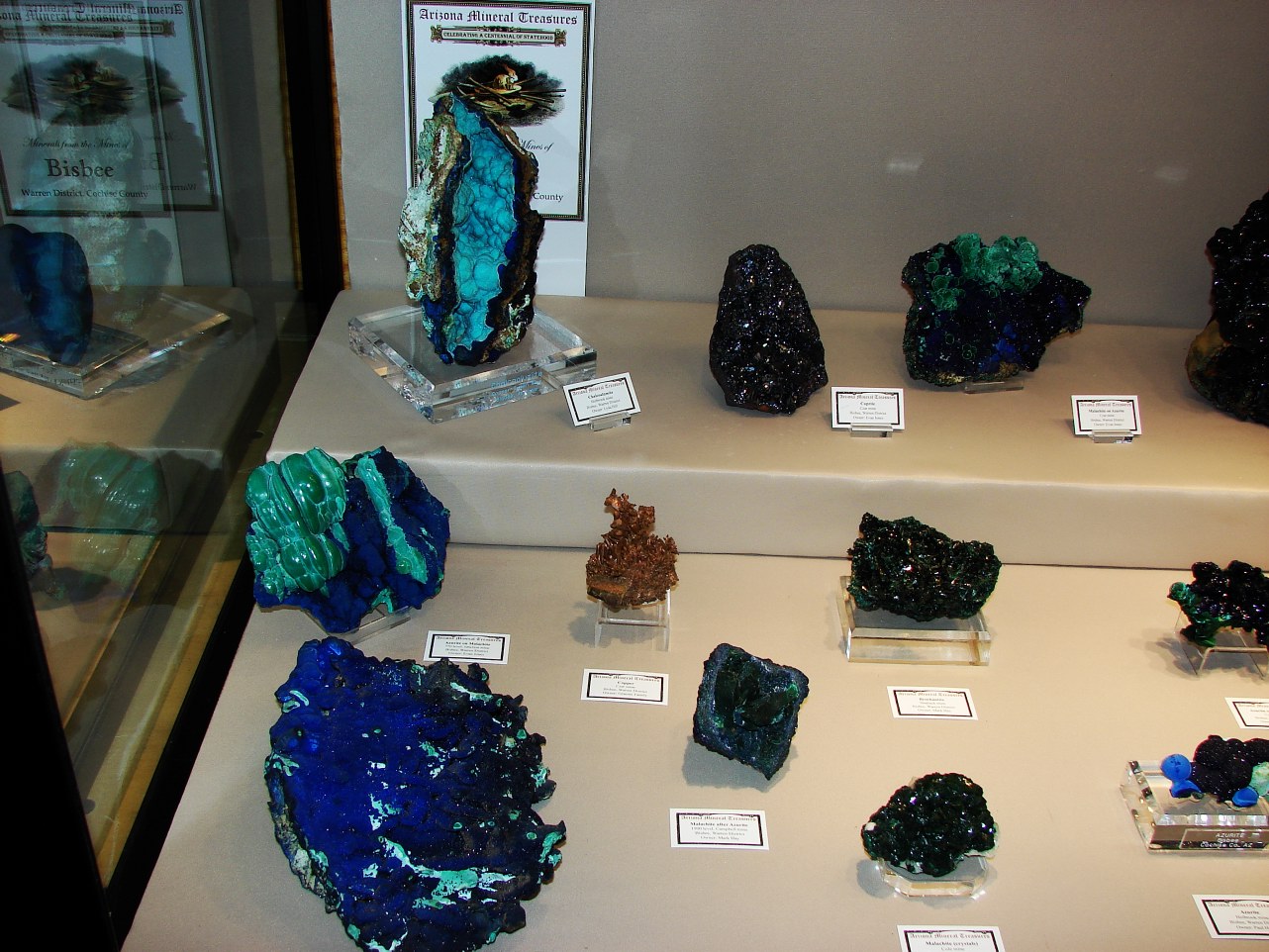 Look at that vug of Chalcoalumnite top left. SWEET!
Bisbee case.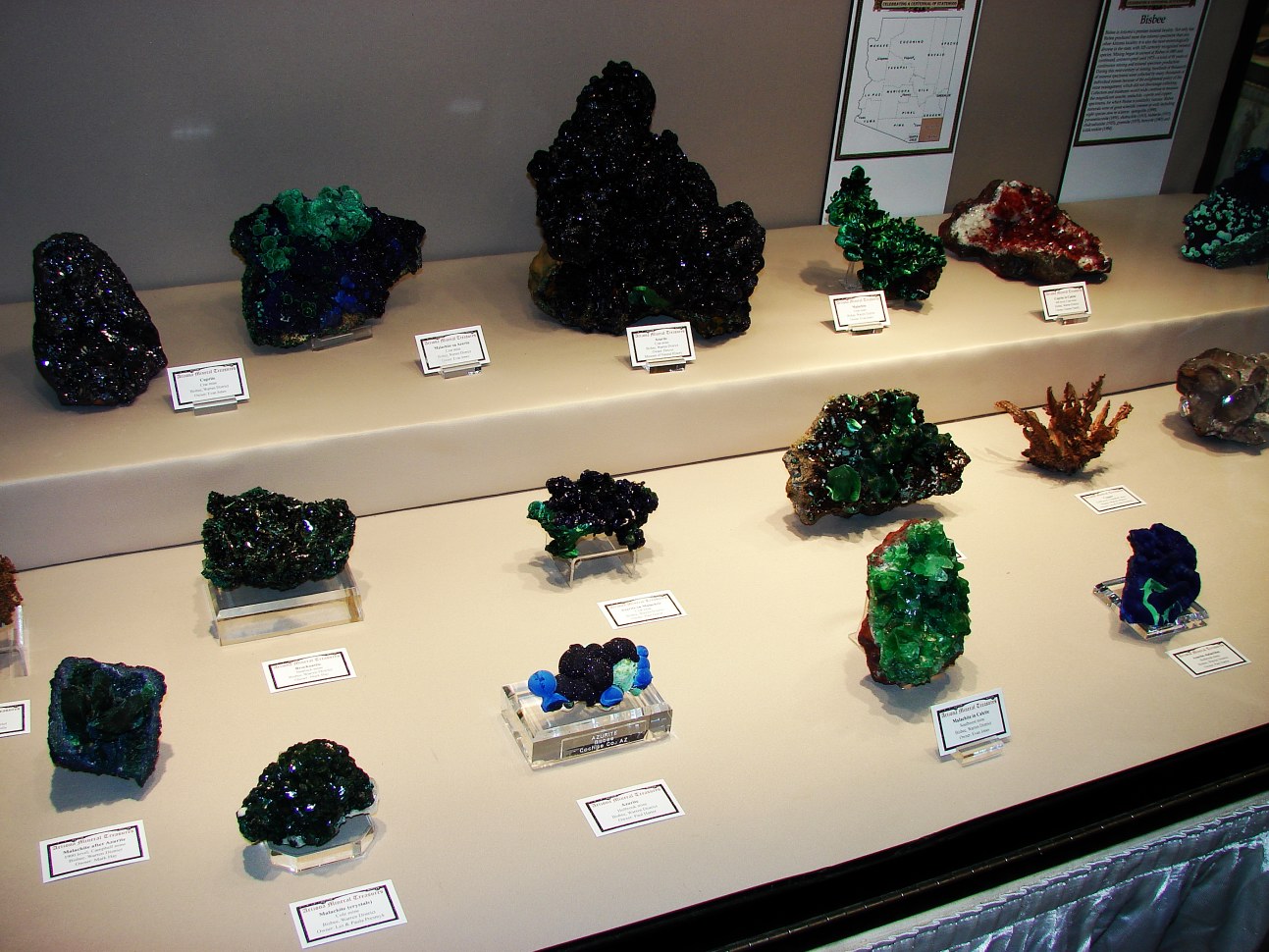 The Malachite included Cacites were fantastic!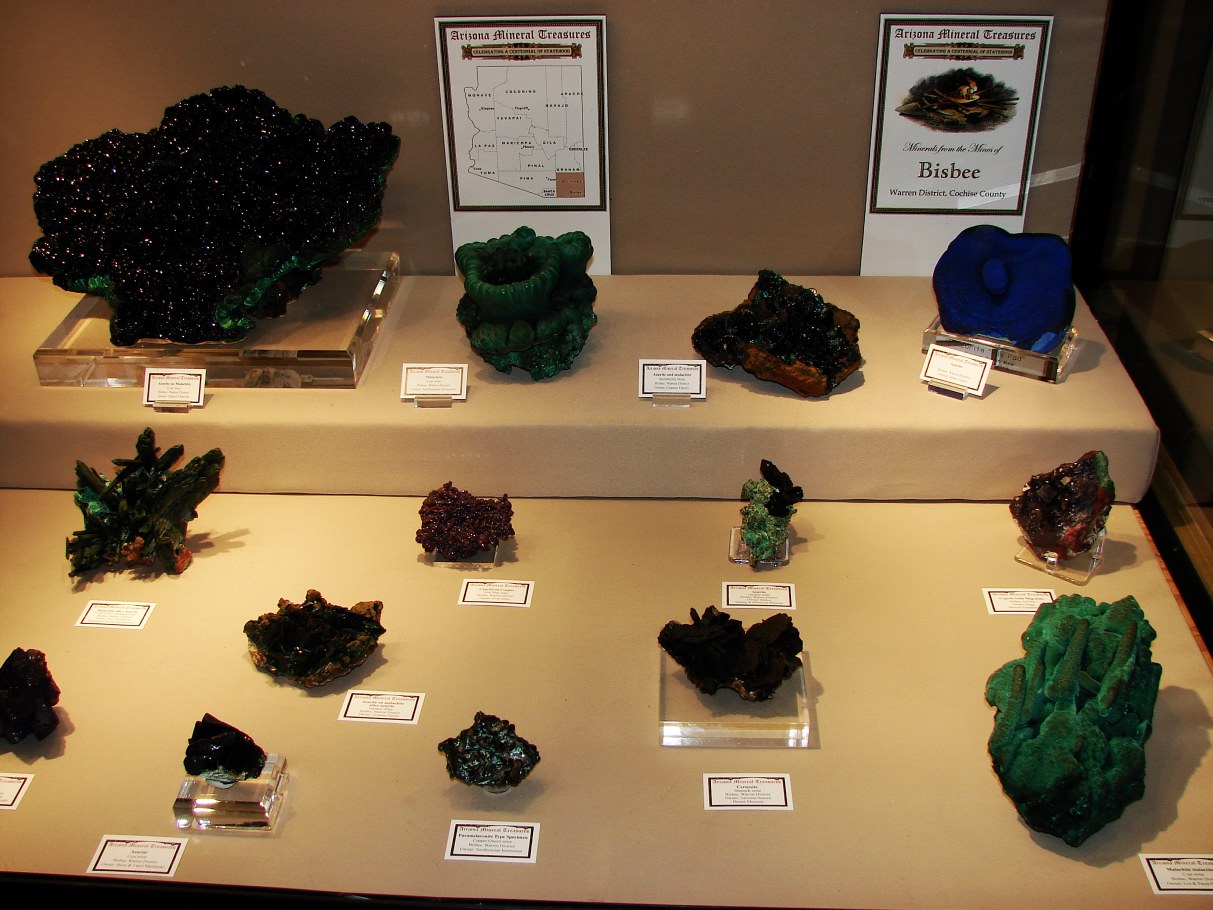 Sometimes in caves they find small pools with beads of Calcite in them called birds nests. Look top right at the "Lilly pad" Azurite!
Stunner!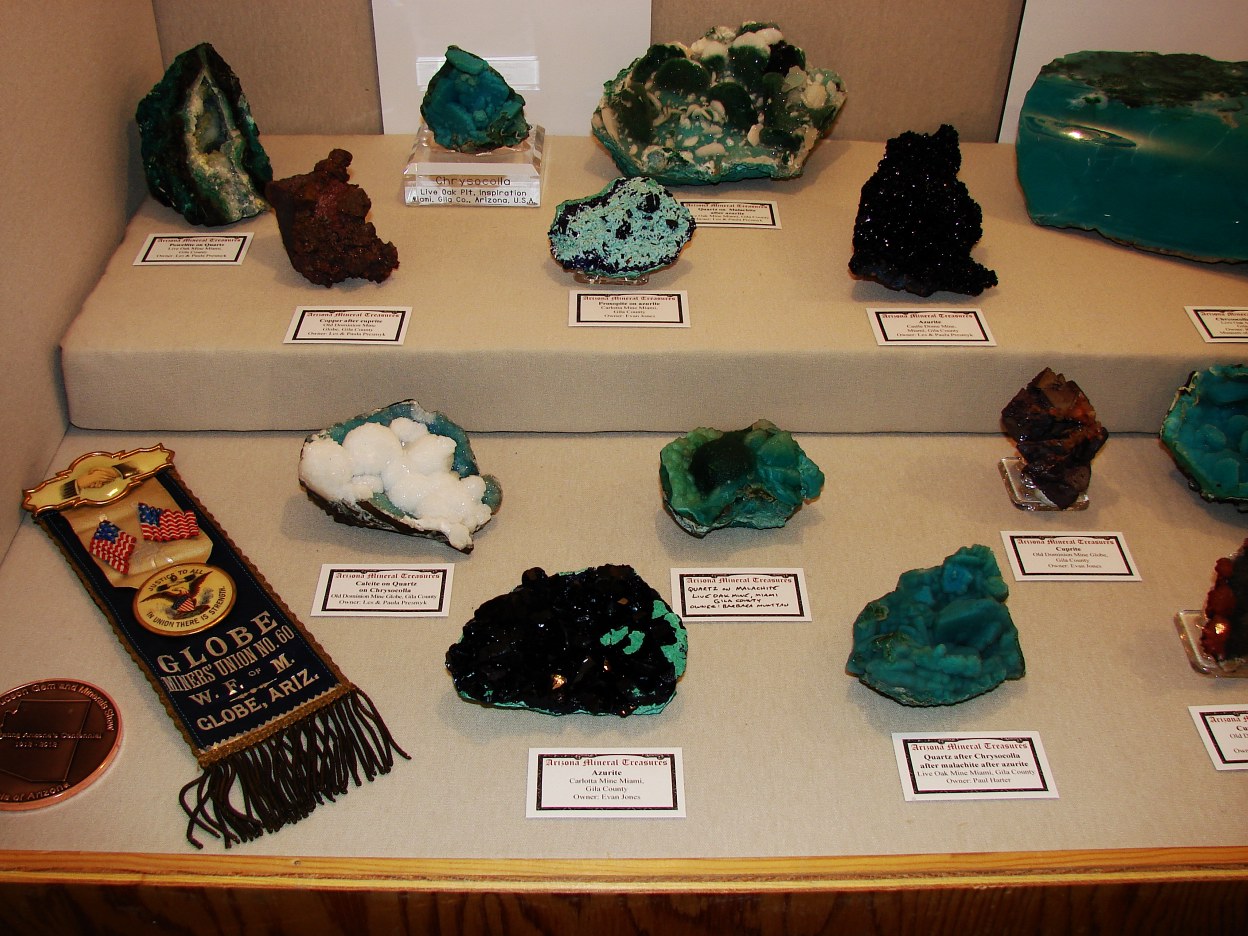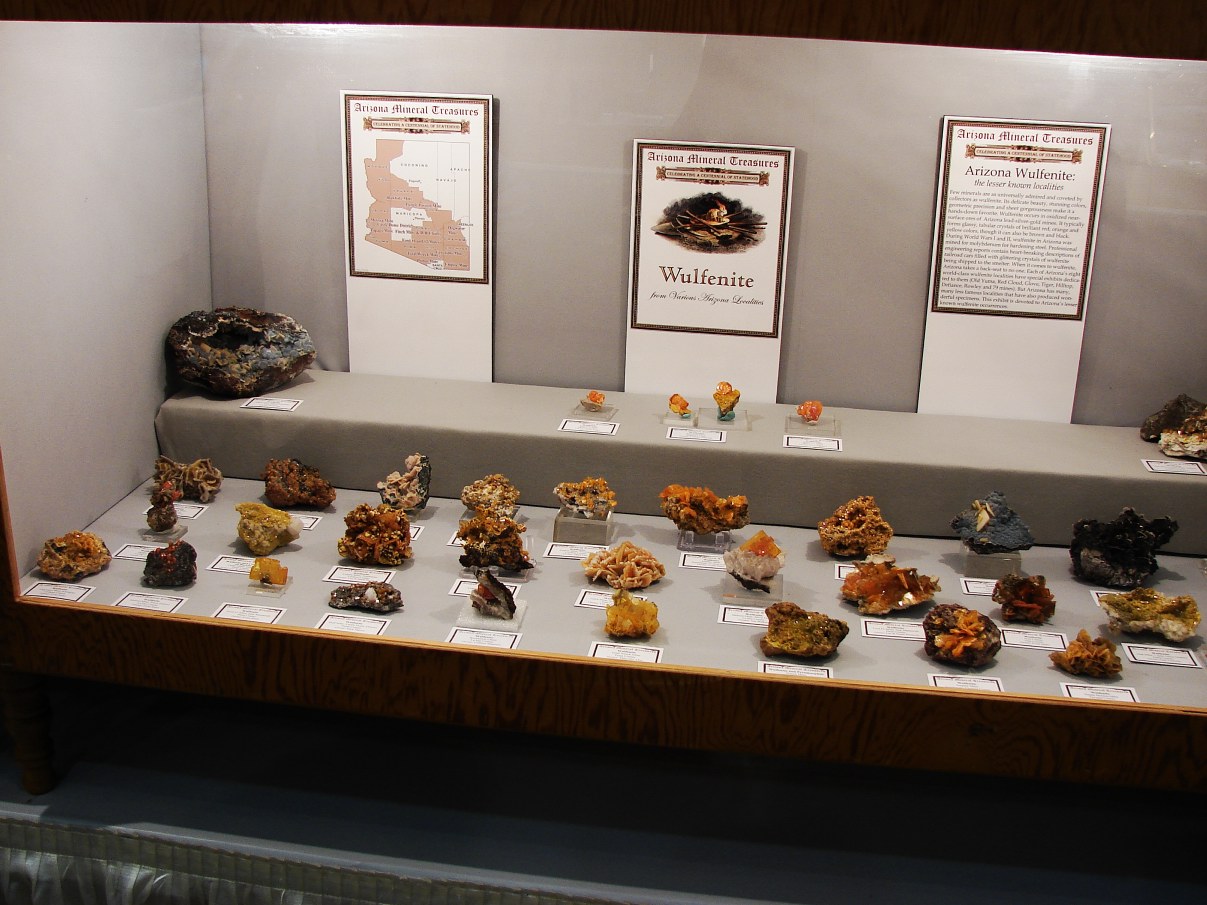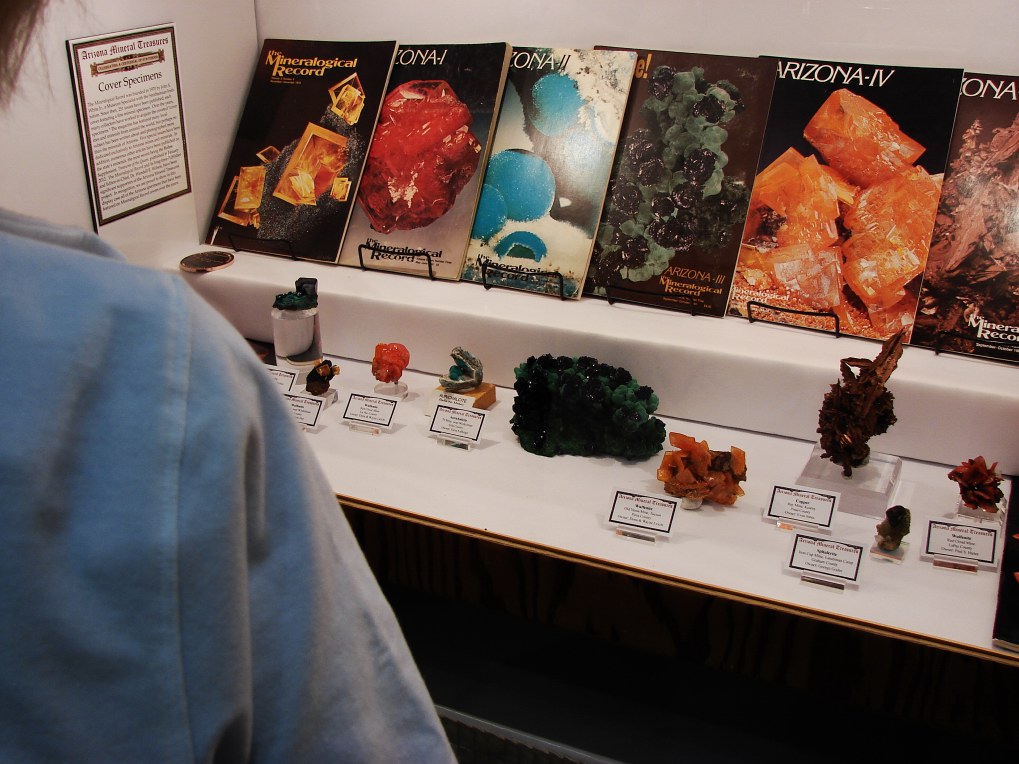 The specimens in this cabinet are the cover specimens for series on Arizona localities from the Minrec!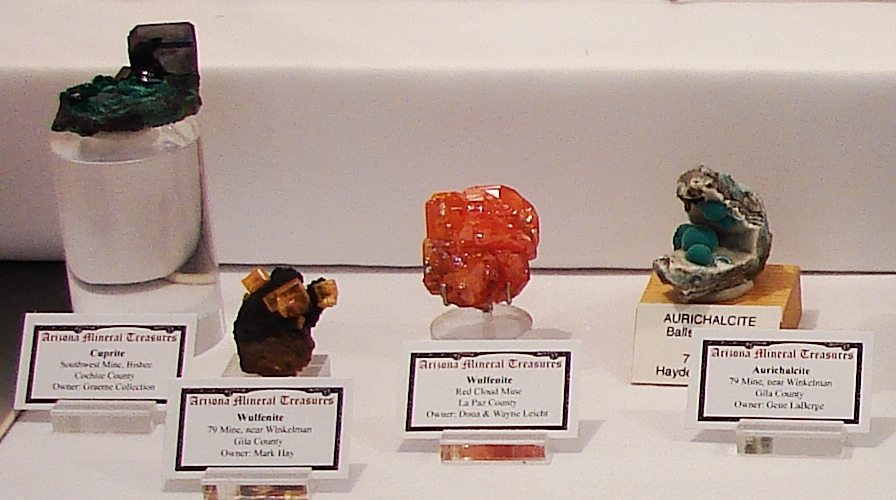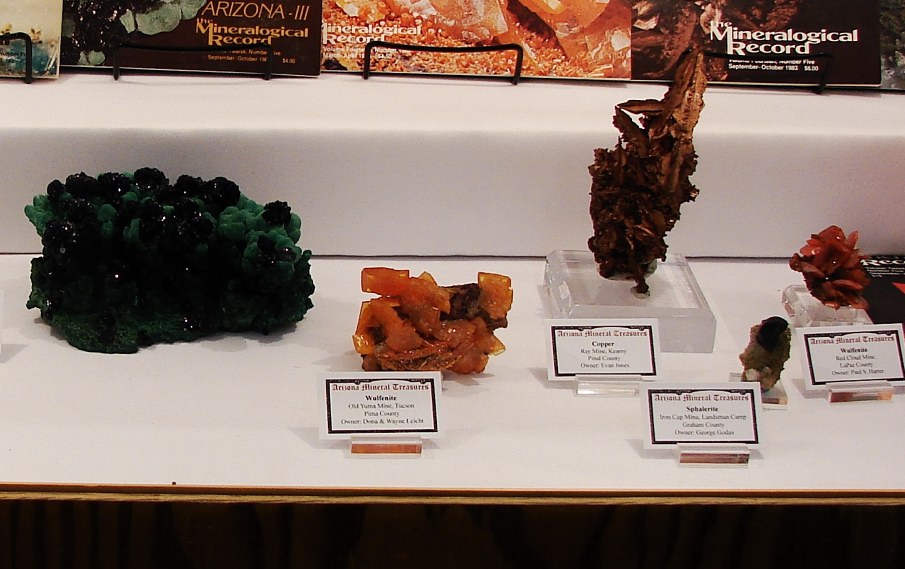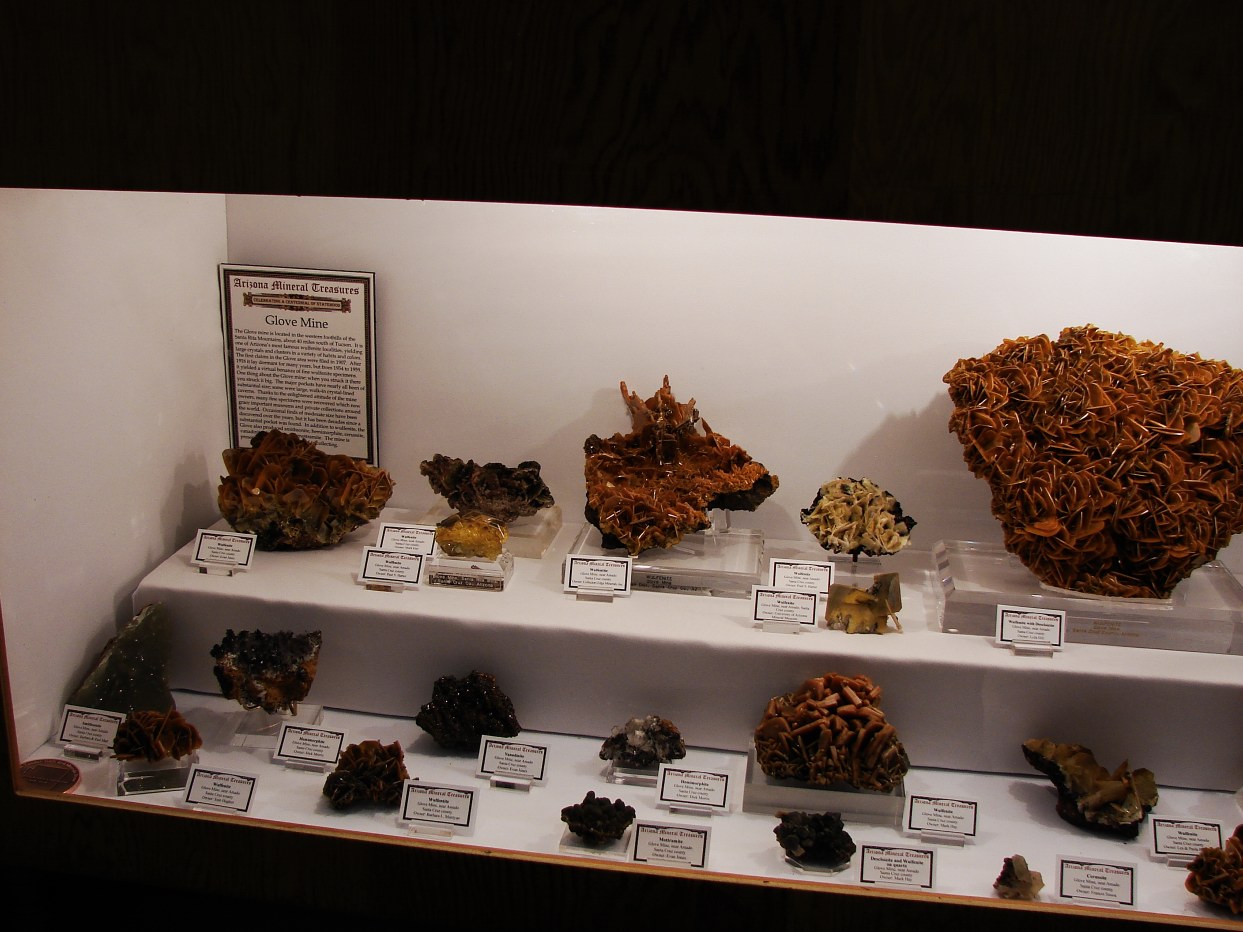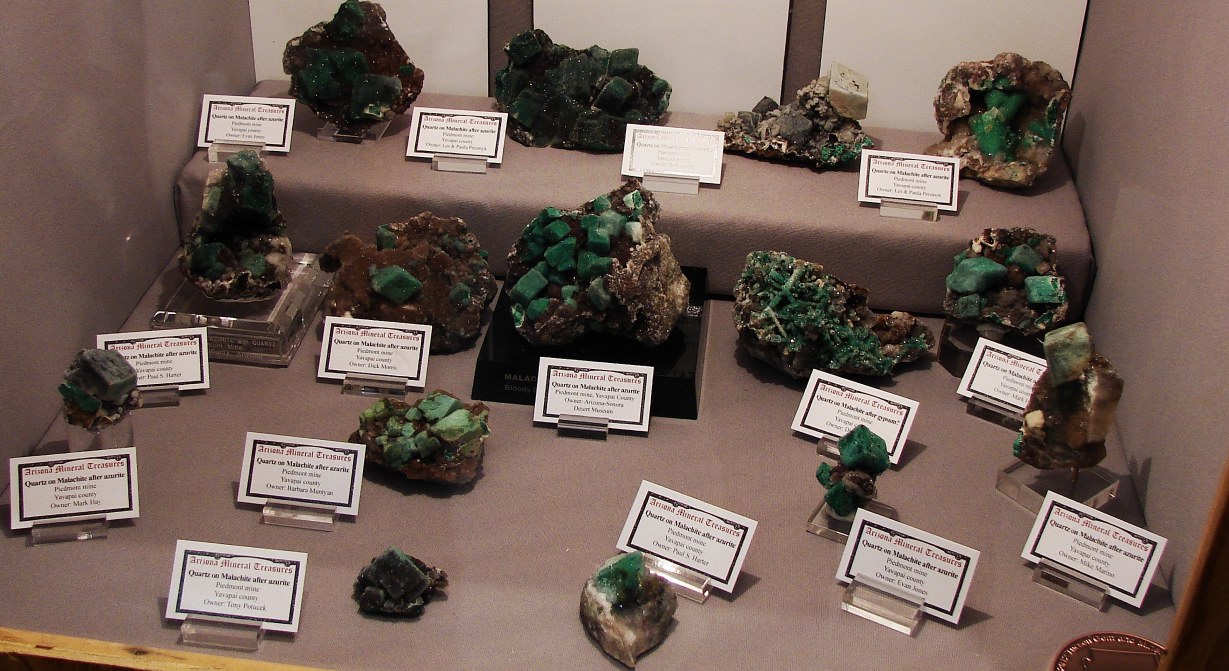 Piedmont pseudomorphs of pseudo cubic Azurite to Malachite covered with a druze of Quartz. Beautiful specimens!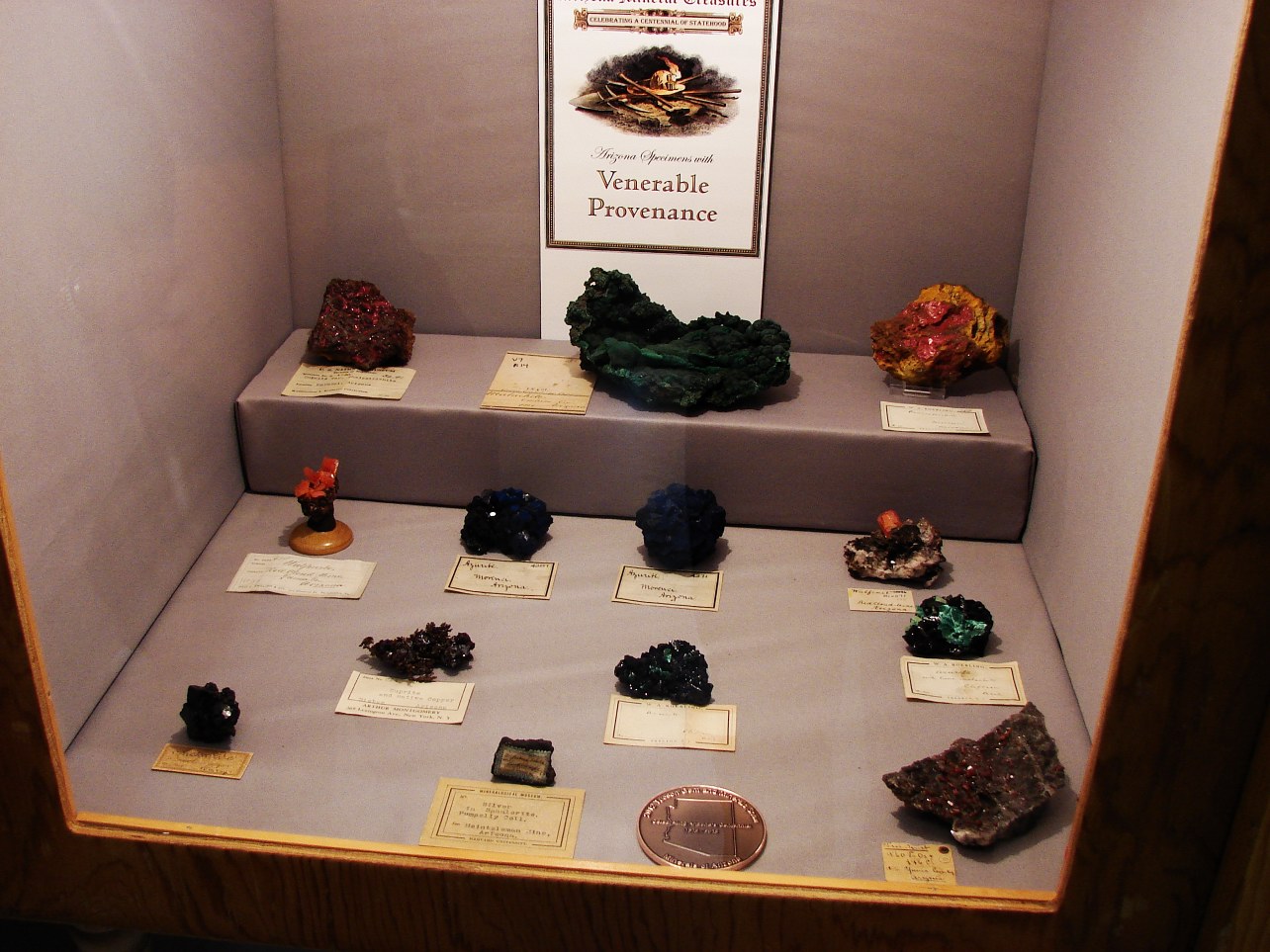 STUNNING!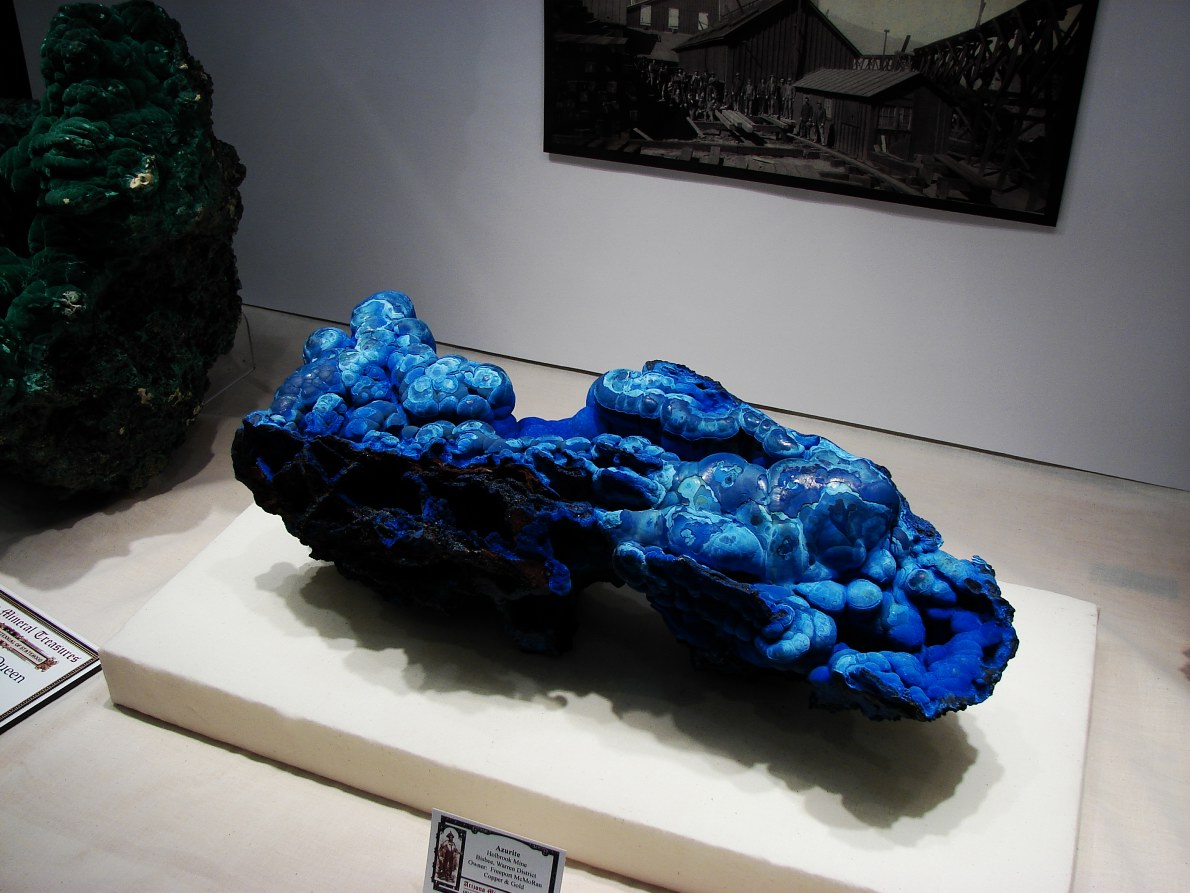 Huge! 49.2 cm wide Azurite!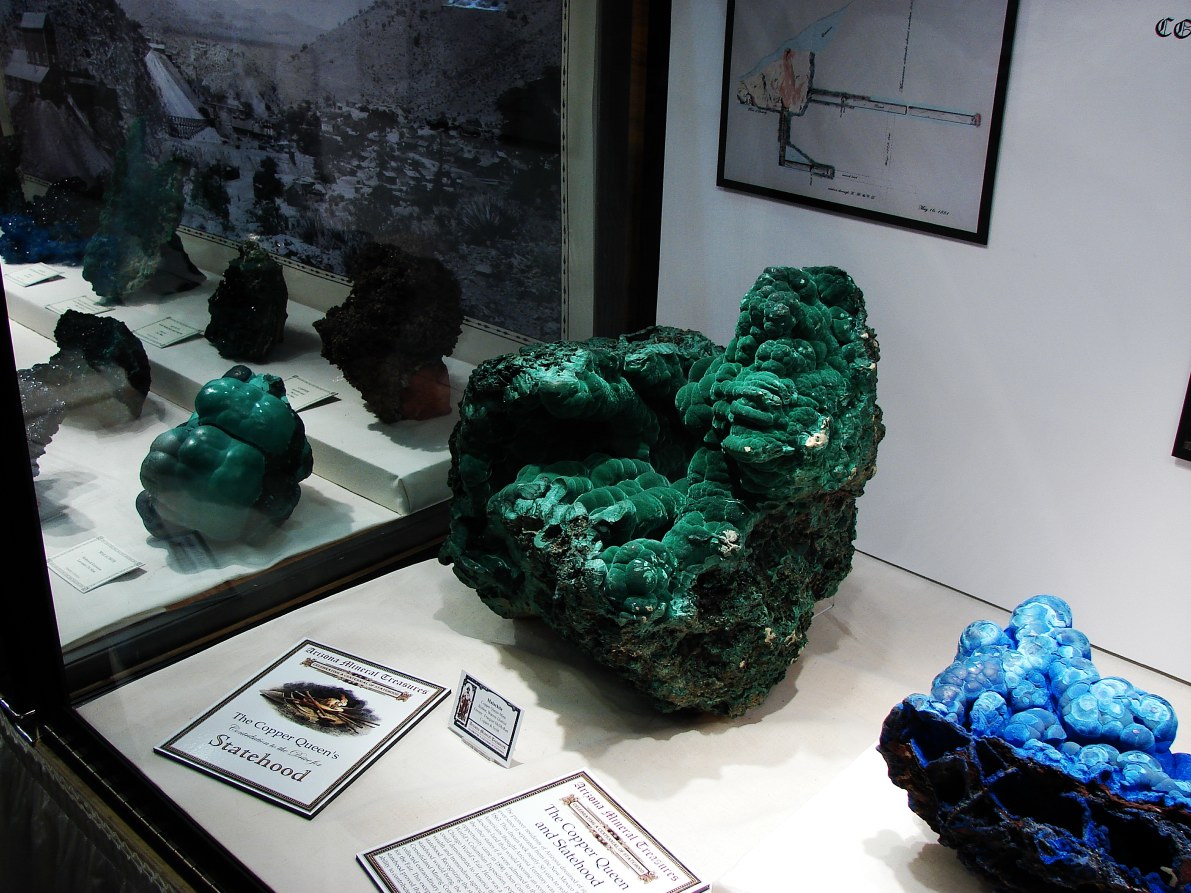 Equally stunning huge Malachite! These specimens were mined in 1891 for the sole purpose of
sending them to the World's Columbian Exposition of 1893 to show that Arizona could hold it's own economically as far as statehood. It worked.
Next year Diana and I will be back on the first week and hopefully, get a chance at better specimens at a better price.
If you have not been to the Big Show then you are missing a spectacle that you will not see anywhere else. The
displays are always breathtaking and the dealers usually hold out some of their best and most beautiful pieces for the event.
Last year the new find of Malachite and Pyromorphite was premiered at the big show. If you would like a better look at the cases I would suggest
watching out for Justin and Brandy's show report at the
the-Vug.com
. Justin usually does a video walk of the cases.
That's it for now, we will be posting new specimens shortly so if your not on our mailing list drop us a line to be added to our email list.