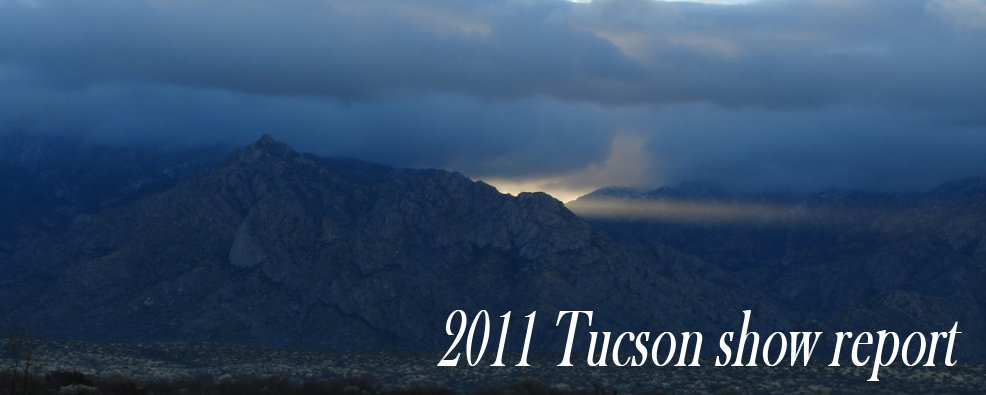 Time for another trip to our favorite show - the Tucson Gem and Mineral show.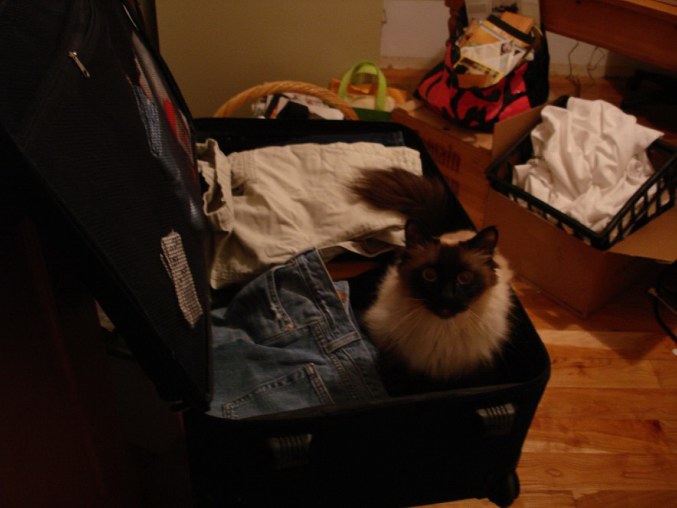 Even Bandit was excited to get going but his attitude changed when he found out he couldn't go.
It seems a lot of the dealers were a little behind on setting up. On Saturday we found plenty of closed doors and half filled rooms. Some of the dealers are not allowing photography for the fear of the mine owners seeing specimens from their mines being offered for sale without their permission and the repercussion of the offending miners losing their jobs. Anyway, onward!
2011 Tucson Mineral Show Report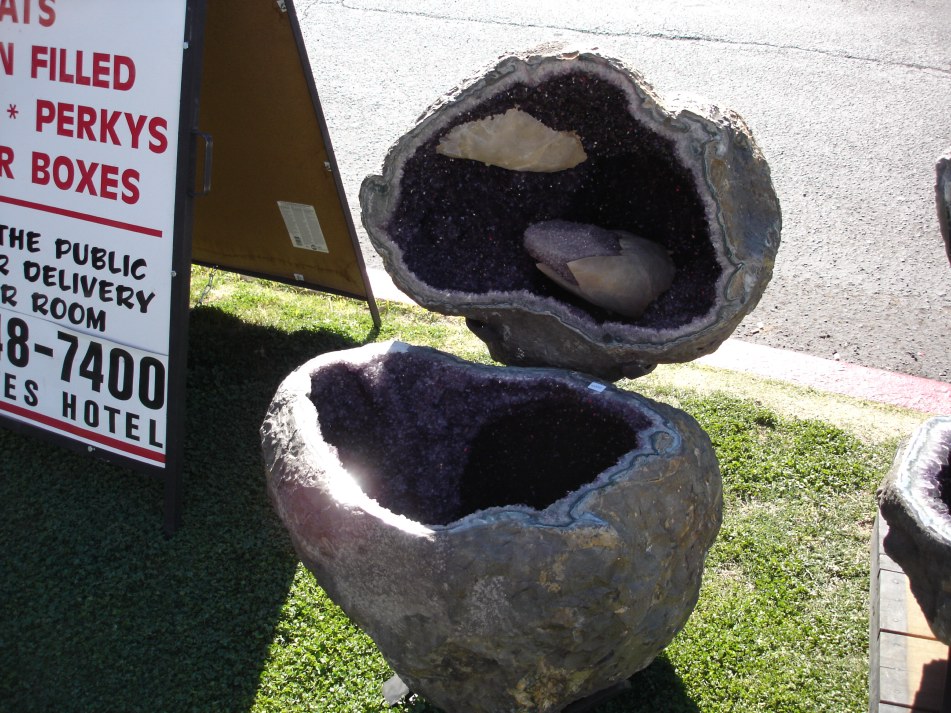 Spectacular Amethyst geode out front of the hotel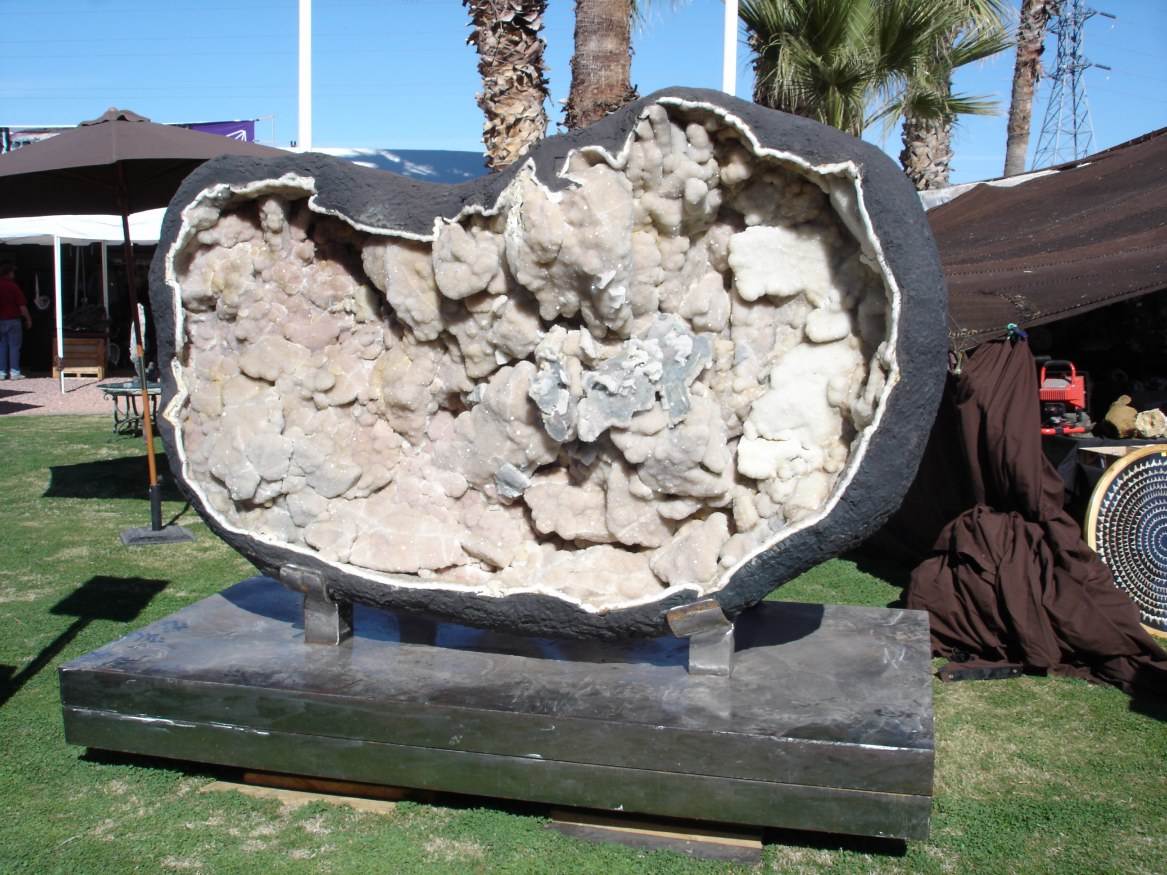 This one reminded me of the slamming the Midwest was getting, over a foot of snow at home but just a frosting here......in this geode that is.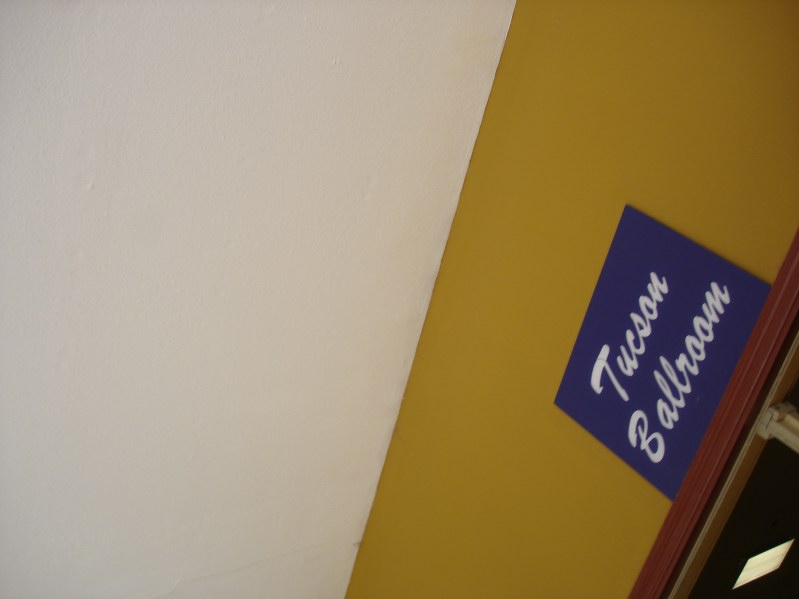 Let's take a stroll in here and see what we find.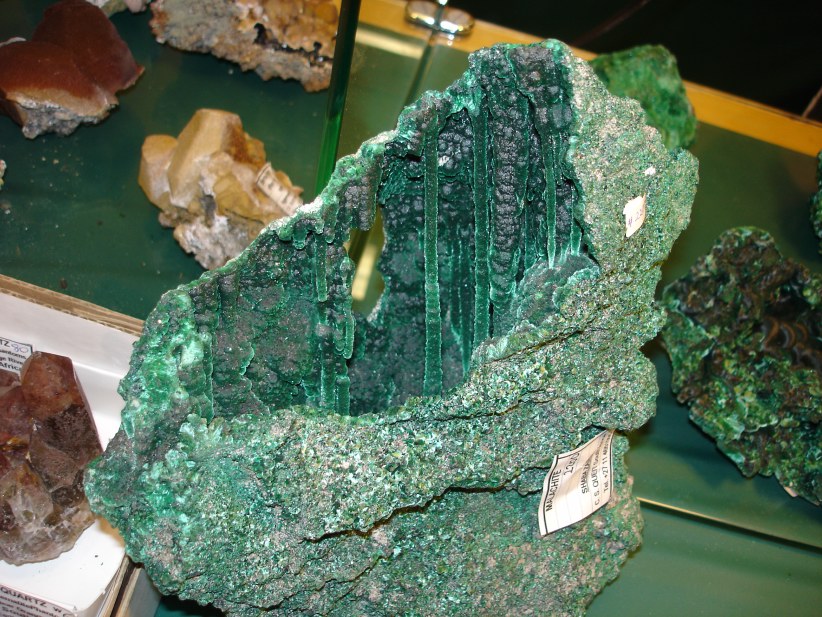 Look at those stalactites, or is it stalagmites? These went from the top to the bottom of the specimen and were as velvety as...well, velvet.
This specimen wanted 2200- and was over a foot wide. All were from Shaba, Congo.
Another large specimen. You can see where a Stalagmite broke off and was re-healed sideways on the specimen.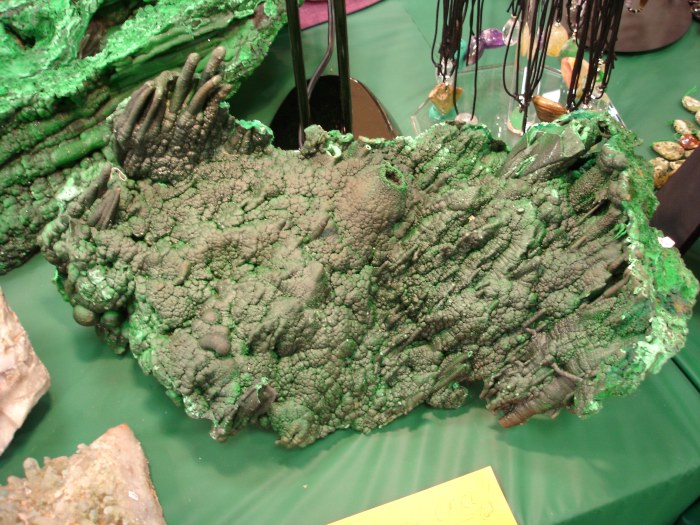 This one was about two feet across!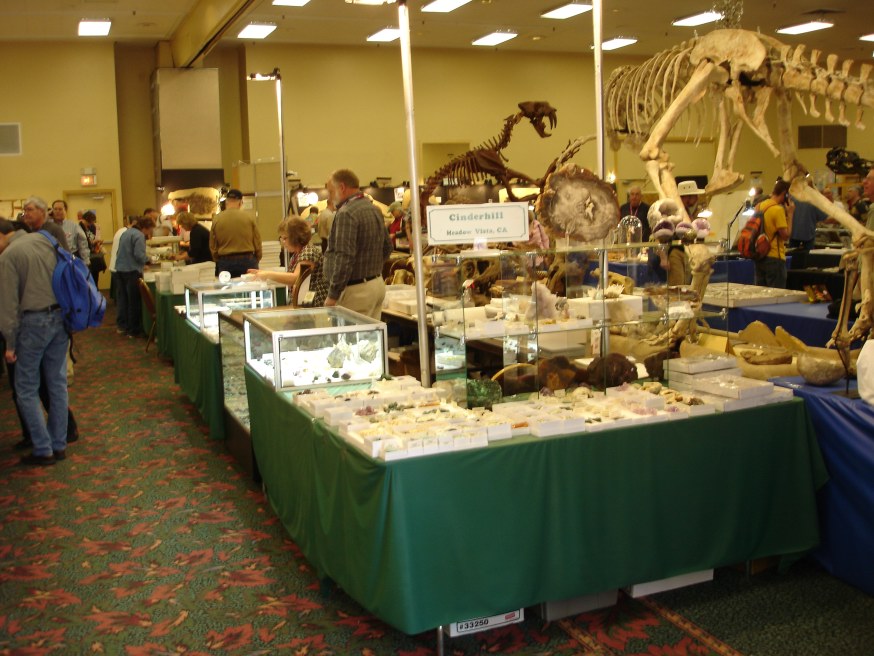 The ballroom is separated into Fossil and Mineral dealers. If you have time, do check out the fossils, some really great stuff on the "other side".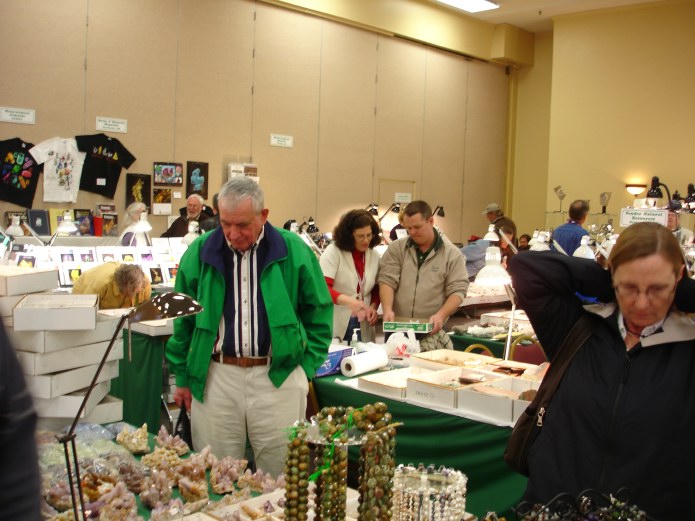 There's Mary Fender from Fenders natural resources helping a customer. We spent an hour going through the Fenders stock for specimens.
Next door to them was Dave Bunk Minerals who also had a huge amount of material that we combed through for specimens.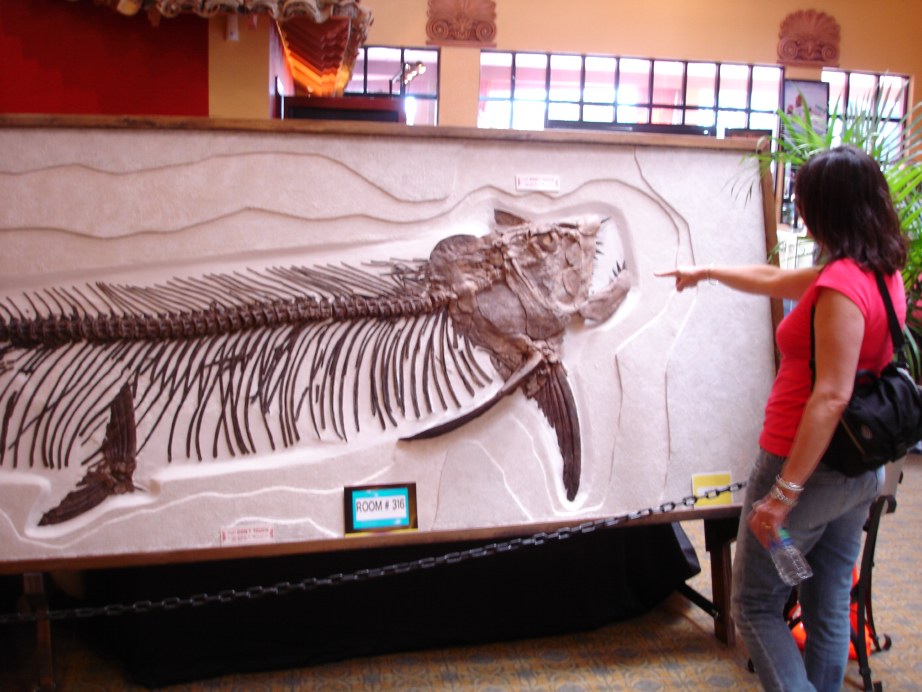 This huge fish was in the lobby of the hotel and sold quickly. From the chalk fields of Kansas.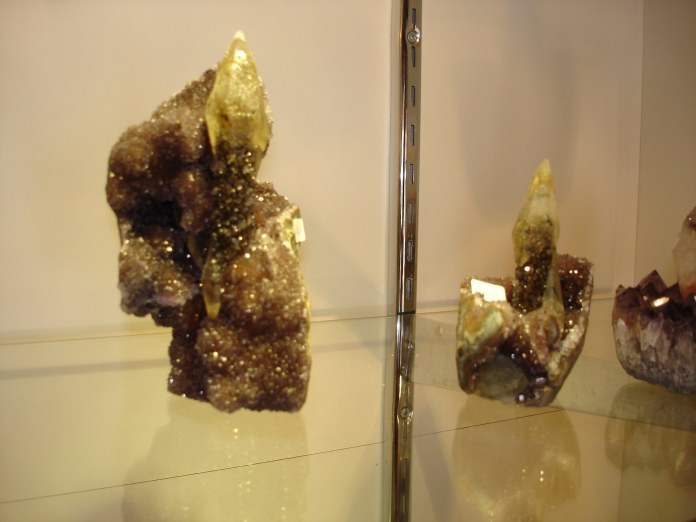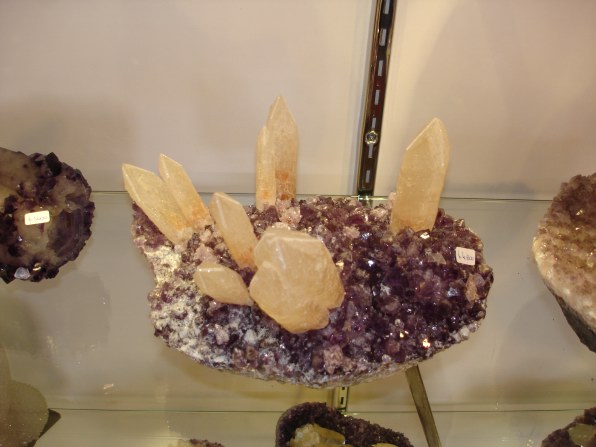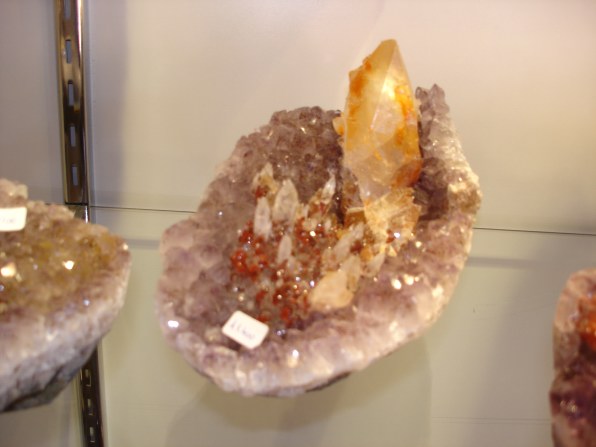 We are seeing more and more of these Calcite and Quartz specimens that are trimmed out of those large geodes for sale and I have to say they are spectacular!
Dan and Diana Weinrich set up in one of the rooms off the lobby and had their usual outstanding variety of minerals. I have to apologize for the quality of the photos... my camera was not set to macro when I took these pictures.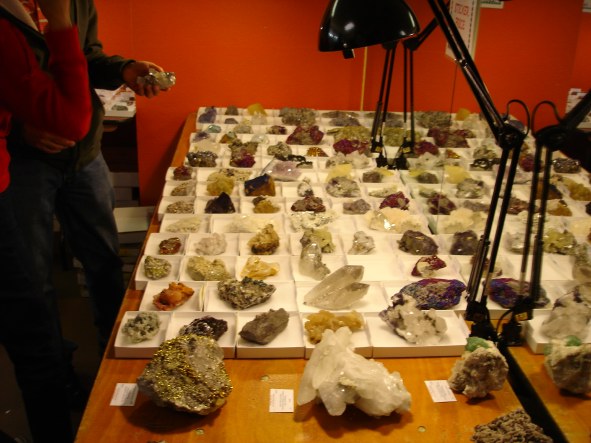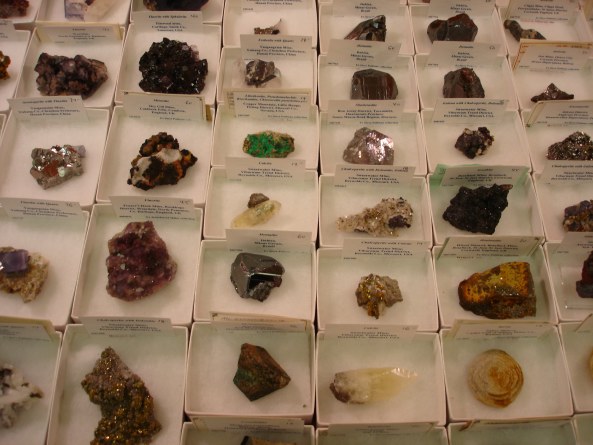 The close ups are on the left a yellow and purple Fluorite from the Annabel lee mine and on the right a Barite from Hilton Mine.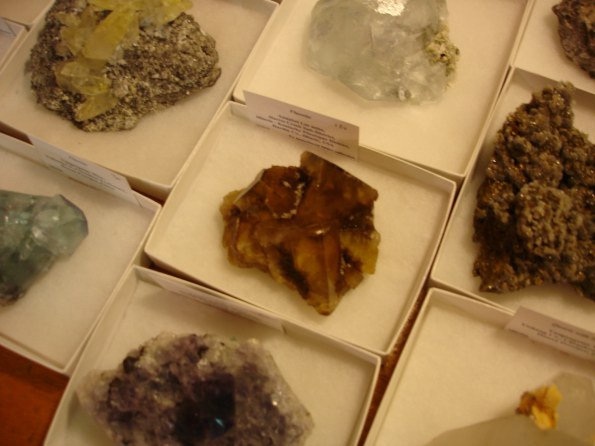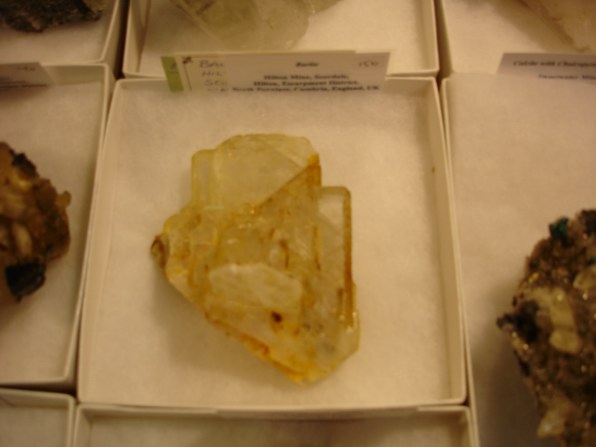 They also had two huge cabinets with higher end stuff like these great Romanian Stibnites.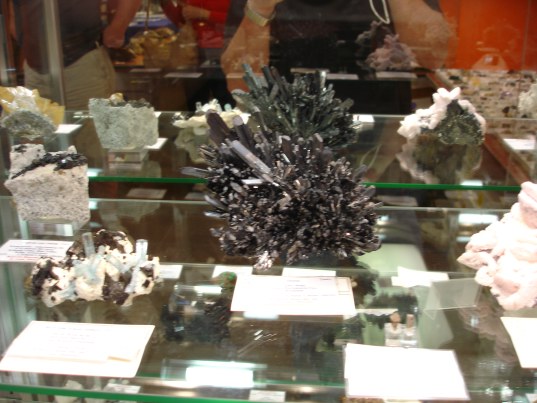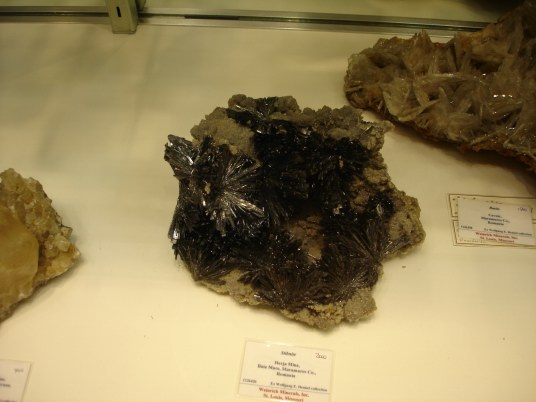 On to John Cornish's room! John's cabinets were loaded with aesthetic minerals.
If there were an ambassador to mineral collectors I think John would be the guy.
One of the nicest guys you would hope to meet.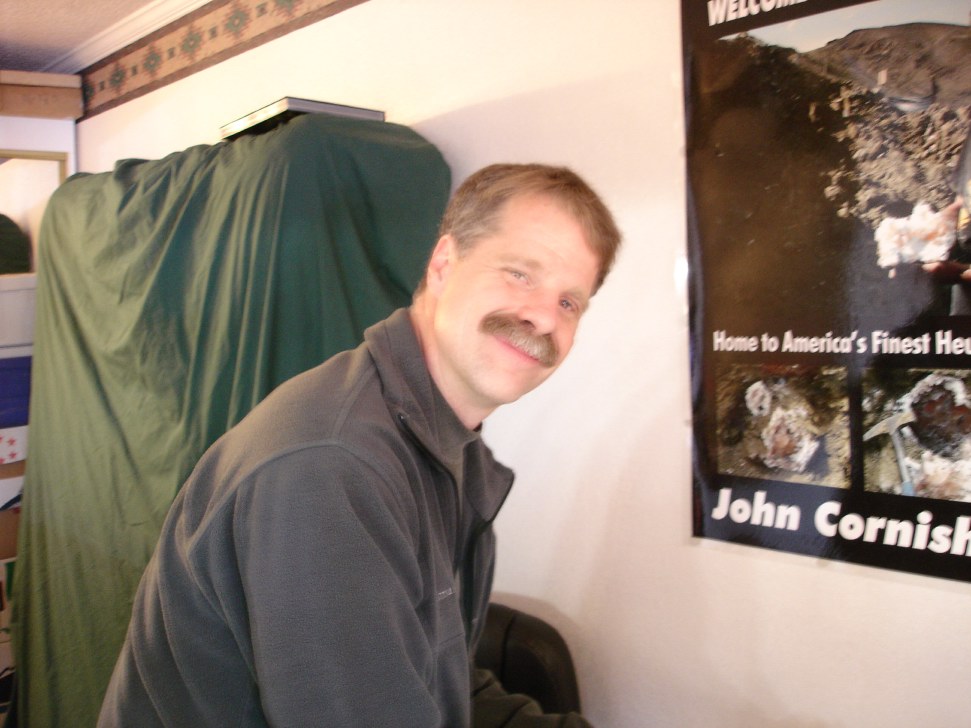 He also had a newly released book called Nature's Garden of Crystals featuring specimens from some of the great collectors of our time.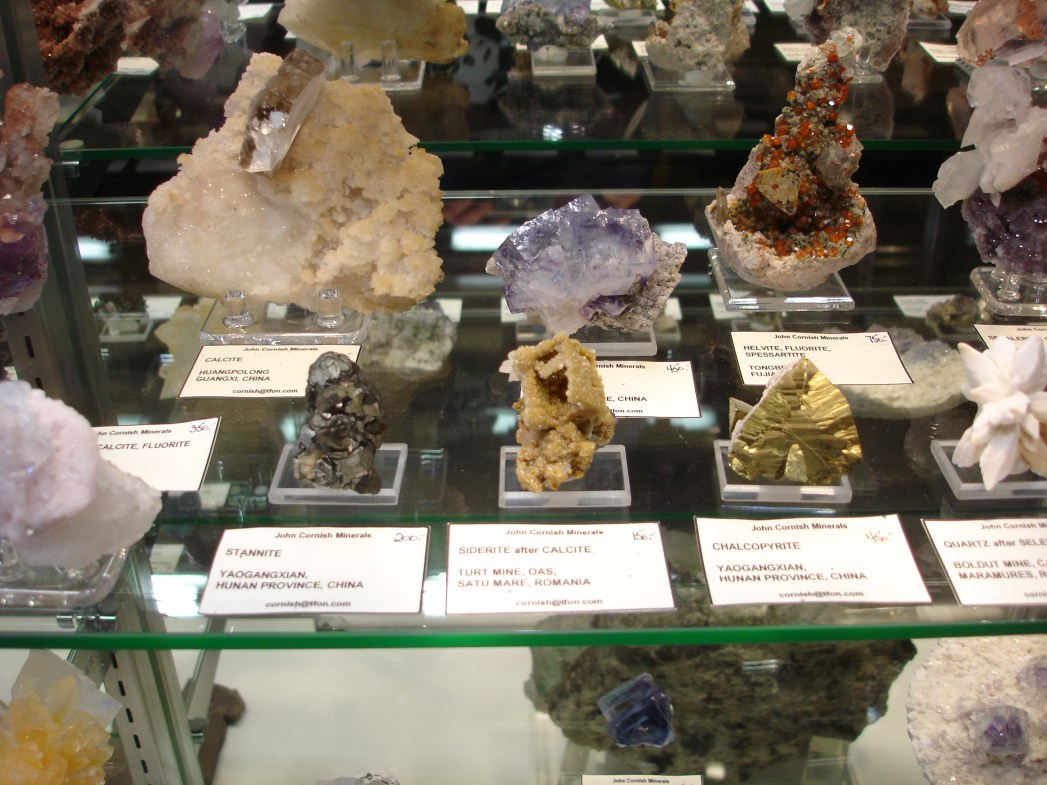 I really liked this Siderite after Calcite. The other pieces surrounding it were equally awesome.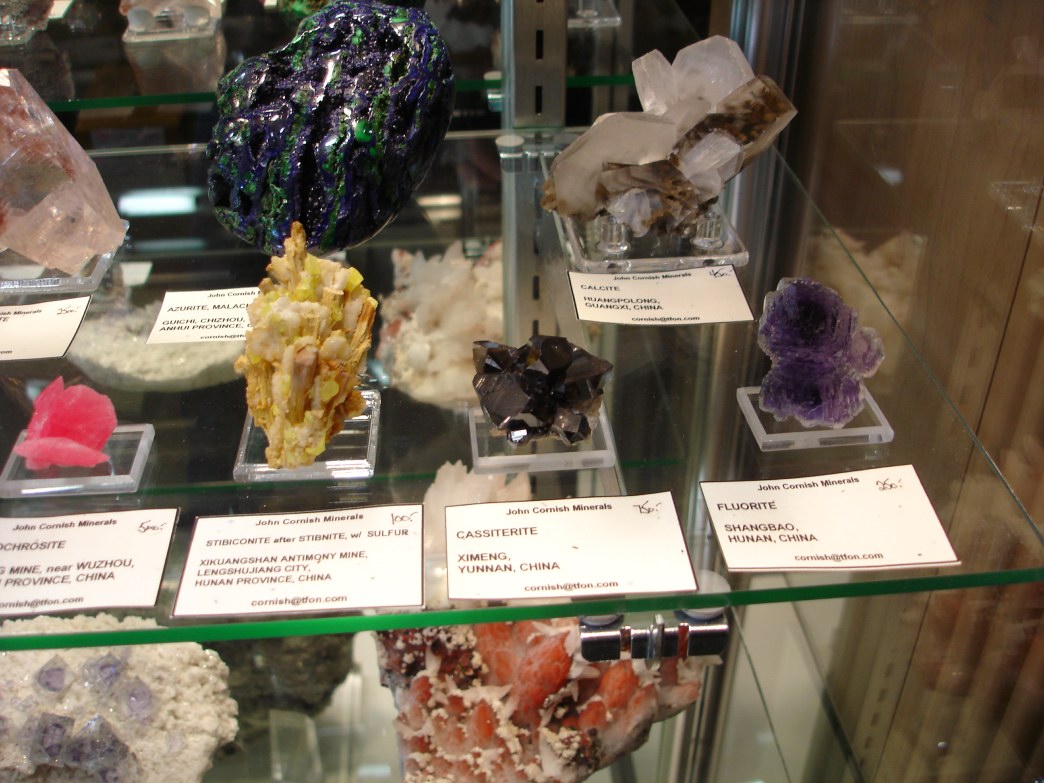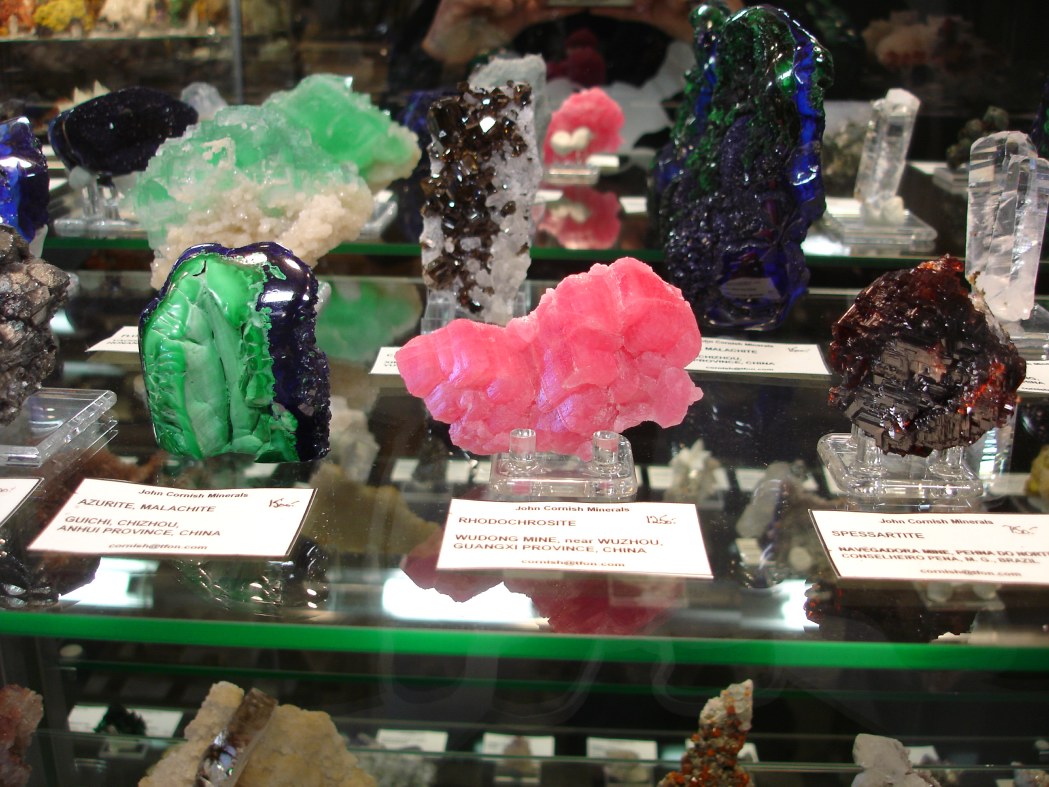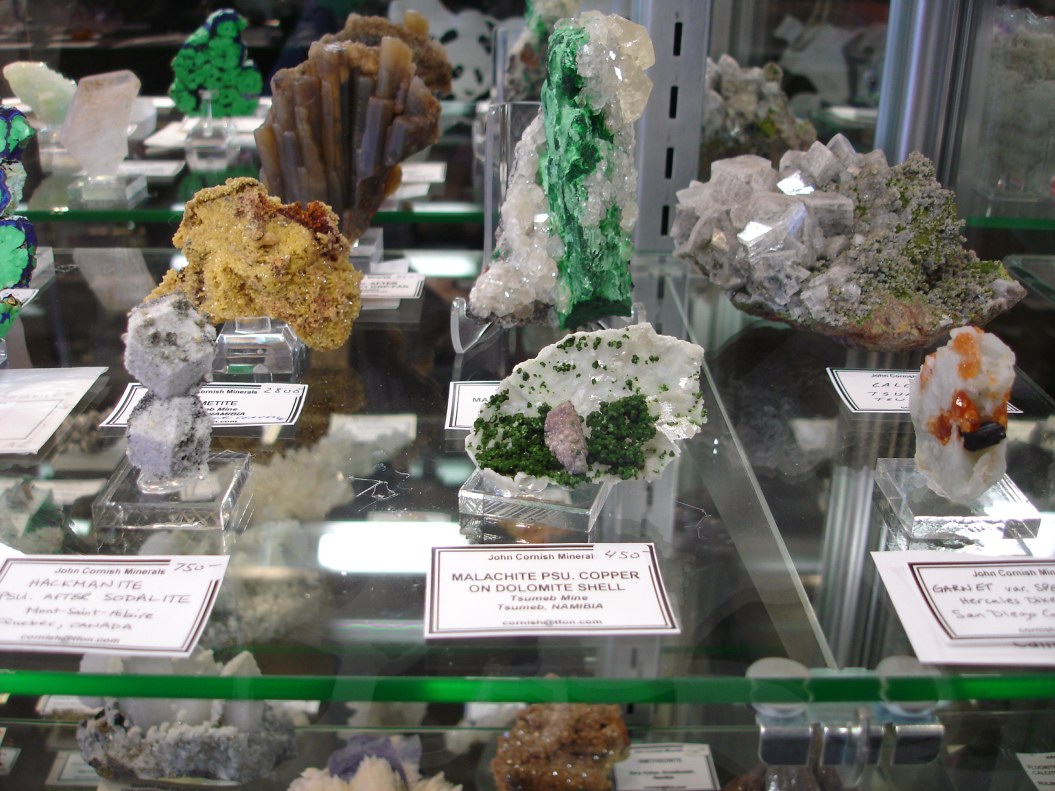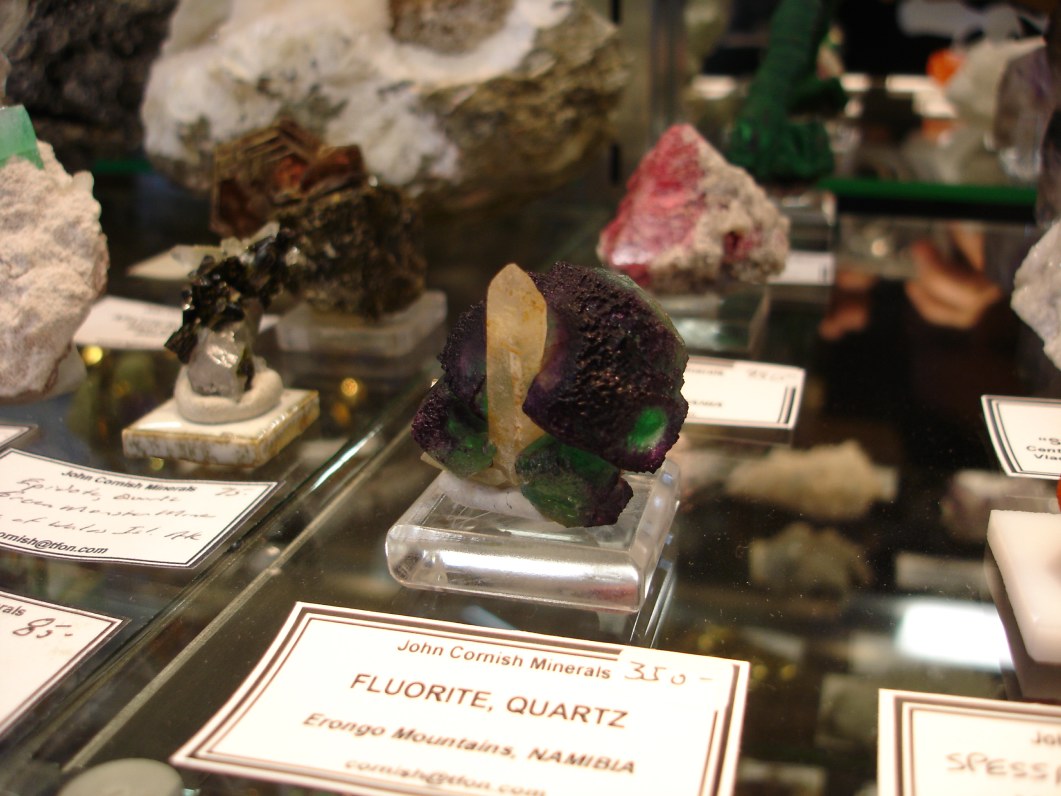 Really nice specimens
The Tucson Show is like having a couple hundred good friends who all collect minerals and have invited you over to check out their cabinets.
Now into Pinnacle 5's room. Joe Dorris always has a great selection of minerals.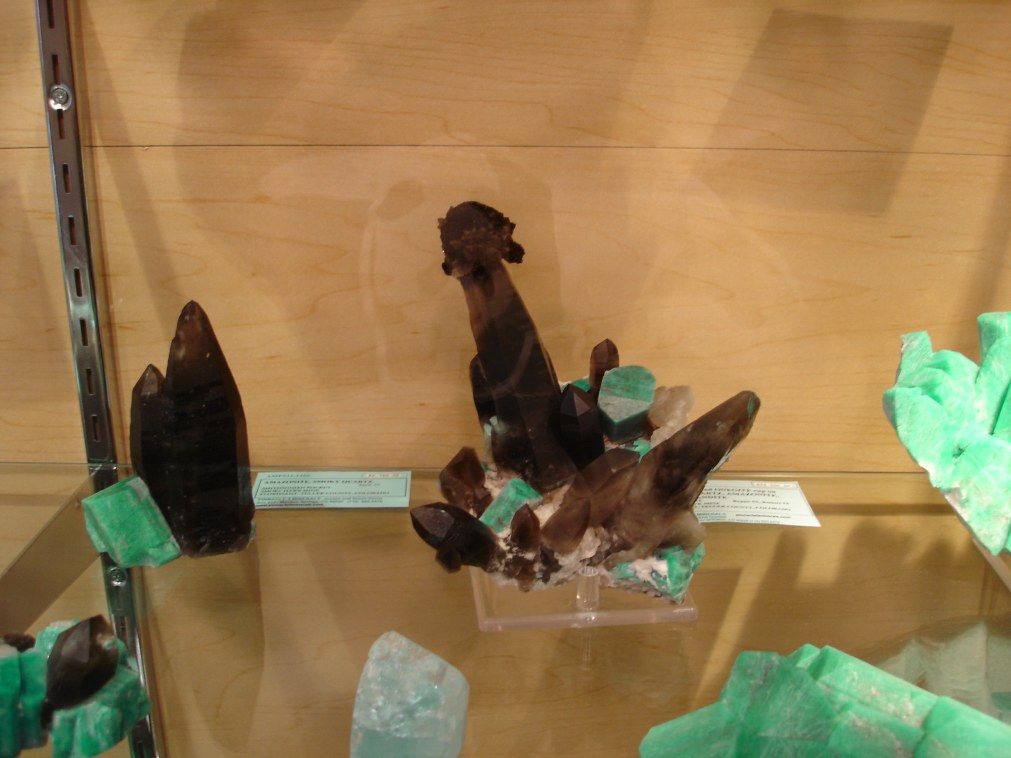 Look at that scepter! Smoky Quartz, Amazonite, Hematite. Cabinet size specimen.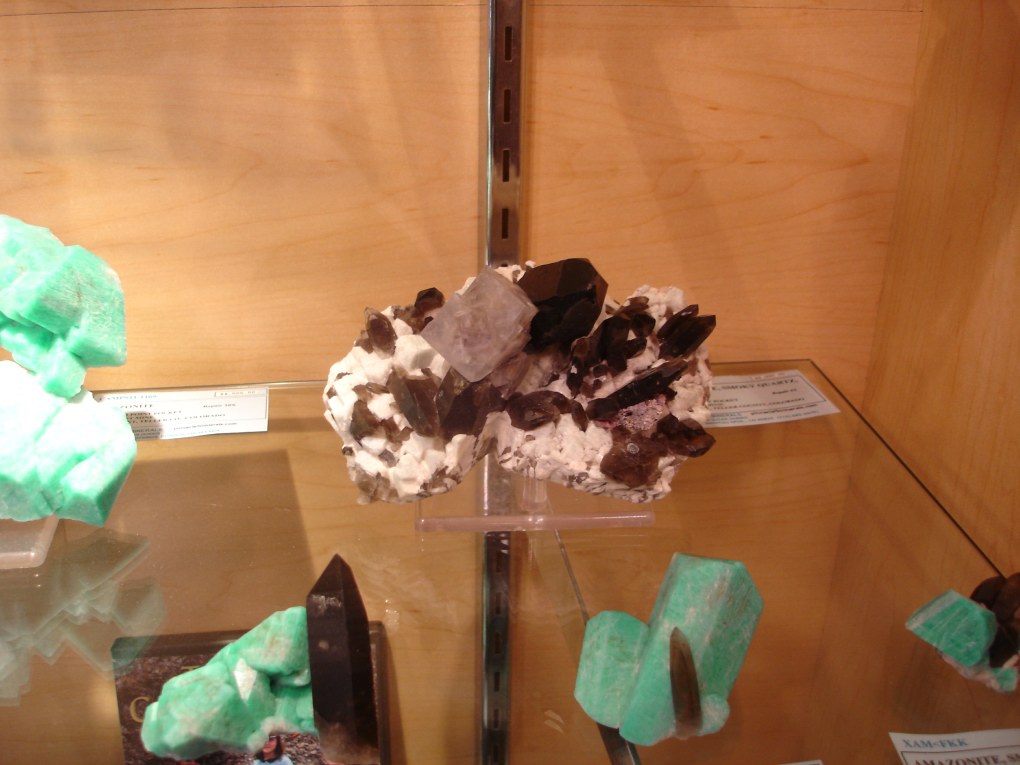 Smoky Quartz, Feldspar and Fluorite. Small Cabinet specimen.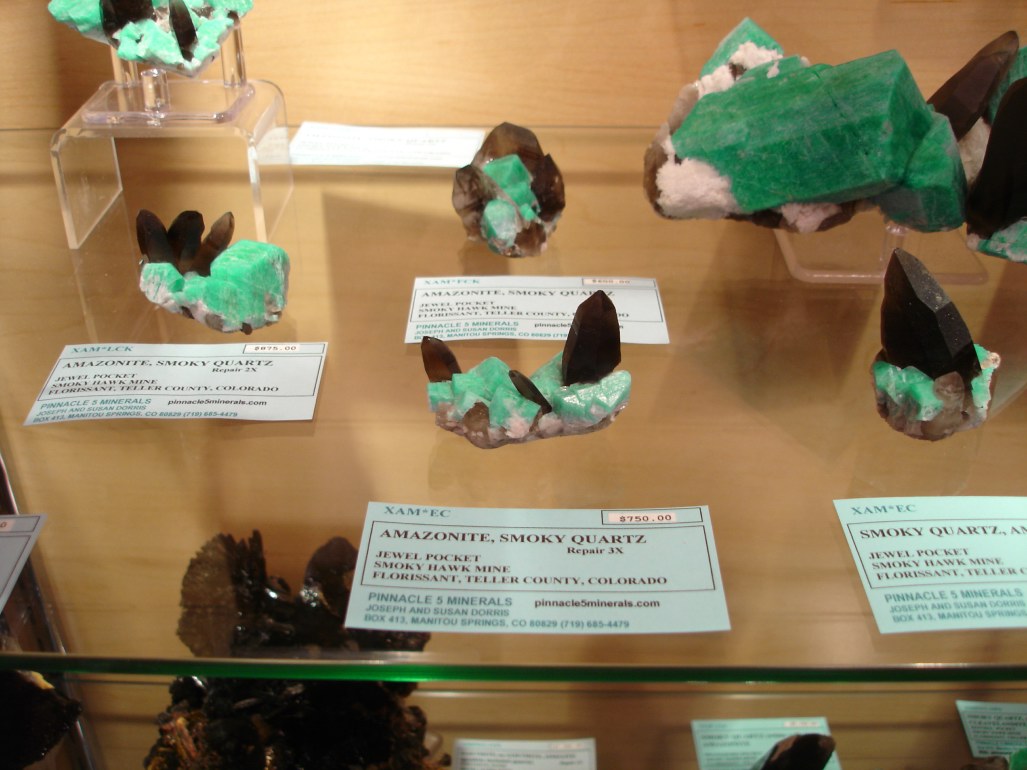 Really nice miniature specimens of Amazonite and Smoky Quartz.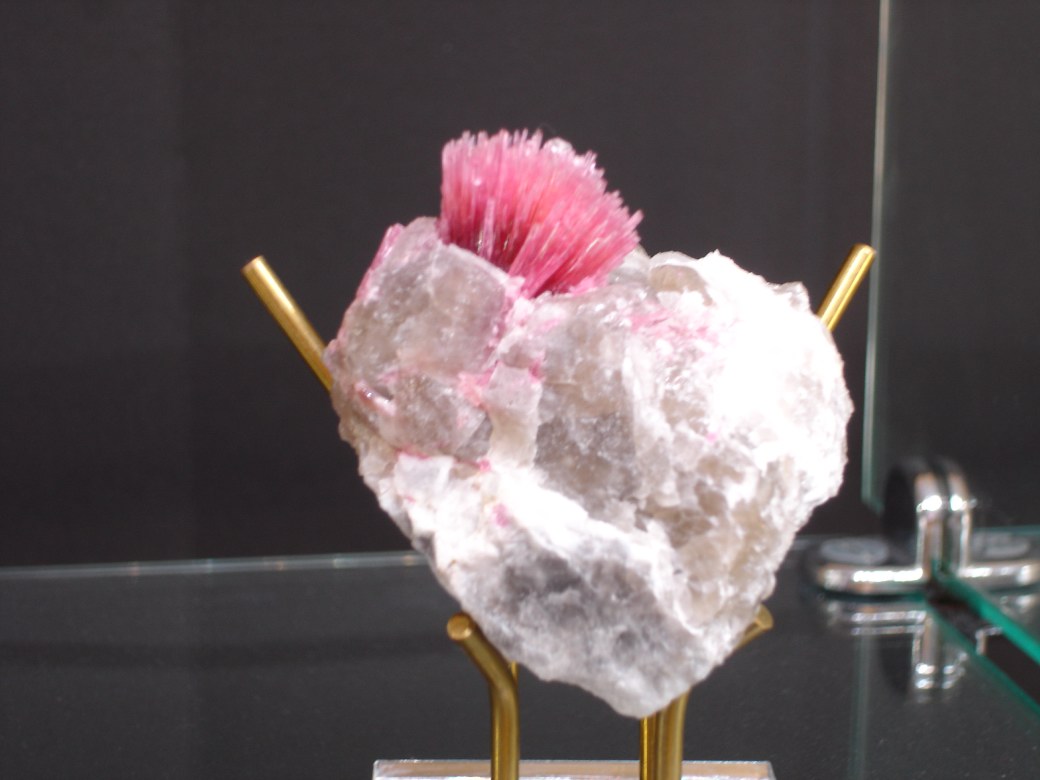 The picture isn't that great but this the specimen has that "wow" factor. Bright pinkish red Tourmaline on Quartz.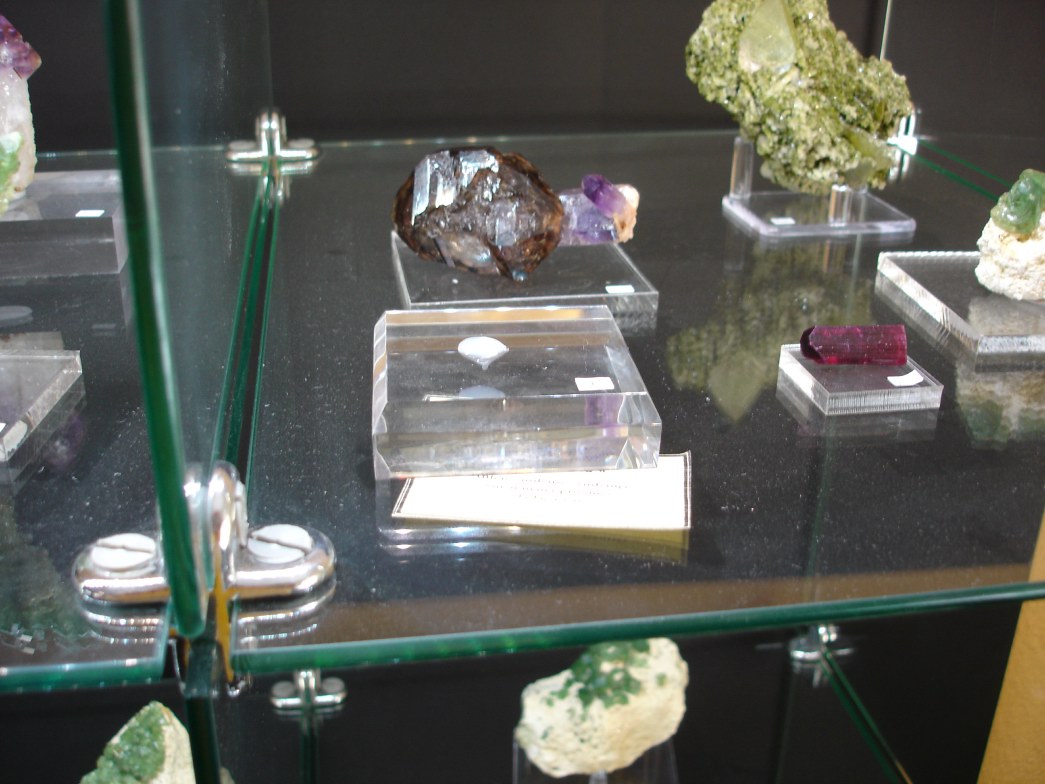 In the same room as the Tourmaline was this empty stand and a Tucson police officer.
Someone had come into the room and switched a 2500.00 Demantoid specimen with a 20.00 specimen as not to draw immediate attention to the empty stand.
Sadly we noticed there was a good amount of theft this year.
Next we went to Jordi Fabre's room where we saw this fantastic Jeramejevite on matrix. The color was an electric blue.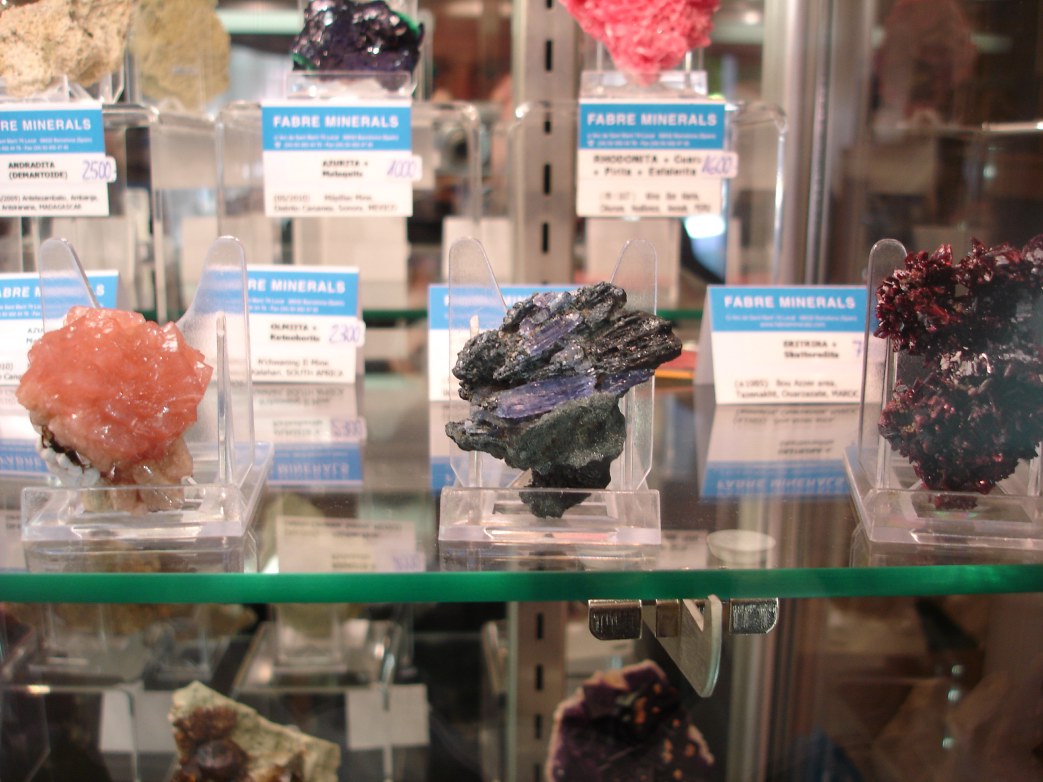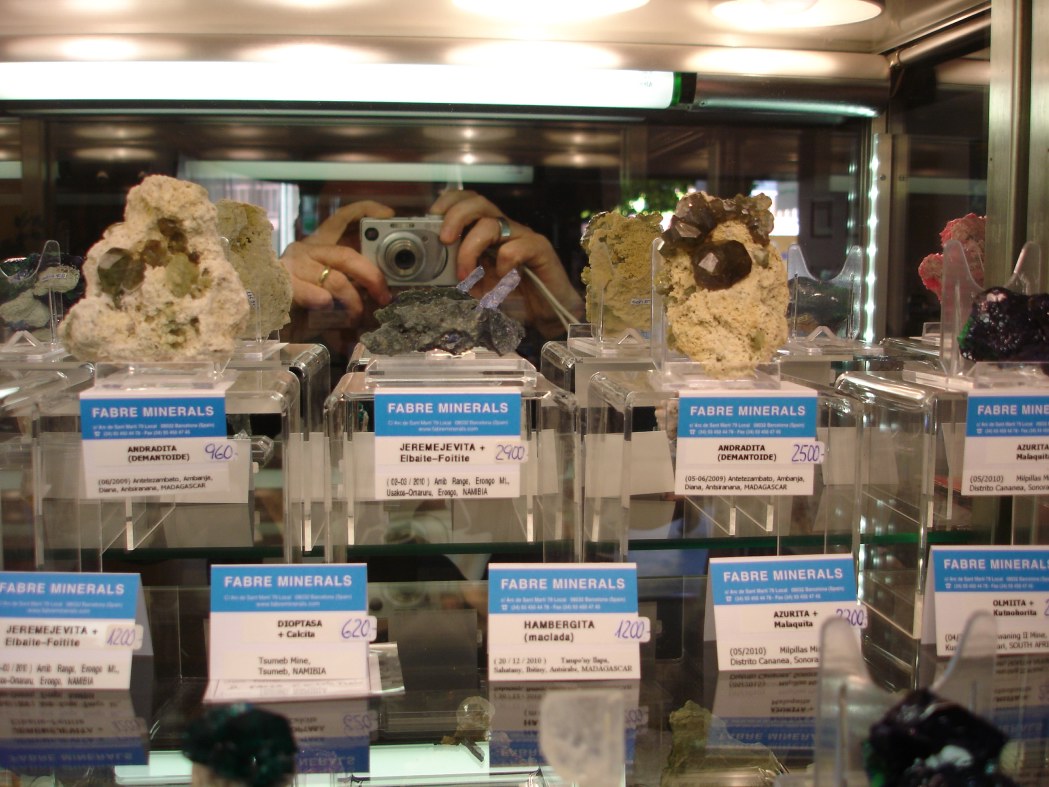 Another one with standing crystals on matrix.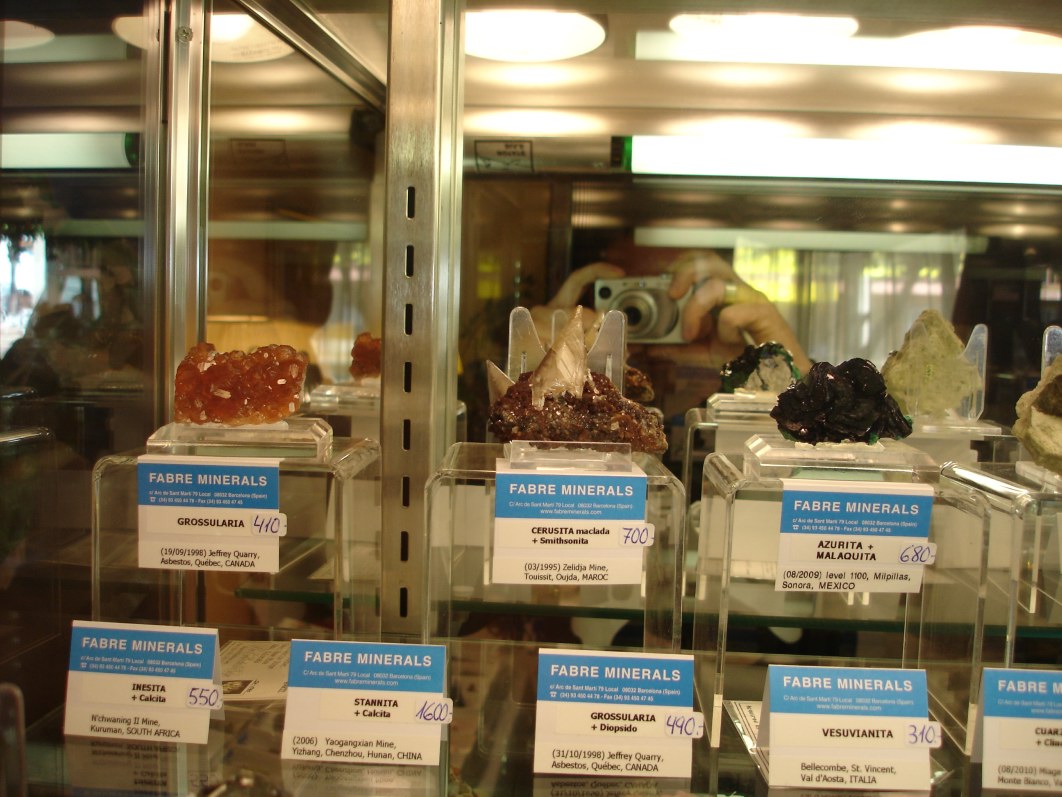 Really nice Cerussite!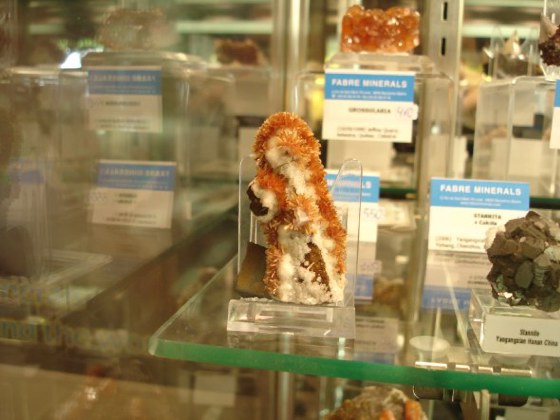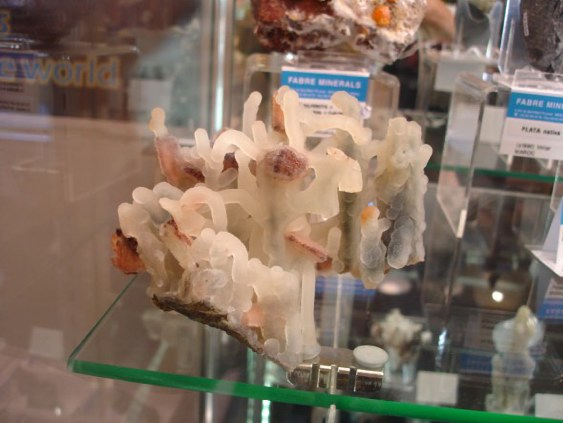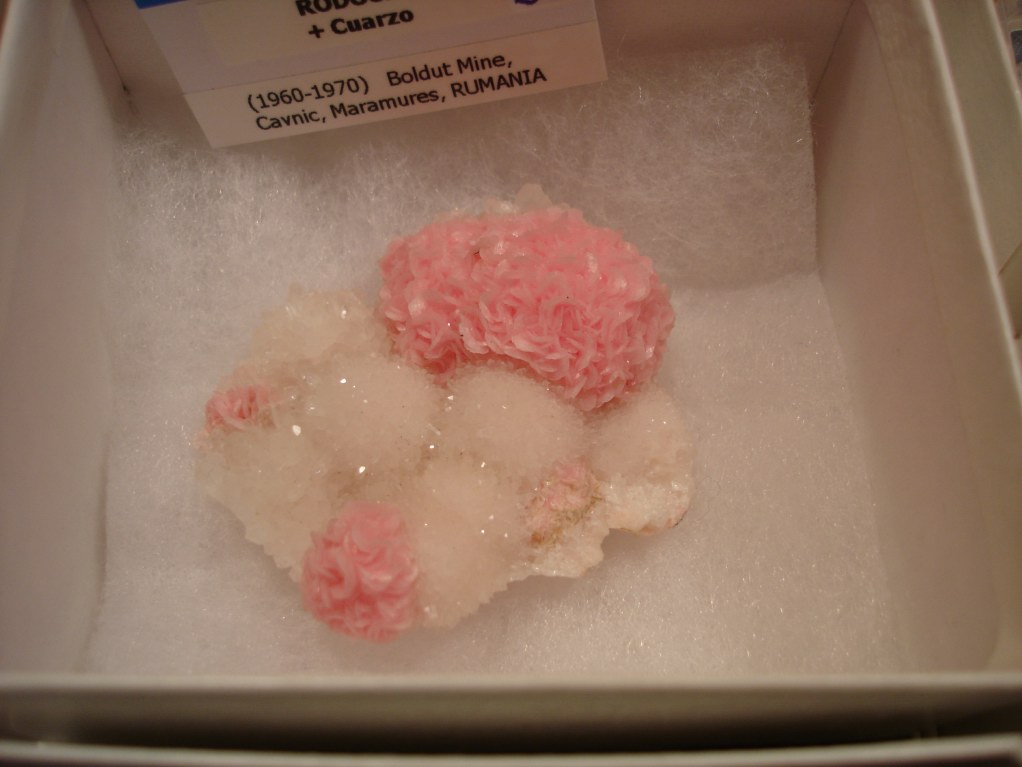 Beautiful! Rhodo and Calcite.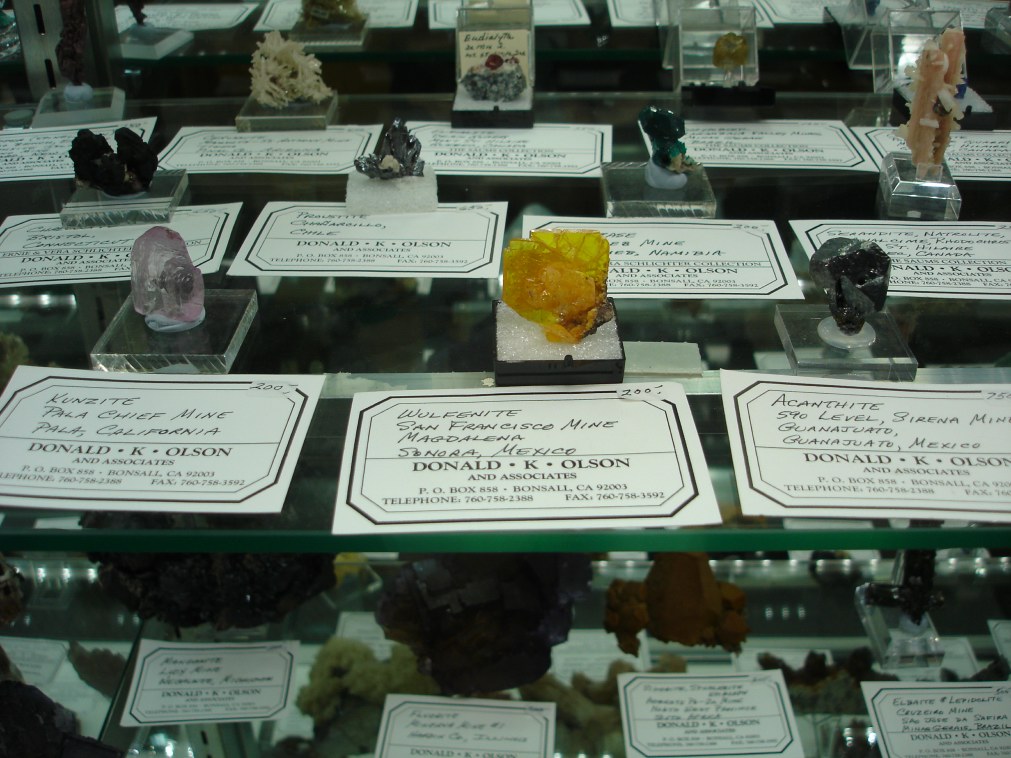 Large single tab of Wulfenite from the San Francisco Mine.
Don Olson had case after case of great minerals!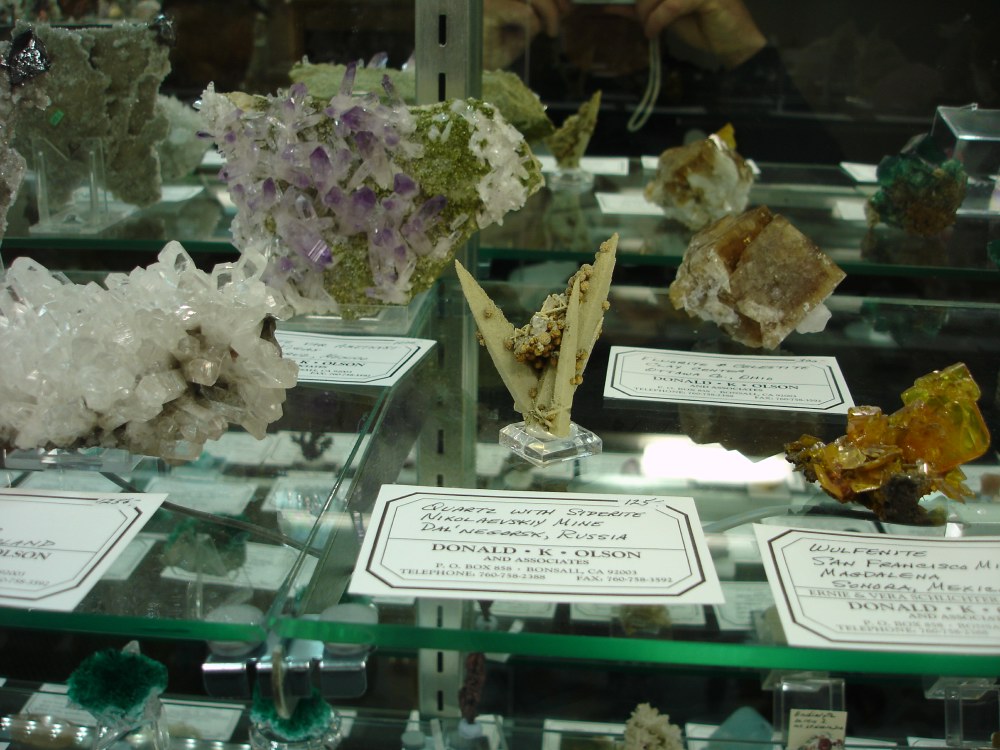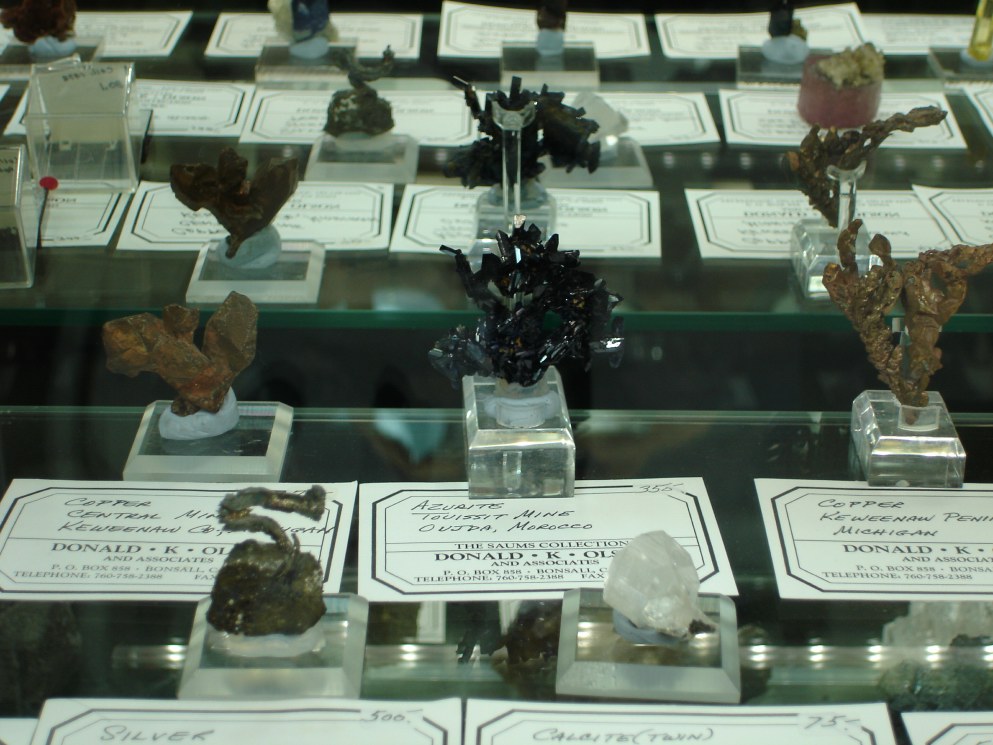 Really nice Azurite specimen.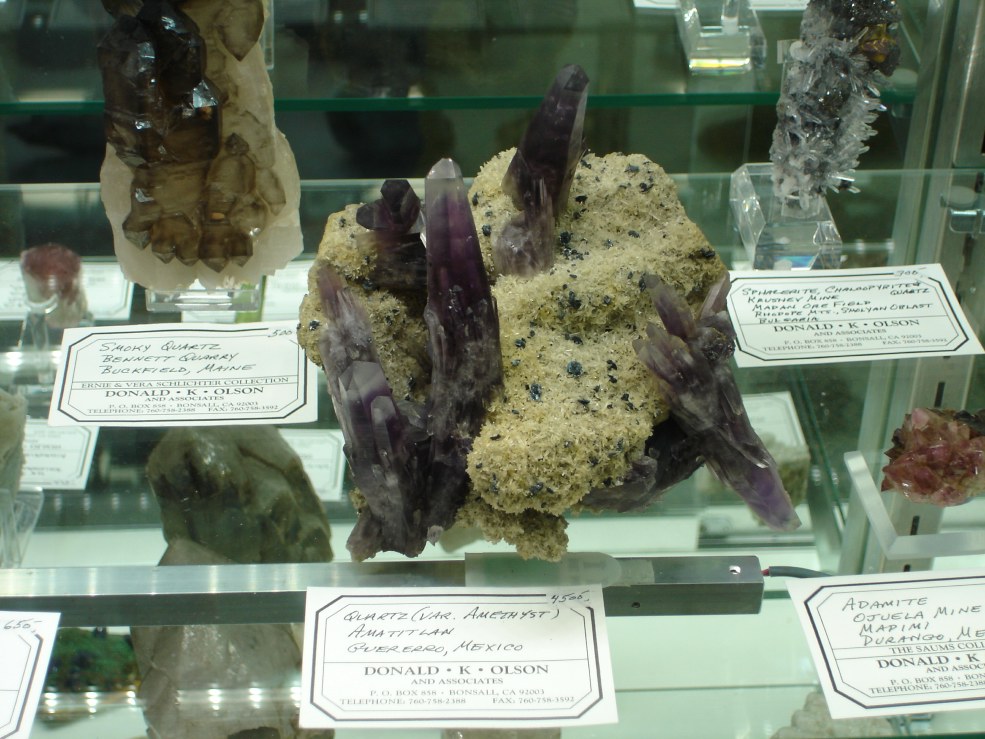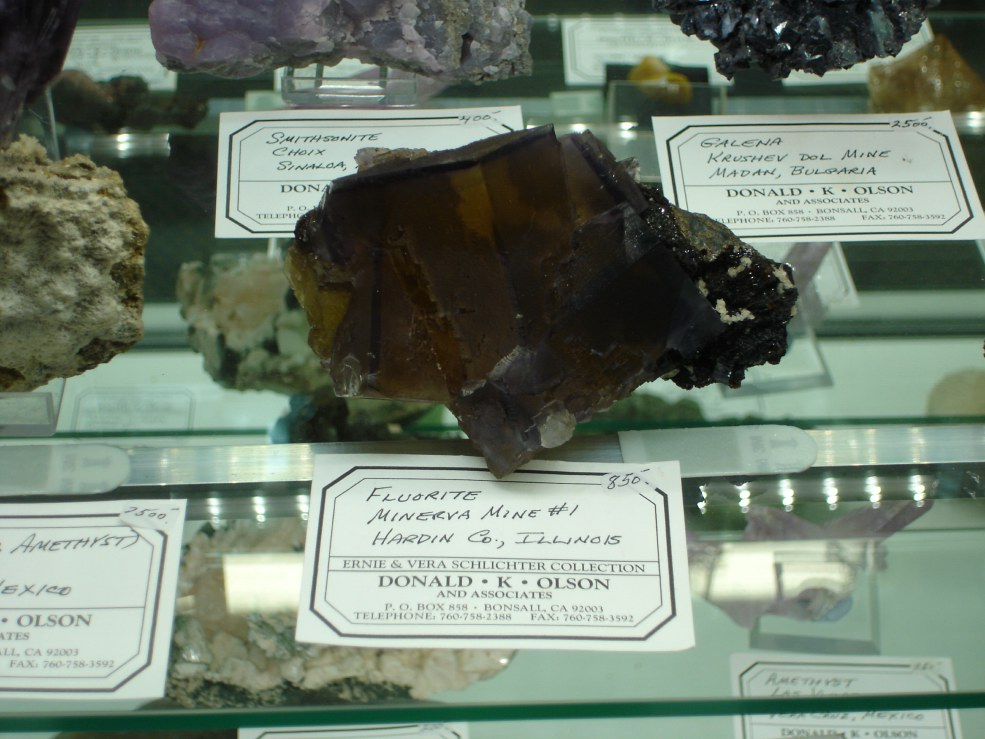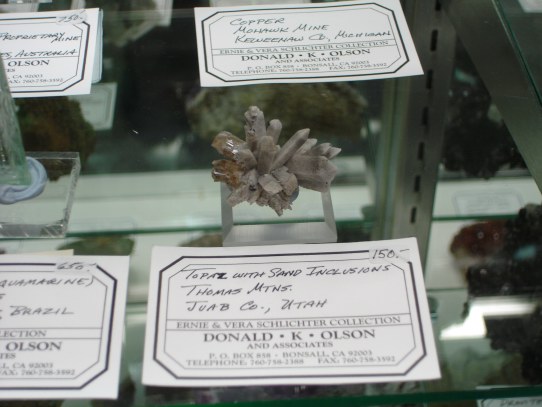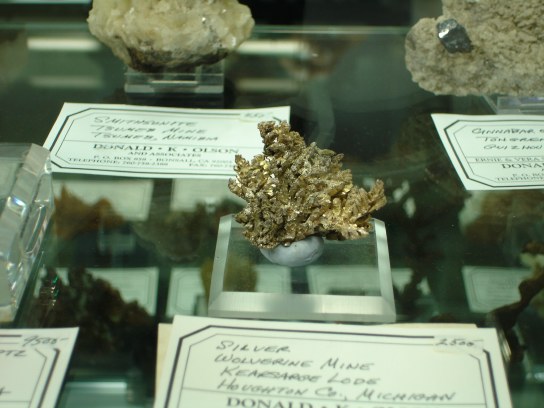 Luis Burillo always has a room filled with top specimens.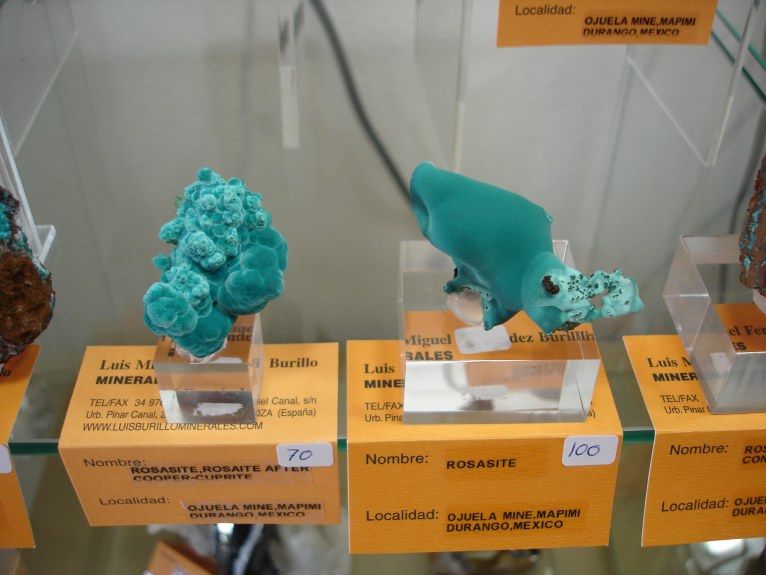 Awesome Rosasite specimens.
Dioptase, Mottramite and Calcite from Tsumeb.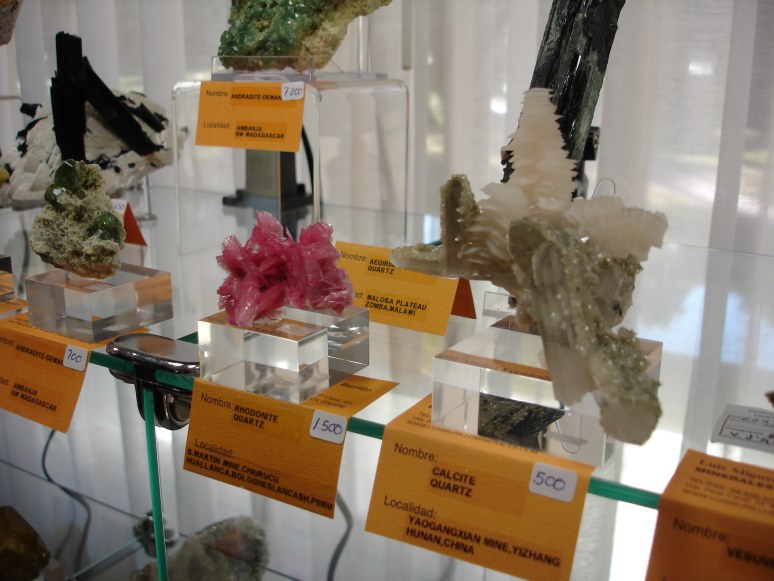 Nice Miniature Rhodenite specimen.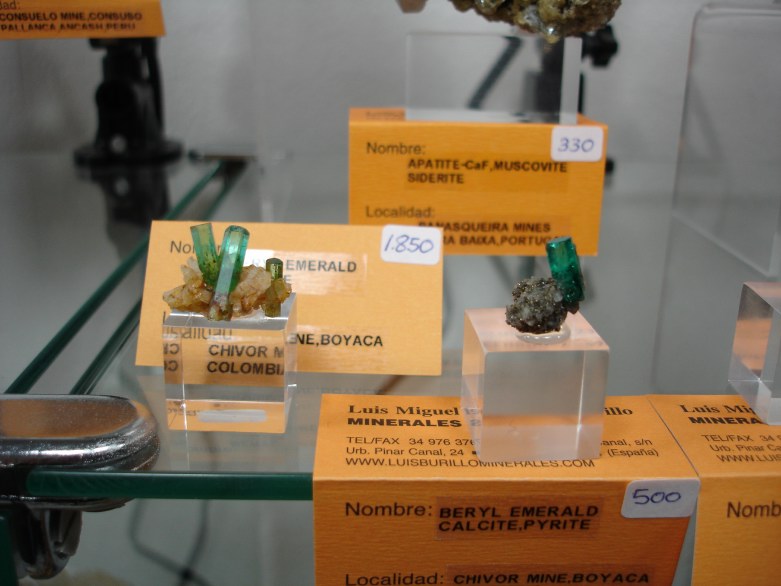 Water clear Emerald on matrix from Chivor.
We than made our way into the room of Scott Klien, Great Basin Minerals, who had a cabinet full of Miekle mine Barite's.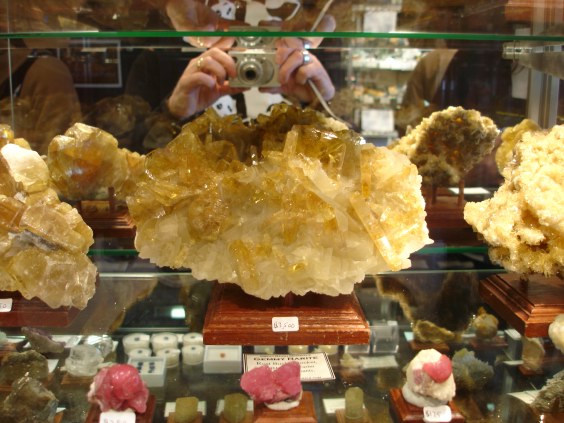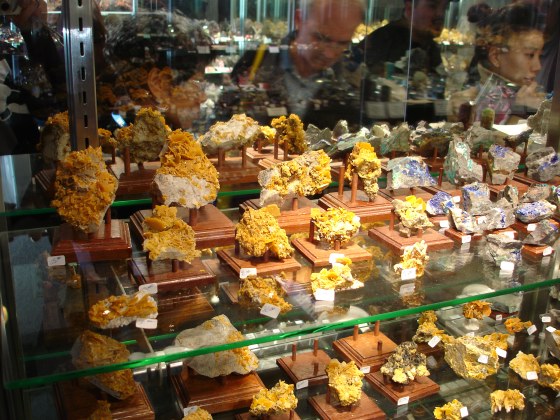 Wulfenite! Mobile Mine.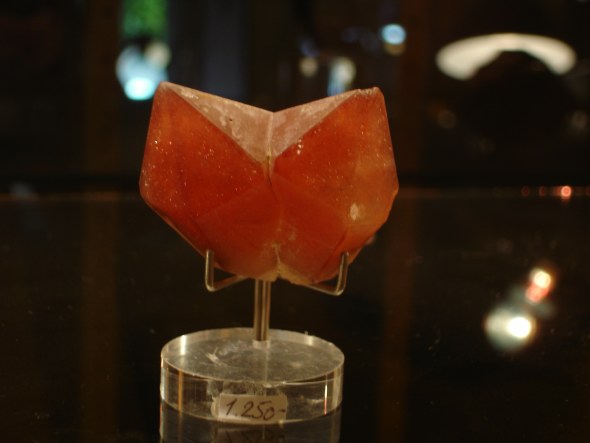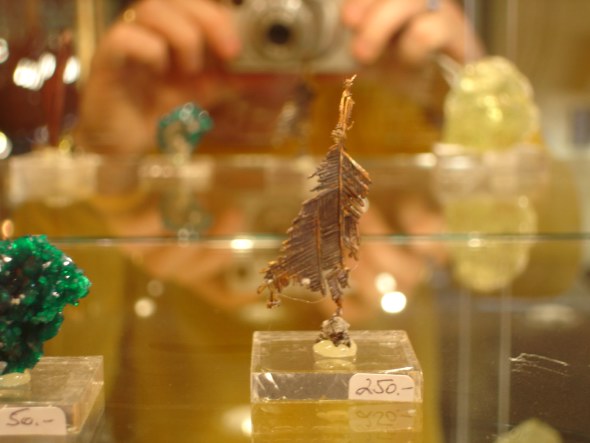 Really nice strawberry Quartz and equally nice Copper specimen.
A few things I noticed this year. Prices seem to be creeping up. We made a trip to the Quality inn where you used to find reasonably priced minerals from the Chinese and Russian dealers. Now every Chinese dealer considers themselves a "museum" and price their stuff like it is a museum, crazy. No wonder the place was dead. The Executive Inn was closed and from what we have heard in financial trouble...again. Losing the Zinn show cost this hotel dearly. We didn't take pictures of specimens that are thousands of thousands of dollars if you want to see those go to any of the other show reports on the web we like to show those things that most collectors can afford.We will be back next year to go through the thousands of thousands of specimens to pick those few that we agree are worthy of our cabinet because ultimately that is what we buy. Until next year we hope everyone has a 2011 filled with joy and most of all fun.