We start our journey at Chris Wrights room.
He had some of the fairly new specimens of Chinese
Calcite with Chalcopyrite coatings from the Daye Mine. pretty sweet material!
Tucson 2013 gem and mineral show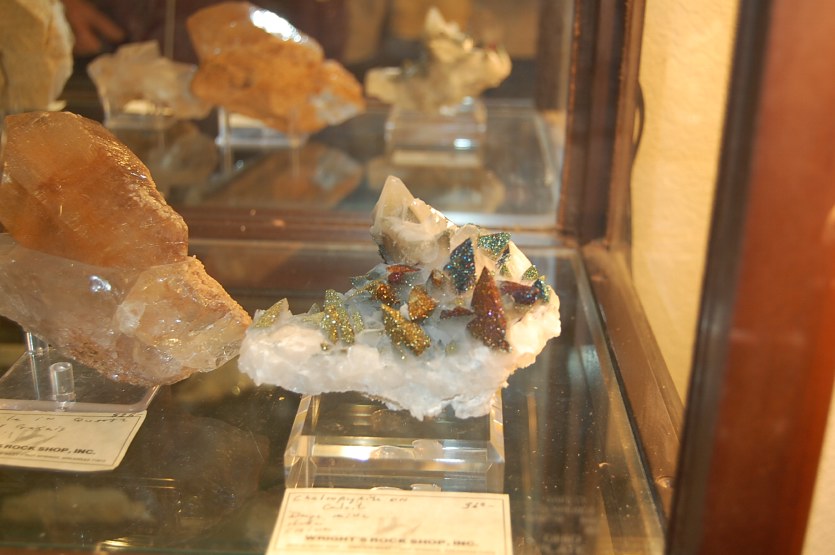 2013 Tucson mineral show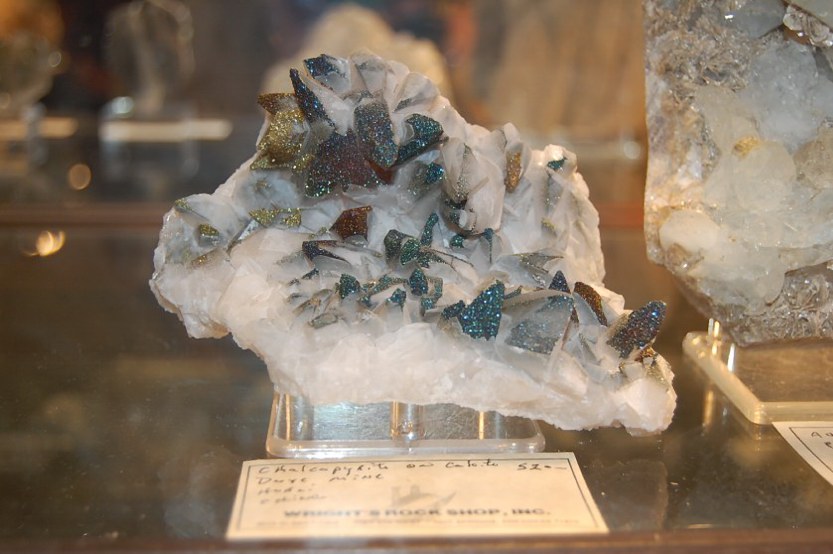 There were pieces in other rooms but Chris had the best color on these.
He also had these really nice specimens of Quartz from the Orange River that were almost red in color.
Tucson 2013 mineral show report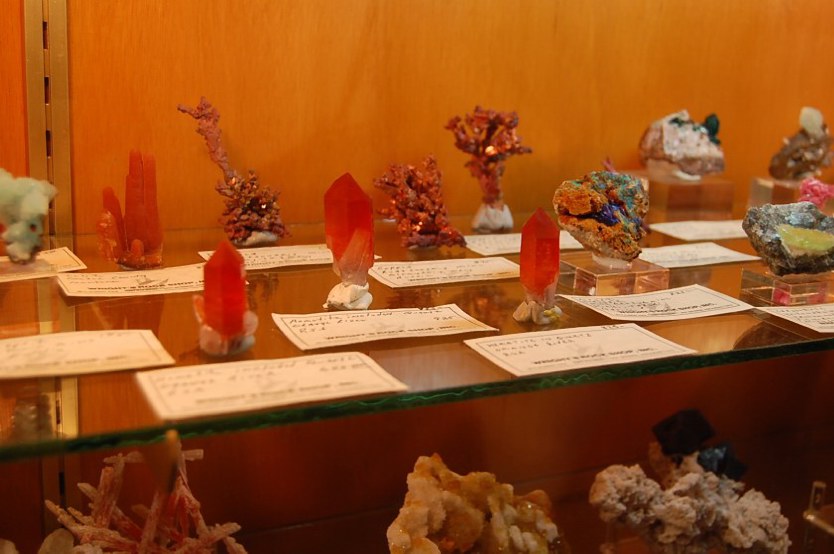 Tucson gem and mineral show report 2013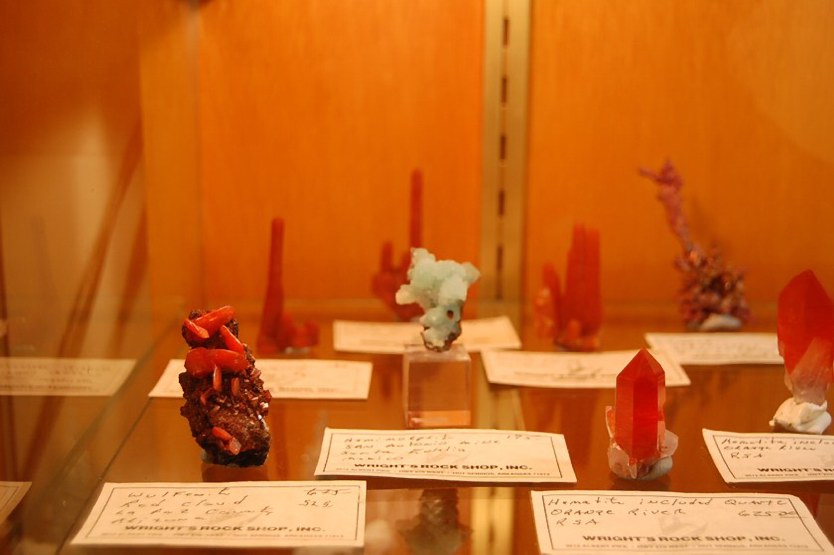 Very nice Red Cloud Wulfenite as well!
Tucson 2013 show report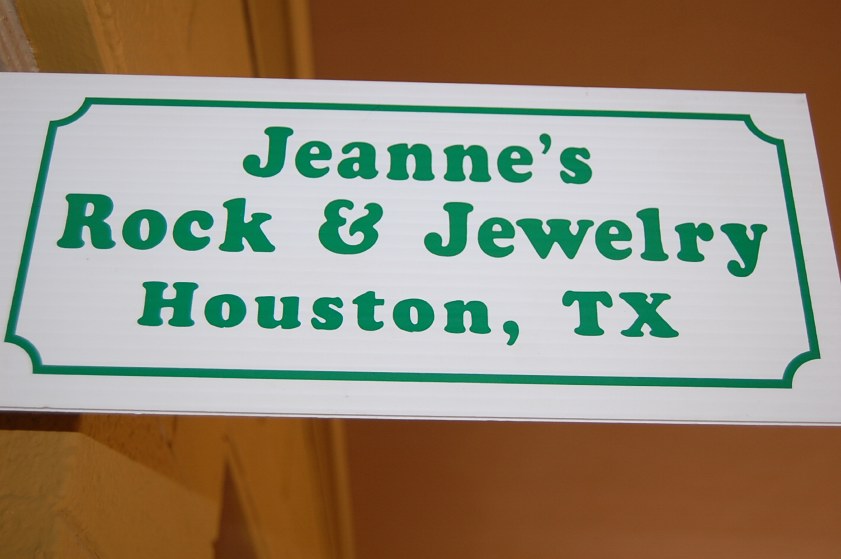 We were walking by Jeanne's rock and Jewelry
and caught a glimpse of the fluorescent display in the back of the room, very impressive
but we prefer our rocks in the light of day or, should I say cabinet.
2013 mineral show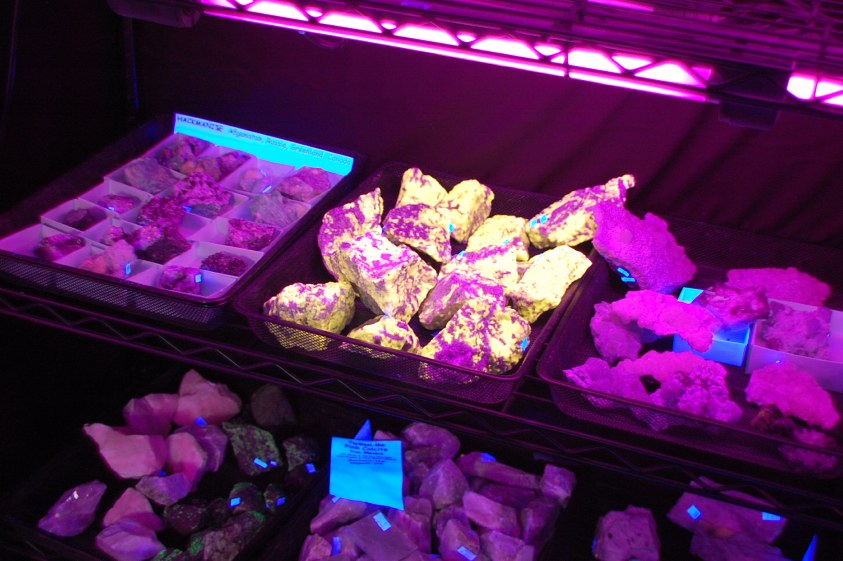 In the room belonging to Karp minerals he had more of the Orange River Quartz
with smaller crystals but, in plates .
2013 Tucson gem and mineral show.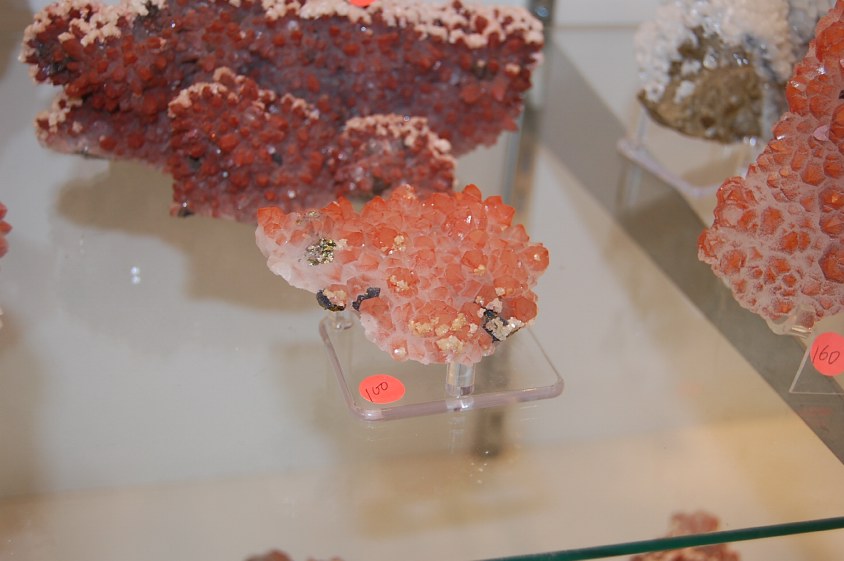 He also had a selection of the large, for their species, Dioptase from Namibia.
The crystal behind the label was about 2.7 cm and as thick as your pinky!
It wanted $390.00 to go home with you.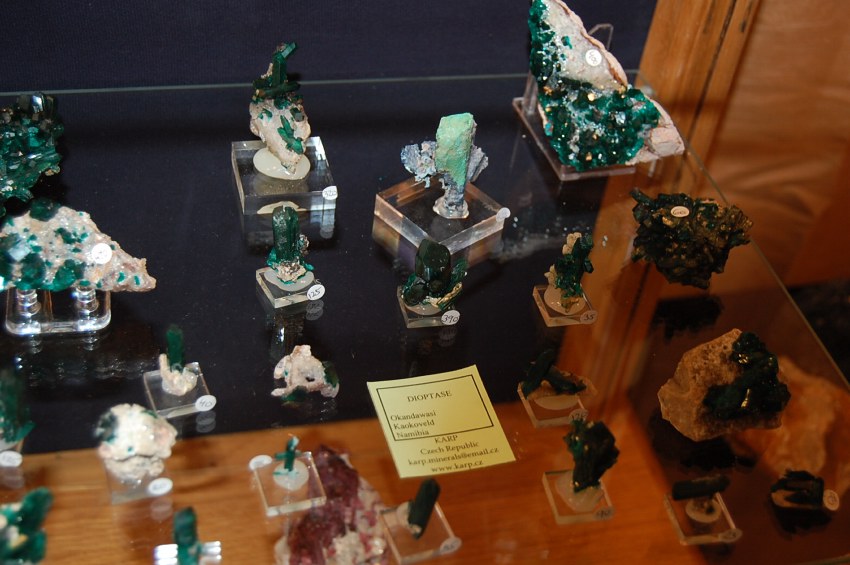 Luis Burillo had this wonderful specimen blue balls of cuprian Adamite on on matrix. Beautiful.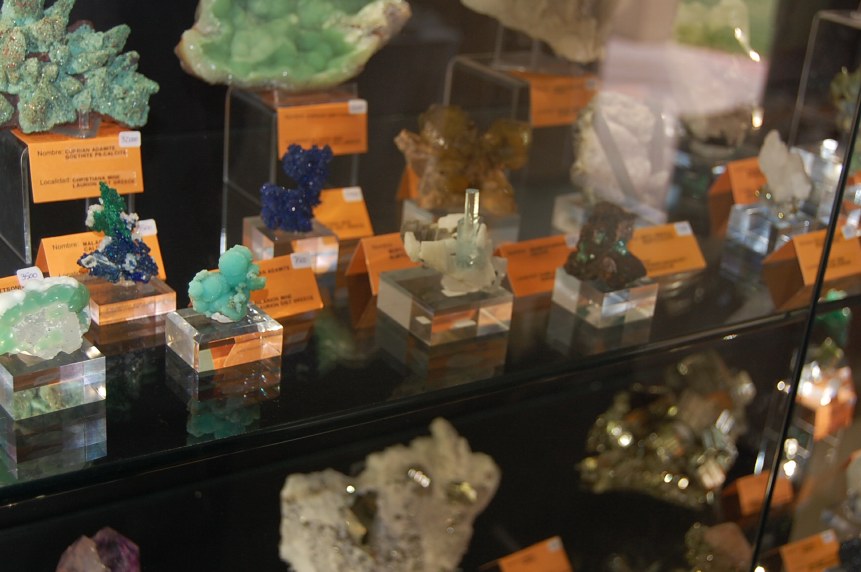 This Malachite and Azurite was equally spectacular!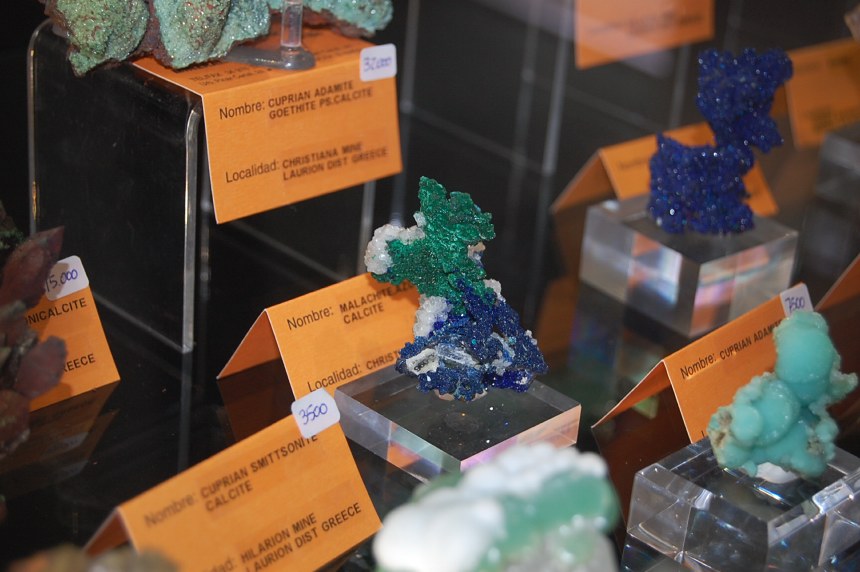 The Azurite next to it was equally stunning.
Both were from the Christiana Mine in Greece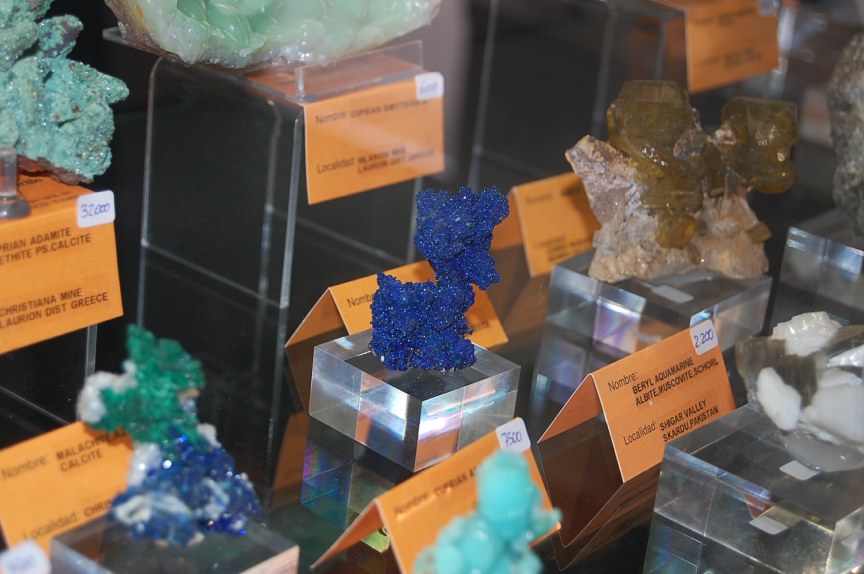 The wholesale room of The Collectors Edge
always has some nice material. This Chlorite included Quartz caught my eye.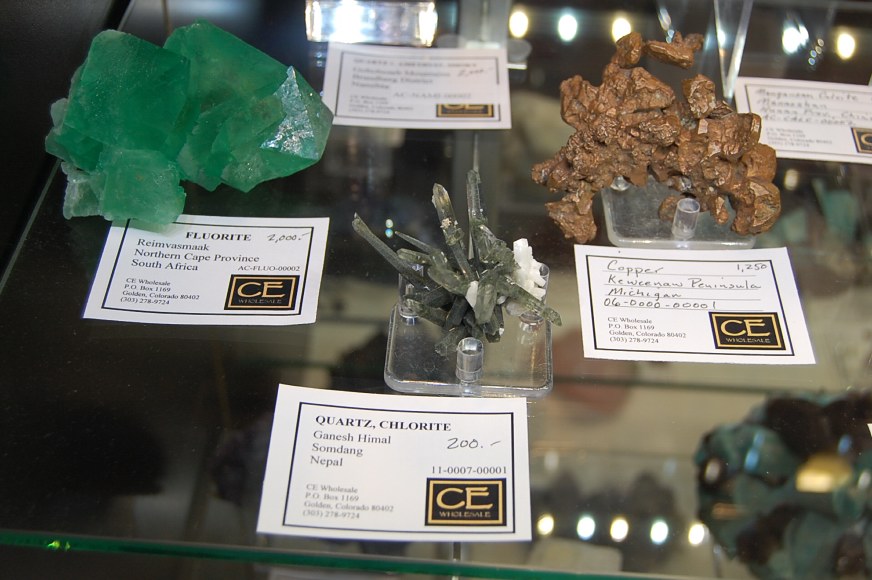 As well as this Ettringite. It was a bright yellow and was probably 10 cm across
from The Kalahari Manganese Fields in Africa.
A look at the Collectors Edge wholesale room.
Onto the room of John Cornish! I don't know how John does it but his room is usually filled with
mind altering goodies. Look at this Aragonite flos ferri specimen, beautiful.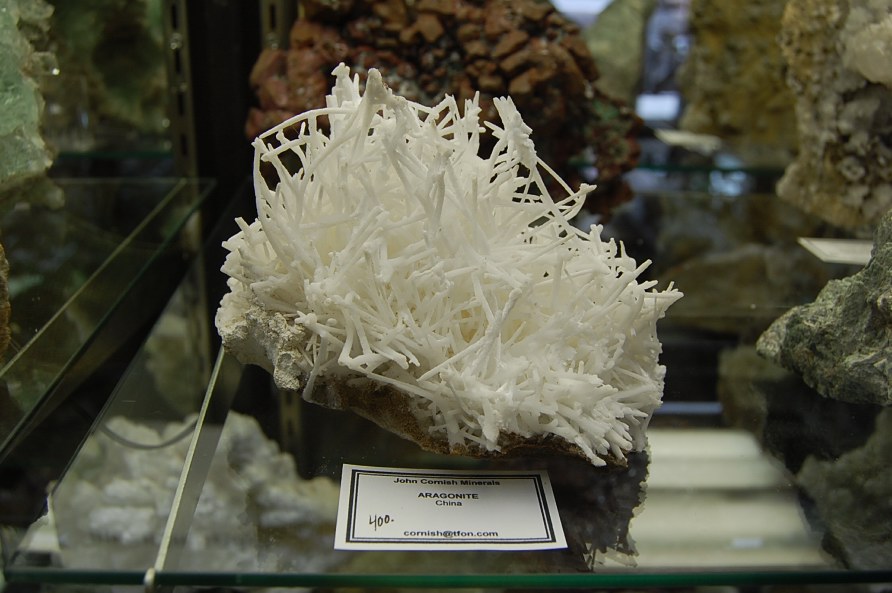 Museum sized transparent Fluorite from China.
The "ask for a price" sign behind it was for those who wanted to buy
the entire collection in the housed in the 4'x7' cabinet.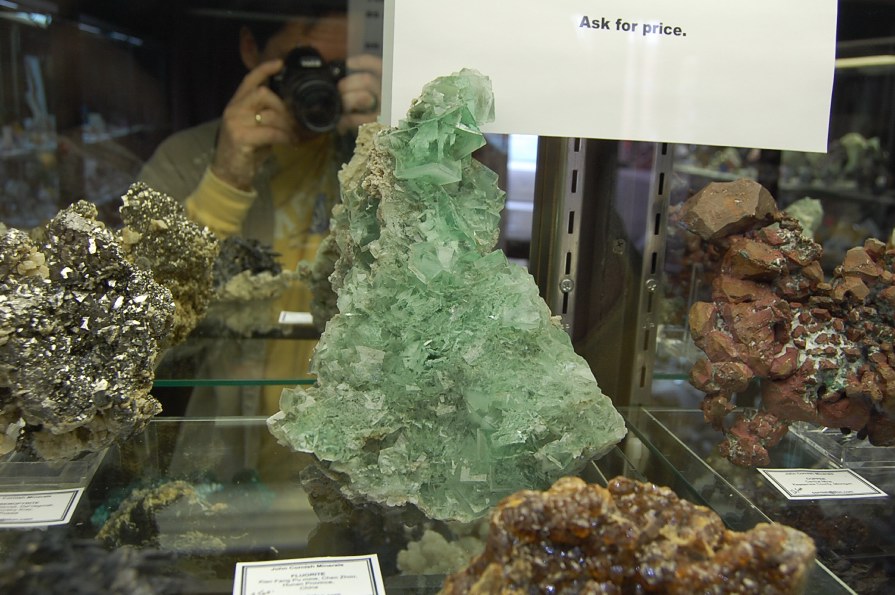 These Mimetite specimens from the San Pedro Mine are getting harder and harder to find
but John had two very nice miniature specimens.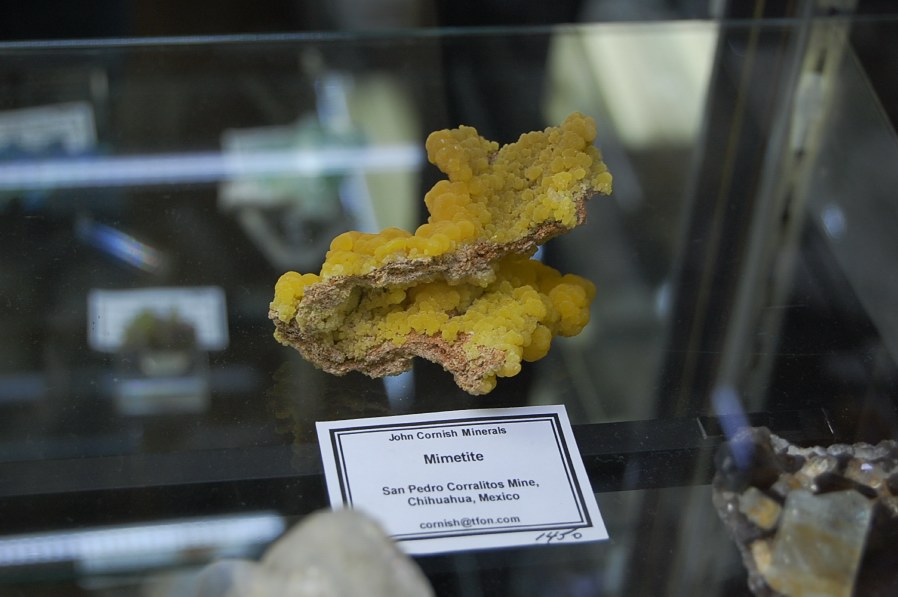 Wonderful stout crystals of Silver from the Batapolis mine.
I've seen a lot of these but there usually not as stout as this miniature specimen.
NICE!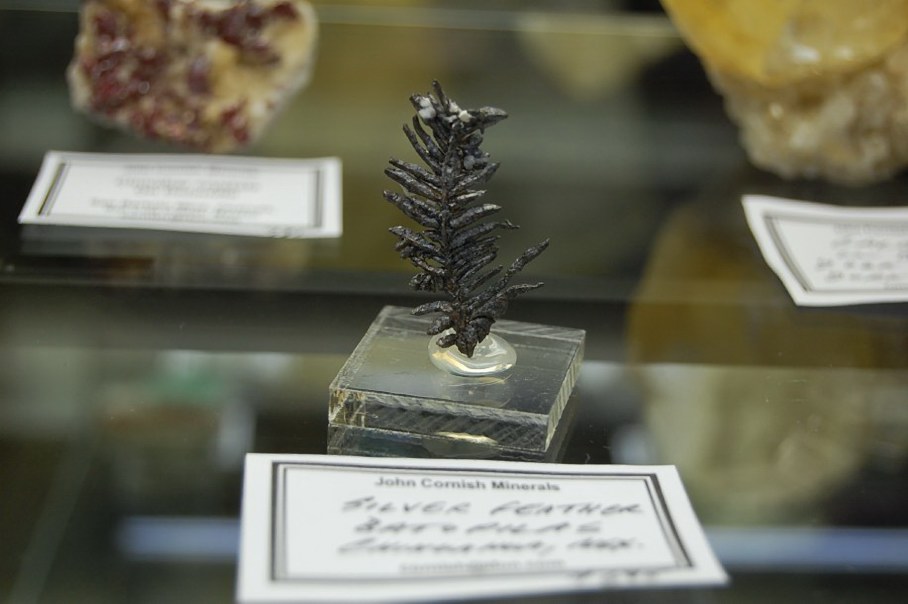 Really nice specimen of Fluorite from a mine more known for producing the finest Rhodo's
in the world. The sweet home mine!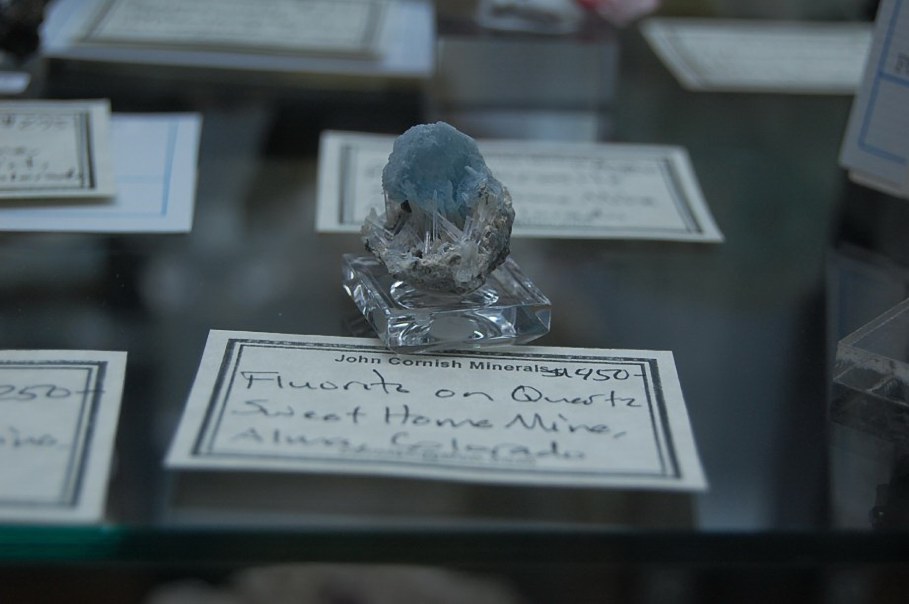 Quartz and Chalcopyrite from the Daye Mine, China.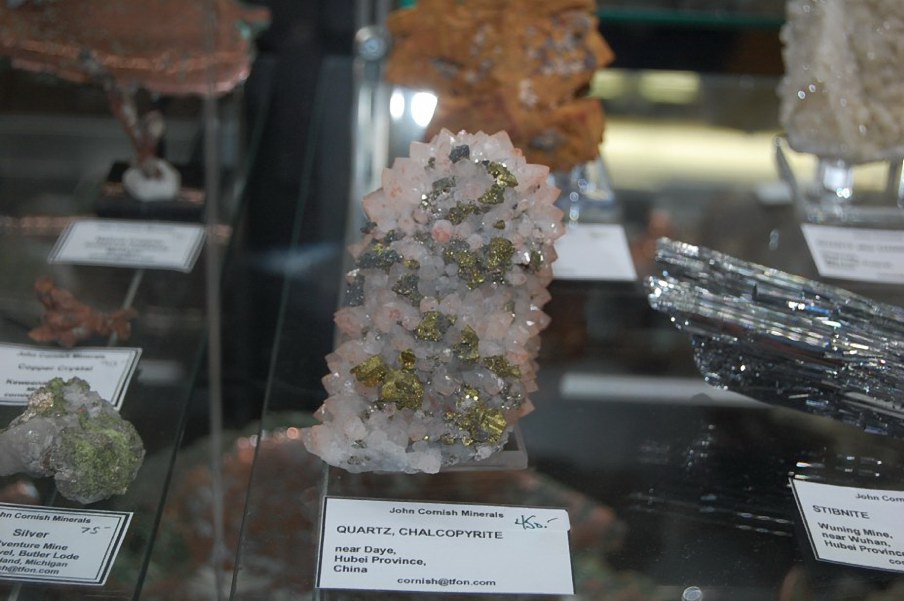 Siderite after Calcite from the Turt mine exhibiting a
much darker color than the majority of these I have seen.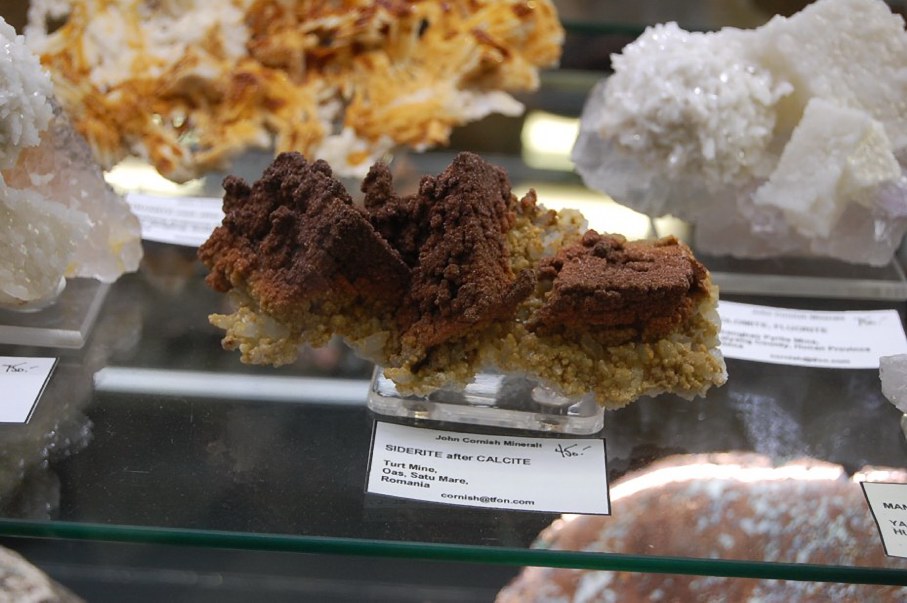 Great Pseudo of Malachite after Azurite from Tsumeb.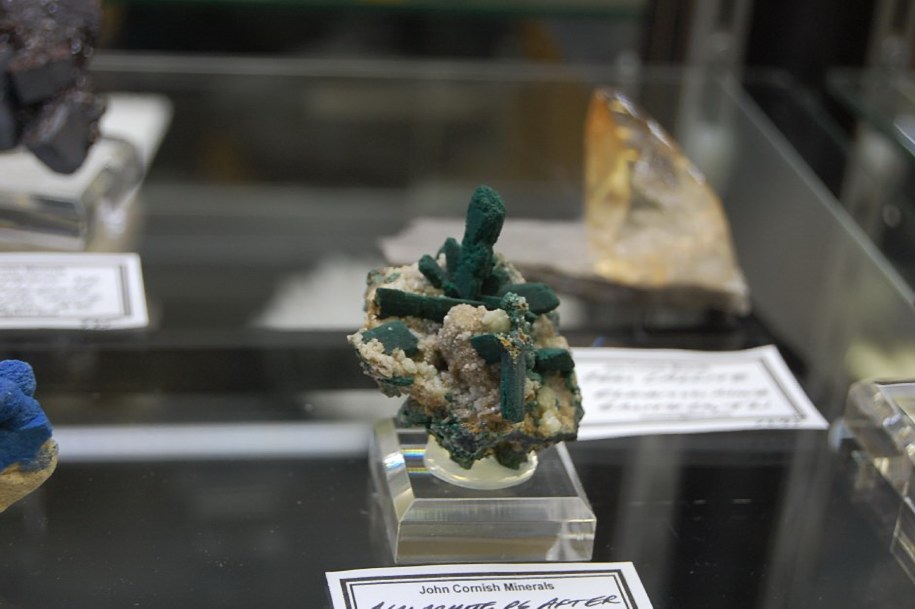 Wonderful burnt orange crystals of Pyromorphite from the famous Bunker Hill Mine.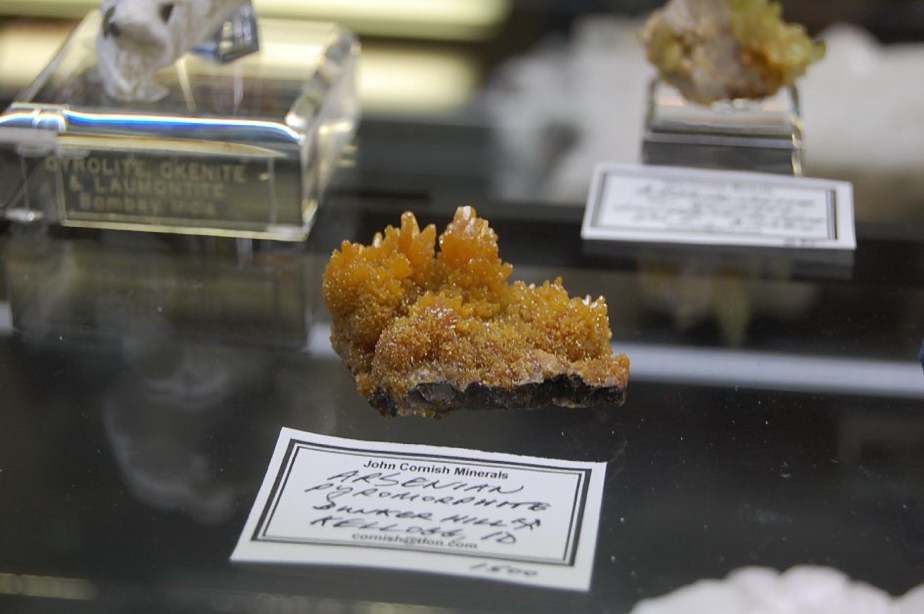 Dioptase on Wulfenite! I said Dioptase on Wulfenite!
Wow!
Tsumeb, of course.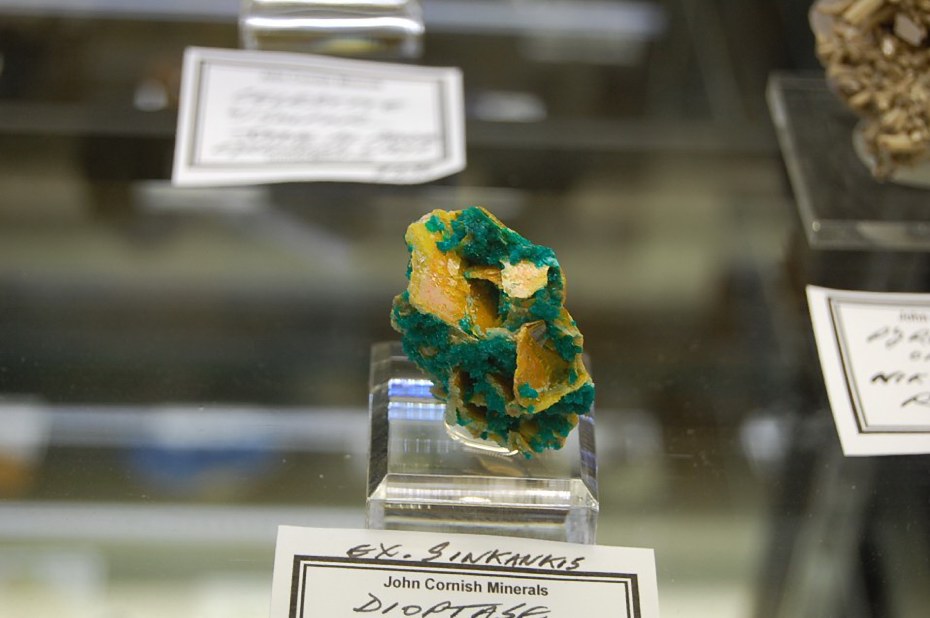 Water clear Fluorite with Galena. Dalnegorsk.
Diana and I found a matrix specimen of water clear cubes with a small intergrown
galena's actually suspended in the middle of the crystal . We will be offering it in our upcoming updates.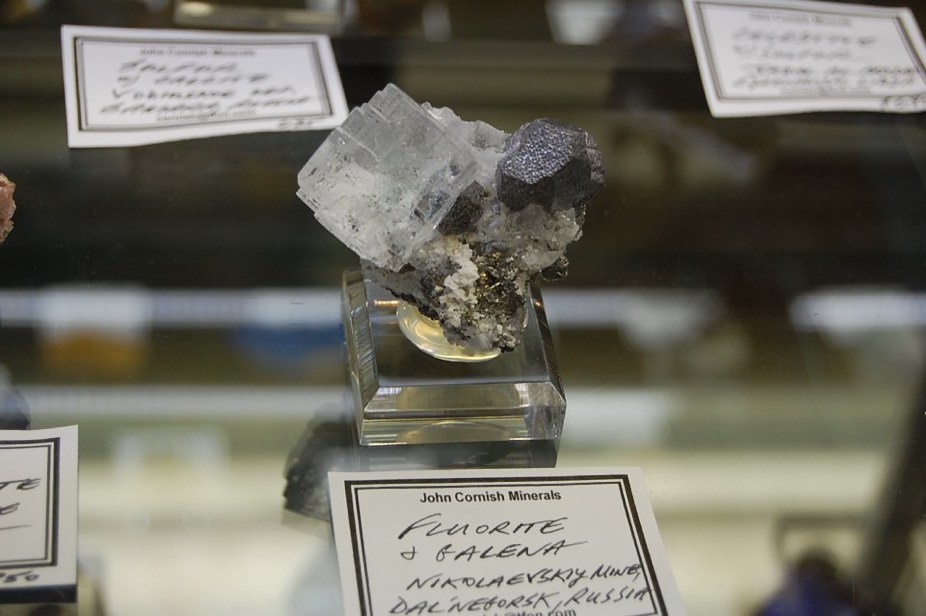 Look at the color of this Pyro! It set this cabinet off!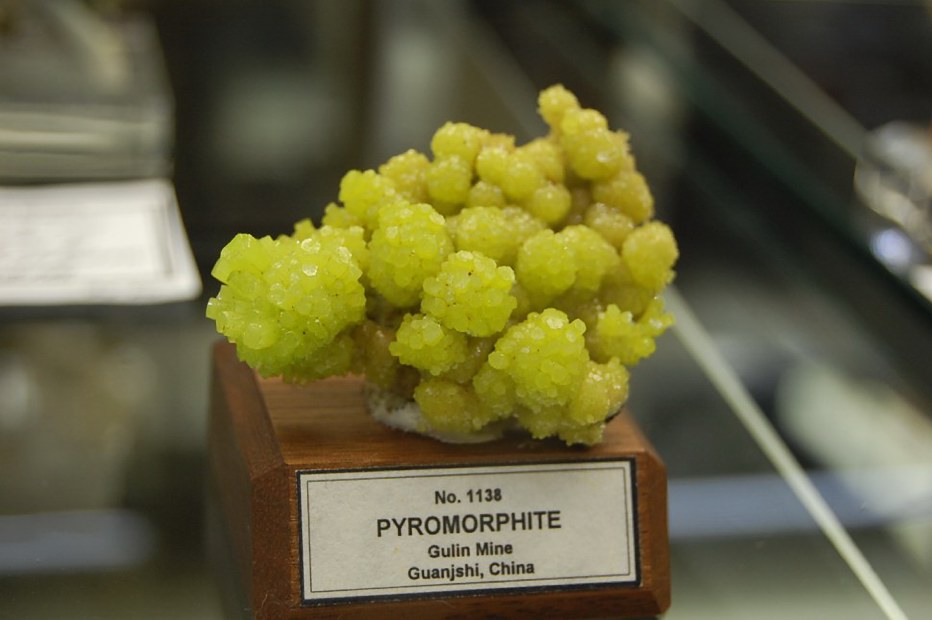 And for those of you who have read the recent article in the minrec
a blue cleve of salt from the potash mines in New Mexico.mineral show
More to come!
We started the day kind of late so we headed to John Veevearts
mineral show and wine tasting at his rented condo.
The wine was "Mineral Wine" from Calavaras County and from what I understand this stuff is manna from heaven
Being a beer person, I left the tasting to Diana and she gave it two thumbs up so go get it people!
2013 Tucson gem and mineral show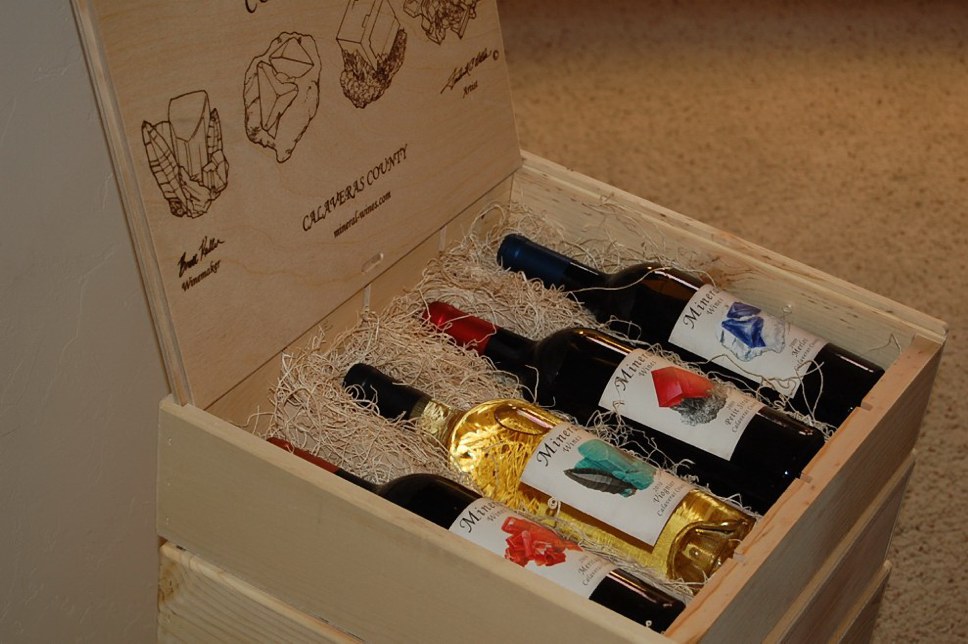 John also had a great selection of minerals, and a great selection of Benitoite!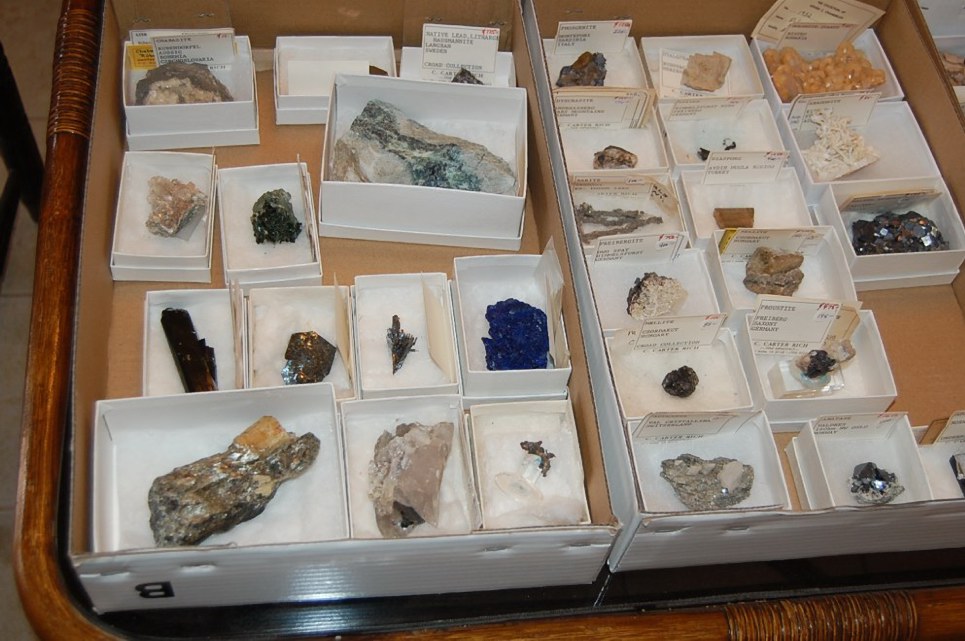 Nice thick silver rope from Freiberg.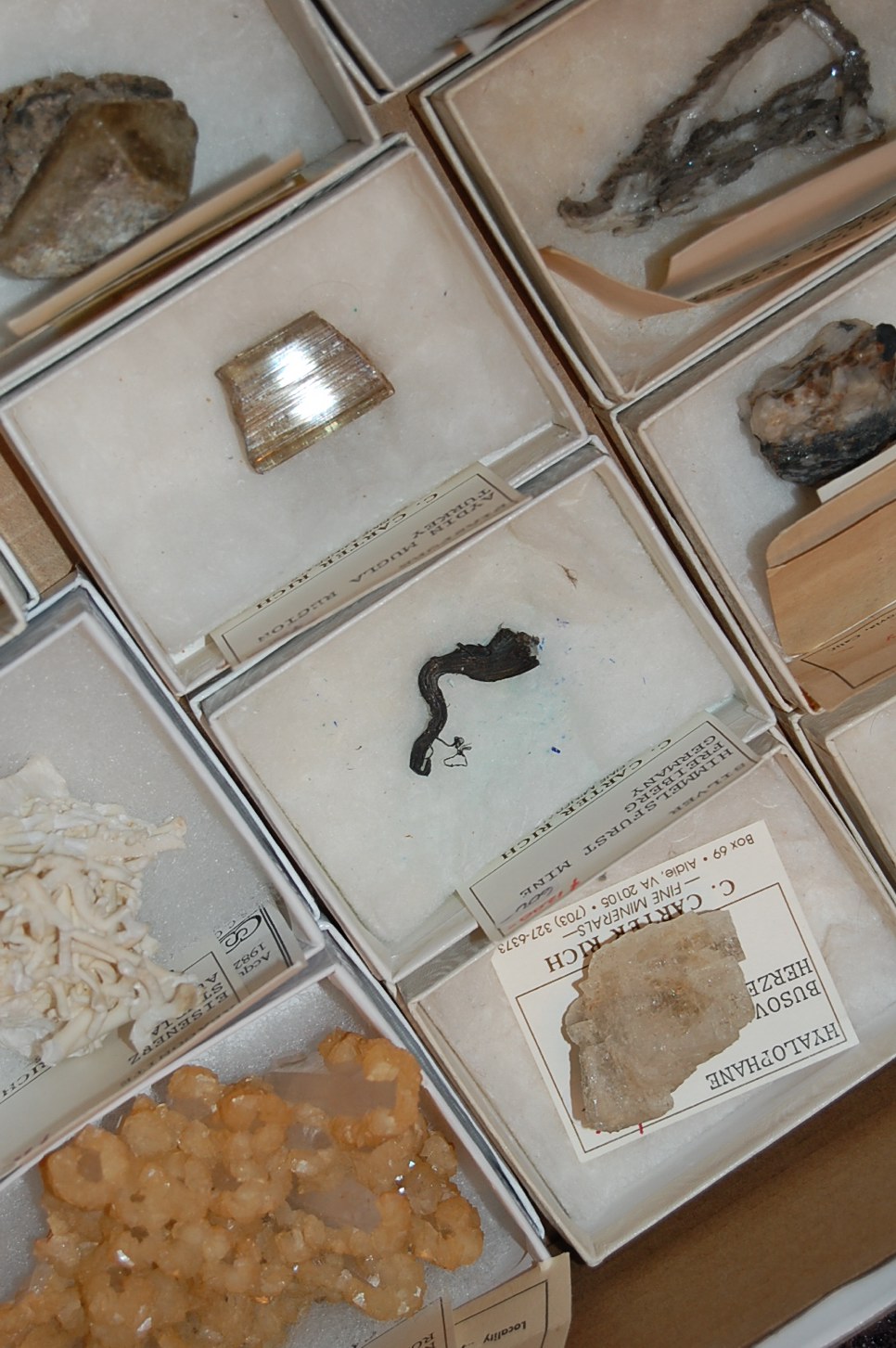 In the back yard more minerals could be found as well as some areas set up to relax.
The 2013 Tucson mineral show report
Nice specimen of Crysocolla pseudo after Malachite. Blurry pic, great rock.
In the room of German dealers of Mineral and Fossil Galleries.
Azurite and Malachite from the modern classic mine, Millipilas.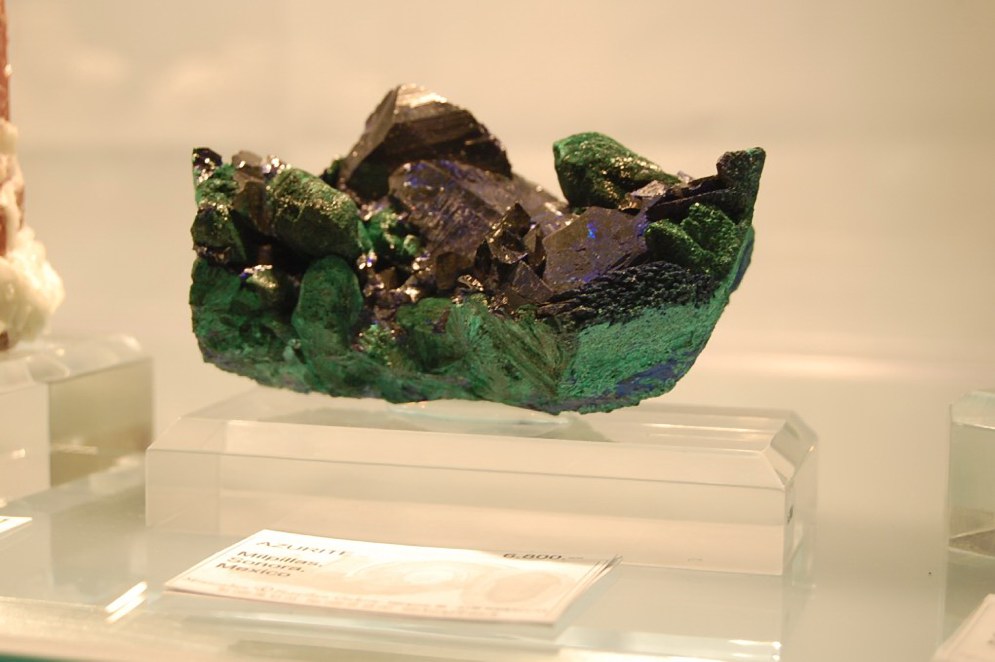 A very nice pink and orange specimen of Cobaltoan Smithsonite. Eshop minerals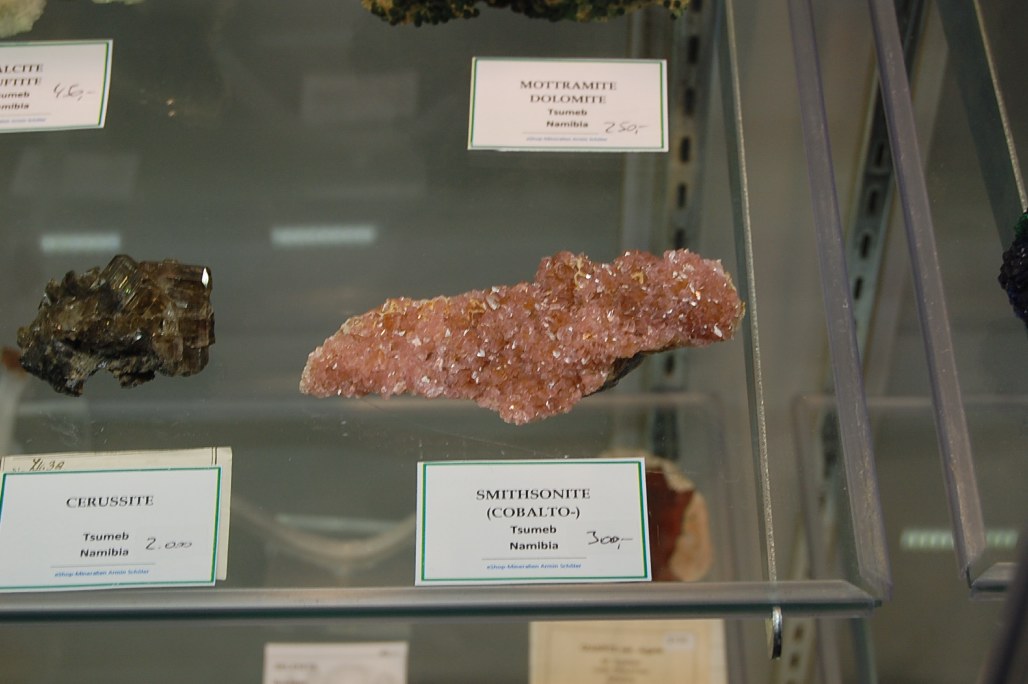 Next we found ourselves in the room of The Collectors Edge. And boy did they have some really incredible things.
This thing was a beast! The largest fine Dioptase we have seen! This thing was probably two inches.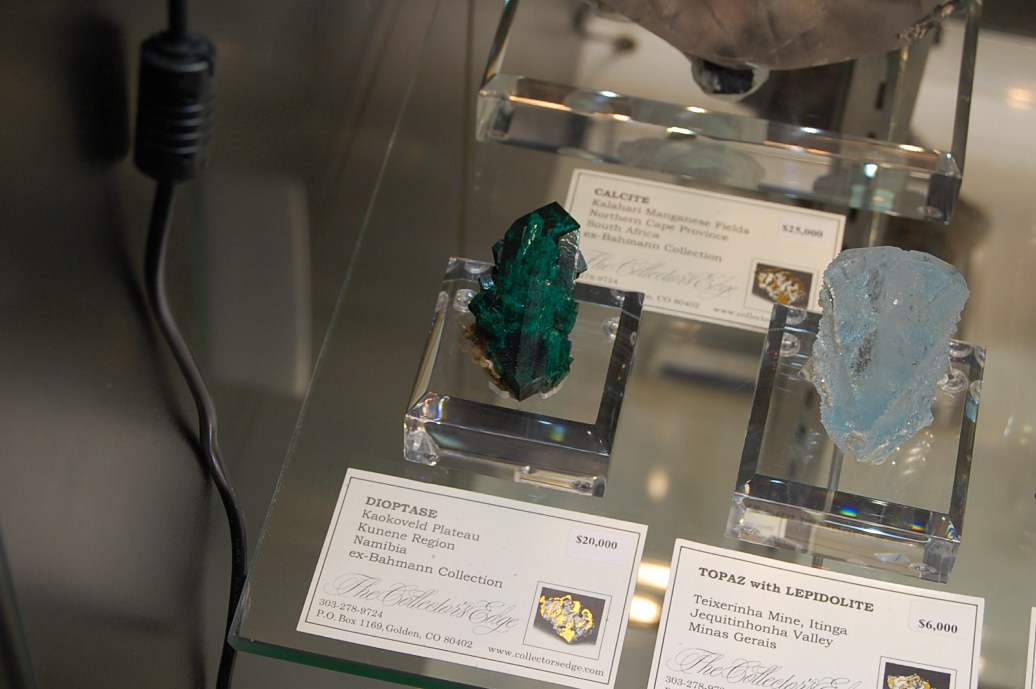 And than there was this! An absolutely mind blowing huge perfect Wulfenite specimen.
This specimen was a monster! probably 2.5 inches across. Tsumeb of course.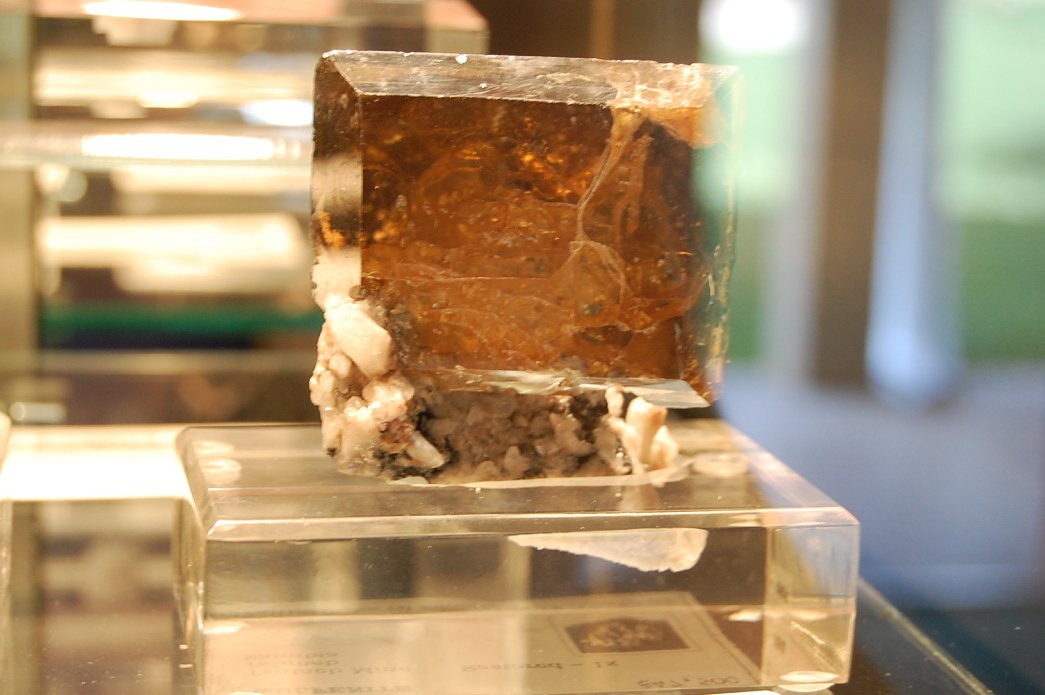 Wonderful Calcite on Quartz from Mongolia.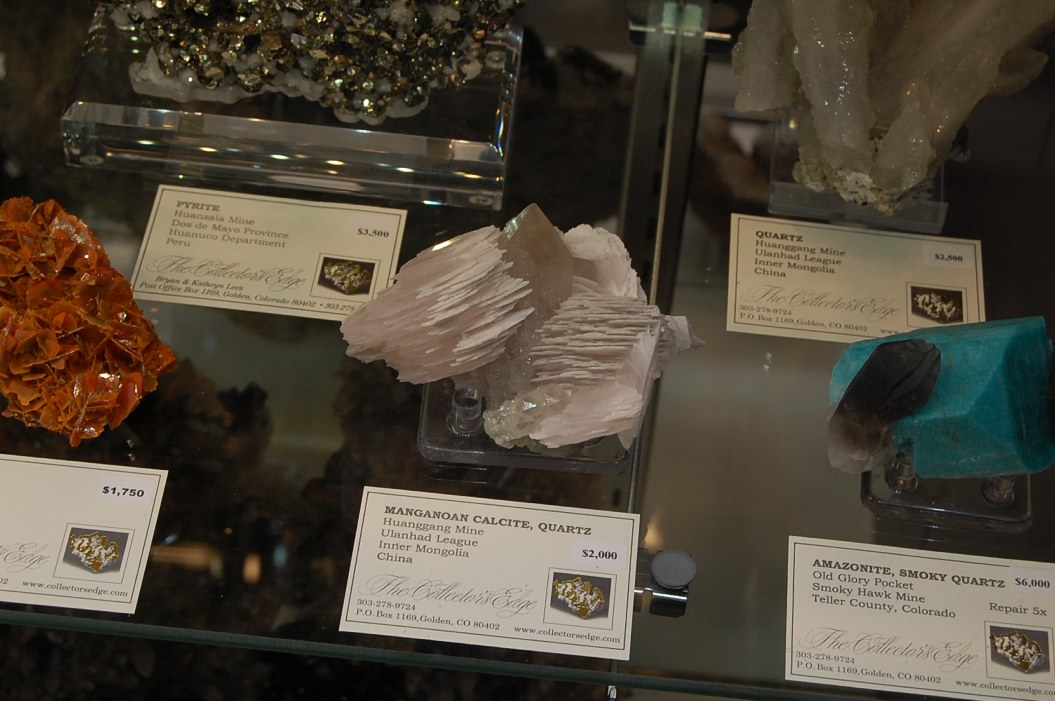 Ohhhhh, look at that a fantastic cherry red rhomb of Rhodochrosite on a bed of needle Quartz on matrix.
Sweeeeet! Home that is, the sweet home mine of course.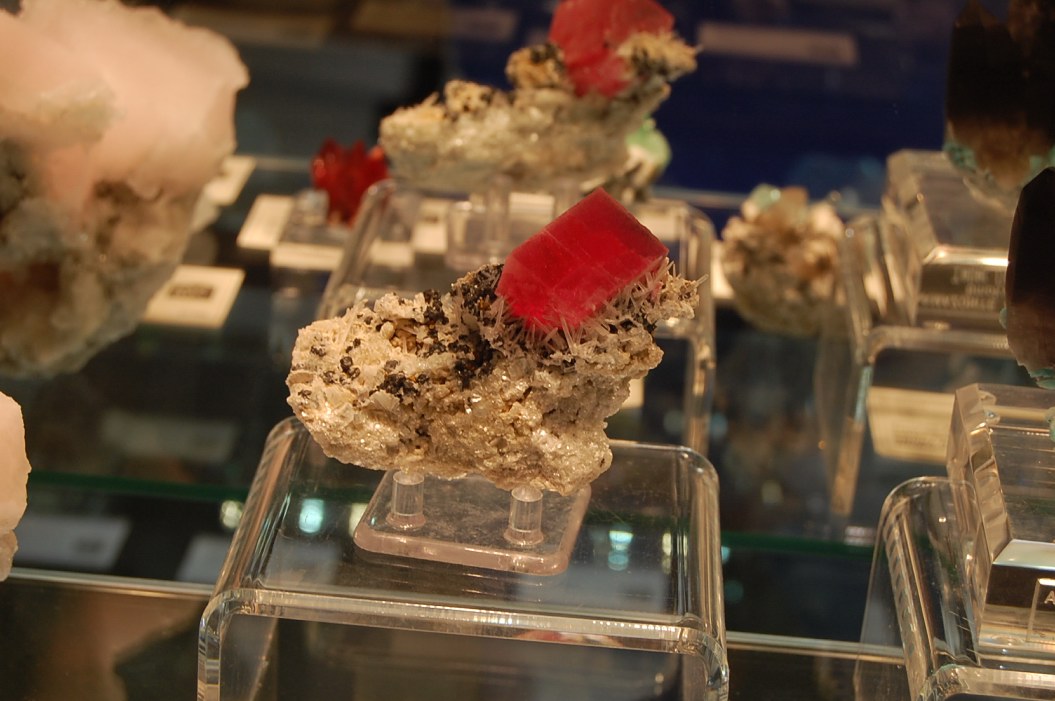 Absolutely giant tabular crystal of Morganite.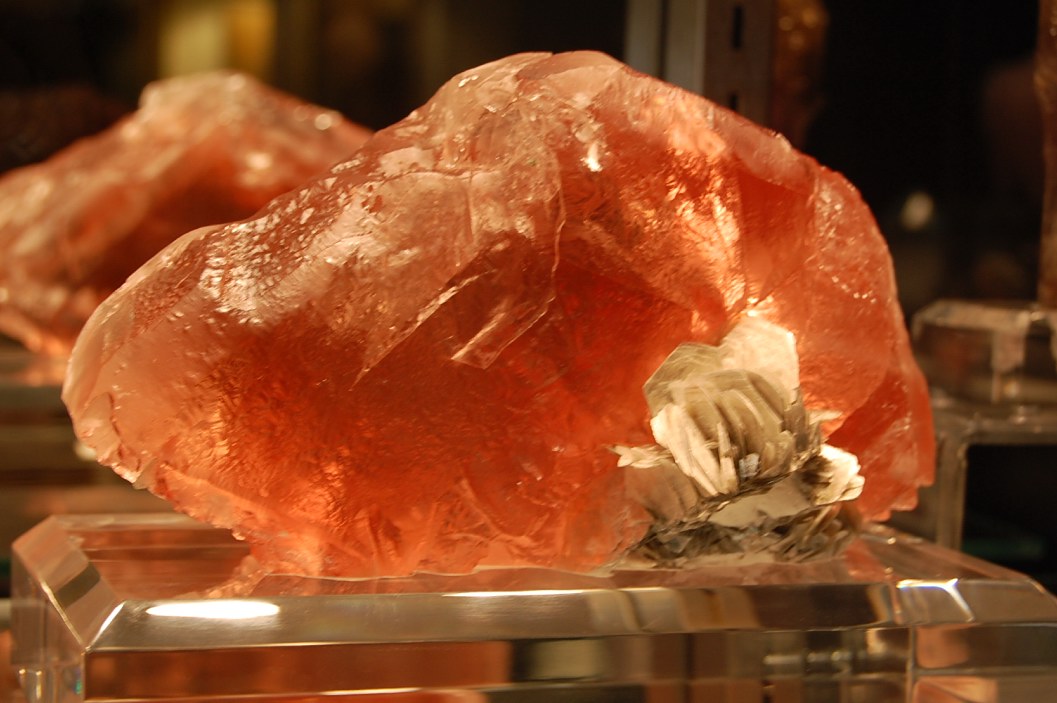 Large lemon yellow botryoidal Mimetite from San Pedro. This one wanted $10,000!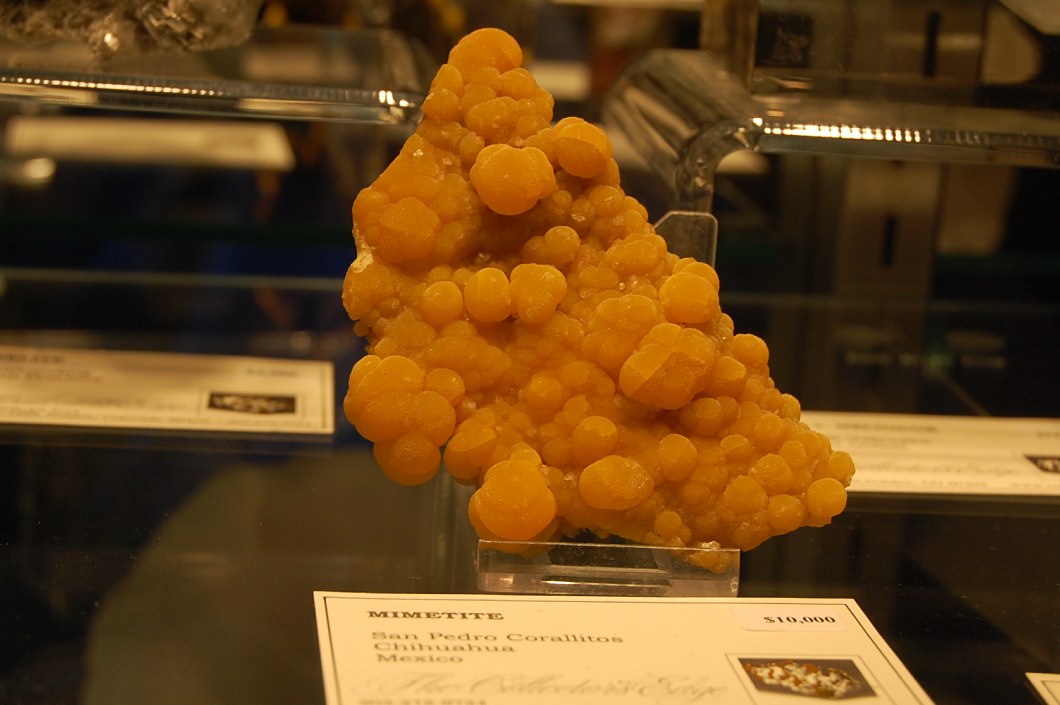 Gemmy reticulated specimen of Cerussite from where else, Tsumeb.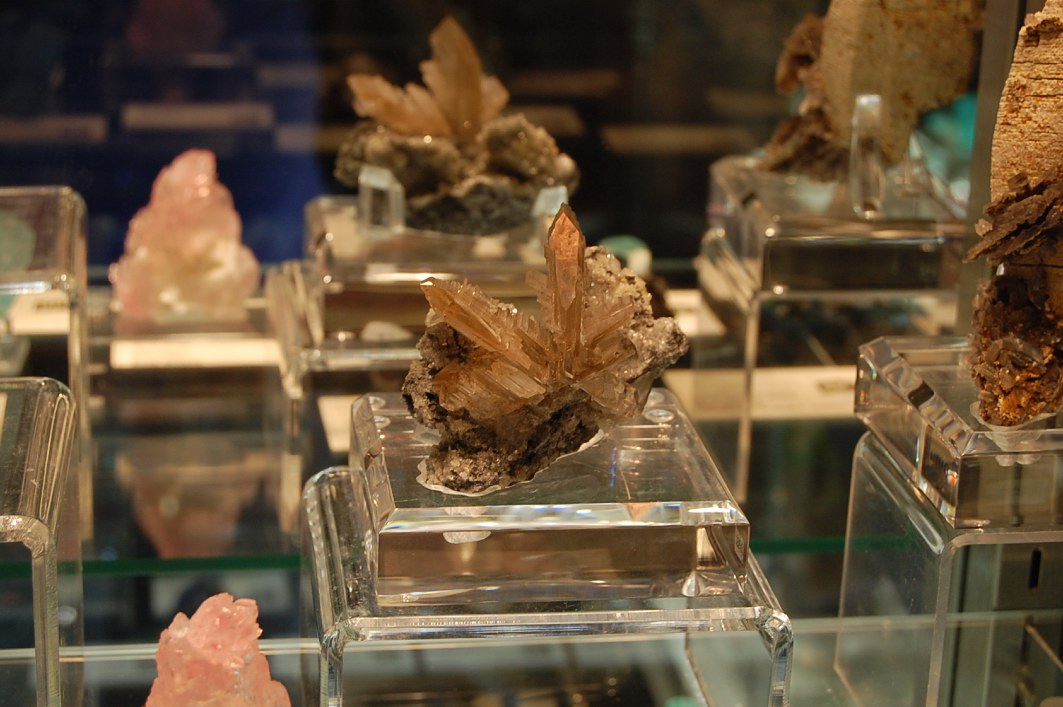 Amazing Azurite on matrix from Tsumeb.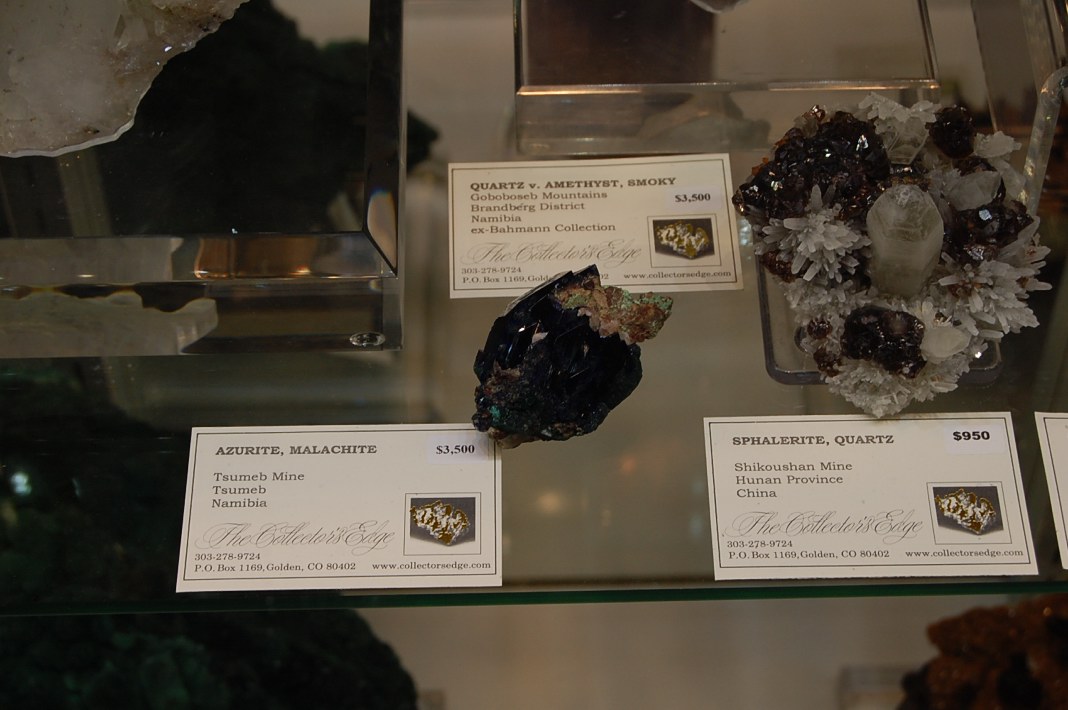 This Azurite on Malachite from China is very reminiscent of the early material from Bisbee.
Absolutely stunning!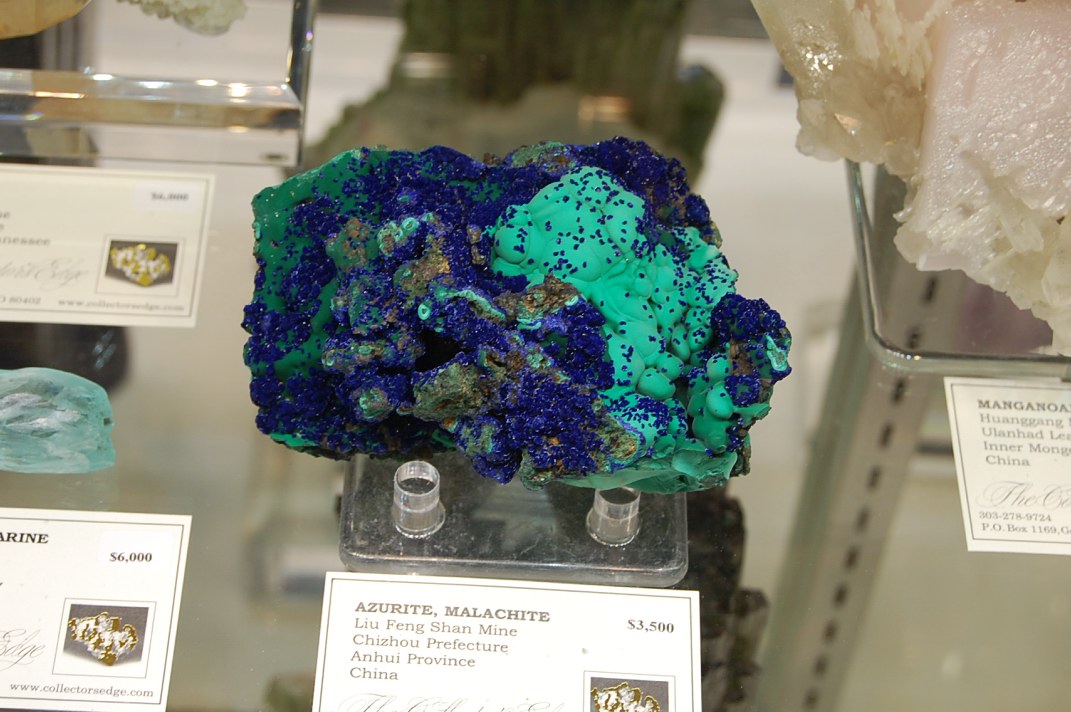 This inestite had the most intense color. Almost red and very beautiful.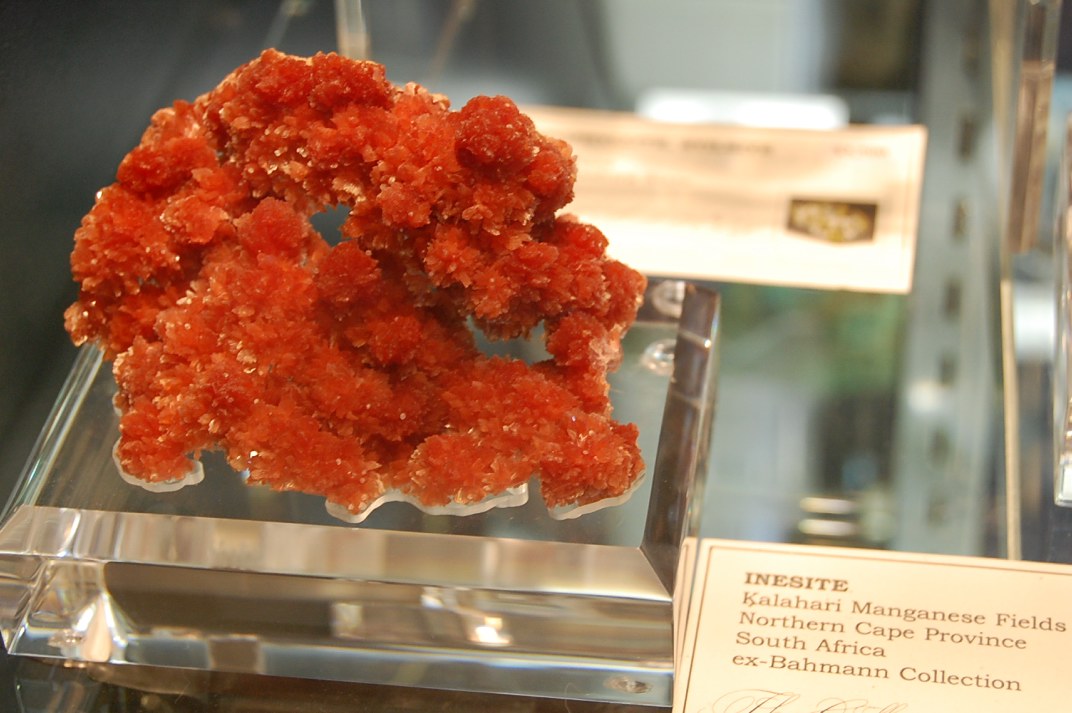 Incredible silver specimen. Kongsburg.
Huge gem clear chisel point Selenite from naica. this thing was thicker around than your wrist.
Nice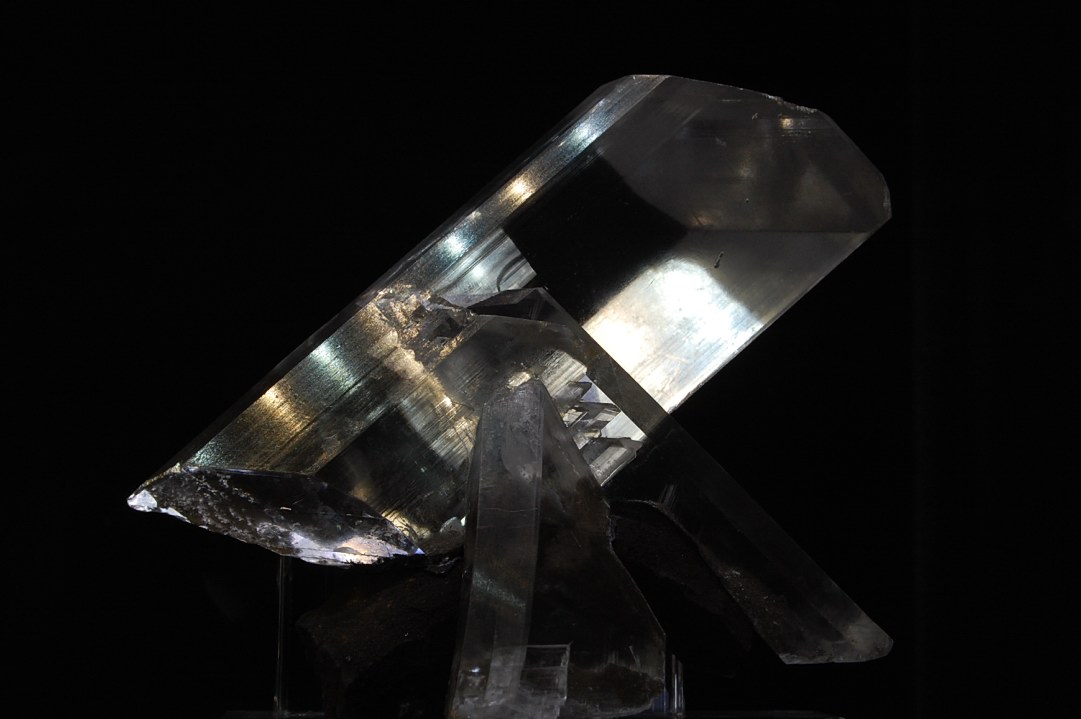 While traversing the courtyard one had to be careful to watch out for the sharks.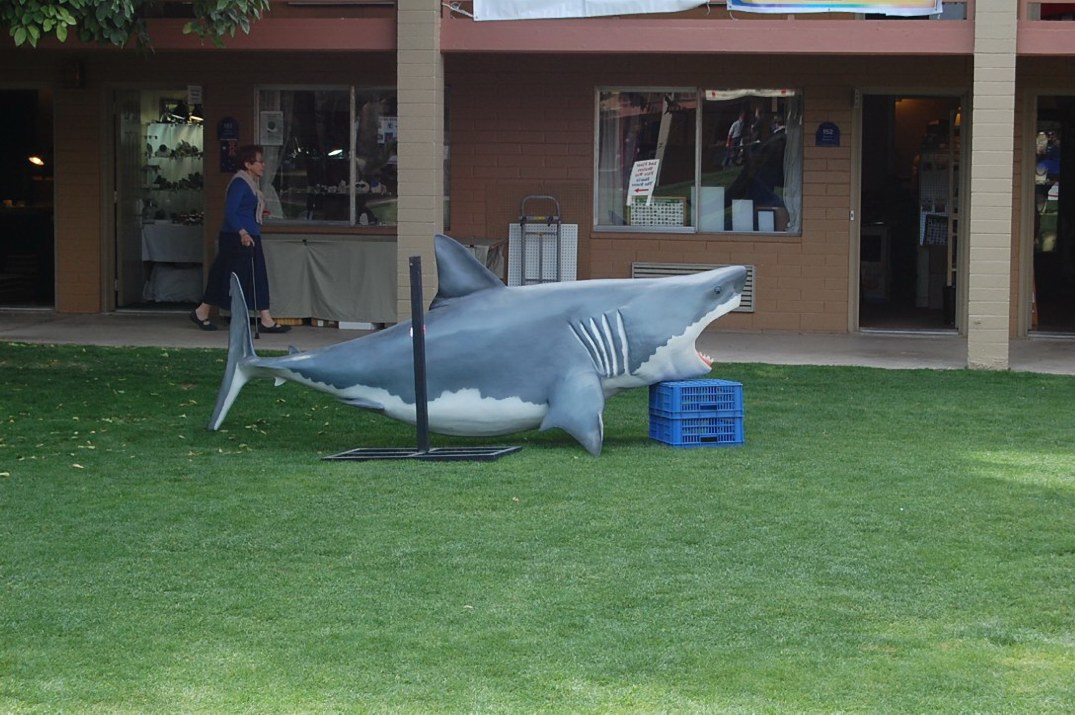 Show promoter Marty Zinn moved the dealers from one of the other SHOWS to the top floors of the hotel.
Tucson city center is now a full venue. We found this beautiful Orpiment in one of the Chinese dealers rooms.
Most of the Chinese dealers do not speak English so haggling is done via calculator or pen and pad.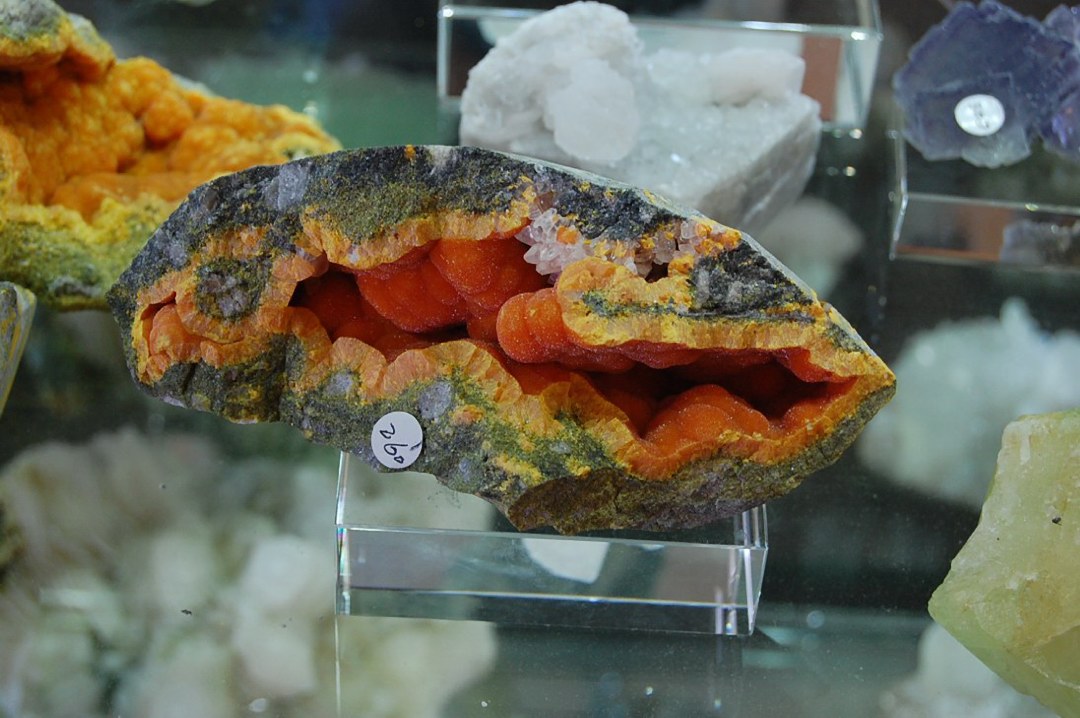 Calcite and Chalcopyrite, china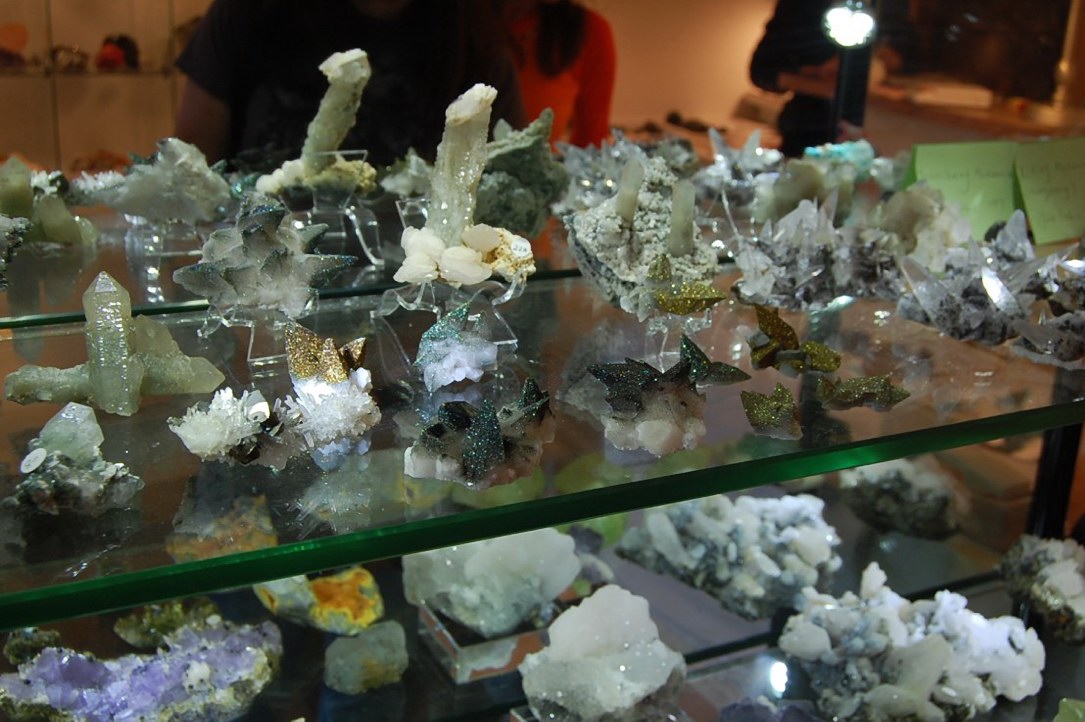 Water clear Calcite's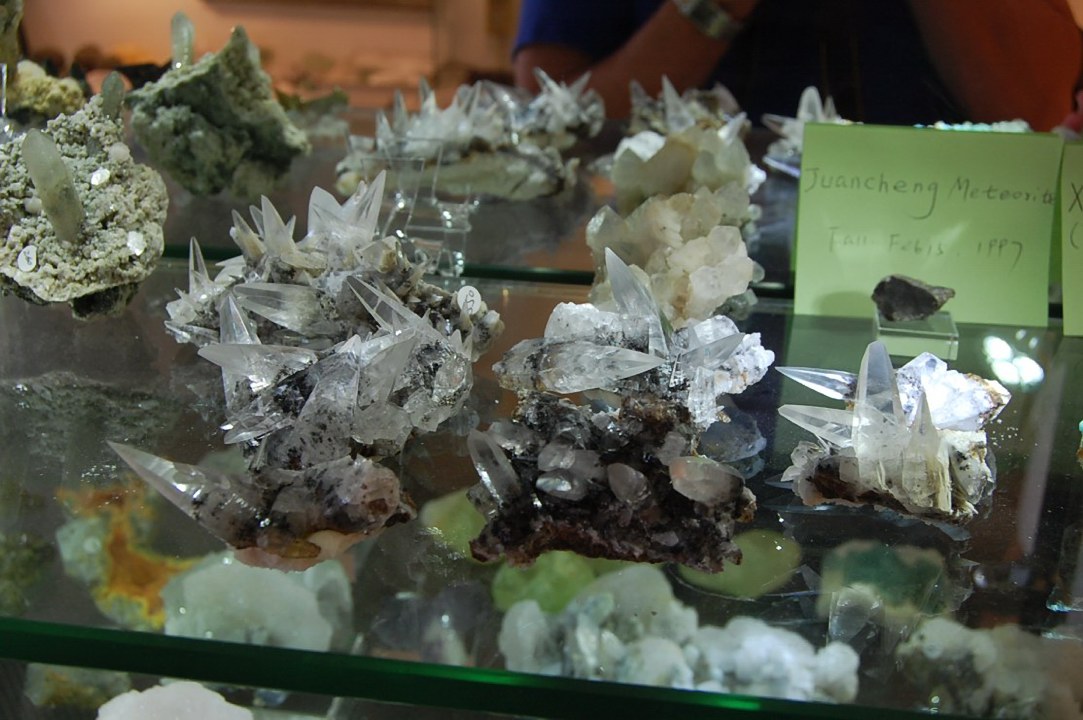 Most of the Chinese dealers have no labels or pricing on theIR material.
Crysocolla from China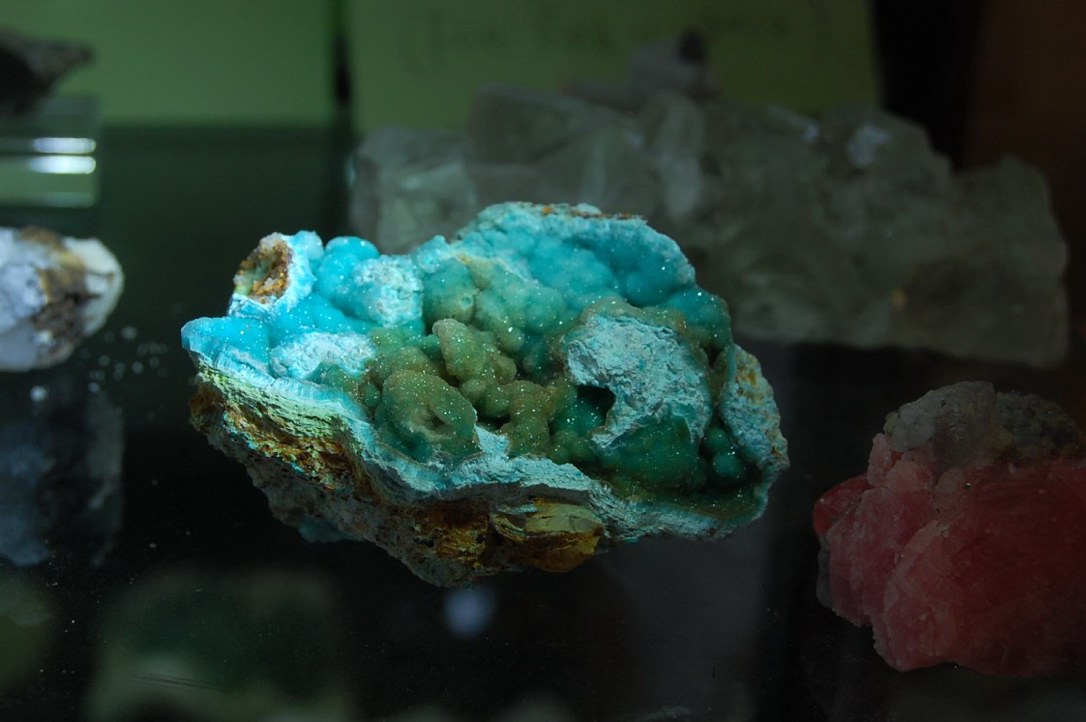 Smile for the camera!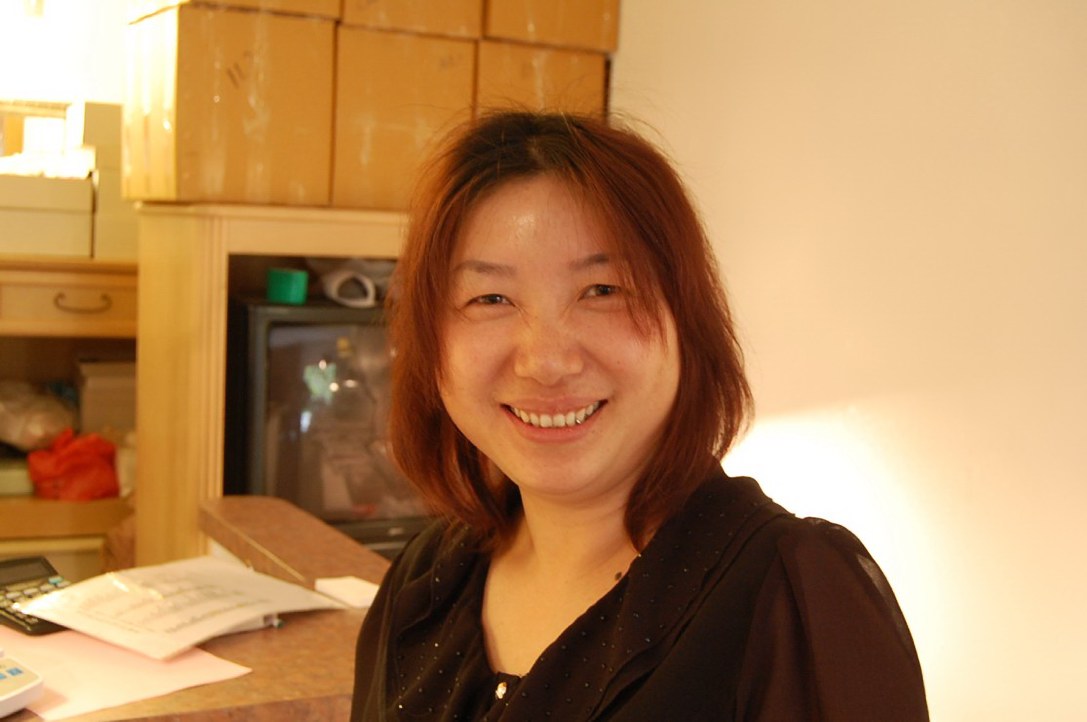 On to Kristalle. They had this sky blue Chalcoalumnite from the queen mine.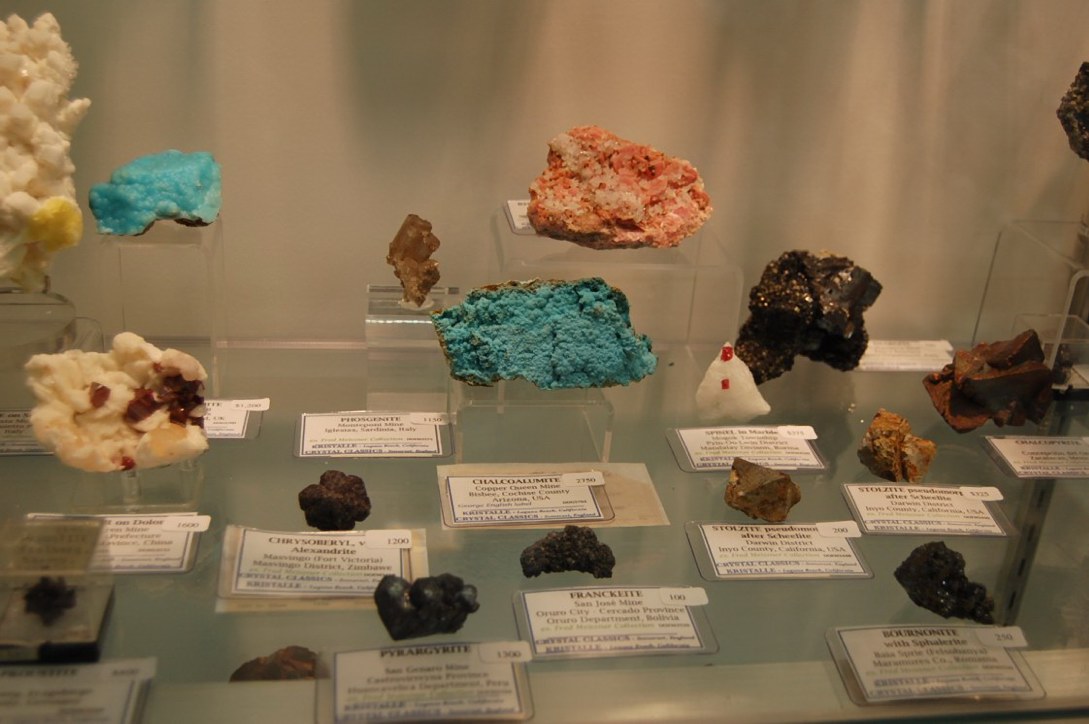 This Los Lamentos Wulfenite was very bright. Great color!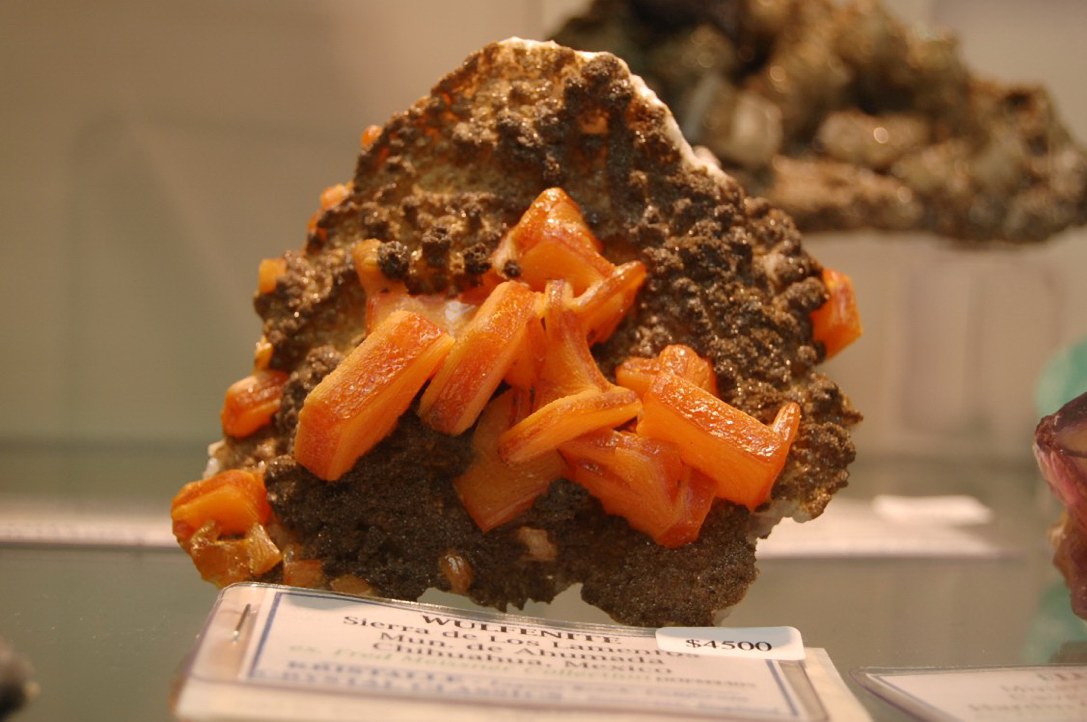 Mammoth mine Wulfenite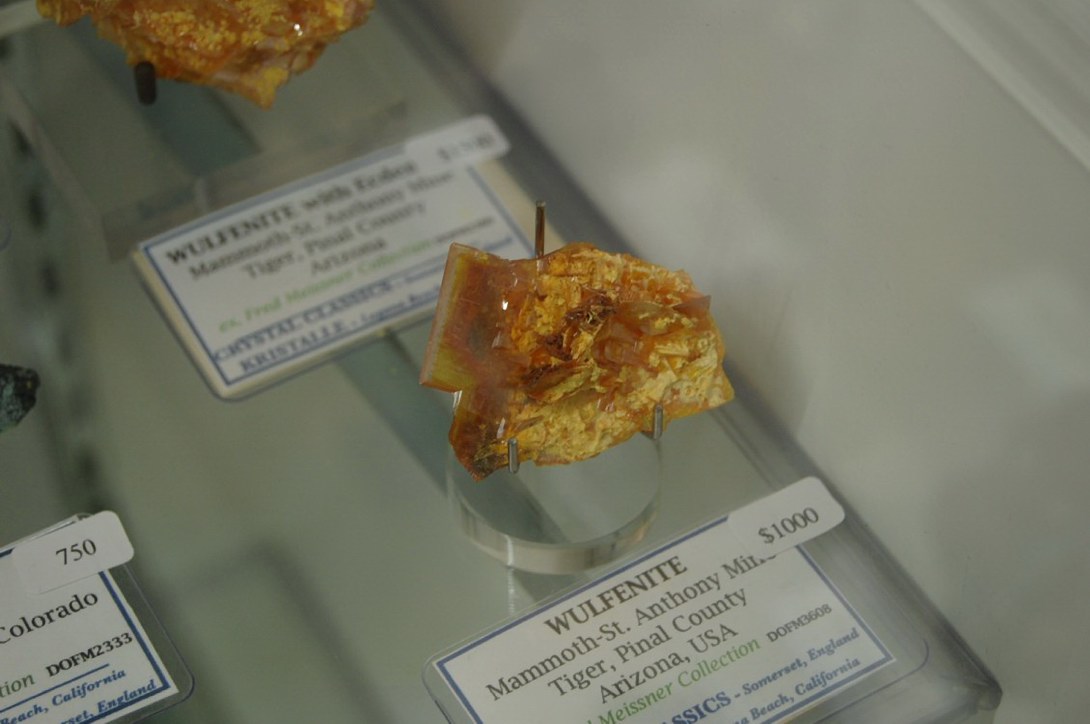 Lime green Pyromorphite from Roughton Gill.
Wulfenite, San Francisco Mine. These are from earlier finds at the mine
the pockets Wayne Thompson opened up at the mine had way better color and aesthetics.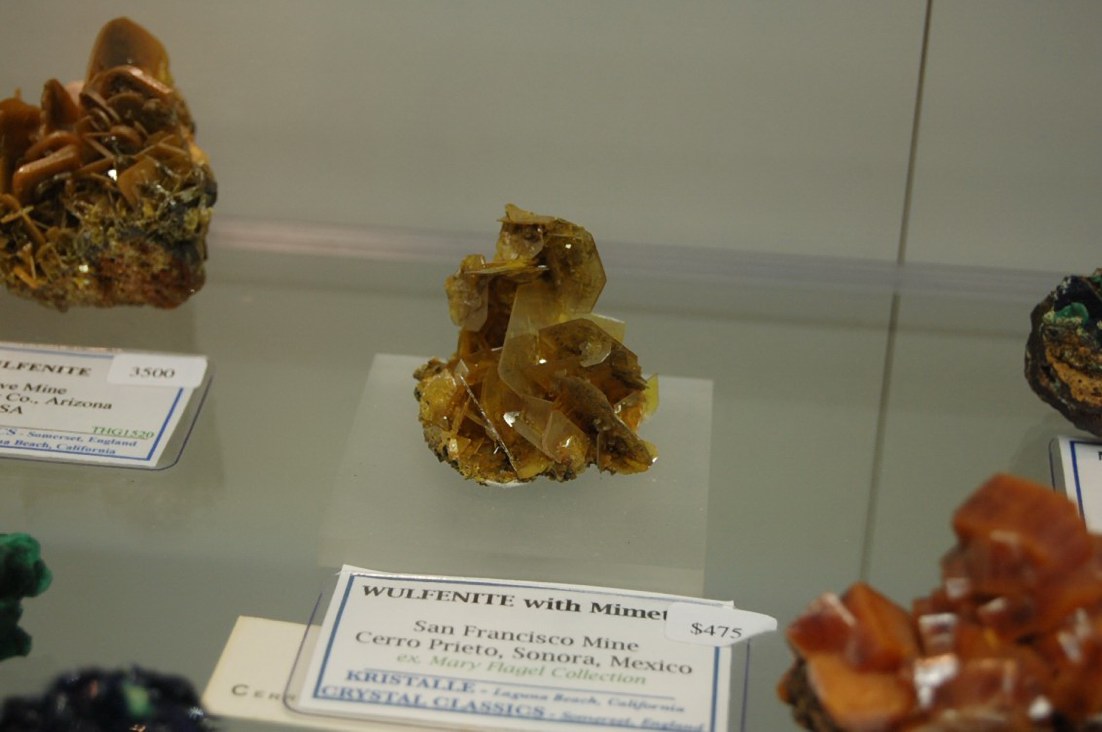 We need to get one of these for our collection but we haven't seen the right one yet.
Wulfenite from the Glove Mine.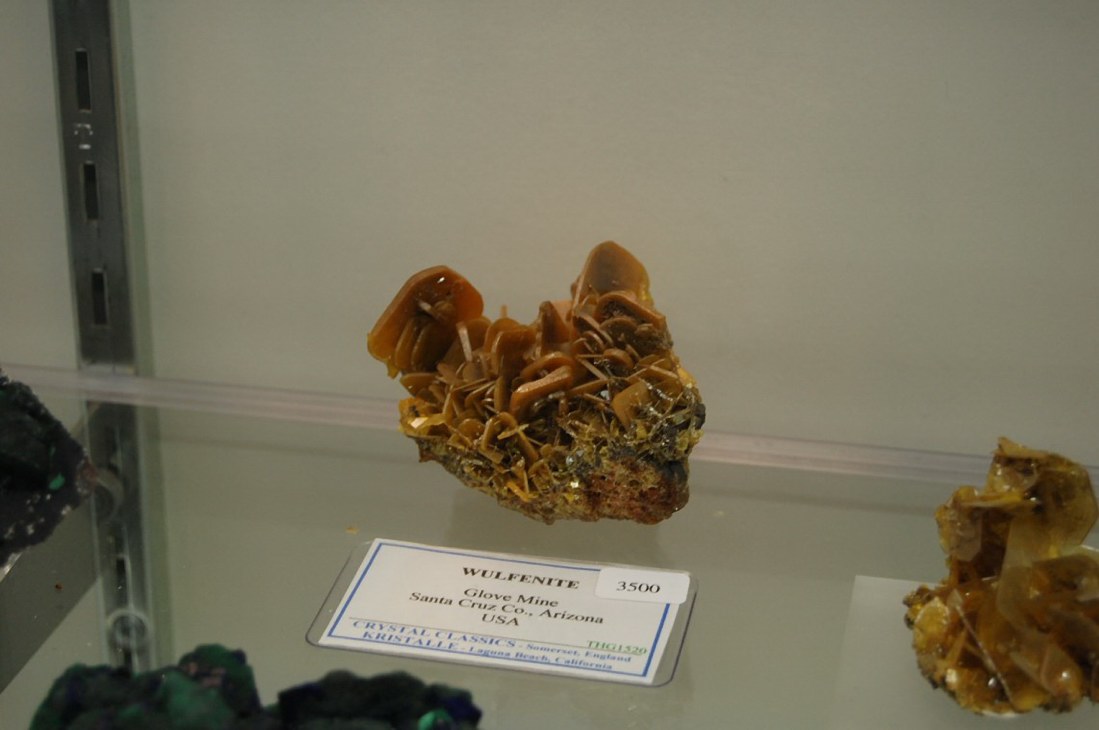 Mimetite! This specimen from the University Of Arizona collection.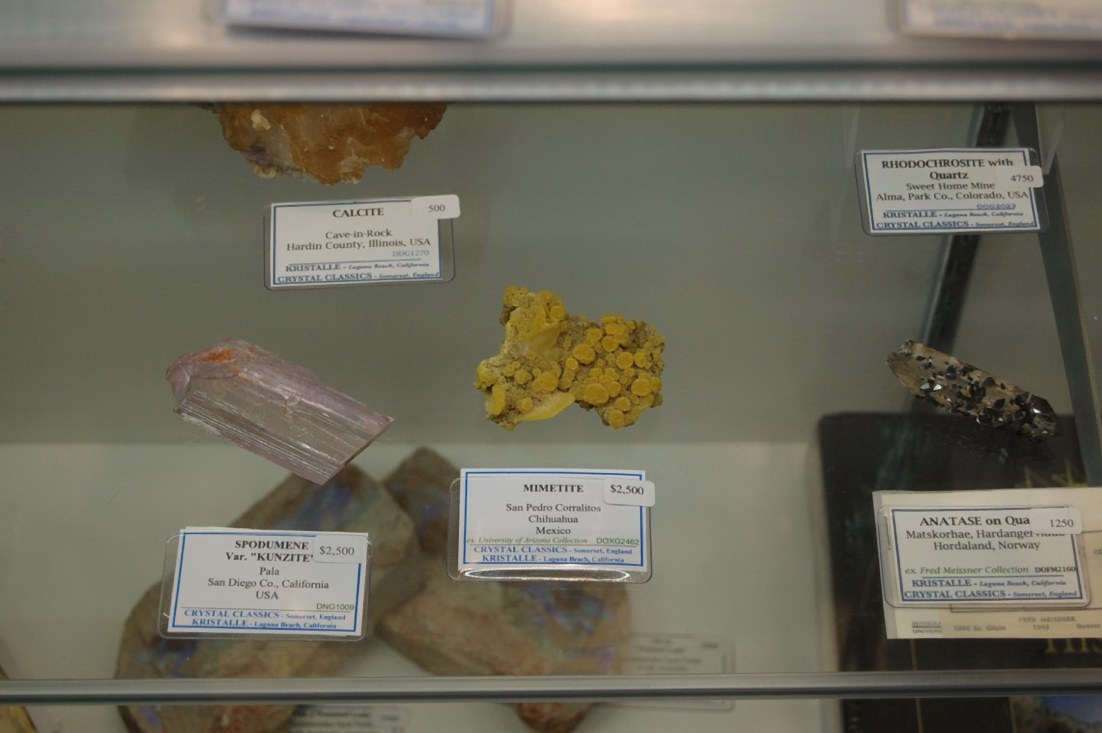 Large Copper specimen coated with Malachite.
Awesome patina.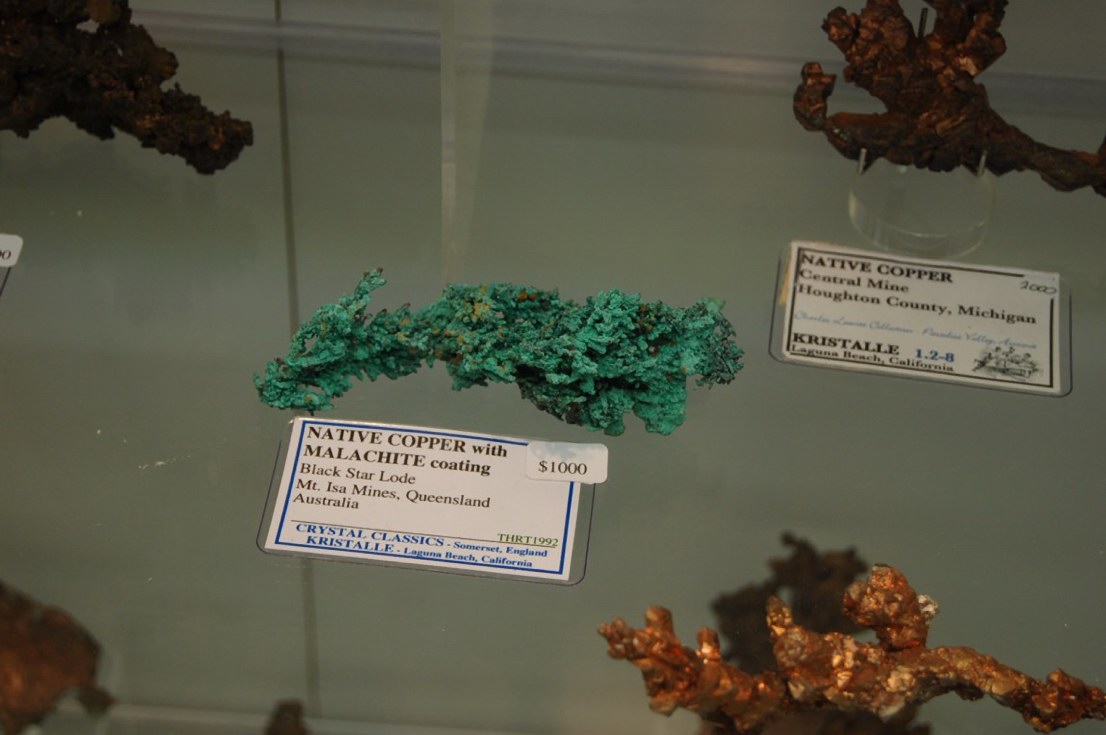 dioptase on Calcite, Tsumeb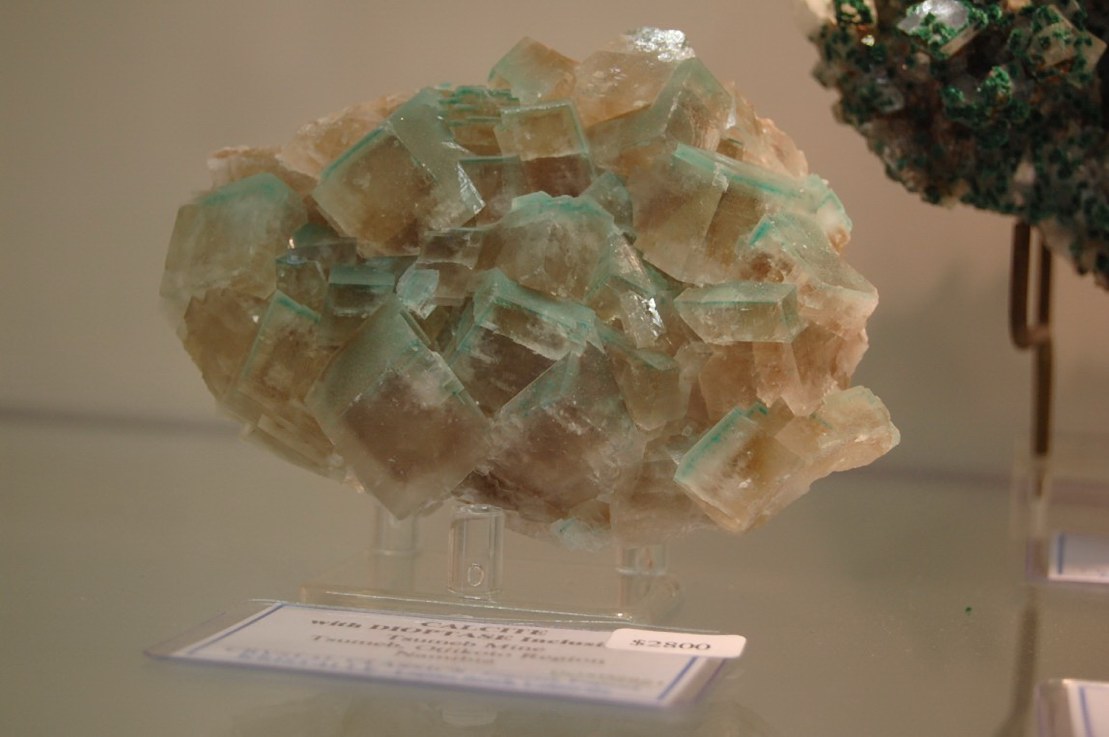 From there we headed to Dan and Diana Weinrich's room in the lobby of the Tucson city center.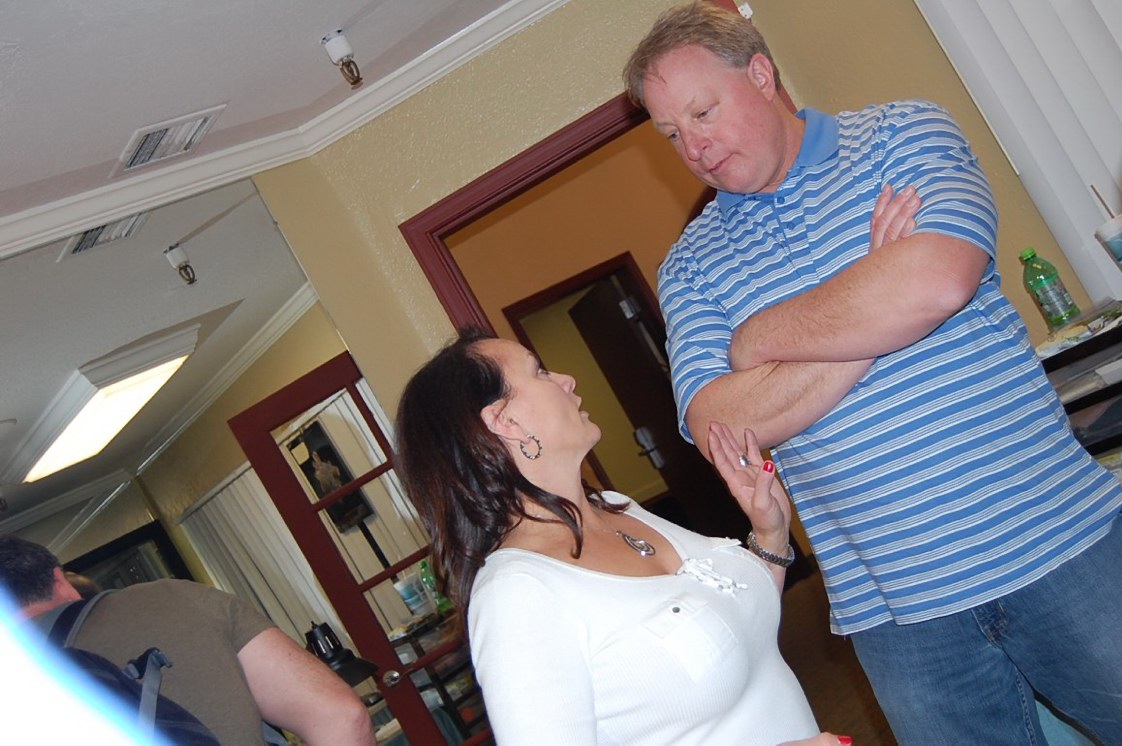 Bright blue Azurite. Bisbee, Arizona.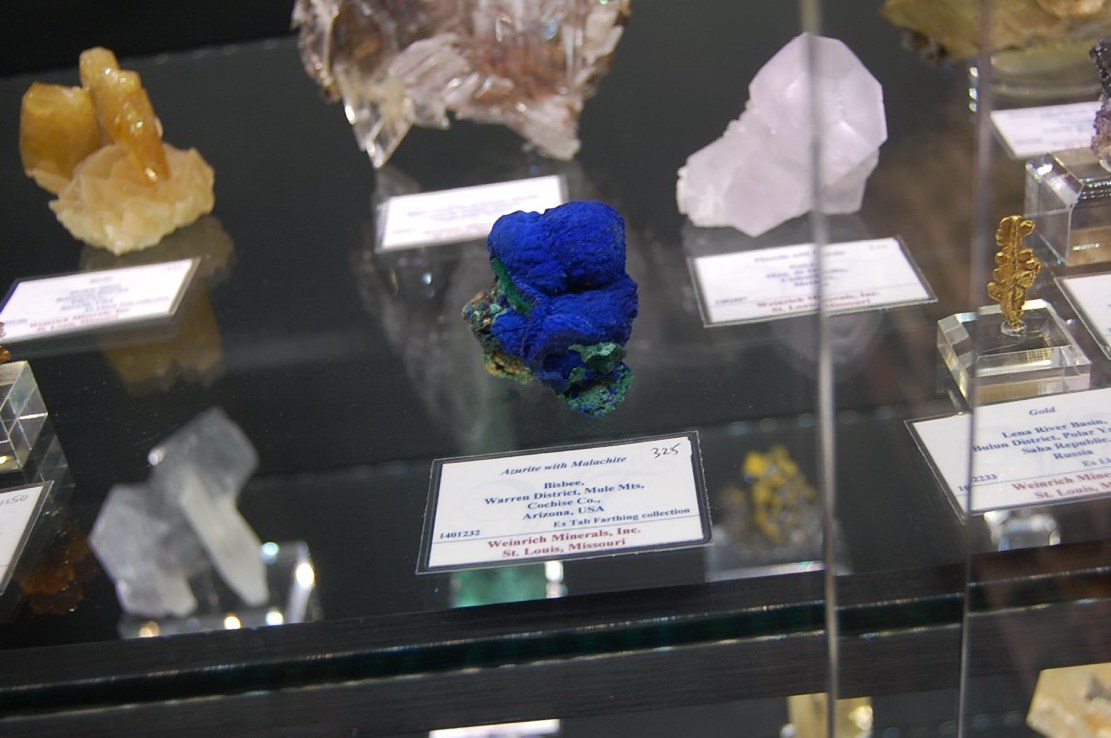 Malachite after Azurite. Tsumeb. Sits up perfectly on matrix. Wonderful.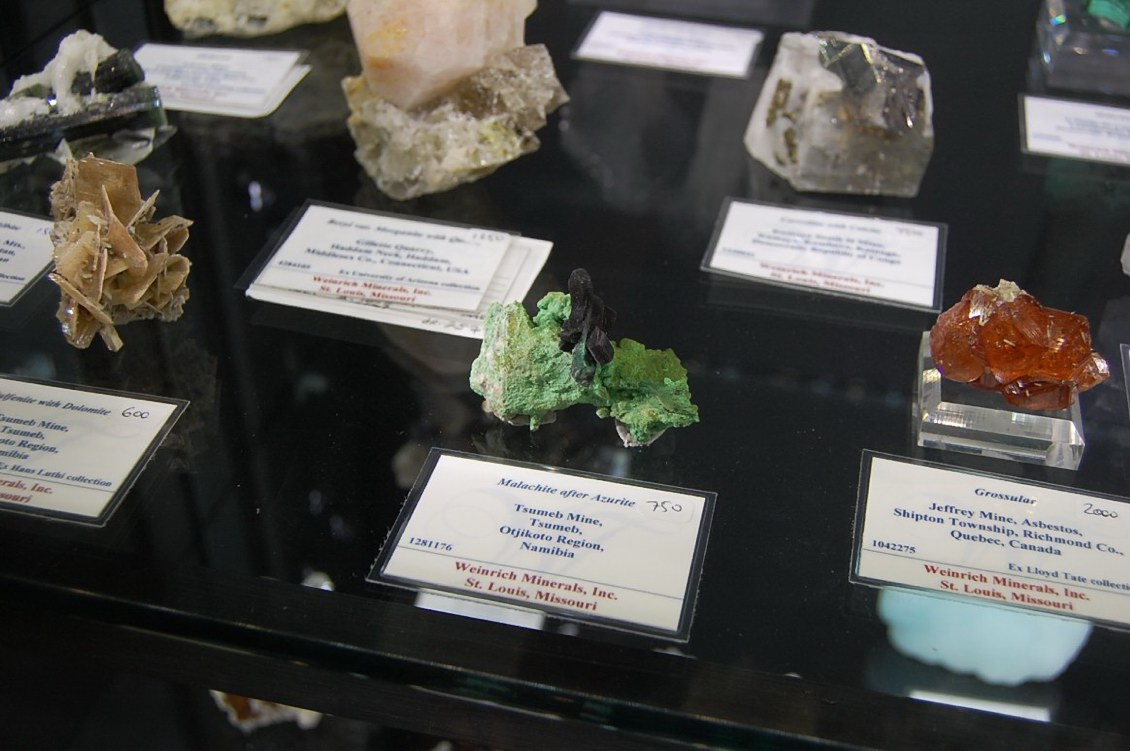 Another sharp pseudomorph from Tsumeb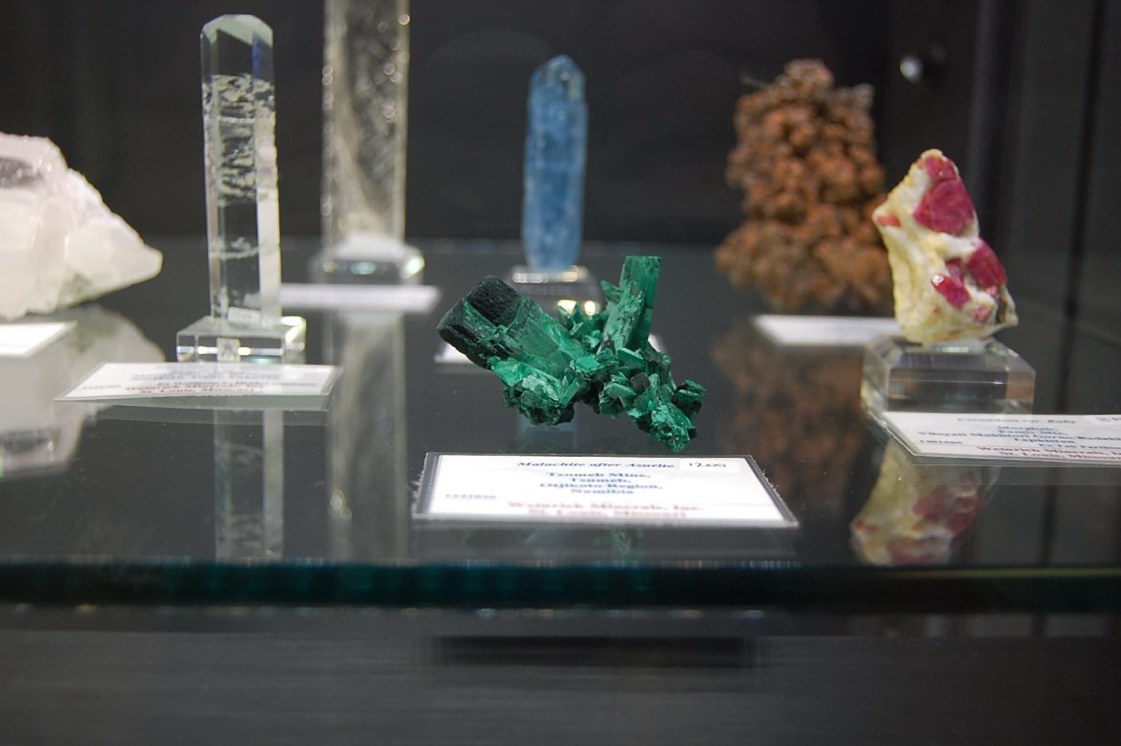 These red QuartZ specimens should be classics. They are truly distinctive and instantly recognized when you see them.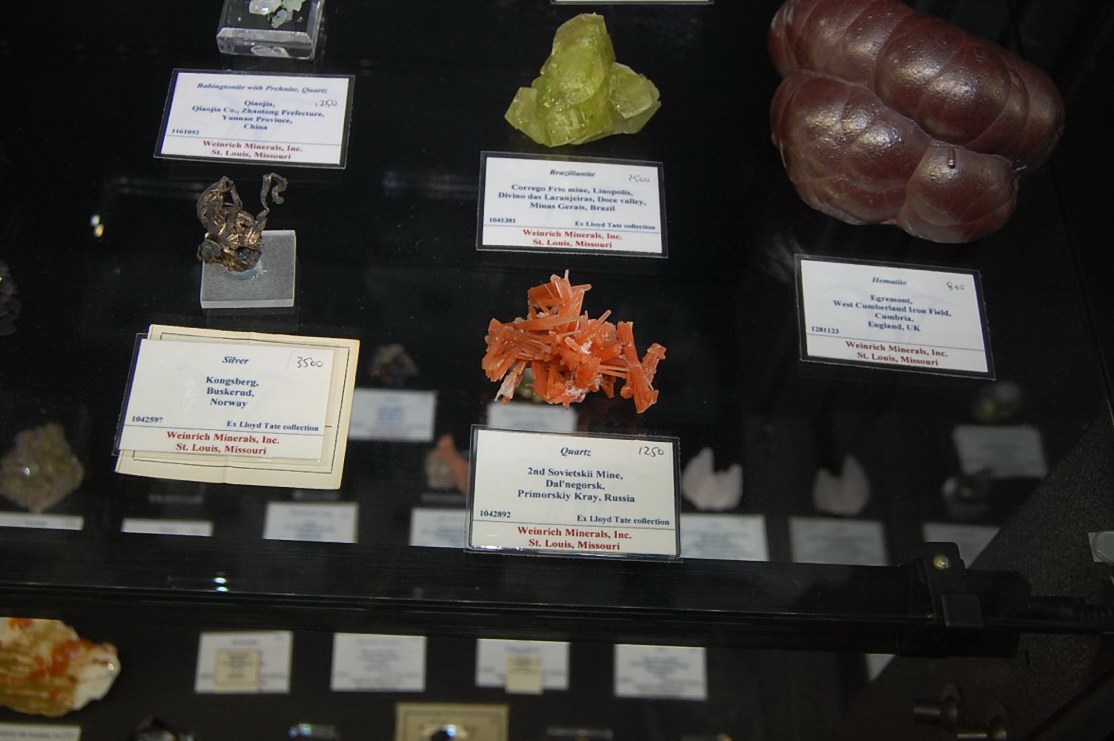 we seem to have a propensity to favor the lead and copper minerals.
Yet another nice lustrous wulfenite.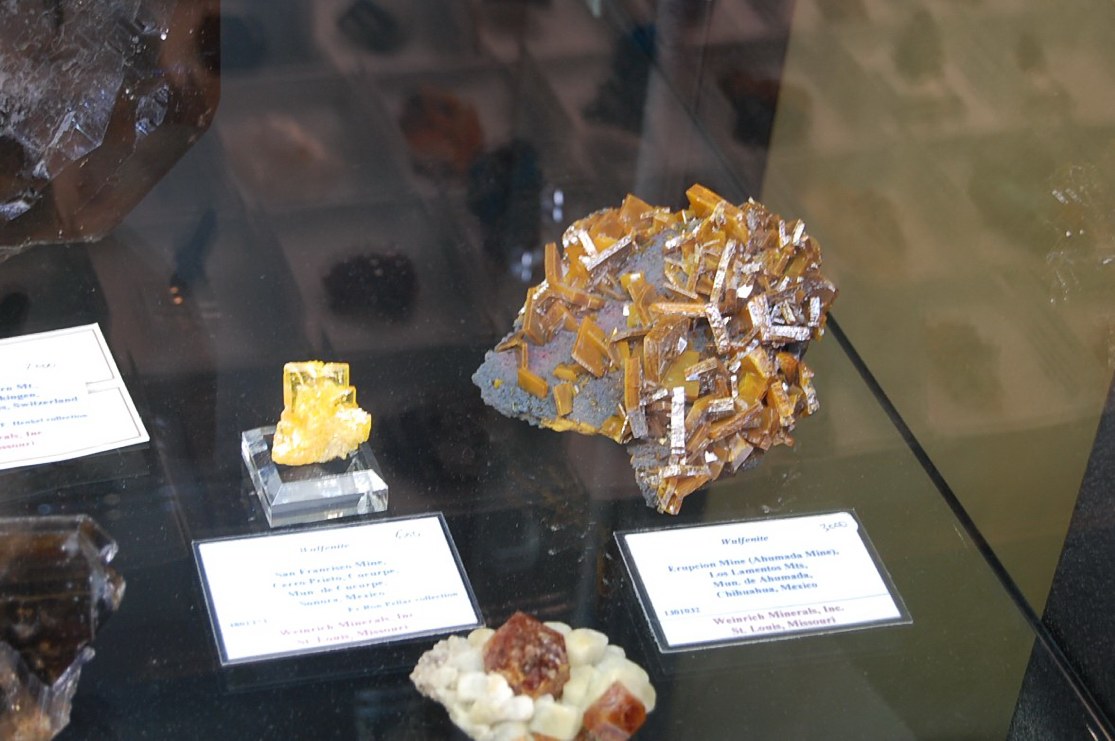 ZINC!
A true classic kelly blue Smithsonite from the Kelly Mine.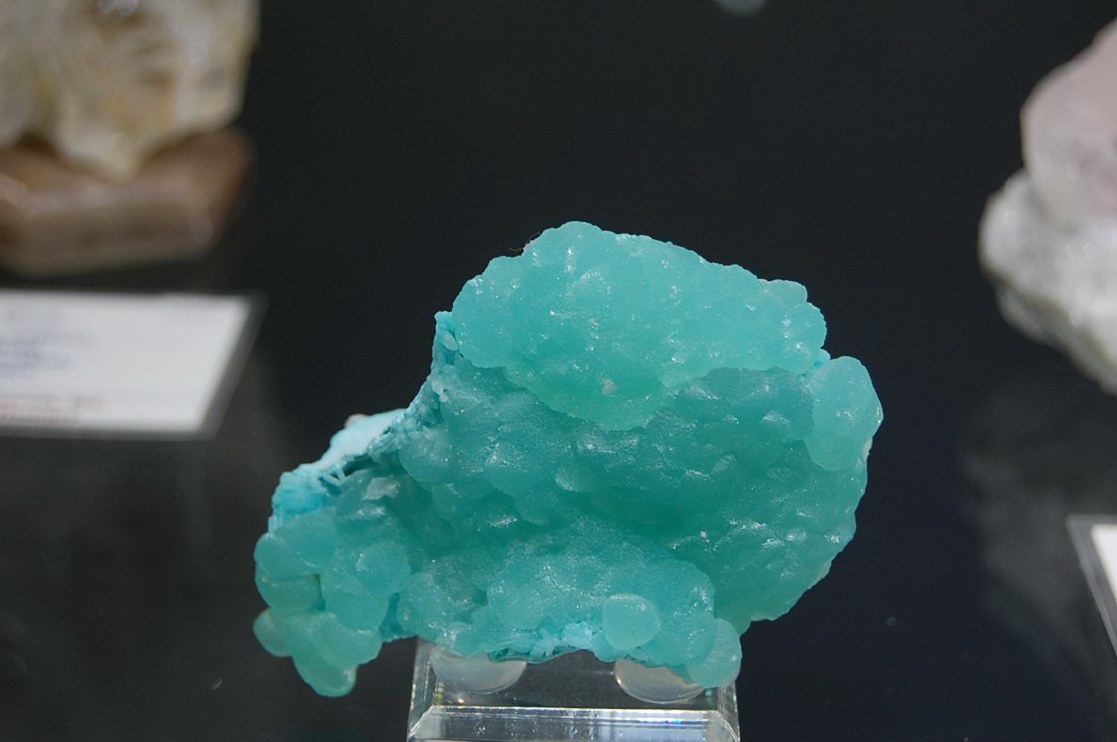 Silicon!
The Quartz clusters found in Herkimer County New York are fantastic and
deserve the moniker "Diamonds". water clear bright crystals.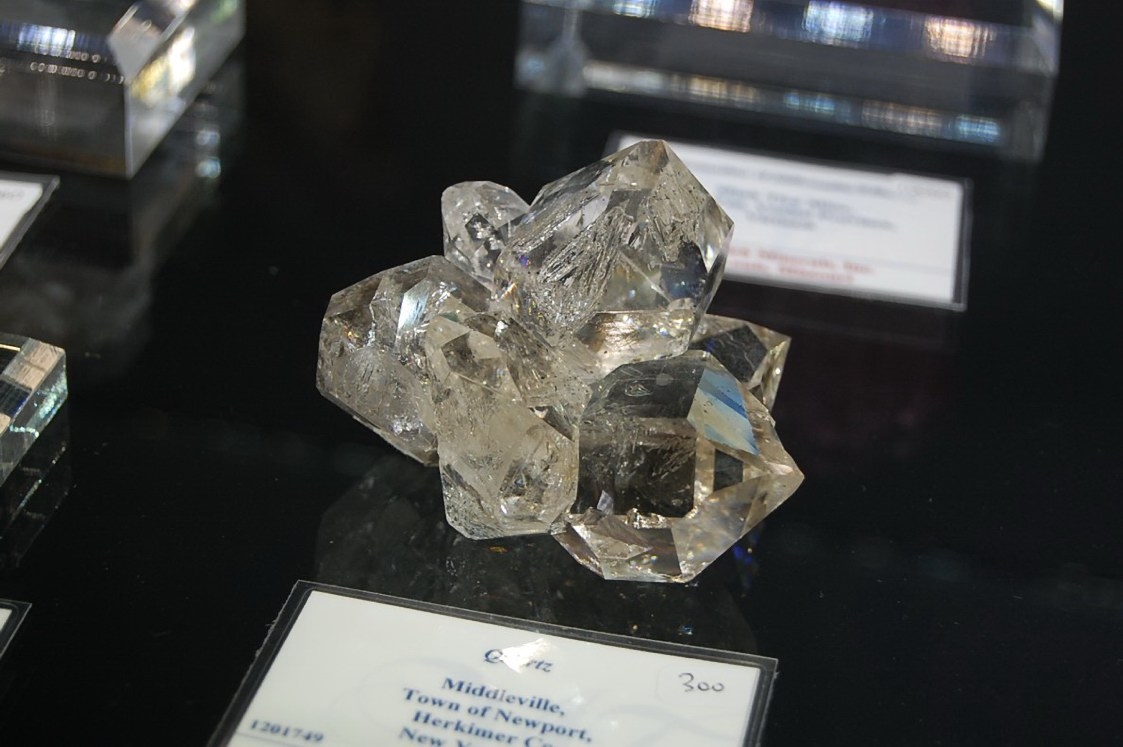 Stacked rhombs of Calcite with a little Hematite for color.
Tsumeb.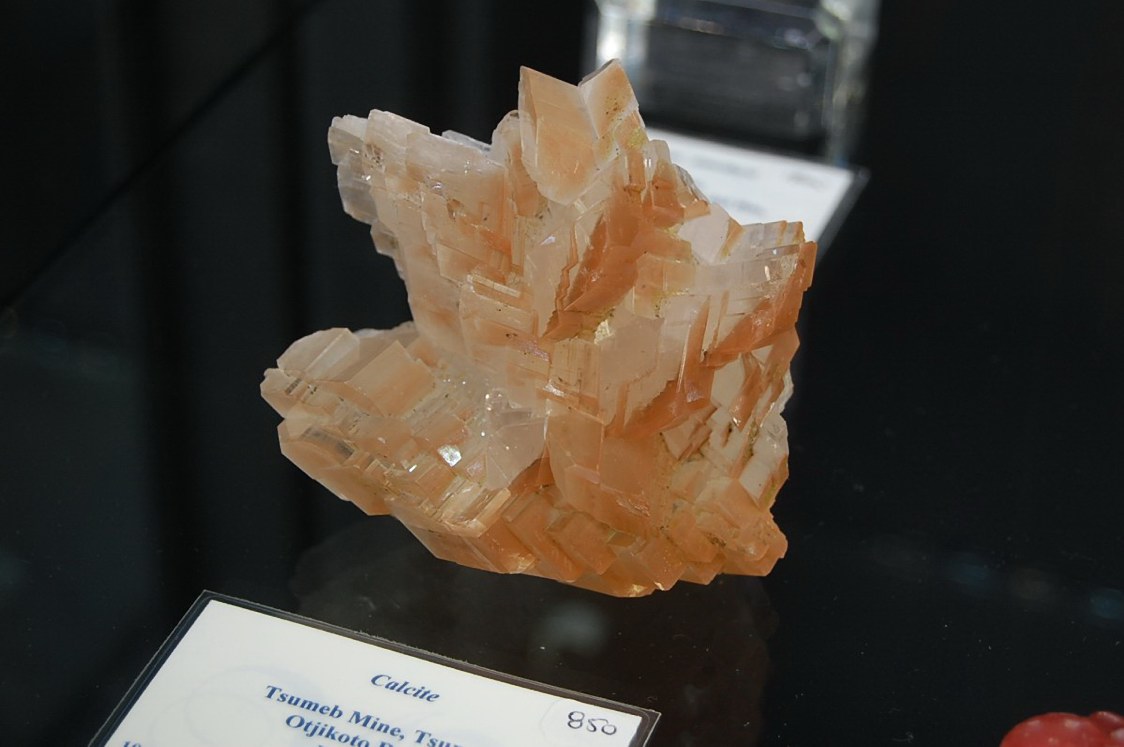 Manganese!
Nice Rodochrocite on a bit of Sulphide.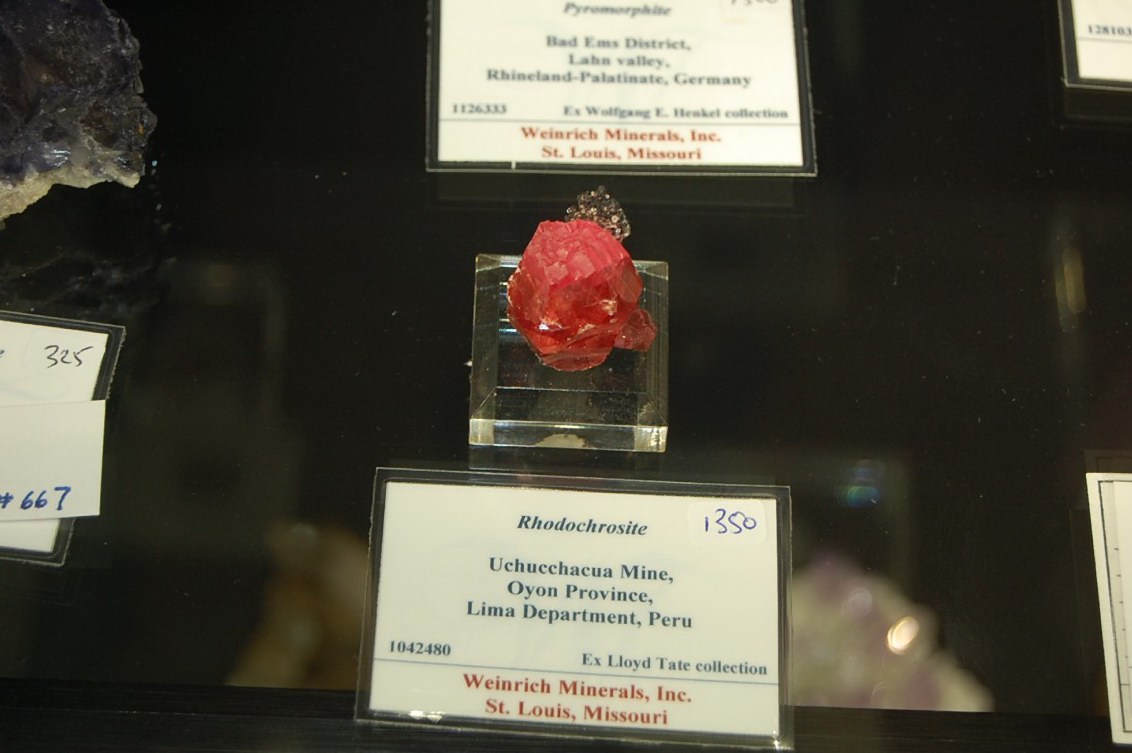 Bubbly green Malachite from Mashamba.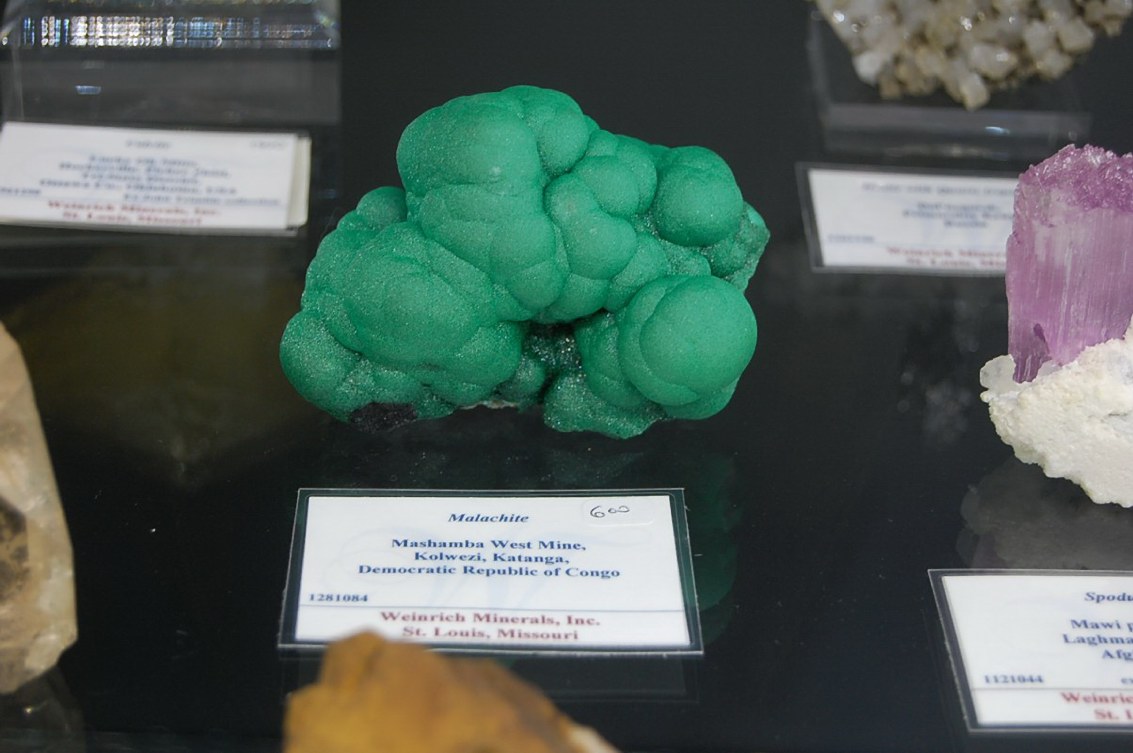 Rob Lavinski had some cases set up in the lobby of the hotel.
Nice large cabinet specimen of Motramite. This is probably the best one of these I have seen.
When this find came out I was less than impressed but this is a nice one.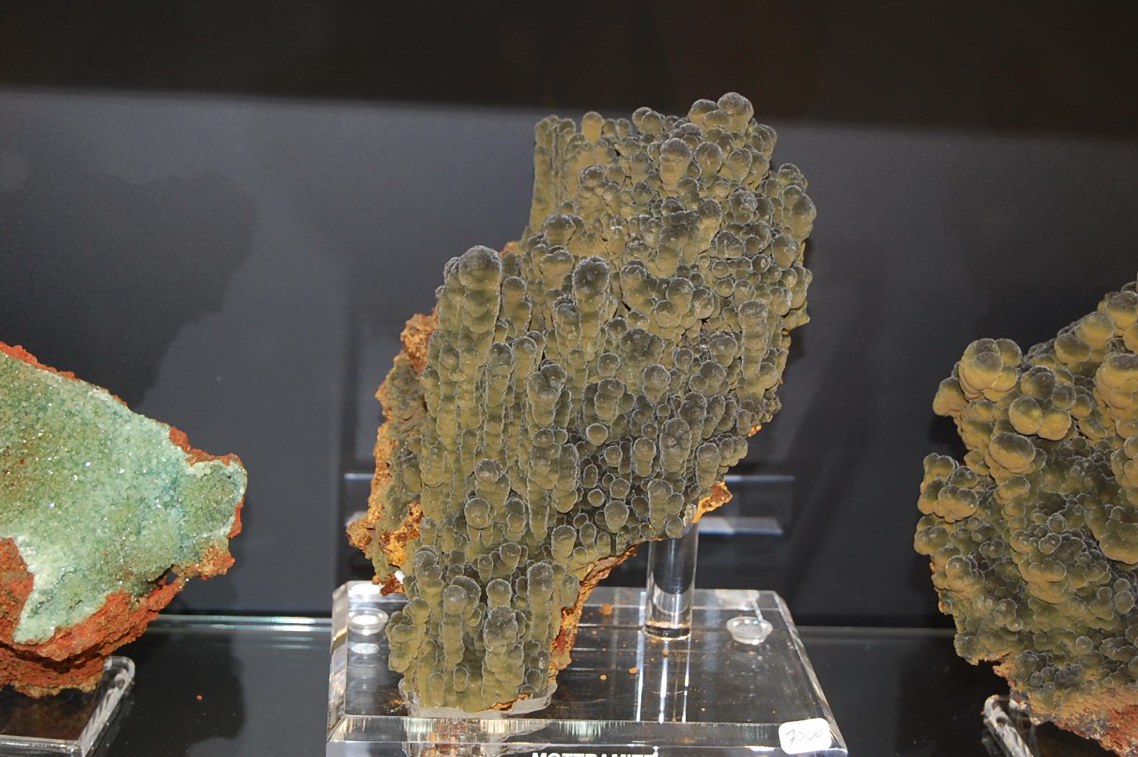 Very peculiar amethyst on a strange matrix.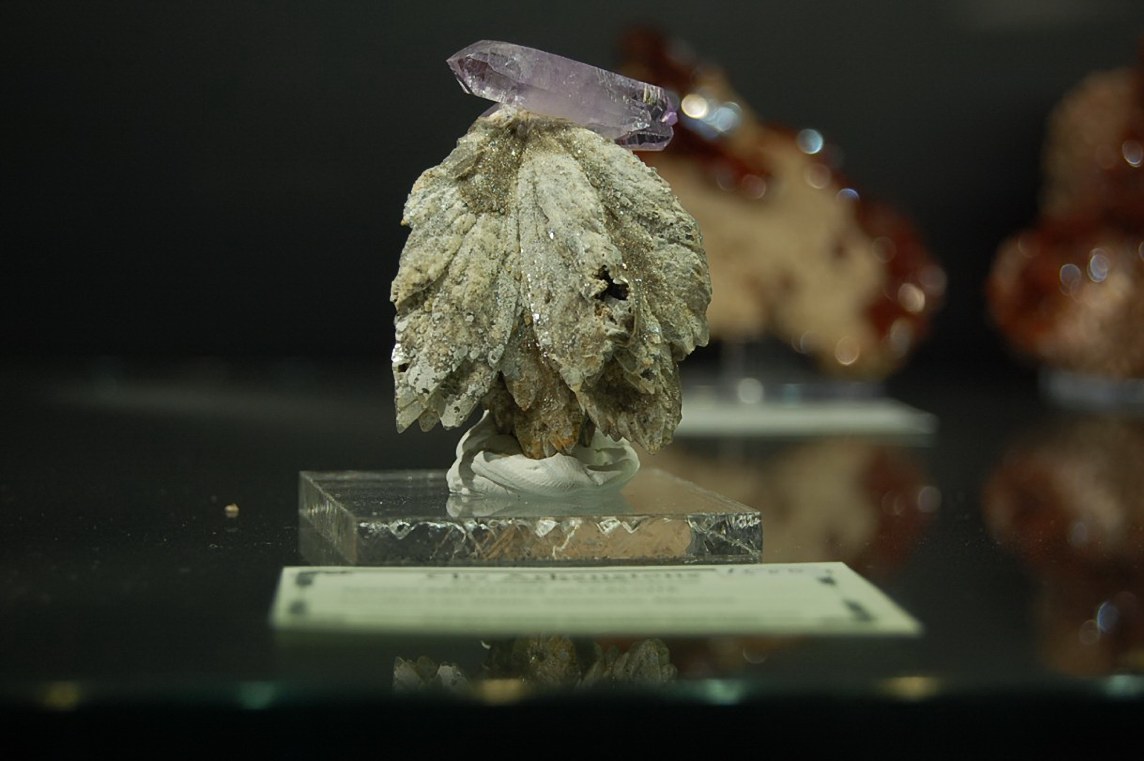 Sharp glassy Barite from Saxony, Germany.
Supurb!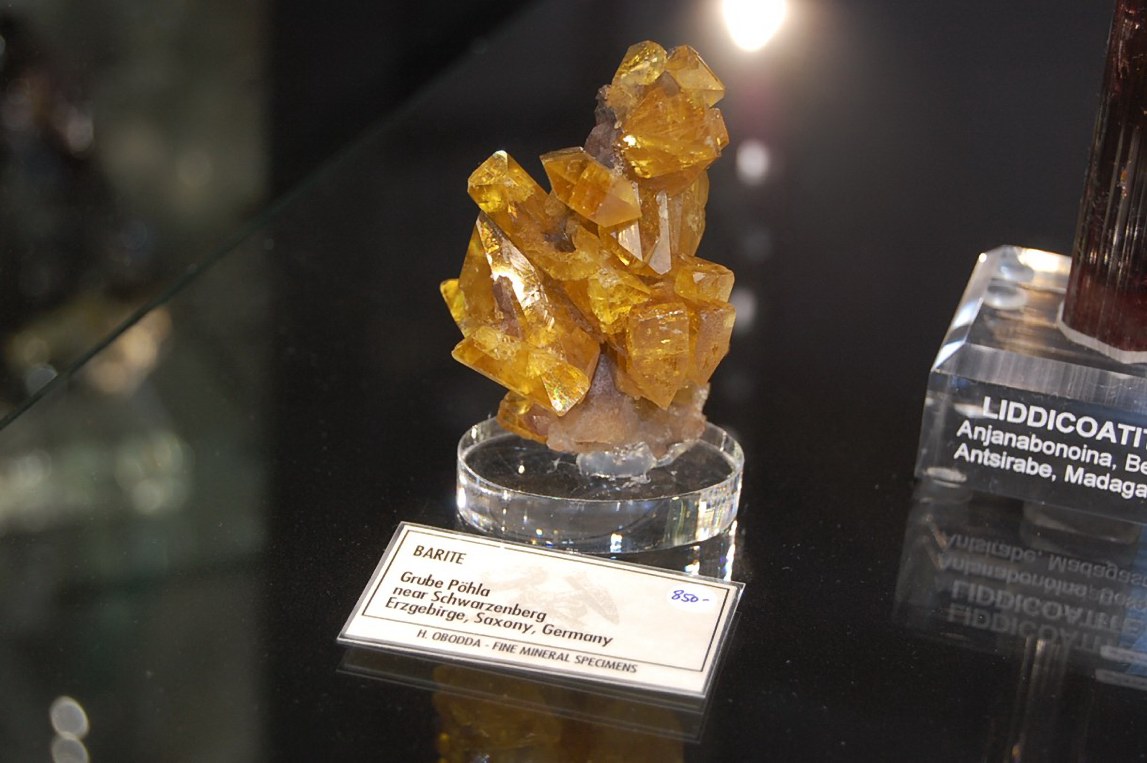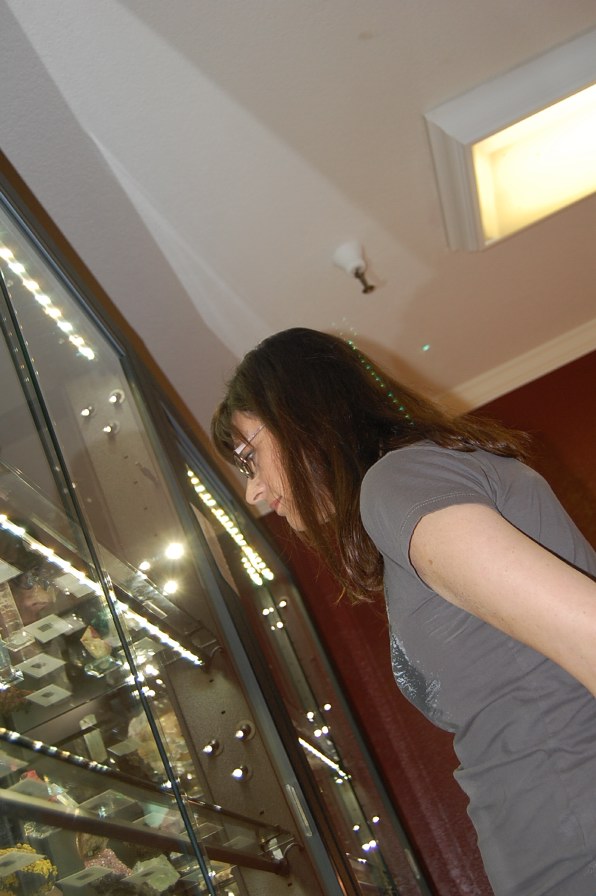 mmmmmmm candy!
Well another Tucson show is in the books. A couple of things come to mind. Number one, the prices seem to be on the rise again.
Just because something is a "new Find" doesn't mean that the price should be high. The new Mottramites that were found last year were way over priced for what they were. I see these coming down substantially in the next year as they are nothing special with an exception to the ones that were stalagtitic in appearence. The older collections that are being recycled seem to offer the best material and have some of the most aesthetics these days. Diana and I are focusing more and more on specimens that we would like to have in our cabinet and, as a matter of fact most of the specimens we buy we put in our cabinets to enjoy until they sell. Please have a look around at our galleries and our show reports and if anything, enjoy yourself.
We would like to announce that in the near future we will have a special pictoral report on the Minerals of the U of A museum that will involve 4 pages of outstanding minerals .